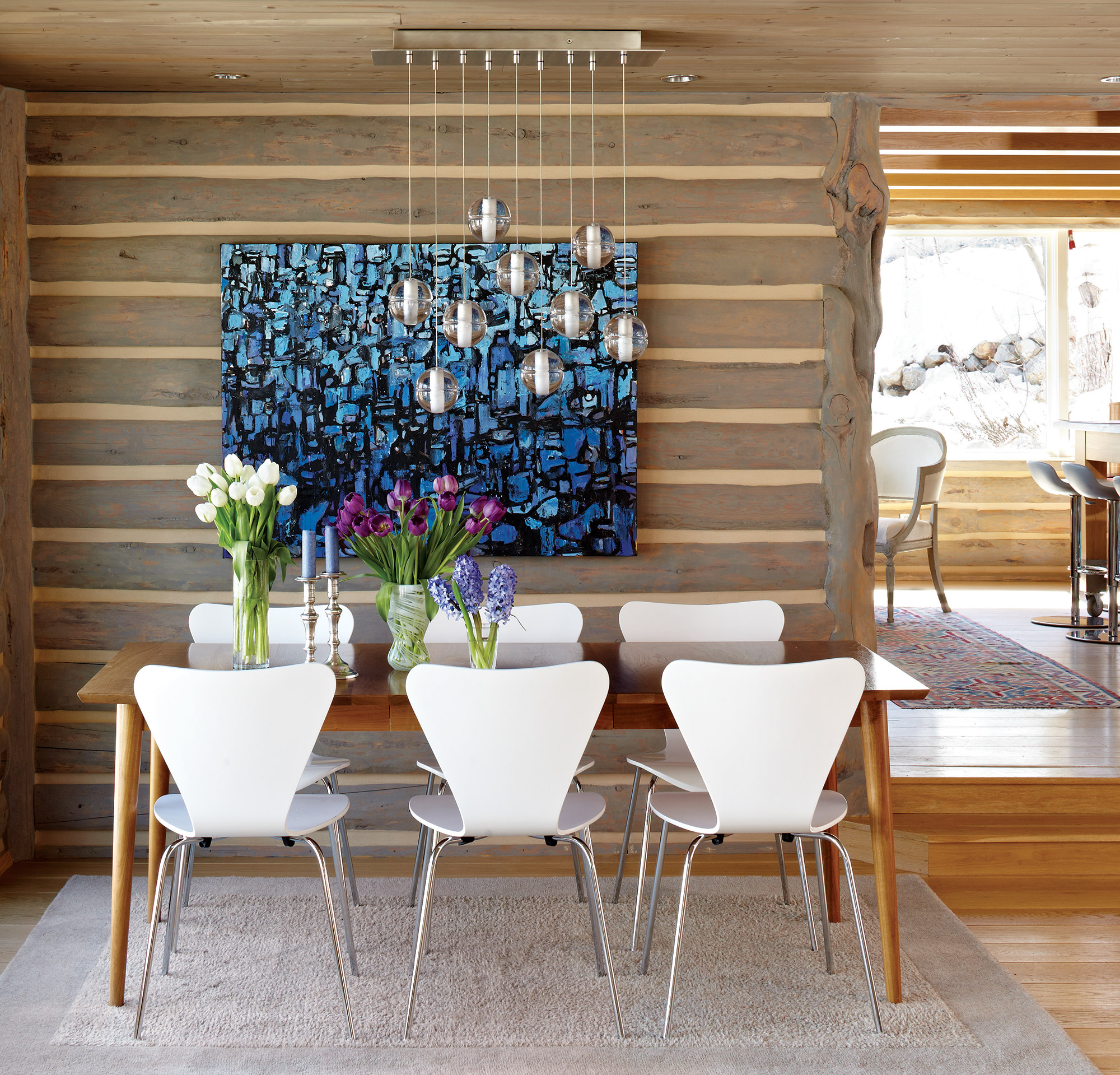 The painting is Gregory Block's Night Cap from Gallery 1261 in Denver, Colorado. The chandelier is Bocci and the chairs are from Room & Board.
17 May

Designing the West: Adding Dimension
---
Susse Budde's European parents were never into fancy cars or keeping up with the Joneses. Instead, the couple made good design a priority. "My parents were always passionate about architecture and design, and they were constantly improving our house and working on the landscaping," says the Colorado designer, who pronounces her name "Sousa," as in the composer, and "Buddha," as in … the Buddha.
Budde's father, born and raised in Silkeborg, Denmark, met his Welsh wife on the island of Guernsey where they were both working. The couple married and lived in Denmark before moving in the early 1970s to Dallas, Texas, where Budde was born. "My parents' Danish heritage has always influenced me, and I still feel most comfortable in spaces that are light, bright and airy," she says.
Budde earned degrees in finance and drama from the University of Texas. A freshman acting class ignited a passion for creativity, and after spending a year in corporate banking, she moved to Hollywood to pursue acting for more than a decade. Between auditions and roles in the film "Date Movie" and in television shows "Lost" and "NCIS," Budde began flipping homes and taking on design projects to earn extra money.
"More people starting asking for help, and I realized I'd found my true passion," she says. Budde decided to move to Steamboat Springs, Colorado, and bought a rustic 1800s log cabin with only a wood stove for heat. After painstakingly remodeling and restoring the primitive structure, a magazine published an article on the project, definitively launching Budde's design career.
When friends set her up on a blind date in 2007, the designer had no idea the introduction would be so fortuitous. She and contractor Corey Larsen discovered they had much in common and soon merged their lives and businesses. "He's truly my partner in life and work," Budde says. "We're constantly discussing our projects, and we joke that it's a good arrangement for our clients because we don't have to schedule meetings. Corey and I both share the same philosophy, which is that we treat every home we work on like it's our own."
The couple's company, Dimension Fine Homes, is located in Steamboat Springs' rustic downtown. From there, they've tackled extensive residential projects in the Yampa Valley and commercial projects, including a dance studio and several restaurants. "I love working with organic materials, and I'm passionate about light fixtures, tile and wallpaper," Budde says. "While I tend toward contemporary design, I like an eclectic mix of old and new and the juxtaposition of modern spaces with reclaimed materials."
The little cabin Budde once remodeled was expanded to accommodate Larsen and their two sons, ages 11 and 15. The family's home is sometimes the company's best calling card.
"After visiting their cabin, my husband, Rob, and I fell in love with the clean, Danish feel and knew we wanted Corey and Susse to build our new Steamboat Springs home," says client Ellen Race. "I love the way Susse blends contemporary design with antiques and wood — it's modern, but cozy."
While the Race's new house was under construction, they were 2,000 miles away in New England. "Susse helped with so many details, she oversaw the tile installation and even chose just the right switch plates," Race adds. "She suggested some elements I never would have considered, like the vintage white barn wood we put on the ceiling and the old hand-hewn beams we used to frame the doors. Those were expensive choices, but they made the space."
Budde says she pushes her clients to take chances at times. "I'll say, 'Why settle for plain painted drywall when you could enjoy American Clay plaster or exquisite wallpaper?' My mother used to tease me and say, 'Your eye always goes right to the most expensive thing,' but she and my dad always taught me the value of craftsmanship and quality." And Budde brings those tools to work with her every day.