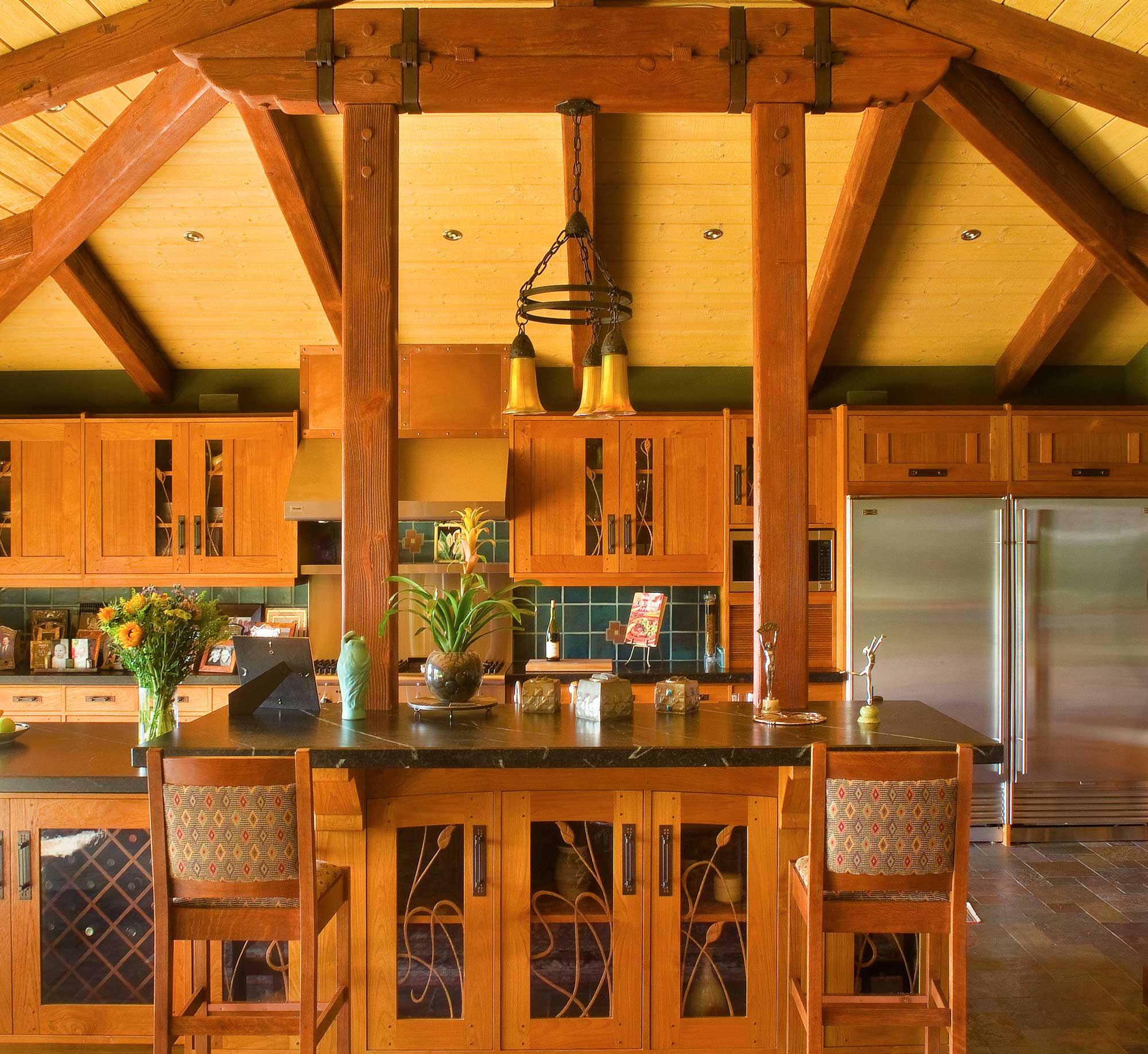 To make this California kitchen comfortable, functional and beautiful Bacon created a space that was all about how the family lived. The home is close to the beach so it made sense to have easy care tile floors and an open, airy feeling with the post and beam work. In a sublime mix of Arts & Crafts with Art Nouveau accents such as the tulip cut-outs on the teak cabinetry, Bacon was able to wrap her client's love of being different with their penchant for turn of the century style. The custom light was inspired by one of the family's antiques and designed by Bacon who added the custom shades to complement the tulips on the cabinet doors.
24 Jul

Designing the West: California Dreamin'
---
Su Bacon has two passions in life: art and animals. Given the gift of artistic ability, she spent many hours as a child creating structures with Lincoln Logs, her favorite toy. Cabins, barns for her Breyer horses and all sorts of dwellings took shape with the help of her imagination and deft fingers. She also loved to draw, paint and doodle. At 5 years old, she officially began to hone her skills at an art school.
It wasn't long before she did her first interior design job: her parent's home. Her uncle, an architect in northern California, encouraged them to give Su a chance. "It is certainly challenging when you are living with the clients and they can also ground you," Bacon laughs. The family home was a traditional Craftsman Style home, a perfect setting for the family who had been in California for five generations.
Testing the waters beyond art and design, Bacon got her degree in psychology and sociology, then worked as a paramedic in an all-rescue terrain team. Called back to the world of design, Bacon was heavily involved in the fashion industry for a number of years before buying Historic Lighting in Monrovia, California. "Like most stores that focused on Arts & Crafts revival, it didn't have much of a direction," explains Bacon. A year later she partnered with Ray Munson and their goals became clear. As with the original period, the artisan was pivotal so they dedicated a third of the store to craftsmen and their inspired work. The plan has proven very successful and allowed Bacon to explore her own passion for design. Though her design career has focused primarily on Craftsman, the Revivals and mid-century homes, Bacon has worked on a number of different projects throughout the United States.
The Western U.S. and its diverse styles and cultures have long been a source of intrigue for Bacon and she never shies away from being eclectic, believing that the combination of styles creates areas of interest. Monterey, Molesworth, traditional Western, California Mission and Craftsman are among her favorite styles and the most likely periods from which she draws. According to Bacon, the mixing of antiques, her clients' private collections and the work of contemporary craftsmen will always lend classic style to any environment.
Bacon's own artistic expression is evident throughout the store. Many of the fixtures in Historic Lighting are her original designs. Her penchant for period lighting has enabled her to create pieces that are true to the Arts & Crafts movement. These clever pieces are easily integrated into the interiors she creates, many of which illuminate pieces of traditional Western furniture. "I love the feel of a room when you dare to be eclectic. It is not that model home you visited, not a home that screams of a decorator. It is a home full of your treasures — treasures that [reflect] you and your family, not the choices of an interior decorator — that make you and your guests feel comfortable," she explains.
The most critical element in Bacon's design philosophy is to make sure the home speaks to the client and not of her own design. Client Sally Fisher thought Bacon succeeded marvelously to that end. "She is flexible, knows design and can bring a room to life. She wants to please the client, and in my case, she understood my taste and was willing to adjust, compromise and discuss choices until we had a superior result."
Bacon's home is a perfect example of her "breaking the rules" approach, which she says is the product of knowing them so you can break them: A cowhide couch and antique Buffalo Bill Cody posters mix easily with inherited Craftsman pieces and bold contemporary art. Home for Bacon includes three dogs, four horses, a crow and her 87-year-old father.
Su Bacon's personal style epitomizes the casual elegance of the Western lifestyle. "You can come in and take your boots off or not, put your feet up and have a glass of wine … but most of all relax and enjoy yourself. You're home," she offers.
---
How to get the most out of a new design for your home
— Six tips from Su Bacon
Make sure you feel very comfortable with your designer and that you and your vision are being heard and understood and will not be forgotten in the design process.
Start collecting ideas for your design binder. Gather ideas from magazines and books, then organize them room by room.
Make sure to mark clearly what you liked about each page, each idea. Was it the colors, the furniture, the trim and mill work, the window treatments or just the whole "look"? This is where the communication starts with your designer.
When working with contractors, be as thorough as possible. Details, details and more details. Don't be vague about what you want. What you don't want to hear from your contractor is "change of order." These three little words will cost you … BIG!
Listen and be flexible when necessary, but never give up your dream … your vision.
Find people that you like and can work with. You want this to be a good experience … don't forget to have fun. You are creating the backdrop for your future memories … make them good ones!