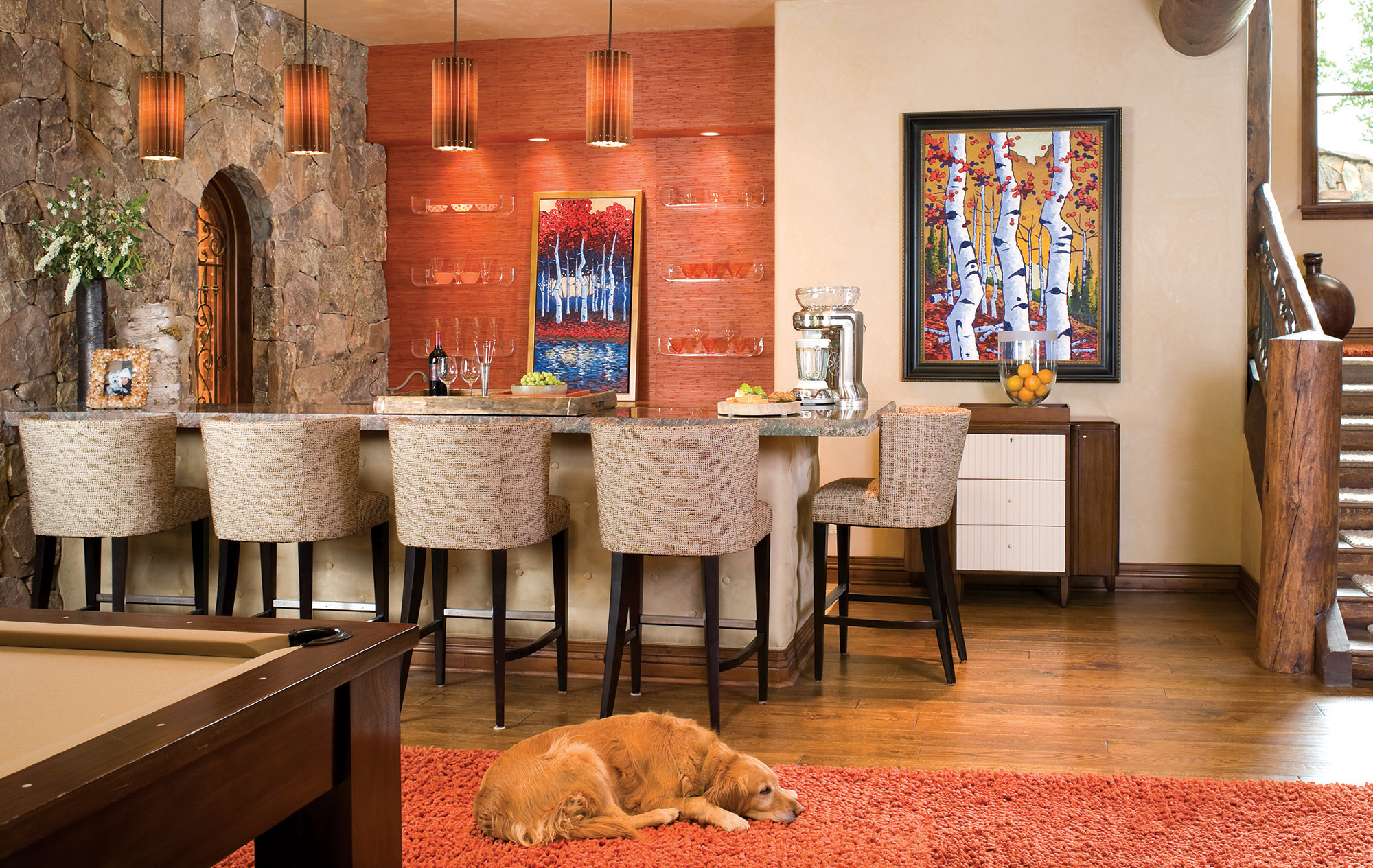 Persimmon grasscloth wallpaper adds warmth and texture to a family room. Barstools are covered in nubby A. Rudin fabric, and the pleated pendant lights are from Bone Simple.
10 Nov

Designing the West: Comfort and Joy
---
From a young age, designer Dana Hugo became an expert at making a space feel like home. Thanks to her father's job transfers, the family moved cities often. But Hugo sees the silver lining to having been uprooted over and over again. "Mom let us redecorate our rooms as a way to help us with the transitions," she says. "I can vividly remember my excitement when she took me shopping at Macy's or J.C. Penney to pick out pillow shams and bedding so I could make my new bedroom mine."
Hugo felt the early pull of artistic leanings as she watched her Grandpa Hugo, an architect, work at his drafting table. "I was fascinated watching him draw and design," she says. "My grandmother on my mom's side was really creative, too; she embellished everything that wasn't nailed down with trims, sparkles and rickrack."
Despite a growing interest in design, Hugo pursued a business degree from Illinois State University; then moved to Dallas and became a flight attendant for Delta Airlines. "Even back then, I was helping my friends rearrange their furniture and rework their spaces," she says. "I finally realized I needed to go back to school and do what I was meant to do." In her late 20s, Hugo enrolled at the Colorado Institute of Art, where she earned a degree in interior design.
Slifer Designs in Vail hired her after graduation and Hugo reflects with great affection on the privilege of working for four years under Beth Slifer. One of the firm's designers, Eddy Doumas, went on to start Worth Interiors, where Hugo worked for the next decade.
In 2011 Hugo opened her own firm, which she named j&o studio after her nephews, Jack and Owen. Although the economy struggled that year, her new company began to flourish. "I'd always been a good saver, so I had a financial cushion, and my business degree came in handy as I managed cash flow that first year," she says. "Fortunately, my former customers started calling me and recommending me to others."
Today the firm does a mix of residential and commercial projects for clients in Colorado, New York, Florida, California, Massachusetts and the Midwest. "I work with many second homeowners, who tend to want comfortable spaces above all else," Hugo says. "I've been told I'm a good listener, and I love discovering the styles and colors my clients love as well as what they truly don't like. I sometimes mix clean-lined and traditional pieces, and combine them with organic accessories and cozy textures to warm everything up. In mountain settings I also like to blend contemporary furnishings with more rustic pieces. More than anything, I love making my clients happy."
Jeff and Carter Sharfstein worked with Hugo to remake their Avon home, which Hugo had coincidentally designed for the previous owners seven years prior. "We came in loving the existing design and furnishings," says Carter Sharfstein. "This was originally our second home, but after we fell in love with the area and decided to move here full-time we wanted to make the interiors truly our own. We asked Dana to help us create spaces that feel young, fresh and hip, and that's exactly what she achieved for us."
In their previous home, the couple didn't use a formal living room, but in Avon, Hugo created a comfortable living space that's not stuffy. "The room doesn't even have a television, yet we often hang out there as a family and have a great time just being together," says Carter.
Hugo recently designed a new commercial space for a business she personally frequents, Vail Hot Yoga. "I go there five times a week, and when they asked me to help design the new studio I was honored," she says. "It's a fun new space, and we kept the design bright and light." Hugo added color with an unexpected deep pink watermelon hue that she says makes everybody look and feel great.
When she's not working, the designer shares her home with two golden retrievers named for her favorite style icons. "Roxy Boon's name is a nod to Netherlands designer and architect Piet Boon, and Giada Lauren is named for Ralph Lauren, a designer who has always inspired me," she says. In contrast to her nomadic early years, Hugo has been settled in the Vail area now for 18 years. "After moving so often as a child, it feels good to have roots in this community," she says.
---
WA&A wants to know…
Dana Hugo shares some of her most-loved design sources and favorite places to shop and eat in the Vail Valley
Q: When you want to impart style to a plain room, where do you turn?
A: I might use an unexpected texture, like a sumptuous throw made of plush faux fur. I also love wallpaper. My clients will often say, "No wallpaper — I hate it!" but then I show them something like a beautiful, textural grass cloth and they're sold. Élitis and Weitzner are two companies I love for incredible wall treatments.
Q: Do you have a favorite interior wall paint color?
A: I'm currently in love with Benjamin Moore's Kendall Charcoal. It's a neutral, mushroom-hued gray that picks up browns and beiges and goes with everything. I also love using sky blue, hot pink or lime green as uncommon accent colors.
Q: Where do you source the beautiful light fixtures you often feature in your work?
A: Recently I hung a dramatic Arctic Pear chandelier from Ochre over a client's dining table. It has dozens of sparkling glass drops that have to be hung by hand, and although it took me four hours to install all the pieces, it really makes the room. For a more modern look, I love the white globe Moooi Chandelier from Design Within Reach.
Q: Who's an artist you like right now?
A: My go-to-artist is Heidi Jung in Denver. She combines photography with ink and other media, and I first discovered her work when I was given one of her prints as a birthday gift. Everything she does is organic, free-flowing and beautiful.
Q: Where do you enjoy dining out in Vail Valley?
A: Mountain Standard is my favorite Vail restaurant; they make classic American food and I always order their pork chops. Juniper Restaurant in Edwards is a close second.
Q: Describe your personal entertaining style.
A: I like to cook, and I always try to have a theme for my gatherings, whether it's Asian with sushi, peanut satays and pot stickers or American with grilled brats and chips. I have a large platter collection with everything from ceramic to organic wood that I use to plate the appetizers. I put some good music on in the background from my iPod and light a grouping of colored candles that complement the theme — and I love cocktail napkins with funny sayings!
Q: What foods do you like to stock at home?
A: I always keep popcorn in the pantry and Ben & Jerry's Chunky Monkey ice cream in the freezer.