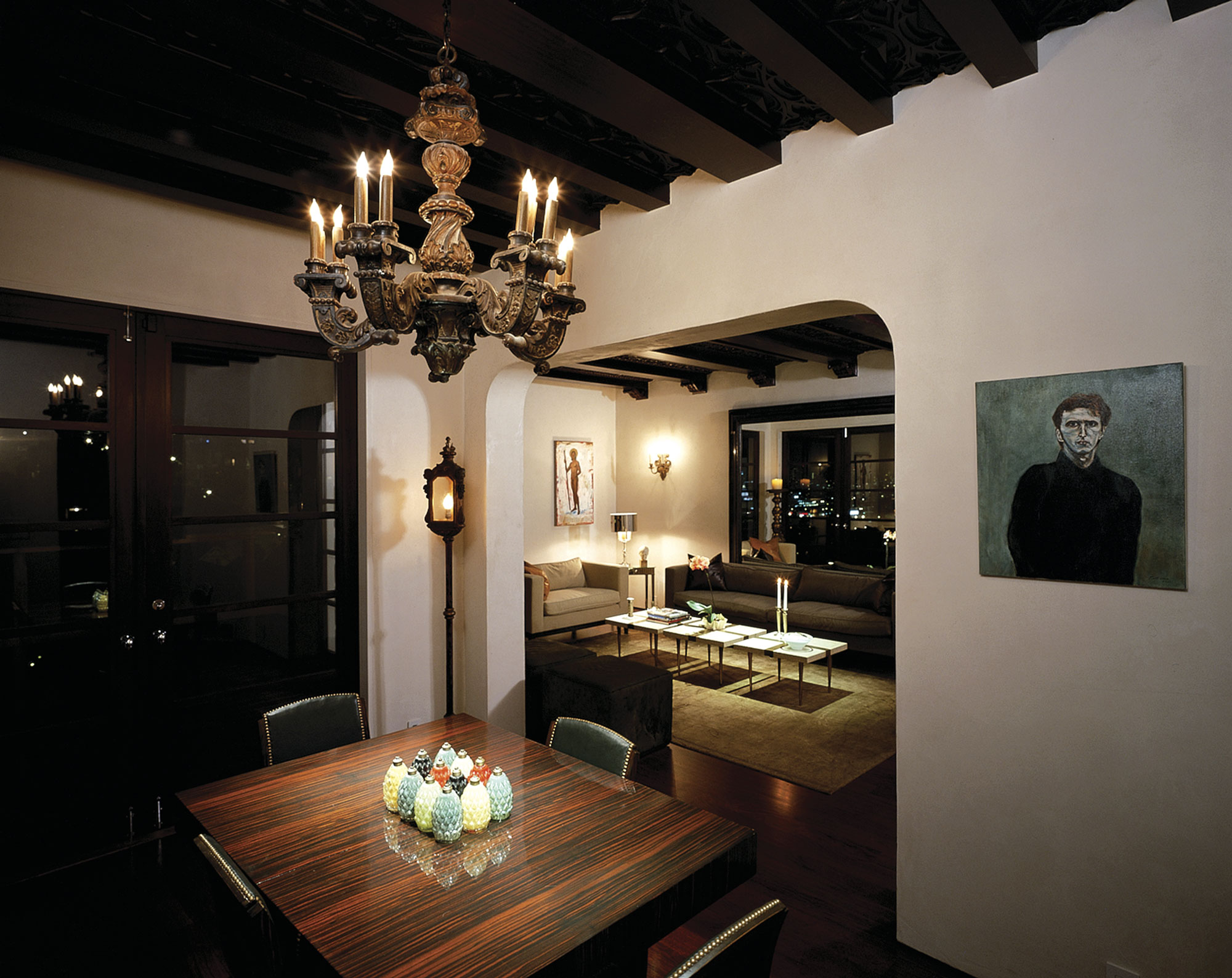 In a San Francisco villa, a wooden 18th Century Spanish chandelier illuminates the vintage Paris Macassar Ebony chairs and table and a collection of old oil bistro lamps. The portrait is The French Man by Matthew Sun.
04 Aug

Designing the West: Illuminated Design
---
Who can predict what early influences might inspire a young man to choose a particular path? Award-winning interior and lighting designer Jonathan Browning creates high-end, meticulously detailed, museum-quality lighting for his company, Jonathan Browning Studios, and credits his great-grandfather for introducing him to the beauty of simple design.
"In early 1929, my great-grandpa bought a beautiful lot way up in the San Bernardino Mountains in a spot called Green Valley Lake, where he built a cabin by hand with his best friend, Flick. It has a big front porch with railings made of twisted branches from local trees that almost look like big antlers twisted together in a random pattern. The exterior is wide clapboard, but the walls and ceilings are covered with huge sheets of knotless plywood, and the floors are local wide-plank oak. He and Flick gathered huge local granite boulders for the fireplace and cemented them together.
"The brilliance, however, is the second floor. It has a peaked roof with open rafters, and on each side of this long room my great-grandad placed seven white metal hospital beds. He was a principal in Los Angeles city schools, so he had managed to get these at little or no cost from a school hospital. His system was to hang quilts from the rafters, so upon arriving we'd all grab our favorite quilts and pillows off the rafters and grab our favorite bed. Our whole family and all our visiting friends would sleep in one big dormitory room on those 14 hospital beds from the early '20s. Even as a child, this breathtakingly gorgeous American interior made the biggest aesthetic impression on me — of the beauty of honest, high quality, simple design."
Browning received his undergraduate degree in design from U.C. Berkeley and his master's degree in architecture from Southern California Institute of Architecture. He enjoyed a long, successful career in visual merchandising and retail store design, living and working around the world with major retail companies like Esprit, Gap, Guess, Victoria's Secret and Levi Strauss. He then led the design team for Starwood Hotels, which included such brands as W Hotel and St. Regis.
In 2004, after two decades of helping companies express their image through architecture, design and merchandising, Browning was ready for a change. "I decided it was time to finally do what I'd been thinking about for years," he says. "I wanted to create the most high-end, top-quality bronze lighting the world had ever seen."
"Ten years ago, the industry was not design-driven and I was frustrated with the poor quality of much of the lighting in the market at that time. Manufacturers were primarily focused on low costs, low quality and high profits. I always had to purchase antique fixtures because I couldn't find the quality I was looking for. "
He had never produced lighting, but after surveying the market informally and getting a positive response Browning decided to follow his passion. "For six months, I just drew," he says. "My two great loves are French Beaux-Arts classicism and industrial design, and with those aesthetics in mind, I set out to do completely original work."
Browning chose bronze for his lighting line, a decision dictated in part by his intricate designs. "We use solid bronze, not just because it's beautiful but because bronze can be cast in great detail, which is why it's used for the finest sculptures. We use the best sculpture foundry in the country to make our products, because complex shapes have to be cast, not welded. Every detail down to the last chain is handmade."
Designer Holly Hunt was an early client. "Holly told me, 'If you make something of great enough quality and beauty, people will be willing to pay for it,'" Browning says. Today, prices for his sconces range from $640 to $3,000, and chandeliers start at $12,000 and go up to $34,000.
Browning also does select interior design projects. "I enjoy the process, and my philosophy is that you have to get out of the way and look at the bigger picture. I begin by considering the lifestyle of the owners. With a historic property, I also want to understand the architect's vision to determine how we can best embrace and respect the original design. I begin by making the building or space the best it can be, and then add furnishings. I might blend modern and traditional pieces as a mix that's intelligent, chic and fun. Every piece has to be just right."
Browning applied this design philosophy to the historic building where his company is headquartered, a cast concrete 1924 structure in the heart of downtown San Francisco that formerly housed a printing press. In the ground-floor lobby, he installed a built-in bar for entertaining. A glass staircase leads to the second floor, and tall ceilings soar over a 16-foot conference table where Browning and his staff meet with clients. Swinging doors open into the showroom, where nearly all of the company's products are on display.
Browning lives in an on-site loft apartment with his partner, Marco Heithaus. "It's a simple, industrial space that suits us perfectly," Browning says. With his unyielding dedication to well-made, high-quality products and his sensitive design philosophy, one can't help but think that Browning's great-grandpa would be proud.
---
Brilliant Lighting
Jonathan Browning shares the attributes to look for when choosing quality light fixtures:
Don't choose on looks alone. Pick up the piece, hold it and touch it so you can be informed. A fixture might have a lot of look or style to it, but many inexpensive fixtures are manufactured with substandard processes and cheap materials like spun metal or stamped steel. These metals can bend or become misshapen over time. If a fixture feels light, it was made with the least amount of material possible to save money — and other corners were likely cut as well. One of our outdoor sconces weighs 37 pounds, because it's cast from solid bronze.
Examine the finish. Often you'll see a thin layer of brass applied over a base metal or even a painted-on metal finish. Look carefully at the base of a floor lamp; some companies put a weight inside it to make it seem heavier. Even some high-end lighting companies take these shortcuts.
Ask how the piece was made, find out what it's made of and whether it's plated or solid metal. Just because the fixture is designated "oiled bronze," for instance, doesn't mean that's what it actually is. Talk to a lighting designer you trust to really understand what you're buying.
Choose solid bronze for outdoor fixtures. Bronze doesn't rust, and over time it develops a deeper patina that adds to its character. You can also wax it if you want to preserve its original color and finish.
Don't settle for substandard quality or design. There is inherent value in a quality product. These days, many used light fixtures are simply torn down and discarded because they've been created to be disposable. Our fixtures are heirlooms, to be passed down or auctioned someday. We think quality is true sustainability.
---
Eliza Cross (www.elizacross.com) is a senior contributing editor for Western Art & Architecture and the author of five books, including the award-winning Family Home of the New West (Cooper Square Publishing). A member of the Authors Guild and American Society of Journalists and Authors, she has written more than 250 articles for a variety of national and regional publications.