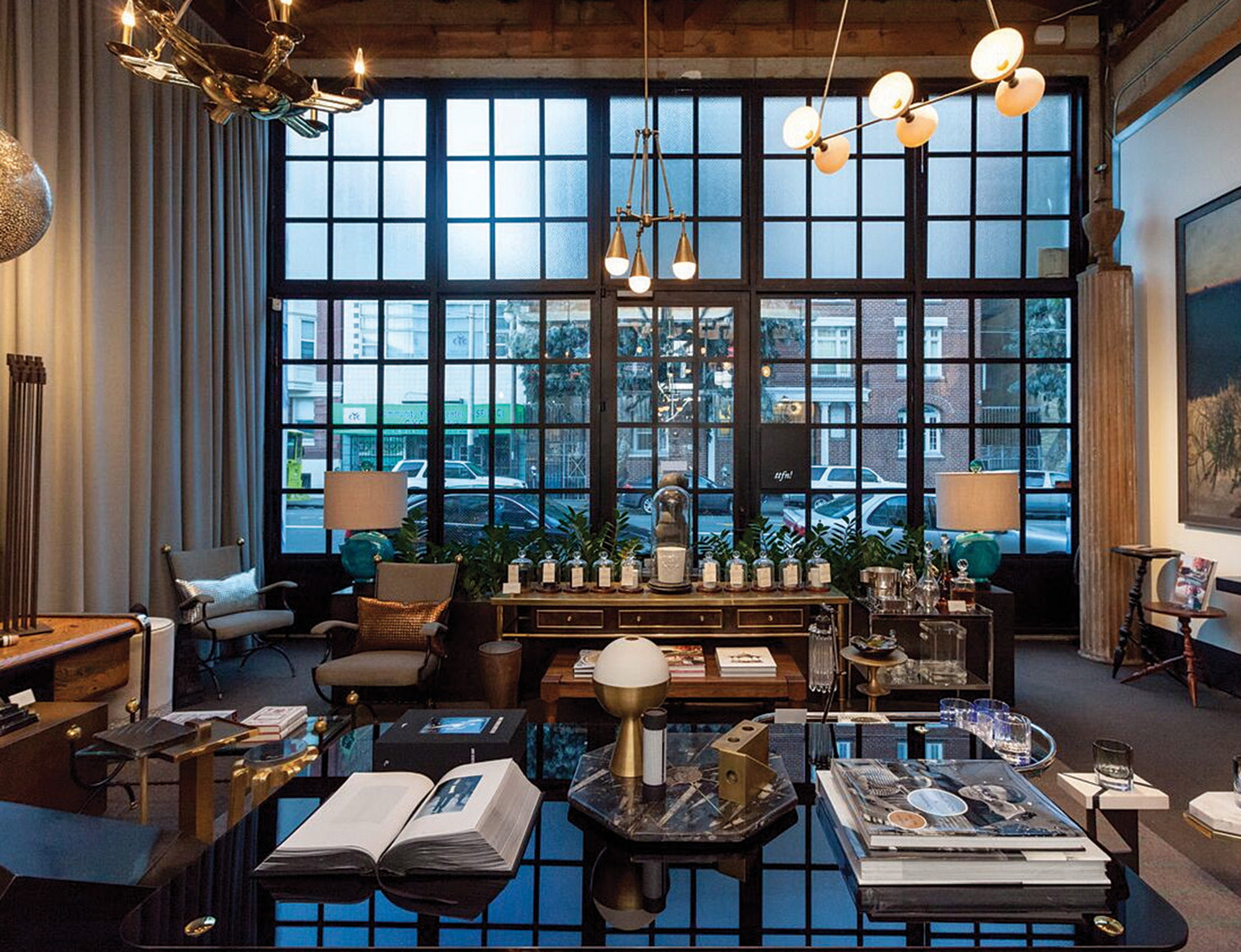 The Store is housed in a renovated 1910 warehouse with abundant windows facing San Francisco's Post Street. Photo: Jay Jeffers
07 Jan

Designing the West: Livable Luxury
---
Some people just have a knack for being in the right place at the right time. Take Jay Jeffers, for instance. The San Francisco-based designer was on a water taxi in Venice when he happened to strike up a conversation with New York literary agent Jill Cohen. As they glided past historic buildings and bridges, the pair chatted idly about a concept for a design book. Not only did Cohen end up signing Jeffers as a client, she championed the project and sold the book.
The result of the fortuitous meeting is Jay Jeffers: Collected Cool (Rizzoli, 2014), a resplendent coffee table book with color photographs of 20 homes and peppered with advice from the designer about the art of blending furnishings, art and accessories.
"Everyone should have a collection," says Jeffers, who collects portraits and vintage creamware, among other things. "The key to successfully creating an impactful grouping of personal objects in the home is to edit and display only the very best pieces."
The designer grew up in Texas, and while his creative leanings emerged at a young age ("I designed my first dream house when I was 8 years old," he says), Jeffers pursued a degree in international business and marketing before moving to San Francisco to work in corporate advertising for brands such as The Gap and Old Navy.
In another serendipitous moment, he decided to enroll in an introductory interior design class at UC Berkeley Extension. "It sounded like something fun to do, and I ended up falling love with everything about interior design," says Jeffers, who returned to school to learn drafting and color theory. For the next four years he worked for designer Richard Witzel.
Time was on his side again in 1999, when Jeffers decided to strike out on his own. "It was just at the beginning of the first dot-com boom, and it felt like a good time to start a business," he says. "I had a lot of tech clients with whom I developed relationships and, over time, I built the business to sustain changing economies.
Today the company is headquartered in San Francisco's Tenderloin neighborhood, in a 1910 warehouse with 18-foot ceilings, exposed beams and large skylights. The firm employs more than a dozen people and focuses primarily on residential design around the country. The designer has been named to Elle Décor's A-list and featured widely in national publications.
"Most people have seen a body of our work, so they know what we do," Jeffers says. "Since we create highly individual spaces for all of our clients, we begin the design process by learning about the way they function and how they spend their time. A lot of our clients are excited about a new home, and I'll send them to our Pinterest boards so they can review lots of styles and hone in on what they like. Then we'll develop several concepts and continue to refine the design."
Jeffers is known for both seeking out and creating one-of-a-kind furnishings for his clients and helping them accumulate collections. "Our clients want unique pieces, and we source a lot of antiques and custom furniture that will never be seen in someone else's home," he says.
To more efficiently satisfy that ideal, the company added a retail space in 2012. "We thought it made sense to have a store where we could curate interesting things and work with artisans who are creating beautiful pieces that we could share with our customers and the design trade," says Jeffers.
The Store, which sits in the front of the building, has exposed concrete walls and steel windows. Vignettes and displays showcase offerings such as Jeffers' line of entertaining accessories for Arteriors — ice buckets, cocktail shakers, tables and trays; handsome furniture by AKMD Collection of Chicago; gleaming light fixtures from Apparatus; Italian Alpi cashmere throws, blankets and pillows; Alex von Fürstenberg accessories; and handcrafted goods such as ceramics by Amanda Wright Pottery.
"I am a consummate shopper, and so is my husband, Michael," says Jeffers, referring to his partner in business and in life, Michael Purdy, the company's director of brand development. "We're constantly looking for furniture, art, textiles and accessories. We travel all over the world seeking out vintage pieces and modern furnishings that are eclectic and elegant."
The hardworking designer's penchant for good timing includes regular vacations to unwind and recharge. "This weekend Michael and I are headed to the tiny Mexican mountain town of San Miguel de Allende to relax," says Jeffers. "On our way home, we'll stop in Mexico City to shop the galleries and markets for interesting art and antiques."
---
WA&A wants to know …
Designer Jay Jeffers shares some of his favorite sources, travel destinations and design tips
Q: Your spaces often feature fabulous art. Who are some of your favorite artists right now?
A: Alex Kanevsky is a figurative painter who does beautiful work, and Vik Muniz is an absolutely brilliant Brazilian photographer.
Q: What's a common design mistake people tend to make in their homes?
A: Everyone should be aware of the importance of scale. A chandelier shouldn't be too small for the volume of space, for example, and a sofa shouldn't be too large for the room. If you're not in the design world, achieving the perfect scale can be one of the most challenging aspects to get right.
Q: Do you have a favorite interior wall paint color?
A: Benjamin Moore's Dark Harbor is a beautiful, deep blue-green. The exact hue is hard to pinpoint but it feels like the bottom of the sea.
Q: When you want to unwind, where do you like to travel?
A: I absolutely love Paris; we go at least once a year. It's so relaxing to wander the streets and just see where the day takes you. At the end of every year we go to La Casa Que Canta (The House of Song) in Zihuatanejo, Mexico. It's a tiny hotel with 28 rooms, each of which is named after a famous Mexican song. It's a wonderful place to start the new year.
Q: Describe your personal entertaining style.
A: We have a house in Napa Valley with a lovely outdoor space where we enjoy hosting dinner parties. Sometimes we'll have an intimate gathering for six people, and other times we might have 10 or 12 at the table. Michael does the cooking and I love setting the table, arranging the flowers and mixing the cocktails.
Q: What do you always stock in your refrigerator?
A: We don't cook at home a lot during the week, but our refrigerator always contains Champagne, coconut water, string cheese and pickles — I eat a dill pickle every day!