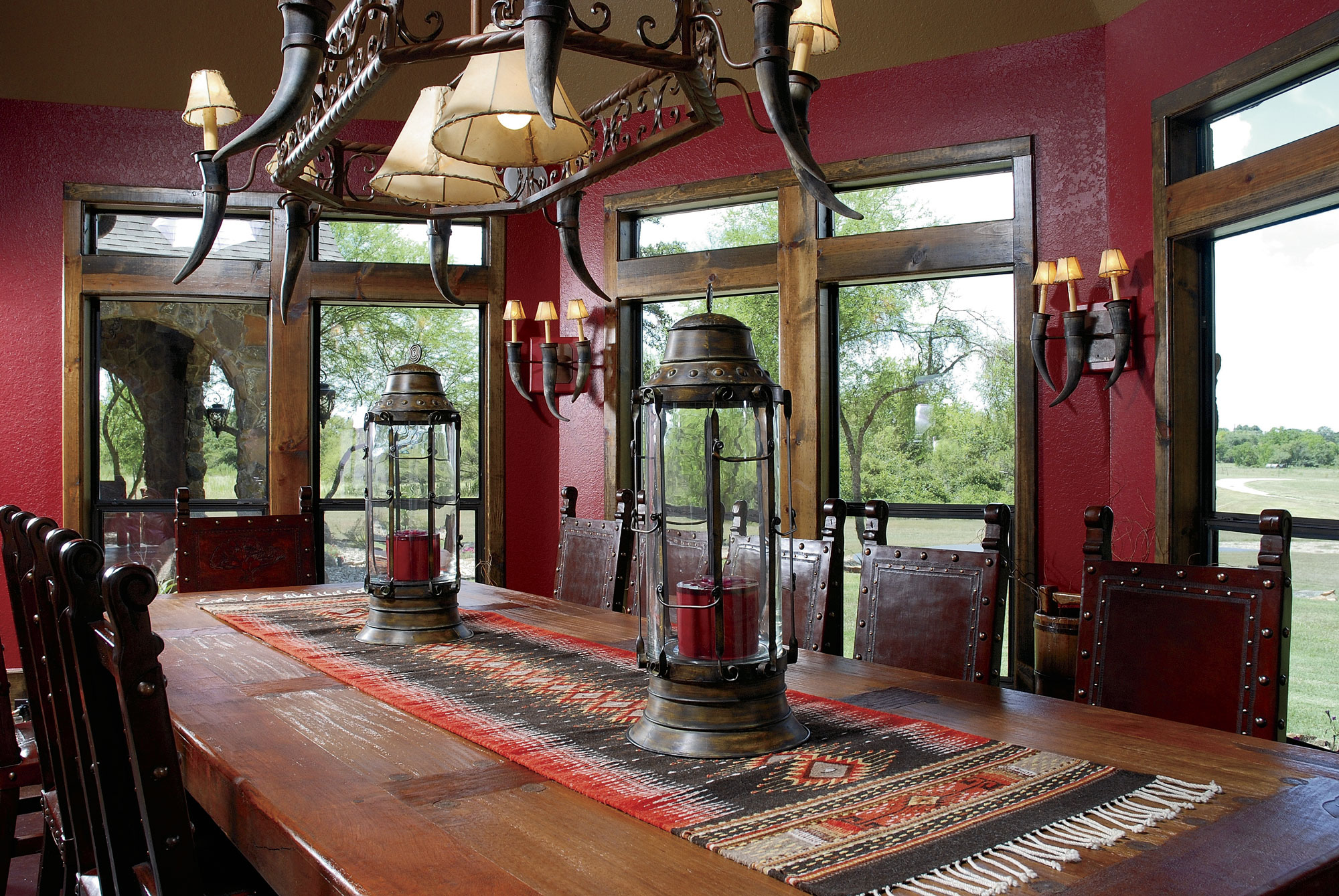 Snedeker designed the exceptional dining room chandelier and matching sconces. The chandelier features scrolled iron accented by eight longhorns. The dining room table was created from an old mesquite door and is flanked by tooled leather chairs.
24 Jul

Designing the West: Mix Master
---
When you walk into The Arrangement showroom in Dallas, Texas, owned by Katherine Snedeker, you realize immediately that this is not your typical Western furnishings store. Everything has been dialed up a notch, creating spectacular surprises that exquisitely blend rustic and refined. From the showroom to her customers' living rooms, bedrooms and dining rooms, Katherine Snedeker is a master at mixing elements, patterns, textures and styles.
Take, for example, "Big Mesquite," the 8,000-square-foot home of Bobby and G. Marie Schoelman in Sealy, Texas, named after the 300-year-old mesquite tree growing behind it. Snedeker says she worked on the home for several years, taking it from shell to sensational.
By creating comfortable gathering areas throughout, Snedeker built a warm, welcoming home where the owners' large family could congregate in multiple locations, not just the kitchen. The great room boasts three sitting areas, the main one flanking a remarkable rock fireplace. Snedeker furnished this section with two 10-foot-long, curved conversational sofas that are a combination of fabric and distressed leathers. A chandelier — created from a huge wagon wheel with massive curled iron lamps — balances the 28-foot ceiling. Snedeker chose a patterned rug to complement the vibrant fabrics in the sofa and accent pillows, while a Rus LaRock custom-made, hair-on-hide, embossed leather ottoman adds texture.
This blended style that expertly plays with scale, heft, proportion, texture and pattern has become a trademark of Snedeker and The Arrangement, with locations in Dallas and Houston. "We walk on the bold side of things, where everyone else is on the safe side," explains Snedeker. "We create a place so outstanding that you have a story to tell about the experience. We focus on the unique to create a dialogue."
It is a design philosophy that was engrained in Snedeker long before she obtained a Bachelor of Fine Arts degree from the School of Visual Arts in New York City. "This is really the kind of style I grew up with," notes Snedeker, whose father's military career enabled the family to live in Japan, Denmark and Germany, as well as various Southern states in the United States. "Wherever my mom was, she sought out something fabulous."
Snedeker says her mother paired those fabulous finds with her collection of early American pieces from the 1700s — writing desks, old piano desks and tiger maple tables — to create a space Snedeker remembers as "wow." "She would create a super-contemporary design with Japanese obis on the wall paired with patterned rugs and couches. It made a very interesting home."
Snedeker brings that same worldly design aesthetic to her clients through the unique offerings at The Arrangement. "I believe that your home should have a well-traveled look. It should look like you inherited pieces that all go together but aren't 'matchy-matchy.' We like to say we look for pieces that are best friends, not twins."
Snedeker's knack for masterfully mixing elements is also evident in the team she's created at The Arrangement. While Snedeker — nicknamed "The Chief" — says she looks for the unusual, dramatic and sometimes "crazy," Rick McCormick, buyer and merchandising manager, is more practical.
McCormick says Snedeker's strength is creating an overall vision and an appealing setting in which to shop. "It's casual, comfortable, fun and inviting," he explains. "We create the right environment for people to uncross their arms, to have fun and to talk about their home. … We take the edge off shopping and think about creating a great home."