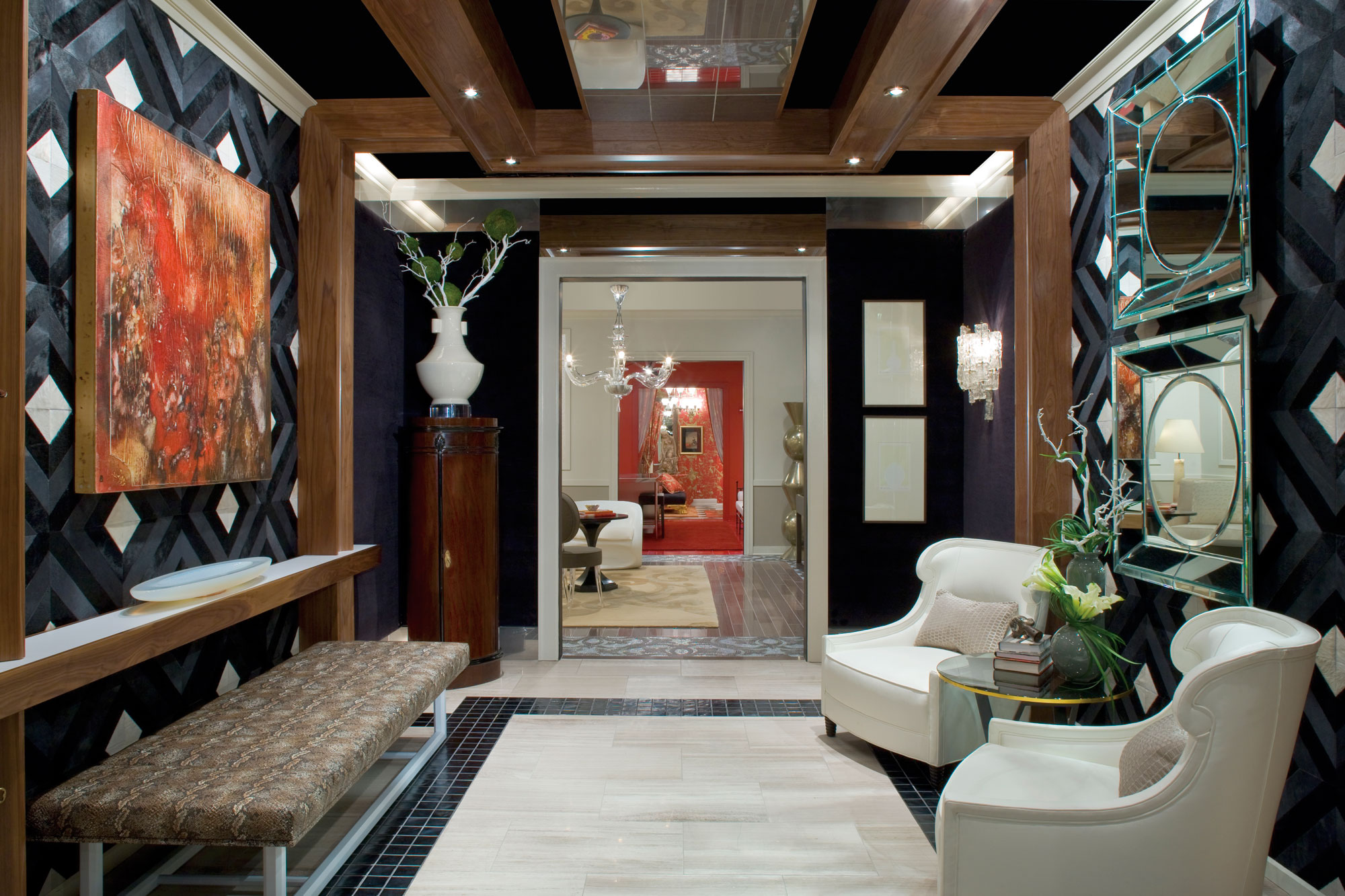 Bunting's "Bittersweet" patchwork parquet cowhide leather rug in ink and white, used as a wall covering in this foyer, creates a stunning art element. Photo: Wayne Cable
01 Sep

Designing the West: Nothing to Hide
---
When Kyle Bunting was a kid, his dad — a successful, self-made entrepreneur — used to buy cowhides and turn them into Texas maps with individually handcrafted squares that represented each of the state's 254 counties, selling them from a booth at the famed Fort Worth Stockyards.
It was an experience that stayed with Bunting, and just one of many that inspired his own artistic path. "It was something that he thought was beautiful, and that stuck with me," recalls Bunting. "As a kid, I was always impressed by the energy it took to intrinsically create something out of nothing."
It's fair to say that Bunting has done the same with his own career. Always an entrepreneur, everything he's done has seemed to turn into gold — no matter how diverse.
From founding SkyTV with his brother right out of college and selling it to Ziff Davis at the height of the tech boom, to successfully flipping high-end residential real estate at the height of the real estate boom, to catching the design bug and launching a successful business built around cowhide, Bunting has the Midas touch. As diverse as they are, each venture has led to the next — and all have been driven by the need for a creative outlet.
"When we sold SkyTV, it gave us the financial, personal and creative opportunity to do what we wanted," he says. "I really caught the design bug fixing up and selling houses. I'll never forget the first time walking into the San Francisco Design Center — it was a new creative medium for me."
Given his early inspiration, it's no surprise that Bunting's creative medium of choice is centered on cowhide. Today, Bunting leads a firm that's recognized worldwide for its stunning collection of luxury hide carpets and wall coverings. The company also supplies hides for architectural and upholstery applications.
"Kyle is a real visionary in the design industry," says Fern Santini, owner of Abode, an interior-design firm in Austin, Texas. "There's nothing like this on the market — elegant, understated, sophisticated. It's art masquerading as a rug."
Kyle Bunting Design was founded in 2001, soon after Bunting met his wife, Libby, and the Texas-based company has come a long way in a relatively short time. "We had this idea of a contemporary line of rugs made of cowhide," he says. "The energy started flowing, and all these ideas came up."
Bunting asked his dad for advice and started making prototypes. A few weeks later, after shopping around the samples, a gallery called with a big order and the rest, as they say, is history.
"We are very passionate about hide — it's beautiful, luxurious, has tactile appeal and has both a Western and international aesthetic," says Bunting. "What my father did was more of a patchwork; ours is at a level of veracity where there's no comparison."
Celebrating 10 years in 2011, the company will create 50,000 square feet of "couture cowhide" rugs and other products geared primarily for the design trade, including "hidepaper" wall coverings, hair-on-hide leather for use in custom applications, decorative art and custom furniture. The company has also started doing large-scale, "mural-esque" installations out of hide for both residential and commercial clients.
One of those custom murals will be part of the design Santini is helping to craft for a penthouse in the residence towers at Austin's Four Seasons hotel. Designed especially for the penthouse's media room, the finished mural will be 18 by 9 feet, wall to wall and floor to ceiling.
"Kyle is an architectural and design junkie," says Santini. "He's very educated and informed and understands that market."
With a history of partnering with such designers as Philippe Starck, David Rockwell and others, Bunting is all about developing a global brand known for quality and luxury — with traditional roots. For example, while nearly all of the leather and hide Bunting uses comes exclusively from Italy (some originates from Brazil), all of the company's products are designed and made by hand at Bunting's Austin studios.
While Bunting is certainly the company's driving creative force, he's also eager to work with talented designers who share his overall vision so that the company's designs aren't "all him, all of the time." Santini says that a large part of Bunting's appeal is his flexible approach to new ideas.
"We're at our best in the design community when we act like a sponge and are open to others' ideas," she says. "That's a critical thing in doing great work, and Kyle is like that."
At the end of the day, with a company motto of "Be extraordinary in hide," Bunting is happy to create distinctive things with just one unique material. "My dad calls himself the 'hide master of the universe,'" he laughs. "We joke about it, but creating special things is important to us. If you focus on something and do it well, you'll be happier."