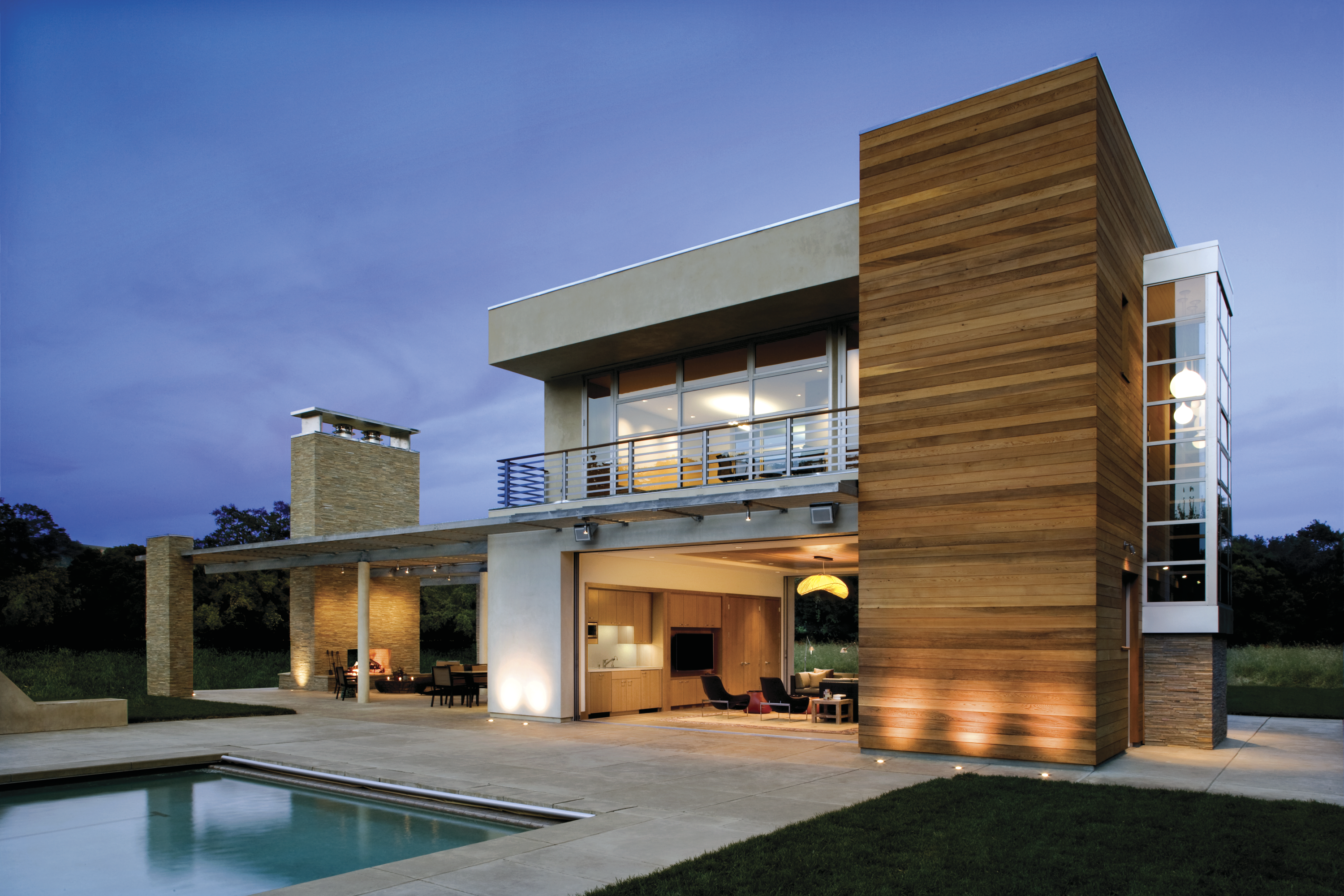 A pool house and office in the California wine country exemplifies the team's masterful approach to creating a true indoor-outdoor environment.
09 Jun

Designing the West: Organic Design

California visionaries have always been leaders in the ever-evolving conversation about outdoor living, from Cliff May's iconic ranch homes — still fresh and modern after 80 years — and the organic, one-with-nature designs at Sea Ranch, to today's interpretations. From Big Sur aeries to suburban gems to expansive wine country retreats, these are as varied as the designers and homeowners who conceptualize them, yet all are inspired by and celebrate striking landscapes, a truly enviable climate and the fruits of the land.

When Michelle Wempe's clients described what they were seeking in their weekend retreat in Sonoma's fabled wine country, it was all about the outdoors. "The husband had grown up in the Rocky Mountains, and the wife in Jamaica," Wempe explains. "Both grew up with a lot of open space and nature. They have three young kids, and they wanted them to experience that freedom in nature."

The couple had purchased a large property with a beautiful natural meadow as its centerpiece. While the property had two existing structures, it soon became apparent that neither was salvageable. After discussion, all parties agreed that the sensible course of action was to build the pool house first in order to be able to use the property sooner. They would follow up later with the main house.

"The idea was to make the pool house part of the meadow, and to have a great indoor/outdoor living space," Wempe recalls. "The question was how to really open up the interior to the outdoors as much as possible."

The result is a Modernist structure that rises from, yet is one with, the surrounding meadow. With its clean lines and interesting negative spaces, it makes a dramatic sculptural statement. At the same time it achieves seamless indoor-outdoor integration. (The kitchen and much of the living space is outside, while the walls of the great room disappear, effectively turning the main room into an outdoor space as well.) Because of extreme summer temperatures, Wempe adds, "The shade structure was designed to keep the sun completely out of the building itself. When it's 100 degrees out and feels 120 by the pool, out of the sun it feels like a cool environment where the glare goes away and the heat goes away."

From conceptualization to execution, Wempe and her colleagues at zumaooh were given tremendous latitude. The effect is the client's vision translated into a practical retreat that scores on all points, yet still makes an original artist statement. "We've been lucky in this particular project because the client really trusts us," Wempe says. But her experience, and that of her colleagues, laid the groundwork for just this kind of challenge.

A graduate of Kansas State University's five-year interior architectural program within the College of Architecture & Design, Wempe worked for several established design firms, mainly designing high-end commercial interiors, from layout to furniture and fabrics, in Colorado and the Bay Area. Over time, she started accepting residential assignments from select clients. After designing work spaces and living spaces simultaneously for several years, one day, she recalls, "I just decided what I really wanted to do was residential work. The corporate work was becoming less about design, even at the highest levels, and more about the bottom line. At a certain point, it loses its charm."

Wempe says she doesn't miss the corporate work; she loves the process of discovery that goes on with each new site, and each new client. But she is deeply grateful for the challenging experience of creating interiors out of existing but empty shells of office buildings.

"My personal point of view is that having a background in commercial work gives us strength in terms of technical ability, and in terms of our ability to take on complex problems," she says. "When I did commercial work, I felt my residential work allowed me to soften the work I was doing, and make it more people-friendly. Having a background in corporate work gives us a level of responsibility, an understanding of budgets and schedules and collaboration, and how you play well on a big team. It really benefits our clients. You understand your decisions from a variety of points of view, from budgets and scheduling to technical performance. There are lots of ways to look at solutions."

In this she is seamlessly supported by her close knit Oakland-based team: Mark Szumowski, the architectural expert who, Wempe explains, "leads the technical piece"; James Johnson, who Wempe describes as the "glue that binds us together," completes most of the drawings and keeps a watchful eye on technical direction; and Heather Robertson, who focuses on the sourcing and execution of furniture, fabrics and finishes.

A recently completed project in Northern California demanded much of the team in terms of its scope and technicalities. The LEED-accredited home features a geothermal system, radiant and solar heating, a water cachement system and a living roof. These technical show-stoppers are fused with a serene aesthetic in terms of space and environment. "It's got a northern-California-meets-Asia aesthetic. It's a beautiful space, with spectacular views on one side, and on the other you're in the redwoods."

The zumaooh team remains busy working with existing clients — they're at work on the main home for the Sonoma pool house site, as well as a property in Marin County, to name two ongoing projects — and finds their clients taking them in new directions, an exciting evolution of the business. The scope of the Sonoma pool house project expanded recently when Wempe was asked to act as an art consultant. One result of this is a sculpture garden. Working with a renowned landscape designer, who created a visually energizing grid of Arbutus (madrones, commonly called strawberry trees), the garden adds just one more dimension to an outdoor life — and another course of professional interest for zumaooh.