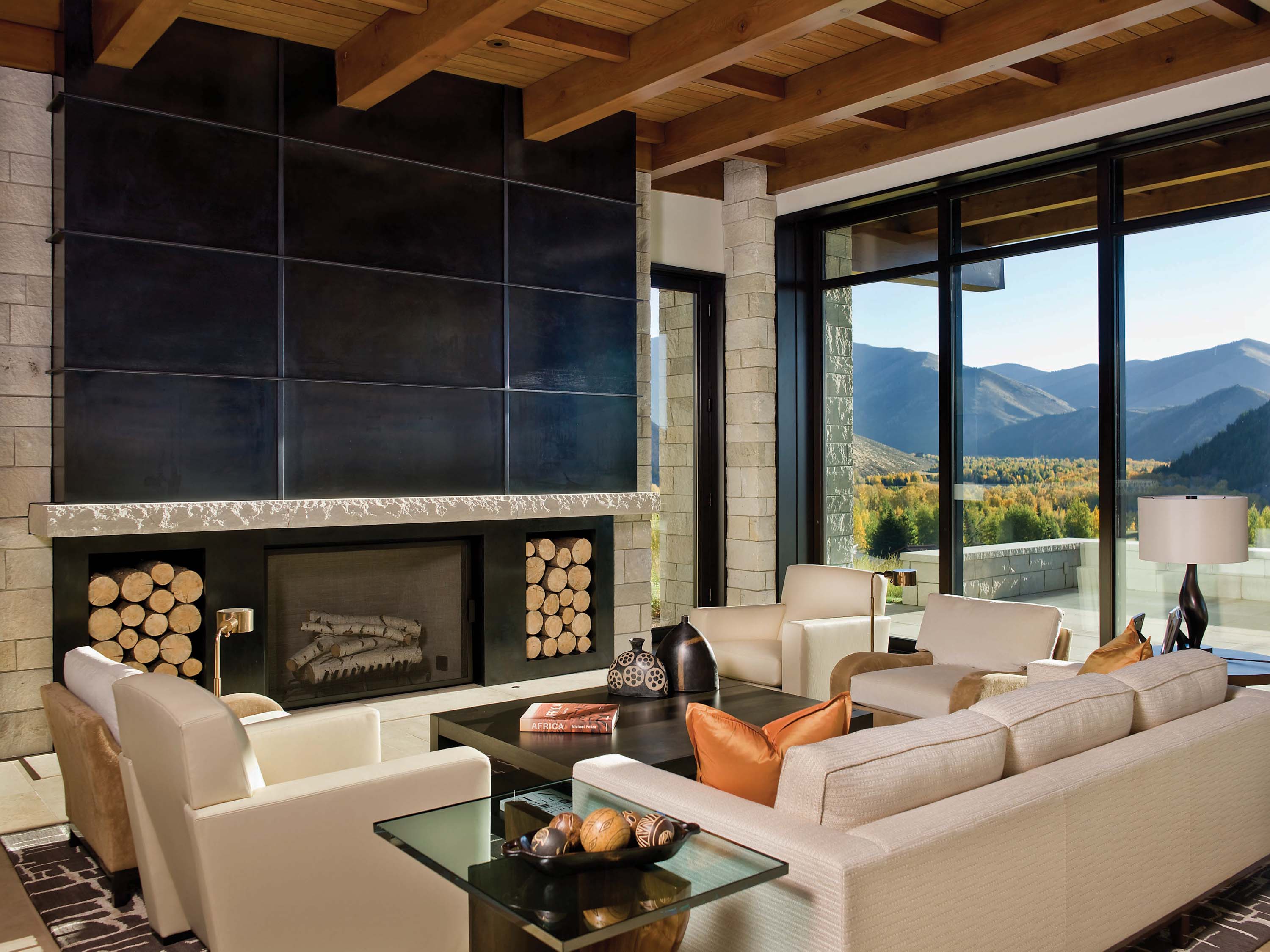 A contemporary living room features a variety of contrasting materials, including blackened steel, reclaimed wood, thick glass and natural stone. For an elegant look, Smith specified simple, classically-styled furnishings and left the windows unadorned to put the stunning views on display.
04 Aug

Designing the West: Precision Planner
---
Detail-driven. Fanatical. Über-organized. Type A. Any of these might describe interior designer Jennifer Hoey Smith, ASID, a Sun Valley interior designer known for creating clean, contemporary, elegant spaces that are meticulously planned down to the switch-plate screws.
"I take a holistic approach to the way I design and look at a project," Smith says. "I like to consider the whole picture, from the construction drawings to the building specifications to the furnishings. Some decorators can furnish just one room, but I specialize in doing the entire project, whether it's new construction or a remodel."
Growing up, Smith's father owned a high-end custom cabinet manufacturing firm. At his urging, she took some interior design courses while attending Florida State University. "I had always loved art, sketching and drawing, and it turned out I had an affinity for designing spaces. Dad happened to need a designer at the time, so I worked for his company and was also a project manager for another licensed design firm. The real-life experience coupled with what I'd learned in the family business reinforced everything I was being taught at school, which was an amazing experience."
Smith moved west after meeting her husband-to-be during a ski trip to Breckenridge. The couple settled in Sun Valley nine years ago, and after working as a kitchen designer for a year Smith decided to open her own interior design firm specializing in high-end residential work and select commercial projects. Jennifer Hoey Interior Design is housed on the second floor of a historic building in downtown Ketchum, in a light-filled office with old brick walls and 14-foot ceilings.
"My clients tend to be looking for something different," Smith says. "We begin the design process by honing in on the styles they like. We might review architectural magazines, design books and my portfolio to get a sense of their likes and dislikes. In later conversations we progress to talking about the nitty gritty — everything from how many spice dividers they need in the kitchen to what horsepower the garbage disposal should be. We really delve into the way our clients live, because the whole point of hiring an interior designer is to make everything custom to you."
Working closely with the architect and client, Smith creates the "bible" for the project: her trademark, all-inclusive, Interior Specification Document. "I make one of these books for every project," Smith says. "It contains everything your contractor needs to know to build the house: specifications for flooring, cabinetry, countertops, decorative lighting, paint and wall coverings, plumbing fixtures, appliances, stone and tile, doors, hardware … you name it."
The firm's CADD operator also creates highly accurate renderings showing the exact details chosen. "When you see the finished elevations, you get a very accurate picture of how things are going to look," Smith says.
With such complete information in hand, clients can more easily seek and compare bids from several contractors. "By spending this time and money in the beginning of the project, you gain a huge value by having a much more seamless process," Smith says. "The builder has fewer questions, the client has fewer surprises and the work can progress much more efficiently."
Furnishings are chosen with equal foresight. "I create both a furniture inventory for pieces the client already owns, as well as a furnishings plan and budget. There are a million products out there, and we make it our business to stay current. In addition to all the swatches, cut sheets and samples we have in the studio, we often travel to the major design centers to see what's new."
In a mountain resort community where the prevailing style leans toward dark woods and heavy fabrics, Smith's style is decidedly non-traditional. "I've always had a cleaner aesthetic and an appreciation for good, contemporary design. Living spaces shouldn't be fussy or overdone; they should be livable and comfortable."
Antiques are often part of the mix. "I always feel like there needs to be something old in the room," Smith says. "I love working with vintage, reclaimed materials, and to me, pairing a modern chair with a beautiful antique rug is more interesting and creative. I also love mixing textures — putting a silk pillow on a sofa in a nubby fabric, for example, or combining a suede chair with a linen velvet seat cushion. When I'm designing a custom pillow, I might use one fabric on the front and a different one on the back so you can turn it over for a different look, which adds versatility to the piece."
Dr. Doris Tunney has worked with Smith on several residences, including her home in Sun Valley. "Jennifer's creativity, vision and attention to detail were remarkable, and she had the skills to completely organize the project, which is one of the reasons I hired her," Tunney says. "We made several trips to the design centers to shop for furnishings, and I had total trust in Jennifer to make the right selections. The book she made for me with all of the elevations and information is a terrific resource that I refer to all the time. But the most important thing is, I really love the house. It's comfortable and amazing, and there isn't one thing I would change about what we did. Jennifer and I have a wonderful working relationship, and she's as much fun to work with as she is organized."
Such praise is fitting for a designer whose thorough — one might even say fanatical — attention to detail produces such stunning results.