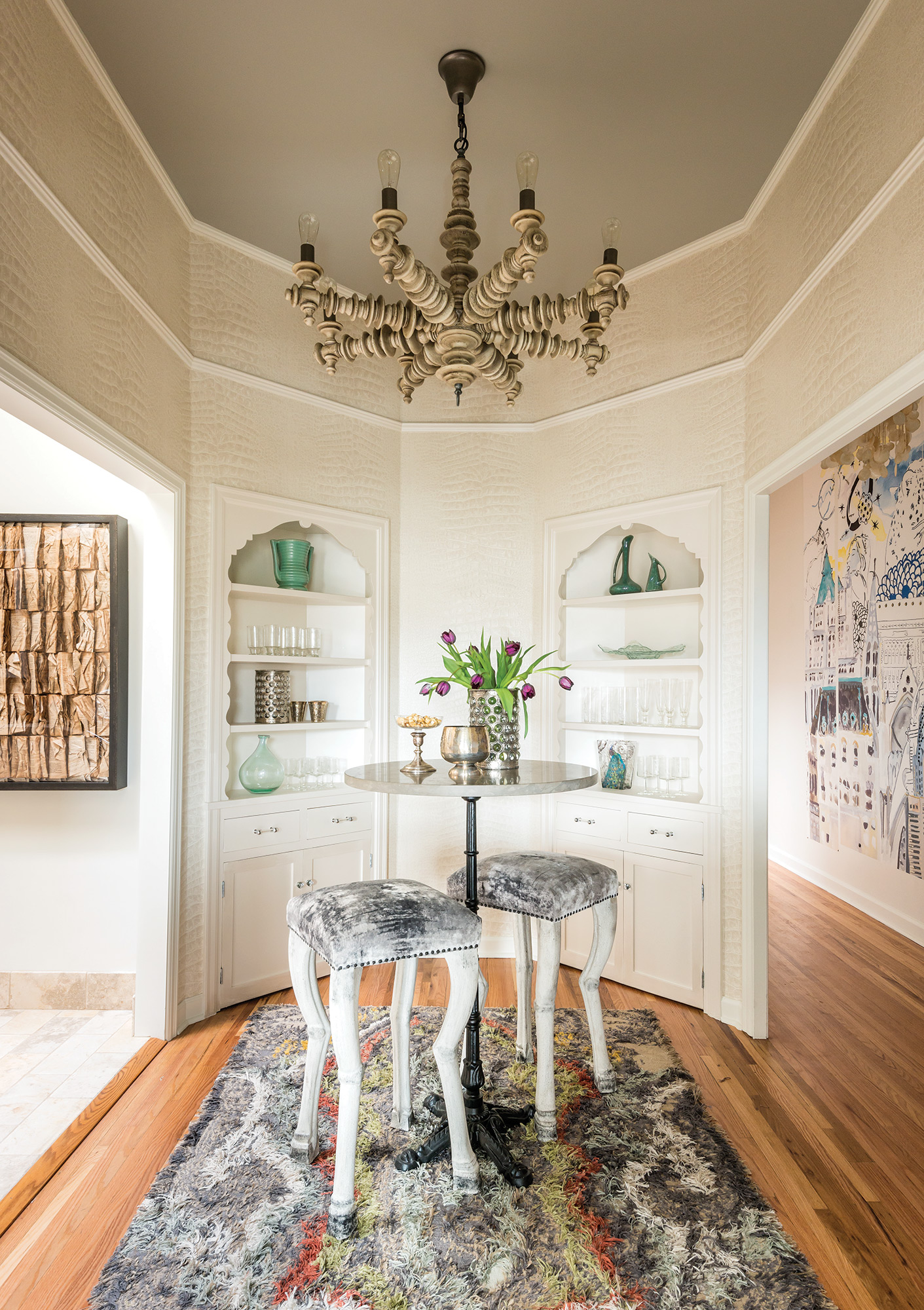 Abby Hetherington designed this loft in downtown Bozeman as a retreat for writer Jennifer Perry, who finds comfort and inspiration in the feminine space. The designer arranged accessories and treasures from Perry's travels in built-in bookshelves and covered the walls with a shiny crocodile textured wallpaper. The Noir light fixture overhead lends an antique feel, and the stools are upholstered in Noblesse fabric. The rug is from Anthropologie.
04 Aug

Designing the West: Reimagined and Repurposed
---
With the name "The Architect's Wife," people can't help but be intrigued by the design store located in an old brick building in downtown Bozeman, Montana.
"I wanted our retail business to have a story behind it," says owner Abby Hetherington, who imagined the close relationship between architecture and interior design as a marriage. Hetherington opened the storefront in 2015 to complement her eponymous interior design firm. Artfully displayed throughout the curated showroom is everything from one-of-a-kind artifacts and antiques to Italian leather sofas, statement light fixtures, modern furniture and home accessories.
"From a young age I was always artistic; in fact, my parents were a little concerned that I wouldn't make it in the 'real world,'" the designer says, laughing. "Growing up, I loved going to museums and galleries and home shows. A family friend suggested I try interior design, and I've loved it ever since."
After earning a degree in interior design from the LDS Business College in Salt Lake City, Utah, Hetherington worked for a design firm for 12 years before launching Abby Hetherington Interiors from the front room of her Bozeman home in 2012. "I began picking up small projects and eventually moved to a 300-square-foot office. Then things just took off, and the company staff grew from one employee to five within a span of 12 months," she says.
The firm's storied headquarters was renovated from an old Montana Motors garage into the charming space it is today, giving the staff plenty of hands-on experience. "We love to be creative in a space, reimagining and reusing things," Hetherington says. "The building has rich character, wonderful brick walls and concrete floors. We removed the drop ceilings and redid the beams, and we repurposed the old garage doors as doors to our offices. Sometimes you need to look at what you already have before you start bringing in new elements."
The company handles a mix of commercial and residential work from the downtown showroom. "We always have fun, interesting commercial projects going, from gyms to salons to restaurants to high-tech offices to boutique hotels," Hetherington says. "It's so exciting when business owners tell us their visions and we create little worlds for them. We love being able to hear their thoughts and make their dreams come true."
For residential projects, the client's needs and tastes dictate the design. "We always strive to create an orderly home that doesn't feel too 'decorated.' To me there's no better compliment than someone saying to one of my clients, 'Oh my gosh, that's totally you,'" she says. "We like to pull our clients outside their comfort zones a bit. I love surprises, I love to laugh and I love for our designs to have a sense of humor."
Because the firm is located near a resort town, many of its residential projects are vacation and retreat properties, places where people want to spend time with family. "During the design process we become like therapists, getting to know our clients' lifestyles, goals, hobbies and even where they like to drink their morning coffee," Hetherington says, adding that she enjoys the challenge of incorporating existing pieces into a space. "Most of my clients are pretty well-traveled, so we'll go through what they already own and build upon that. We might help them build a collection or tie a group of objects together. I call it 'organized chaos,' but the elements are complementary."
Tara Maw has worked with the firm on several residential projects, including a family retreat in Bozeman and most recently a home in Florida. "Abby is one of the most creative people I know," Maw says. "She'll combine two things you'd never think to put together, and it's drop-dead gorgeous. We started out leaning toward more traditional design, but Abby has helped us gradually become more modern and contemporary. We love where we live every day, and to me that's the be-all, end-all."
---
WA&A Wants to Know …
Designer Abby Hetherington shares tips for finding unique pieces as well as some of her favorite travel destinations and design ideas
Q: Where do you find your one-of-a-kind collectibles and artworks?
A: I collect a lot of random art, and I like building relationships with up-and-coming artists. Whenever and wherever I travel, my souvenirs are always art pieces. My advice for collectors is to take the time to get to know the artists, craftsmen and other collectors in your community.
Q: Do you have a favorite interior paint color?
A: Edgecomb Gray by Benjamin Moore is like a chameleon; it isn't exactly gray, and it's not really tan, but the hue adapts to whatever we pair it with. I sometimes like to paint the walls and trim the same tone, which makes the room feel like a blank canvas ready for layering.
Q: When you want to unwind, where do you like to travel?
A: I actually love to go to New York. I enjoy the museums and culture in Manhattan, and I love going to Brooklyn to meet with artists and craftsmen. This is not only what I do for a living, it's my passion.
Q: Describe your personal entertaining style.
A: Casual elegance. I want everybody to take their shoes off and feel comfortable and relaxed. At the same time, I like bringing out the fine servingware, beautiful dishes and great food, and making things feel special.
Q: What do you always stock in your refrigerator?
A: Chevre, eggs and vegetables. I like very fresh, farm-to-table food. I also enjoy growing fresh produce in our Bozeman garden.