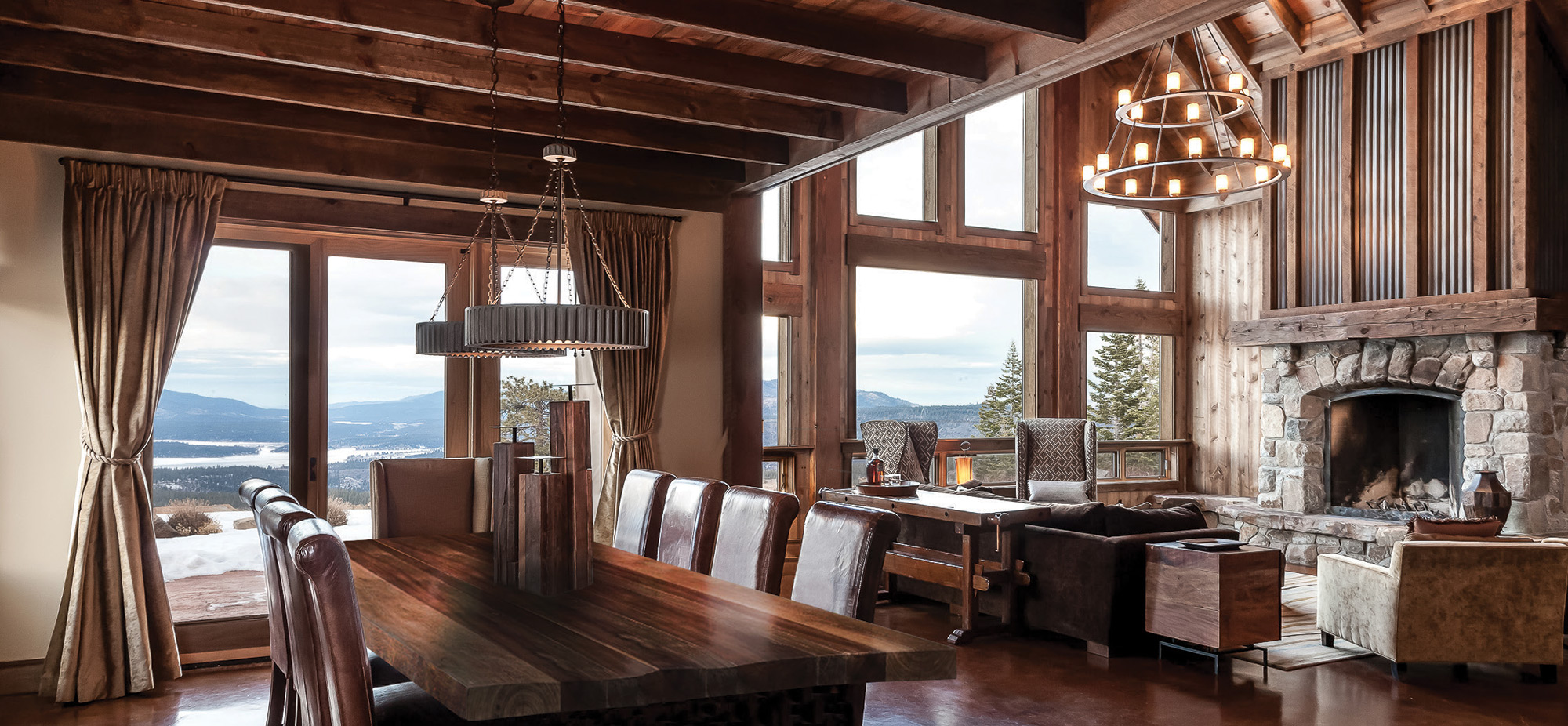 In a sophisticated, open living and dining room, Vincent combined clean-lined furnishings with rustic materials for a comfortable, modern look.
10 Mar

Designing the West: Rustic Comfort
---
"Diana Vincent puts pencil to paper and works magic," says Suzanne O'Brien, who hired the interior designer to renovate her family's Lake Tahoe home. "Diana's naturally creative, and she has an uncanny ability to visualize spaces. The minute she walked in our house, she started coming up with innovative solutions for some of its challenges. From the materials, finishes and lighting to the furnishings and accessories, Diana touched every part of our redesign — top to bottom."
That imagination and creativity — what clients call magic — stems from Vincent settling into her true calling. She followed a circuitous path before arriving at High Camp Home, the interior design firm she founded in Truckee, California.
"I was always deeply interested in interior design," says Vincent. "But it took me some time to trust and follow that passion." After earning a business degree from York University in Toronto, Vincent pursued a successful career in ski resort management at Panorama Mountain Resort outside of Banff before deciding to return to school in the late 1980s to study interior design.
In 1995, Vincent launched a Toronto-based staging and interior design firm that specialized in using people's existing furnishings. Her unique concept attracted the attention of producers from the then-new HGTV channel, and she appeared on some of the network's early design shows.
Vincent moved to the Lake Tahoe area in 1998 and fell in love with the region's pristine scenery and unspoiled charm. "It was during that time that [it became] very clear that resort interior design was what I truly loved," she says. Later that year, she launched her new company High Camp Home Design. The business has moved and expanded several times, and now it includes a design showroom, online shopping site and a retail store, all headquartered in a rustic storefront in Truckee's historic downtown.
"Truckee is an authentic, old Western town," Vincent says. "We're located in an old building that we completely renovated nine years ago, and it still feels fresh and relevant today. I often say that what we did to our building is what we do with our clients' homes; we create timeless spaces with character."
Consistent with her love of reusing and repurposing old and unusual materials, Vincent covered some of the store's walls with reclaimed corrugated metal and others with birch panels. A huge, double-sided fireplace warms the space and creates an inviting gathering place. "Our customers ask where we sourced the flooring that runs through the store and are often surprised to learn that the wood floors are original; they just look quaint because they're old and beat up," she says.
Similar to how she designed her showroom, Vincent often marries rustic and contemporary elements for her clients. "The best way to achieve balance between eclectic furnishings is to keep a fairly monochromatic palette and look for clean lines. Because our spaces often include interesting vintage pieces with a lot of character, men tend to enjoy our style as much as women do."
Vincent takes a hands-on approach to design, often sketching layouts to illustrate concepts to her clients and staff. "While I'm grateful for my formal training, my real education came from what I learned during 20 years in the field," she says. "We use computer design software now, but because I learned by doing the process by hand on my drafting table, I still like being able to quickly show and explain what I want people to see.
"At its essence, design is a story," she continues. "Sometimes I use sketches and scribbles to help people truly understand the story behind a space and how we're going to design it. In a living room, for instance, we might first talk about how the drama of the space will unfold. Then I'll sketch a quick floorplan as we talk about how everything fits in the space, starting with the structural elements like the windows and doors, or a grand fireplace. Then we'll talk about soft goods — sofas, chairs, lighting — and how they will integrate and work together. Finally, we talk about how the space will work for the client, how they will feel in the room, and how we will bring the materials to life so the room feels special."
The company currently employs 15 people and has completed residential work in the Lake Tahoe area and in other states including Colorado, Texas, Vermont, Missouri, Washington and New York. Recent commercial projects include Pläj Scandinavian restaurant and bar in San Francisco, luxury accommodations for Northstar California Resort and office spaces.
Eight years ago, the designer and her husband, Greg, purchased a ranch on 6 acres in the foothills and have been painstakingly renovating the property's original farmhouse, which was built in 1870. "It's at a lower elevation about an hour from the store," Vincent says. "We've added a barn, two ponds, a vegetable garden and a chicken coop to the property. I have projects in Napa and Sonoma, and those clients often like to visit and see what we're doing with the farmhouse. The aesthetic we're creating here fits the casual-elegant lifestyle of the wine country. I love being able to show them first-hand how we bring interior design to life."
---
WA&A wants to know …
Designer Diana Vincent shares some of her favorite tips and tricks
Q: Your spaces often feature fabulous art. Who are some of your favorite artists right now?
A: I love Shawna Moore's encaustic paintings, and Annie Hooker creates wonderful monochromatic paintings and prints. Crystal Harling does beautiful landscape and nature paintings. We carry works by all of these artists in the store.
Q: Do you have a go-to interior wall paint color?
A: Sherwin-Williams Steamed Milk is a clean white that is also warm; it works well with the woods and rustic tones in our designs. Sometimes getting the basic elements right — like the perfect white paint — is more important in a space than following the hottest trend.
Q: When you want to unwind, where do you like to travel?
A: We actually love relaxing at home, so when we travel we tend to take shorter trips. Solage Calistoga Resort and Spa in Napa Valley is one of my favorite destinations for a quick getaway. The spa is wonderful, and the resort is unfussy and luxurious at the same time.
Q: Describe your personal entertaining style.
A: We love to entertain at our farmhouse. I like to set the table with fine china and eclectic linens and accessories that have lots of personality. I enjoy going through the effort of making things nice for our guests. It's a lost art, but I think it's important.
Q: What do you always stock in the farmhouse kitchen?
A: We always keep olives, arugula, wine and sparkling water in our refrigerator. And we always keep popcorn in the pantry — I love popcorn.