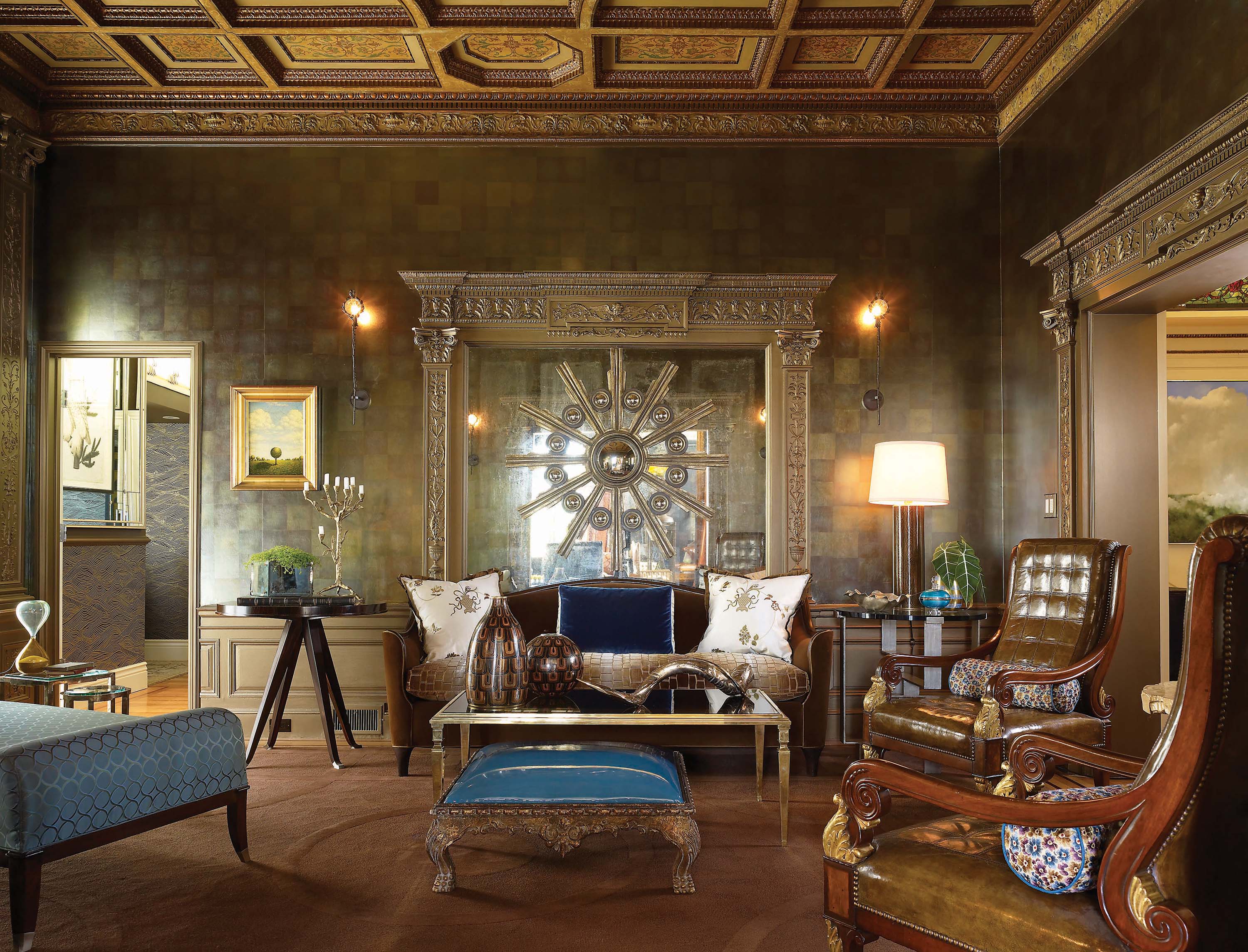 At the san Francisco Decorator Showcase House 2008, the designer commissioned hip turquoise patent leather to be upholstered on an ornately carved ottoman. in the rear of the room, her grandmother's sofa is recovered in an exquisite velvet fabric.
01 Feb

Designing the West: Traditional With A Twist
---
A kitchen table on industrial wheels? A French baroque ottoman topped with a cushion of shiny patent leather? A living room stool made of … furry cowhide?
These unexpected elements undoubtedly turn heads and underscore the philosophy behind San Francisco-based Navarra Design — traditional with a twist. "One of my customers once told me that my work has a certain level of humor," remarks Kathleen Navarra, interior designer and owner of the popular design studio. "I guess that's true. I try to have fun with what I do."
After more than 20 years in the profession, Kathleen Navarra's passion for pairing old with modern, redefining space and creating rooms with eye-popping color is more robust than ever.
These days she is juggling at least 25 projects, one of which is redesigning an entire residence, from top to bottom, ruined by water damage. Right after this coffee shop interview she must run to discuss tile with client and contractor.
Even in a tight economy, Navarra's reputation for exceptional originality has carried her through, enough to open a small home furnishing and accessories shop called Jak Home, which she co-owns with business partner Jeffrey Holt, the store's general manager. The name stands for the first initials: Jeff and Kathleen. Jak Home occupies a storefront on Polk Street, in the heart of Russian Hill. It's a tony neighborhood where design stores are juxtaposed among a bookstore, a tapioca pudding house, an organic grocery, and a movie theater turned fitness center.
"Both of us wanted to open the store for a long, long time," says Navarra. "So we took the plunge three years ago when it was not considered the best time." But Jak Home has exceeded expectations, and Holt's artistic prowess in window dressing and product arrangement lures in a steady stream of foot traffic.
Wares come from San Francisco artists as well as international sources. Several customers are so taken by the store's colorful interiors that they become Navarra's clients. Periodically, Holt will radically change the color of the walls and greet customers with a paint chip of the same hue. On this fall day, the shade is Newbury Port Blue, and he will be painting again before the holiday shopping season begins.
The eclectic mix of items includes vintage, modern and antique pieces: paintings, sculptures, side tables, mirrors, couches, chairs and smaller trinkets such as candles and jewelry holders. Each item mirrors Navarra's novel eye for style, beauty and a subtle off-the-hook touch.
Her "traditional-with-a-twist" aesthetic means that Navarra has no problem pairing formal wingback chairs with a white lacquered coffee table boasting sharp angles and corners.
Her portfolio echoes this flirtation with fun: One picture shows a tile shower in beige and cream stripes, but it is exceptionally wide with shower heads on both ends. Navarra explains that this master bath also opens up into the backyard with a pool. She needed to design the shower so that it could accommodate a group of kids who would be able to run in as a pack and rinse off.
For one designer showcase, Navarra staged a bedroom with a bar hutch fronted by a round wooden door typically used as the lid for a wine barrel. She relied on her playful instincts, which paid off. The bar hutch and the peacock-blue patent leather ottoman became an instant hit with visitors, and many wanted to purchase the items during the show.
Her distinctive sense of style has been clarified over many years. While most of her peers were clueless in their career choices, at 16 Navarra knew she wanted the life of an interior designer, and has never looked back. "I went on a job site with a neighbor, and that's when I knew. I was always building something at home. Dollhouses, making jewelry, all kinds of things," she says. "I always thought of creating things as so cool."
While attending the New York School of Interior Design in the 1980s, she immediately went to work to support herself as an assistant for two interior designers in the city. "I did lots of running around and later helped them with the paperwork and ordering." From her boss, Carol Farkas, and her other employer, Gayla Harlocker, she observed how they listened to customers, and how they managed the financial end of their businesses. "It's not just about being a good designer. You must be able to keep your clients."
Harlocker possessed a traditional style, accentuated with florals and lots of color, explained Navarra. While Farkas excelled with the technical details of kitchen and bathroom renovations. When she was still in school, Farkas gave Navarra the unique opportunity to participate in layout and design for customers.
After completing her B.F.A. degree, the young graduate signed on with an architectural firm in Pittsburgh to learn more about scale and construction, an experience that expanded her knowledge base, bolstered her confidence and shaped her design acumen. In 1990 Navarra headed to San Francisco with color swatches in hand and loads of exuberance. Three years later, she left the design firm she was working for and launched her own.
Since then, Navarra has built up a clientele that stretches from the West to the East Coast, mostly couples in their 30s and 40s, often with kids and pets thrown into the mix. Her projects are mainly residential, and Navarra is careful to stress that she will not railroad a client into adopting any particular design philosophy. "After all, I won't be living in the house, they will," she says.
When it comes to favorite rooms to design, Navarra is quick to answer. "Kids' rooms! I love designing kids' rooms. Clients are usually more open to experiment," she contends. "They are more open to doing more color, pattern and texture. It's as if that is more of a safe zone." For a bedroom shared by three brothers, she designed a play loft that hid a closet and bathroom.
And while she nurses a soft spot for children's spaces, Navarra also relishes the challenge of kitchen and baths. That's where her problem-solving talents help create more useable space. In one home, the family was faced with a long bowling-alley kitchen that felt narrow and cramped. Navarro reconfigured the square footage so that the space was divided into a kitchen with a small island, an eating nook and sitting area with desk space. She splashed a riot of cardinal red on one wall — a signature Navarra move.
Nancy Kent, a landscape architect in Oakland, California, is such a fan that she requested Navarra's services for a second time when Kent was in the middle of a life change. Being single again, Kent yearned for a more feminine look to her now bare dining room and living room. And this time, leather was on the no-no list.
"I wanted a new beginning, and Kathleen has the best sense of color among all the designers I have ever worked with," she says. Navarra refreshed the dining room with a zippy coat of teal paint, replacing the too-dark navy blue wall. "Even my teenage daughter, who doesn't usually notice these things, had a compliment," offers Kent.
In the living room, Navarra gave a nod to the feminine by using furniture with gentle curves and floral treatments. In came a new linen-covered couch with pillows touting a huge magnolia blossom print. And while working within Kent's narrow budget, Navarra managed to order a pair of custom benches covered with brown furry cowhide with coral piping on the edges, a set that continues to thrill the client.
"Those rooms make me so happy," lauds Kent. "All the pieces fit together, and they are artistic. She brings her personality into the rooms, and it is fresh and slightly hip and really unique. Not all designers can do this."
While her peers often draw inspiration from nature, Navarra looks to fashion and international travel. Hence, she studies fashion magazines zealously and attends fashion shows if time allows. "This year, clothing designers used a lot of polka dots, and six months from now you will see lots of polka dots in accessories and furniture. That happens all the time." According to Navarra, the fabric mills that produce wares for attire are usually the same that crank out fabrics for upholstery, draperies and accessories.
And in traveling abroad annually to Paris for furniture and fabric shows, she is exposed to new products, keeping a mental portfolio of how she can integrate those items into client's rooms.
"What's rewarding is that I have a lot of repeat clientele, and I have built a lot of relationships," she says. "There is nothing that makes me happier than to know that they are happy with what they got, and that they want to do more."