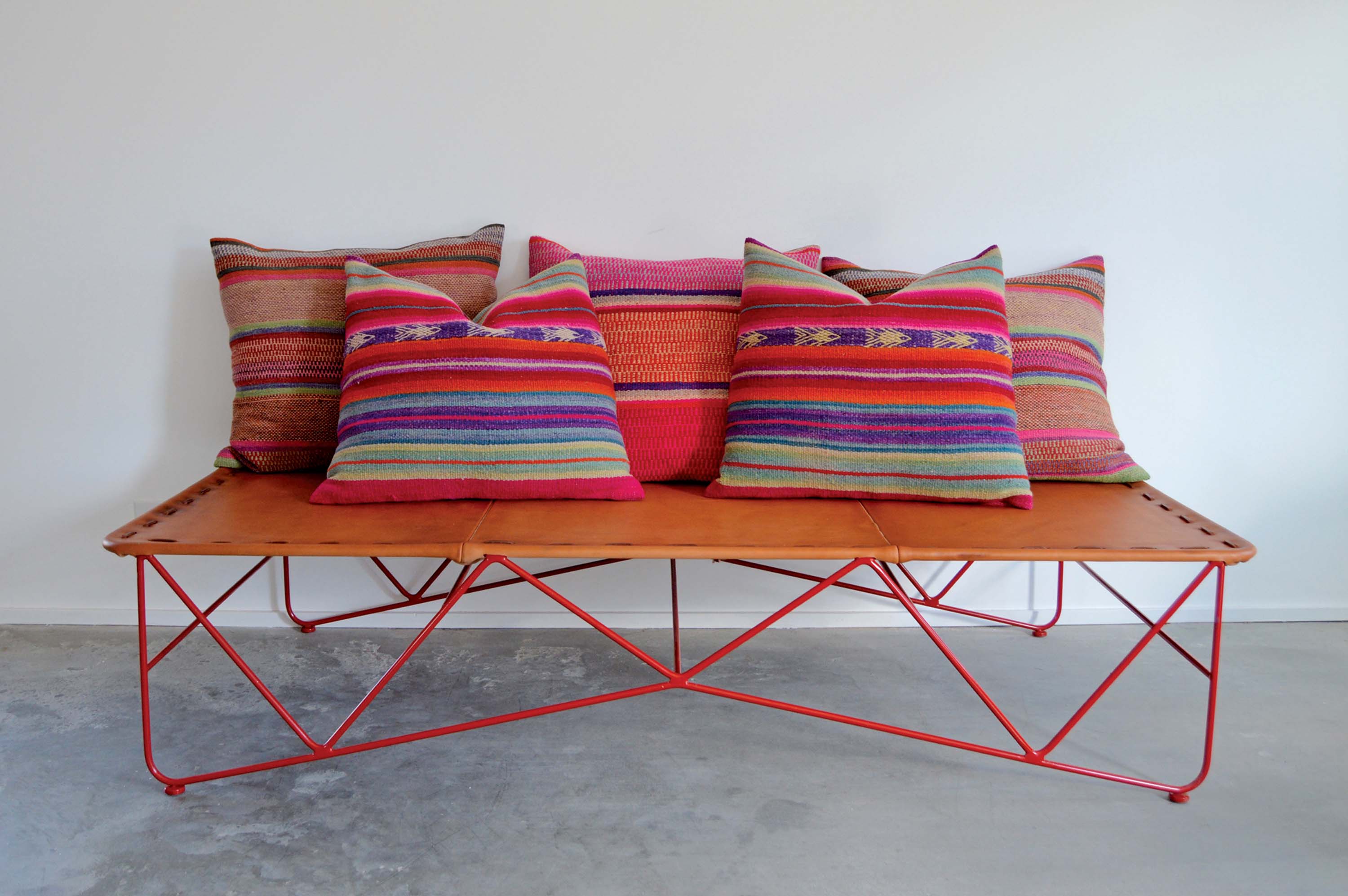 Saddle Leather Cot by Garza Marfa
01 Feb

Details: Things We Love
---
Saddle Leather Cot by Garza Marfa
Versatile and thoughtfully designed, the Saddle Leather Cot by Garza Marfa strikes a balance between contemporary and classic. Using materials such as welded steel and saddle-grade leather, the colorful angular base lends a modern feel to traditional West Texas materials. Created by husband-and-wife design team Jamey and Constance Garza from their studio in Marfa, Texas, the work is inspired by the surrounding high plains desert. Use it as a daybed, couch or outdoor lounger and choose from an assortment of widths, base colors and from natural, chocolate brown or black leather.
Starting at $2,350 | 18 x 37 x 81 inches | 432.729.1946 | www.garzamarfa.com
---
Spirited Chocolates by Chocolat
As the only manufacturer of liquid-filled chocolates in the United States, Chocolat uses a 200-year-old European technique to encapsulate a variety of liquids in a delicate sugary shell, which is then coated in rich, luscious chocolate. As you enjoy, the chocolate dissolves and the sugary shell bursts open for a striking sensation that allows you to identify the individual flavor of the liquid, be it liquor, wine, coffee or fruit nectar. More than 300 flavors have been created since 1984, though the company tends to focus on top-shelf brands of whisky, rum, vodka, schnapps, liqueurs and tequila, explains Chocolat founder and owner Lecia Duke. Located off west Main Street in Fredericksburg, Texas, Chocolat produces a handcrafted delicacy akin to a culinary work of fine art.
12 pieces | Bourbon Tender Chocolates: $23.30 | 800.842.3382 | www.liquidchocolates.com
---
Savik Desk by Erickson Woodworking
The story of Erickson Woodworking starts in Nebraska with a young man named Robert who decided he didn't want to be a dentist after all and hitchhiked west to follow his dream of building furniture. Once in California, he met renowned poet Gary Snyder, who invited him to spend a summer helping build a house in the foothills of the Sierra Nevada. Inflamed with idealism at the end of the project, Robert and other members of Snyder's construction crew banded together to buy a large neighboring parcel. In 1973, Erickson built the first structure on the land: a woodshop he has worked in ever since. Today Erickson Woodworking builds some 75 pieces of furniture a year and Robert is joined by his son, Tor, as a full partner in their namesake business. Their work is represented in the Smithsonian's Renwick Gallery, the Los Angeles County Museum of Art and the Yale University Art Gallery.
$16,500 | 60 x 28.5 x 32 inches | 530.292.3777 | www.ericksonwoodworking.com
---
VVD Pottery by Vincent Van Duysen
Belgian architect Vincent Van Duysen's collection of pottery epitomizes his minimalist aesthetic, often expressed by using natural materials and subtle color. His collection of earthenware pottery in black, white, warm gray and rust is topped with a solid lid made from walnut. While the curve and smooth profile of each piece is fixed, the diameter and the height vary. These shifts in scale determine whether the container is a bowl or a platter and add interest to the work in aggregate. The thickness of the wooden plates, which serve as both cover and plinth, are also varied. His work, as a collection, is evocative of the shelves of stacked vessels in a potter's studio.
Sizes vary | $280 to $395 | 212.421.3300 | www.suiteny.com
---
Rose Gold Rings by Arik Kastan
Arik Kastan places rose gold at the heart of a collection of timeless modern designs inspired by the great historical eras of jewelry. While honoring the art of past Victorian masters, Kastan's jewelry reflects a unique, modern vision of effortless beauty. Staying true to antique craftsmanship and tradition, each piece is carefully handmade. Kastan's jewelry is available in unique blends of 14-karat rose or yellow gold and is paired with carefully selected precious and semiprecious stones. Recently launched in the United States, the Arik Kastan line has caught the attention of top jewelry designers, stylists and their celebrity clientele.
.5 to 1.5 inches | From $1,725 to $3,910 | www.shop.arikkastan.com
---
Hill Country Houses by Cyndy Severson
Anchored by Austin and San Antonio, Texas Hill Country is celebrated for its frontier history and natural beauty. Architects and interior designers build contemporary houses using local materials and drawing on the area's diverse heritage — Spanish Colonial missions and Mexican-style haciendas, French pioneers' log cabins, German stonework and the legacy of the "New Regionalism" espoused by O'Neil Ford in the 1930s — to create inspired residences that respect tradition and allow their owners to enjoy expansive rural surroundings. Hill Country Houses, written by Cyndy Severson, presents 19 of the area's most remarkable private houses, with photography to provide a glimpse of how life in Central Texas is unique, from restored Victorian houses in bohemian Southtown to floating stairs and sustainable systems to the casual elegance of country antiques.
$50 | Hardcover; 240 pages | 212.229.9925 | www.monacellipress.com
---
The Schematic of Structures by Pop Chart Labs
Marvel at the majesty of mankind's many architectural achievements, from prehistoric to present, all in a single print. From the Greek Parthenon to Buckingham Palace to Taipei 101 to the Freedom Tower, each landmark is hand-illustrated to scale in a blueprint-like style by Pop Chart Lab. Each of the 90 buildings is accompanied by notations for location, height, year of construction and architectural style, and every print is signed and numbered by the artists. For the serious sightseer, history hobbyist or architectural aficionado, this collection of captivating cornerstones is sure to tower above all others.
$29 | 18 x 24 inches | www.popchartlab.com
---
Game On by Dan Rieple
At age 14, Dan Rieple fell in love with woodworking. After three decades as a woodworker, Rieple continues to be inspired by his profession. "I still love woodworking today as it is always challenging, with no end to the styles, shapes, designs and combinations of material," he explains from his studio near Larkspur, Colorado. "Handcrafted furniture is unique; not mass produced like so many things today. In our disposable society … it is refreshing to make, as well as to own, timeless pieces of furniture with soul." Take, for example, Game On. Made from scrub oak with a bookmatched top, oyster veneered arches and a felted recess for backgammon or chess boards, this unique piece was custom designed for Morgan Freeman's home in Mississippi and is a one-of-a-kind heirloom that will be passed down for generations.
Starting at $12,000 | 30 x 66 x 30 inches | 720.849.3466 | www.fine-ideas.com