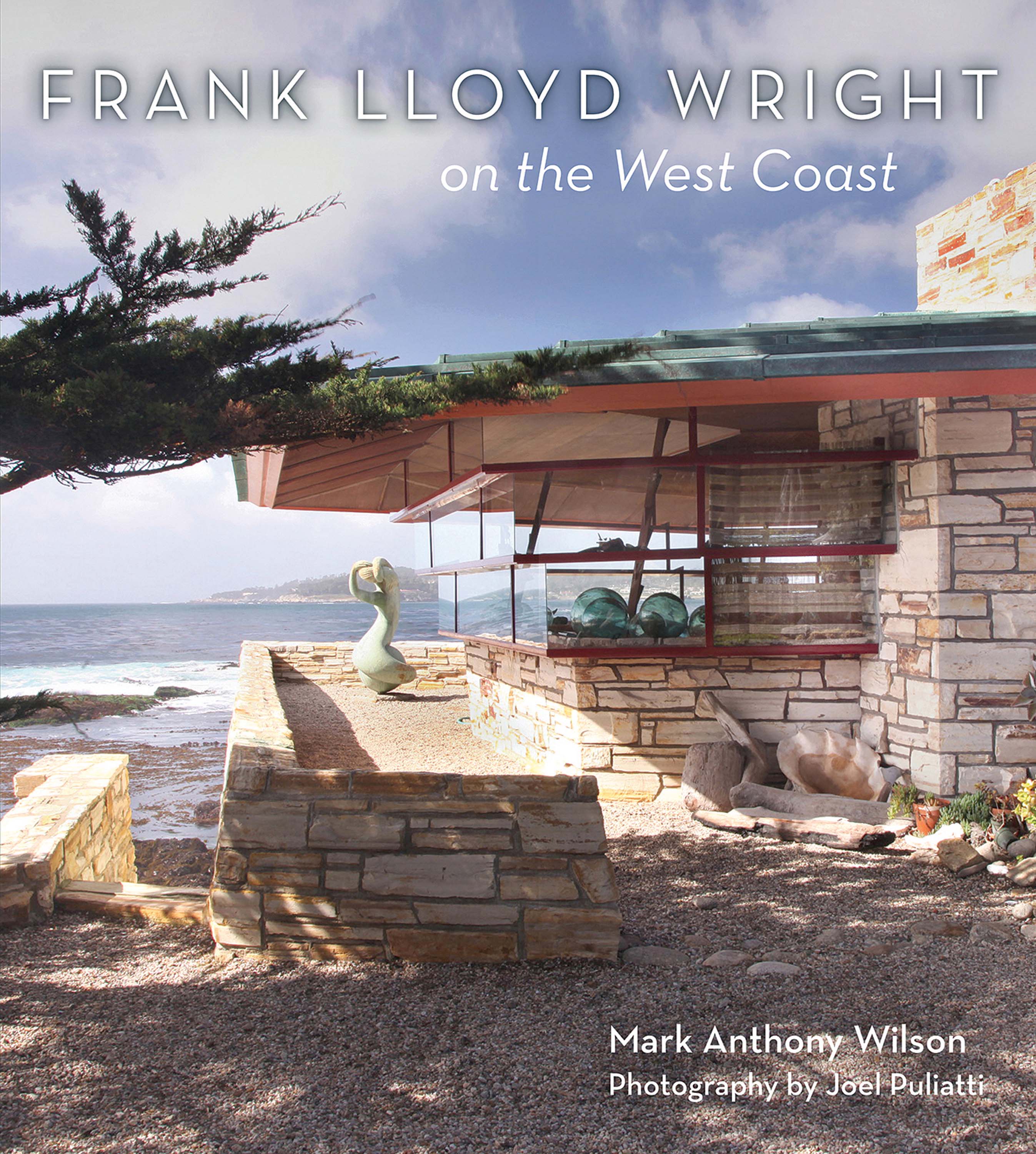 Frank Lloyd Wright on the West Coast by Mark Anthony Wilson
04 Aug

Details: Things We Love
---
Frank Lloyd Wright on the West Coast by Mark Anthony Wilson
Between 1909 and 1959, Frank Lloyd Wright designed 36 structures on 28 sites from Southern California to the Pacific Northwest. Thirty-four of these buildings still stand, from the well-known Marin County Civic Center, Wright's largest public project, to lesser-known works such as the prairie-style Stewart House near Santa Barbara.
Frank Lloyd Wright on the West Coast covers each of these sites and includes 200 color photos by veteran architectural photographer Joel Puliatti. Extensively researched by architectural historian Mark Anthony
Wilson, the book also tells the story of Wright's relationship with clients through original correspondences and interviews, including the fascinating story of Wright's "other women," the strong-willed female clients who surprisingly convinced Wright to make changes in his designs.
$50 | 224 pages, hardcover | 800.835.4993 | www.gibbs-smith.com
---
Quantum Table by Jason Phillips Design
The Quantum Table, designed by Jason Phillips, was inspired by the pathways of subatomic particles. "Always, what I strive for is clean lines, balanced forms and just something curious," Phillips says. "I want to come up with designs that aren't trendy, but are permanent — things people will enjoy and find relevant in 50 years." Phillips grew up working in a family design business which provided valuable insight for starting his company in North Carolina in 2007. At that time, his library included some 900 designs. Phillips works directly with artisans to hand-fabricate the Quantum Table from heavy-gauge steel wire that is formed by hand. The table is then topped with a lacquered orange Corian. Phillips considers "green" design to be one of the most important modern-day movements and he extends the principle beyond a marketing term as a founding member of the Sustainable Furniture Council.
$10,000 | 110 x 52 x 31 inches | 336.509.1510 | www.jasonphillipsdesign.com
---
Bighorn Dreamcatcher by Annie Band Jewelry
Wyoming artist Annie Band creates eco-friendly jewelry that is hand-sculpted in precious metal clay. Drawing on her academic background in wildlife biology, her works are inspired by the natural world. Band earned a master's degree in wildlife biology and before pursuing jewelry design full time, she taught art and science at the Teton Science School in Grand Teton National Park. From her log cabin workshop in Wyoming, Band creates pieces that are inlaid with precious and semi-precious stones and include inscriptions, because "historically and culturally, adornment has always had a meaning," she says. Band often creates air, earth, flora and water totems — or large pendants sculpted for their healing potential — such as this delicately detailed Bighorn Dreamcatcher, made from bronze and silver.
$1,400 | 3.7 x 2.5 inches | 307.690.0972 | www.annieband.com
---
Mohave Purple Tile by Gemstone Tile
Gemstone Tile is the only company in the world creating handcrafted turquoise tile from the Kingman mine in Arizona. The family-run mine is recognized worldwide as the most diverse and prolific producer of high-grade turquoise. It's the last commercially operated mine in North America that produces nearly 500 variations of natural blue and green stones. Named for the fruit of the prickly pear cactus that grows in the Mohave Desert, this stunning Mohave Purple Tile starts as sky blue turquoise that is color-enhanced to a rich, royal purple. The tile is not only beautiful but resilient, and is suitable for backsplashes, floors or countertops for an exclusive and luxurious interior detail.
$845 per square foot | Custom sizes | 928.753.3147 | www.gemstonetileworks.com
---
Brushed Brass and Aqua Mini Globes by Lindsey Adelman Lighting
Inspired by natural phenomena, Lindsey Adelman's designs explore the visual tension resulting from mixing hand-blown glass with machine-made metal. Adelman first discovered industrial design while working as an editorial assistant at the Smithsonian. After introducing herself to a woman carving French fries out of foam for an exhibition, Adelman had an epiphany that would change her life. She went on to receive a degree in industrial design from Rhode Island School of Design and found herself gravitating toward lighting for its instant gratification and sculptural and experimental possibilities. After gaining experience in Seattle and New York, she eventually opened her studio in 2006, growing her business into one of the preeminent lighting design firms in the country. The asymmetrical frame of this fixture, with aqua mini globes, looks different depending on your viewpoint. Custom models are available upon request.
$30,800 | Custom sizes available | 212.473.2501 | www.lindseyadelman.com
---
Albuquerque Turquoise Chair by Great Blue Heron Furniture
The Great Blue Heron Company was founded in 1992 as a high-end Western furniture and accessory company that manufactures furniture in Texas. The Albuquerque Turquoise Chair is reminiscent of the beautiful traditional turquoise art and jewelry of the Southwest. Upholstered with bright Caribbean leather — a full-grain leather lightly waxed for a slightly distressed finish — anchored by antique silver nail heads and constructed with a high-quality frame of kiln-dried oak, this little gem will brighten an interior space with a pop of color and is sure to be the favorite seat in the house.
$4,569 | 48 x 40 x 42 inches | 866.247.9688 | www.greatblueheronfurniture.com
---
Beretta Giubileo Shotgun by J.E. Cauthen & Sons
In a historic home located on Main Street in Fredericksburg, Texas, J.E. Cauthen & Sons shares its passion for fine sporting arms and Western art. The company has curated an extensive display of hand-selected and finely engraved firearms, collectible knives, bits and spurs that celebrate a time when craftsmanship was a cultural inheritance. We love this Beretta Giubileo Shotgun for the delicate and precise engraving of pheasants taking flight over a wetland. The shotgun is passed between multiple artists, from the woodworkers to the metallurgist to the gunsmiths and finally to the engravers, for a skillfully executed work that extends the sporting and Western art genres beyond the reach of paint and clay.
$16,000 | Barrel 28 inches | 830.992.3306 | www.jecauthen.com
---
Ghost Rider by Ati Bekes
More than 500 hours, countless miles on the jigsaw and pounds of sawdust accumulated as Attila "Ati" Bekes completed his functional art masterpiece, a wooden beach cruiser called the Ghost Rider. Built from stacked laminated plywood and perfect for a leisurely ride on the boardwalk or down Main Street, this bike was exhibited at the 2013 Cody High Style Art Show, where it was selected as runner up for the People's Choice Award. Bekes was a fighter pilot in the Hungarian Air Force before he moved to New Jersey, becoming a sought-after carpenter and discovering his love of bicycles. He is currently designing a retro cafe racer bike for the 2014 Western Design Conference.
$33,600 | Custom sizes available | 307.272.5319 | www.northmountaingallery.com
---
Cowboy Inspired China from True West
True West, based in Royse City, Texas, reproduces artist Till Goodan Western-theme china (originally designed and collected in the '40s) for every-day use. With licensing support from Goodan's daughter, the company creates hand-decorated bucking broncos, cowboys, brands and action roundup scenes on functional dishware. The rodeo pattern was originally produced from the mid '40s through early '60s, but didn't become popular with collectors until the early '80s with the rise of "urban" cowboy design. All pieces in this cowboy set are dishwasher and microwave safe and a complete line of dinnerware is offered, including salt and pepper shakers, sugar bowls, serving platters, tea pots and more.
Rodeo Dinner Plate: $46; 11 inches | Rodeo Cup: $23; 8 oz. | 972.636.7922 | www.truewesthome.com
---
Little Gem Side Table by Hinterland Design
Founded by designer, artist and builder Riley McFerrin, Hinterland Design creates functional objects, interior spaces and custom furniture, melding a Modernist approach with traditional craftsmanship and focusing on a "fondness for the simplicity of the natural world." Materials are the foundation of each Hinterland design, providing inspiration and solidifying the connection between the work and nature. Suited for indoors or out and made of Western red cedar, each Little Gem Side Table is hand-shaped and faceted based on the characteristics of the log and wood grain. The top surface can be customized or inset with a mirror, black granite, Carrara marble, Corten steel or brass for a customizable and unique finish.
$1,000 | Starting at 18 x 20 x 12 inches | 604.885.8215 | www.hinterlanddesign.com