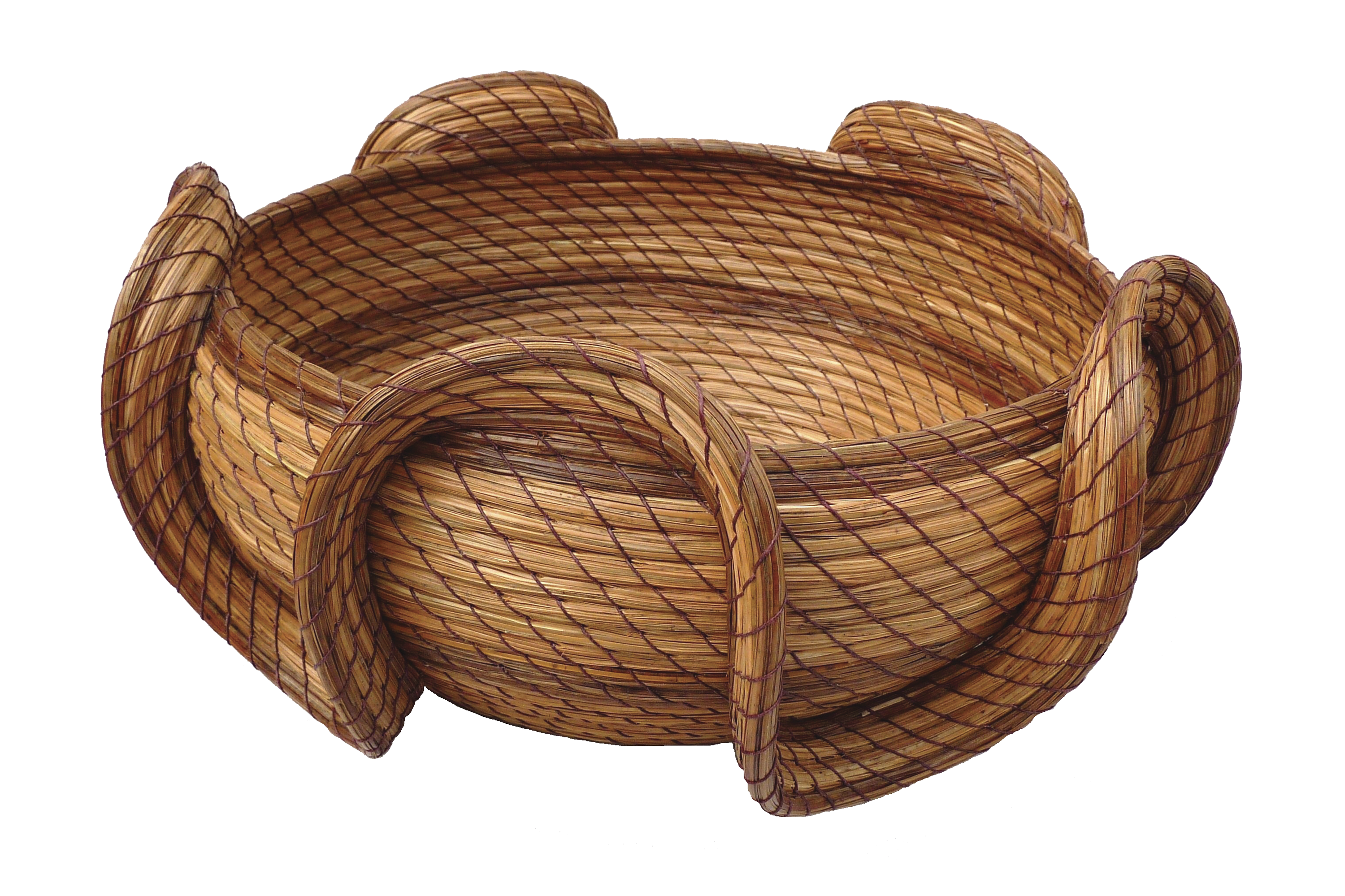 "Oopsy Doo" by Rose Hamner
09 Jun

Details: Things We Love
---
Oopsy Doo by Rose Hamner
For starters, everyone should own a gorgeous piece of art called Oopsy Doo! Fiber artist Rose Hamner weaves her humor, humility and incredible talent into each of her elegant pieces. Using pine needles from Montezuma, Canary Island and Torrey pines, Hamner weaves with Irish waxed linen thread in a palette of colors that blend beautifully with the natural tones of the pine. The style of her work celebrates fiber art with African heritage. We love her inventive, curvaceous shapes and the lovely little gems she often uses to embellish: shells, nuts, pods and beads. Hamner's work can be seen exclusively at California's longest-running open-air fine art exhibition, the Laguna Beach Festival of Arts, a juried exhibition that runs throughout July and August.
$1,250 – $1,500 | 12.75 x 5.5 inches | RoseHFiberArt@gmail.com | www.rosehfiberart.blogspot.com
---
Ayer Table and Chairs by Ernst Gruler
Comfortable doesn 't even begin to describe how good it feels to sit in one of Ernst Gruler's handmade chairs! Designed as unique but perfect complements to his innovative contemporary table, each chair fits beautifully at the sculptural table. Gruler, with a BFA and MA in furniture design, combines ergonomic comfort and sculptural design in every piece, resulting in the earnest desire to linger longer after dinner … even if you aren't French. We love that! Fine art furniture made beautiful with layered, rubbed and sealed surfaces is sure to delight you and your guests.
$17,000 | Ayer Table is 96 x 48 x 30 inches | Chairs are 48 inches tall | 505.982.1494 | www.gvgcontemporary.com
---
Hydrangea Salad Bowl by Lea Tyler
Artist Lea Tyler's works are every bit as functional as they are works of art. Tyler deftly fashions either beech or cherry wood until it is perfect for receiving a touch of acrylic paint — the zing you see on each of her handpainted creations, like our favorite Hydrangea Salad Bowl. A water-based, non-toxic sealer is applied and voila! It's ready for your salad or other room-temperature foods. Hand washing is all that is needed to care for your precious work of art.
$200 – $290 | 12 – 15 inches in diameter | 505.984.1688 | www.lamesaofsantafe.com
---
Illuminated Palm Tree Sculpture by Desert Steel
Known for their uber-realistic metallic saguaro cacti — some of which soar up to 27 feet high — artists Richard Turner and Eric Carroll have recently introduced a stunning palm tree to their family of metal sculptures. The fact that each piece — from their saguaros and palms to spear and barrel cacti — can be customized with everything from internal lighting, flowers and misting systems, makes owning this kind of art terribly practical. But the reality — especially in parts of the country where the freeze has decimated local palm populations — is that we are enchanted with the look of these gorgeous palms, both from a distance and right up close. The artistry is unparalleled. The glow at night is glorious. And with zero maintenance, what's not to love?
Starting at $2,700 | 10 or 14 feet | 316.282.2244 | www.desertsteel.net
---
Reverse-Painted Chandelier by Ulla Darni
Ulla Darni started her art career as a teenager, participating in a four-year apprenticeship at Royal Copenhagen Porcelain where she mastered the art of painting floral patterns and adornments on delicate pottery. Today, she creates vividly colored lamps, sconces and chandeliers by reverse-painting hand-blown glass and designing ornate hand-forged bases. Her work is compared to prized Handel and Tiffany lamps. Darni's abstract compositions and intriguing patterns create a whimsical world where nature meets fantasy, a place brought to life by her roaming imagination and the flick of a light switch. This joyful yellow chandelier, known simply as Number 29, is sure to bring an unmatched life and vibrancy to any room.
$15,900 | 34 inches | 518.622.3566 | www.ulladarni.com
---
Carmel Mission Stamp by artist Dan Cosgrove
Founded in 1770 and described as one of the most beautiful missions in California, Carmel Mission is known for its dome-shaped bell tower, star-shaped window and for drawing more than 150,000 visitors annually. This newly issued stamp commemorates this landmark of Spanish heritage with a carefully detailed illustration by artist Dan Cosgrove. Postage stamps are often collected for their historic value, and this little beauty depicts the second of what would become a chain of 21 Spanish missions along the coast of California, each positioned about one day's horseback ride from the next. The crisp colorful stamp reminds us of a vintage travel poster and of the hard-fought establishment of life in the West.
$18.95 | 800.782.6724 | www.usps.com/shop
---
Pueblo Series #5 by William Pickerd
William Pickerd's earthy and elegant forms are sculpted from alabaster, a translucent stone that offers a range of colors and patterns. Drawing inspiration from his rugged frontier lifestyle, which includes growing up on ranches in Wyoming and commercial fishing in Alaska, combined with a composition that mirrors early Pueblo pottery, Pickerd's vessels seek to express nature's beauty. Sculpted from a single block of Utah orange alabaster and detailed with silver, ivory, coral, turquoise, cocobolo and African blackwood, the Pueblo Series #5 vessel appears as a glowing gift from nature, achieving its purpose.
$5,400 | 5 x 14.5 inches | 541.746.8547 | www.williampickerd.com
---
I Heard the Bluebird Sing Boots by Lisa Sorrell
Working alone in her studio with an old Singer sewing machine, an X-Acto knife, exquisite leathers and a sea of colorful thread spools, Lisa Sorrell is a genius bootmaker. Her work, though brilliantly colorful and contemporary in some respects, is created so traditionally that it takes Sorrell a month or more to craft a single pair. Her attention to detail is highly regarded — she's won everything from the Gold Medal at The Netherlands Shoemaking competition to Best Artist, Leather, at the Western Design Conference in Jackson, Wyoming — but we just love the designs and colors and shape of these masterpieces, each pair named for a country song. Our favorite, I Heard the Bluebird Sing, features gray ostrich leather, steel-gray kangaroo tops and a stunning floral and avian design.
Starting at $3,500 | Custom sizes | 405.282.5464 | www.customboots.net
---
Mesa Vista Ranch: Boone Pickens' Oasis in the Texas Panhandle by Ray Sasser
Light caught in early morning mist, a coyote peering over amber grass and a windmill setting a fast pace across an expansive sky are just a few images from Mesa Vista Ranch: Boone Pickens' Oasis in the Texas Panhandle, a coffee-table book that documents the evolution of T. Boone Pickens ranch and wildlife refuge in Roberts County, Texas. Written by Dallas Morning News outdoors writer Ray Sasser, the book chronicles the history of the ranch, which began as an overgrazed 2,900 acres in 1971. Pickens, the legendary oil and gas entrepreneur, worked to recover the land, eventually investing millions of dollars for wildlife management programs and facilities. Now, the 68,000-acre "veritable Garden of Eden" boasts some of the world's best quail hunting and serves as a refuge for deer, antelope, dove, waterfowl, turkey, pheasant and fish. The book describes one man's love and passionate vision for land he first explored in the 1950s, and reminds us with crafty prose and vivid photography that loving the environment also entails sustaining it.
$75 | 192 pages | www.mesavistaranch.com
---
North Beach Hall Table #3 by Seth Rolland
Seth Rolland finds inspiration for his furniture in natural forms because they are simple, economical and evolve with erosion or growth. Over the last 20 years, his work has become more organic to reflect these principles. He uses sustainably harvested wood and incorporates stones he finds along the beach near his studio in Port Townsend, Washington. We love the North Beach Hall Table #3 because it considers the fine line between motion and balance. Using European beech wood and a 50-pound granite stone, the wood is literally balanced by the weight of the stone, which can be lifted out to move the table. A natural dichotomy is made incarnate in this lovely, customizable table.
$4,200 | 61 x 15 x 32 inches | 360.379.0414 | www.sethrolland.com