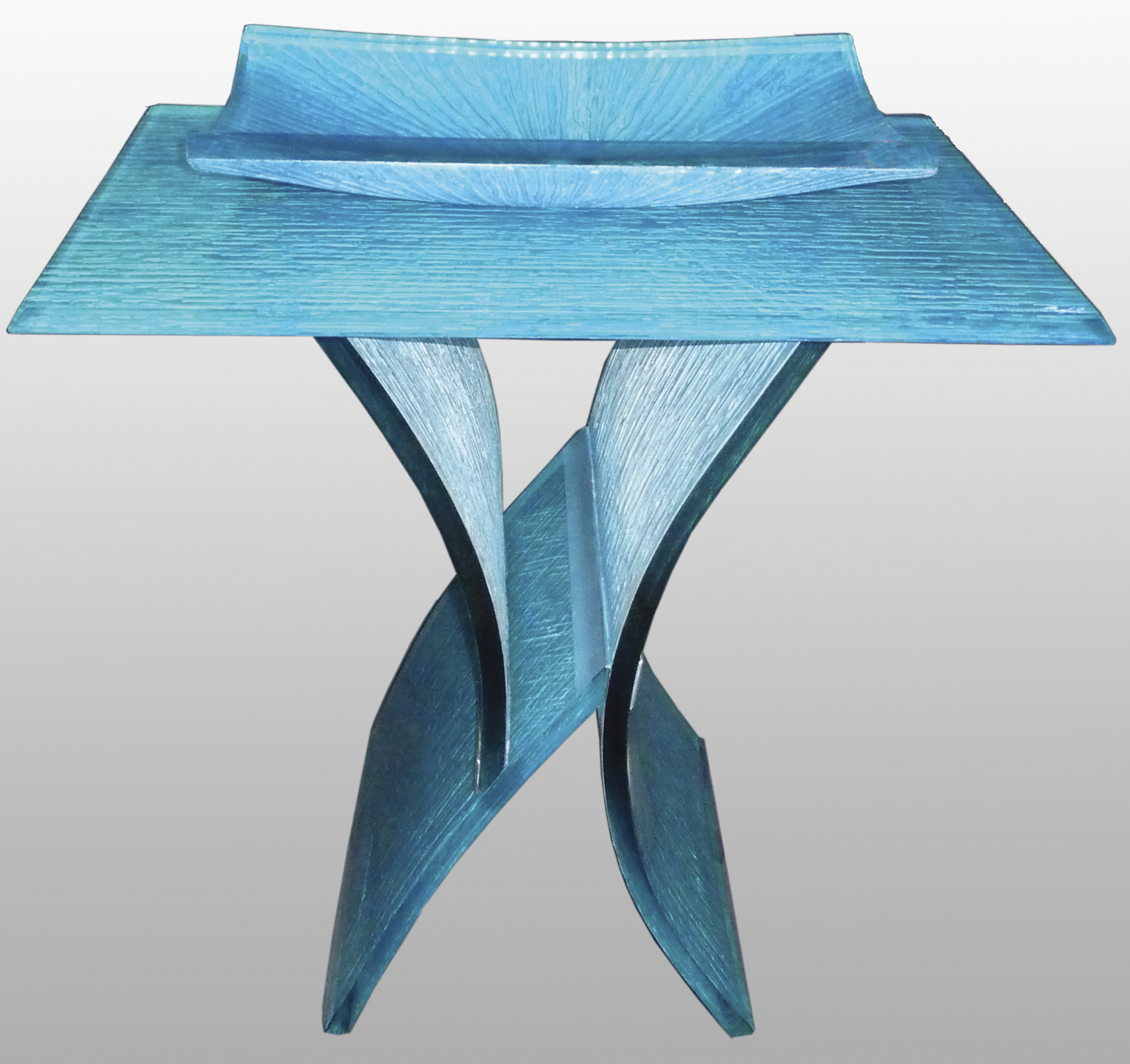 "Blue Sink" by Rafael Gevorkian
29 Dec

Details: Things We Love
---
Blue Sink by Rafael Gevorkian
Self-taught glass artist Rafael Gevorkian is an imaginative genius. Born and raised in the Middle East, Rafael had a career as a mechanical engineer designer before he finally managed to reach the United States and devote himself full-time to his lifelong passion for making art with glass. "There is something about glass," he reveals. "I feel like it is talking to me." The artist waxes poetic about glass' simultaneous solidity and forgiveness. "It is amazing to work with," he offers. But what truly amazes us is what Rafael can do with his medium. His custom Blue Sink, for example, looks as pliable as glacial taffy! The sink is entirely made of glass, thick glass, elegantly textured glass. Rafael crafts an astoundingly unique array of vessels, wall art, bowls and platters with characteristically thick glass. All of his work — his concepts, designs and use of color — are nothing short of exquisite.
$8,500 | Vessel is 24 x 15 inches; top is 34 x 22 inches; base is 17 x 32 inches | 323.222.4001 | www.glassartla.com
---
Whipplebirds by Judith Whipple
Uplifting and light-hearted are two perfect phrases to describe Judith Whipple's delightful creations. An avid bird-watcher, she transforms wire, paper-mâché and found objects into works of art that make us smile. Judith incorporates discarded objects into her art, giving them new life with purpose. Old skates, telephones, we are surprised and completely captivated by how she combines them with her bird creations resulting in characters that are full of attitude. "Attitude is as essential as color and form," she says. We think you'll agree when you see her fascinating Whipplebirds!
$1,400 | 42 x 21 x 8 inches | 515.966.2229 | www.whipplebirds.com
---
Wildflowers Glass Panels by Pamela Bogdonoff
Pamela Bogdonoff's joie de vivre radiates through everything she does. Perhaps nowhere is that more evident than in her brilliantly colored and impeccably designed stained-glass mosaics. In her Laughing Glass Studio, Bogdonoff creates whimsical and magnificent pieces — everything from mirrors and wall hangings to bird baths and massive architectural commissions. Our favorite, Wildflowers, one in a series of six stained glass panels designed for a pool house in Virginia, is a feast of colors and shapes. From luscious swirls to textured ridges and jagged angles, Bogdonoff is thoughtful and meticulous about every piece she places. And then there's this: The way the sun filters through her masterpieces could be an art form all its own.
$2,500 | 48 x 18 inches | 703.528.1374 | www.laughingglass.byregion.net or LoftRec@aol.com
---
Bolo Tie and Slide by David Alderson
A master silversmith who spent much of his life working for other artists, David Alderson has finally found some of the recognition he so richly deserves. From design and soldering all the way to engraving, Alderson is spectacularly talented. His creations — from buckles and saddle silver to bits and jewelry — are recognized for their exquisite detail and Alderson was invited to join the prestigious Traditional Cowboy Arts Association (TCAA) in 2002. His elegant Argentine-inspired bolo tie and slide — recently exhibited at the National Cowboy & Western Heritage Museum — stunned us silent. With its hand-fabricated sterling silver and 18K gold wires, hand-braided flat kangaroo-leather neck cord and horsehair tassels, this piece is remarkable indeed. Alderson possesses a rare ability to combine Old World traditions with modern day artistry.
$6,375 | 208.539.4013 | www.silverchip.net
---
Mardi Gras Teapot by Randy Stromsoe
Classically trained under master silversmith Porter Blanchard, Randy Stromsoe has been hand crafting his own masterpieces for more than four decades. What inspires us about his work is the way he utilizes medieval tools and techniques to craft utterly contemporary designs that are quite simply lyrical in their beauty. Using gold, silver, copper, pewter, exotic woods and a spectrum of styles that span from angular lines to supple curves, Stromsoe fabricates functional works of art ranging from liturgical chalices and hollowware to flatware and jewelry. For good reason, his pieces can be found in the permanent collections of the Smithsonian Institution, the Oakland Museum and the White House Collection. Stromsoe's whimsical Mardi Gras Teapot — meticulously crafted from pewter and rosewood — is a testament to his imagination and rare talent.
$2,000 | 16 x 16 x 2 inches | 805.237.0151 | www.randystromsoe.com
---
The IRíE Rocker by Jason Lutz
Using hand-selected white cedar from Vermont and strict sustainable harvesting methods, Jason Lutz crafts beautiful rustic eco-custom furniture. With so many options — from barn board tables and beds to hutches and chairs — it's hard to choose a favorite. Still, the surprising and divine comfort of The IRíE Rocker, with its lifetime warranty, wins us over. Modeled after a hammock chair, the suspension seat on this handsome rocker cradles your own seat. And the fact that the chair looks just as great (and weathers just as well) indoors or out is simply icing on the cake.
$395 | 53 x 24 x 23 inches | 802.684.3963 | www.irieproject.com
---
Nomad Bag by Neely Mack
Handcrafted in the United States using only the highest quality vegetable-tanned leathers from Italy, these fabulous lifestyle bags from California designer Neely Mack serve every occasion. "Everyone has kids or travels, or needs a big bag for the pool or beach, sporting events, farmers' markets, or just around home for towels or firewood," Mack says. "These bags are a must for everyone." We love the fact these bags come with a 75-year warranty — and zero toxins. But surely their main appeal is in Neely Mack's signature look of luscious leathers in vibrant colors.
$995 | 26.5 x 9 x 16.5 inches | www.neelymack.com
---
Classic Homes of Los Angeles by Douglas Woods
Showcasing the architecture of southern California's Golden Age from 1899 to 1938, with gorgeous photos by Melba Levick, Classic Homes of Los Angeles speaks of an era when Los Angeles was a series of charming neighborhoods, big personalities, beautiful people and dramatic landscapes. Palm trees, mountains, desert, ranchlands, white-sand beaches and orange groves provided the backdrop for a staggering variety of home styles, and architects experimented with them all. Influenced by Europe, Mexico and a homegrown version of Arts & Crafts, the homes featured in this lavish publication range from Cecil B. DeMille's Italian Revival estate to a red-tile-roofed Spanish Colonial Revival house on the beach in Malibu to Frank Lloyd Wright's first textile-block home. The Heinemans' Gless-Bullock House in Windsor Square and Greene & Greene's masterwork Gamble House in Pasadena represent two superb examples of southern California's indigenous Craftsman style, an approach to living uniquely suited to this new Promised Land.
$55 | Hardcover; 256 pages with 240 color images | www.rizzoliusa.com
---
Arabian Horse Weathervane by Ken and LizAnne Jensen
They're back! We're thrilled to know that weathervanes — classic examples of American folk art — are one of the hottest architectural accoutrements on the market. Some of the smartest and most handsome are created by West Coast Weather Vanes. LizAnne and Ken Jensen offer more than 700 designs and work with clients to create their own distinct weathervanes. Horse lovers will delight in their various Arabian horses, bucking broncos, cutting horse, dressage horse, even a carousel horse, to name just a few. The designs come in small (1 foot), medium (2 feet), large (3 feet) and extra-large (4 feet), and both copper and brass models will age gracefully with stunning natural patinas.
From $1095 to $3795 | 800.762.8736 | www.westcoastweathervanes.com