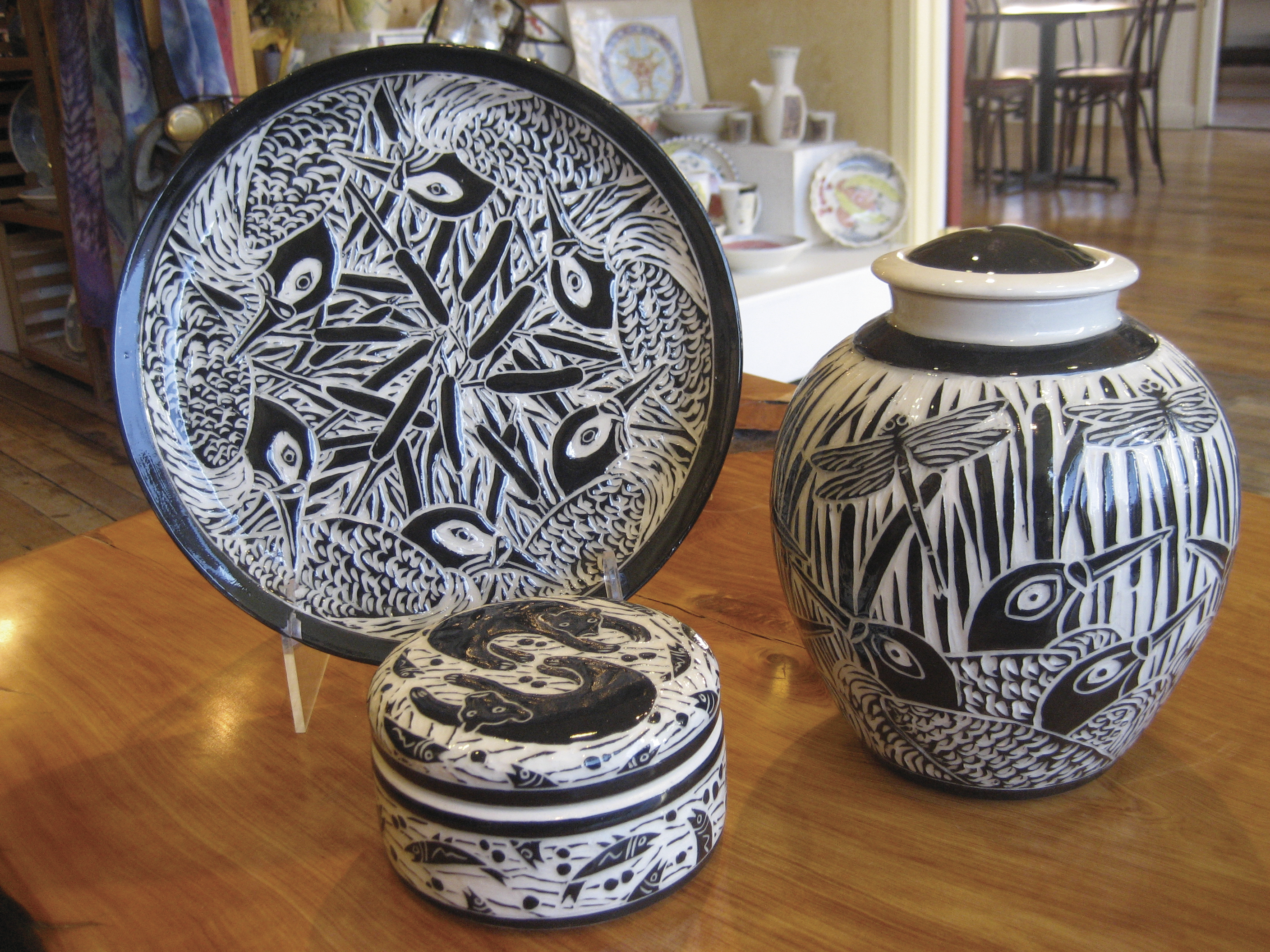 "Slip-Carved Porcelain" by Theresa Gong
30 May

Details: Things We Love
---
Slip-Carved Porcelain by Theresa Gong
For Theresa Gong, clay is a durable canvas onto which she can express ideas about form, structure, rhythm and beauty. Her delicate lines and intricate slip-carving conjure an endless array of patterns and nature-inspired motifs. From dragonflies to hummingbirds to florals, Gong finds inspiration in her own multicultural heritage and her affinity for Asian ceramic traditions. Devoted to creating functional works of art, one can hardly grasp that these spectacular creations, so painstakingly crafted, are in fact dishwasher and microwave safe. We love the way Gong combines artistry with functionality. Her work is simple enough for a cup of tea and yet magnificent enough to represent our culture a thousand years from now when someone unearths the tiniest shard of anything her hands touched.
$30 – $400 | 406.671.6282 | www.theresagongporcelain.com
---
Classic Serape Blazer by Native Jackets
John Andrews knows more about Native American textiles — from blankets and rugs to coats and jackets — than our brains can begin to fathom. Part gallery, part fashion house, part trading post, Andrews' Native Jackets is something of a museum dedicated to the legendary craftsmanship of Native American artists. His collection of Southwest baskets and Pueblo pottery is astounding and features work by Maria Martinez, Margaret Tafoya, and Nampeyo, among others. But Andrews' own line of custom-made Pendleton Indian blanket jackets is what leaves us weak in the knees. From the vivid, earthy colors of the Three Corn Maidens jacket to the sleek and elegant Red Double Arrow Vest to our favorite Classic Serape Blazer, with its graceful lines and muted tones, Andrews is a master of designing for the female form. What's not to love?
$295 | Sizes are standard and custom​ | 888.420.0005 | www.nativejackets.com
---
Ocean Whimsy by Renee Becht Designs
Maybe it's the mystique associated with the smooth, luminous sea glass that Hawaii jewelry designer Renee Becht incorporates into her elegant creations that makes us swoon. Or perhaps it's the sophisticated contrast of the found glass combined with refined sterling silver accents that have us entranced by these beach-chic baubles. Either way, each of this premiere jewelry designer's necklaces, earrings and bracelets is one of a kind and relies on Becht's creative eye as much as the whims of the ocean. Becht handpicks every piece of beach glass from secret haunts on Hawaii's North Shore of Oahu. Our favorite sleek silver lariat with two naturally shaped pieces of aquamarine-tinted glass dangles provocatively on bare skin or across a simple T-shirt. Its simplicity and grace is the essence of spring, a time when we are all open to the caprice of nature, in much the same way that the featured sea glass has been tumbled by the elements. Renee Becht's work is sold at her store, Jameson's By The Sea Gift Shop, located in Haleiwa, Oahu.
$98 | 21" sterling silver and Hawaiian sea glass lariat | 808.594.3400
---
Butterfly Leaf Table by Philip Smith
With a mission to design furniture that glorifies the American West, Philip Smith founded Steel Strike Leather Products in 1989, and with it a fabulous line of leather-inspired furnishings that range from sofas and love seats to chairs, stools, tables, desks and more. Though the styles are influenced by a fascinating blend of cowboy, Indian, European and lodge elements, the common denominator in all of his work is an extraordinary attention to craftsmanship. Our favorite, Butterfly Leaf Table, for example, is an enduring monument to Western style with intricate hand tooling on the leather apron, seamless wood combinations of alder and 100-year-old reclaimed elm, and an ingenious automatic leaf mechanism that means we never have to carry another leaf up from or down to the basement! Philip's work is handsome and timeless and heroically authentic.
$11,500 | 42 x 84 – 114 x 31 inches | 719.395.8802 | www.steelstrike.com
---
Surrender by Alicia D. Keshishian
For artist Alicia D. Keshishian, color is a celebration of life. And that celebration is brilliantly evident in every one of her custom-designed and made-to-order carpets. An art director, designer and illustrator for more than 30 years, Alicia ultimately couldn't resist her family's heritage in the rug business and opened Carpets of Imagination in 2004. Her Armenian-born grandfather was a renowned authority and started the family business that has been supplying rugs to the White House throughout the decades. Alicia's own designs — we are swooning for Surrender with its vivid colors and silk details — are at once exquisite and whimsical. She uses fine Tibetan wool in her luxuriously soft designs and each carpet is hand-woven in Nepal using centuries-old weaving techniques. We love Alicia's nod to tradition and simultaneous embrace of decidedly contemporary style. We love that her carpets can be described as delicious. We love that all of her pieces are beautifully — and ethically — made. But it's her own fearless love of color — from quiet, earthy tones to scream-out-loud audacity — that puts us over the edge. Alicia's range is vast and her pairing so seamless that our response is nothing short of visceral.
$106 per square foot | Sizes are made-to-order | 707.775.3494 | www.adkcarpets.com
---
Low Back Moose Chair by Dan MacPhail
Dan MacPhail's striking antler chairs stop traffic from across the room at Western design shows. Originally inspired by a longhorn chair he saw at the Texas Ranger Museum in Waco, Texas, in the early '80s, MacPhail built his first moose antler chair in 1990. Within seven years the Kentucky artist had won his first "Best of Show" at a major competition. Unlike most such pieces, which use antlers as embellishment, MacPhail's chairs incorporate the antlers into their frames. He creates a true fusion of form with function. "I believe the reason no one has been able to copy my work is that they are not willing to put in the extraordinary amount of time it takes to make one," says the artist, who logs scores of hours on each piece. "Every chair is a love-hate relationship. Sometimes I just have to walk away and come back to it fresh the next day. But the love of the work always prevails." What we love is the combination of sumptuous leathers in rich colors with the bold shapes of the curved and textured antlers. And because the chairs are also comfortable, what we want is to kick off our cowboy boots and curl up with a good Western.
$8,500 | 26 x 31 x 31 inches | 270.462.2522 | www.macphailstudio.com
---
Sheath and Knife Set by Charles Acuña
It's not every day you run into a Neolithic artist like Charlie Acuña. Preserving the lost art of flint knapping, Acuña creates knives, arrowheads and other weapons from chipped stone. Add to that his skill at beadwork and you'll know why we were immediately attracted to Acuña's art. Preserving a trade that was never chronicled, each of his creations is beautifully hand-made using timeless materials: stone, tanned leather, glass beads, antler, bone, tusk or wood. Influenced by Mayan traditions, Acuña created this knife from purple onyx and moss agate, which, when viewed in the light, exhibits fernlike patterns of the petrified moss. The sheath boasts 10,000 glass beads hand-sewn on brain-tanned elk hide.
$1200 | 13 x 1 inches | 619.916.1385 | www.stonedge.com
---
Smoke Deerskin Shoulderbag by JK Brand
Known for her almost alchemical ability with deer and elk hides, Jennifer King — the J and K behind JK Brand — designs an exquisite selection of shawls, belts, throws and home accessories including everything from window treatments to decorative pillows. What we love about all her work is the rich character and luxurious softness in every fiber. King also has an irrepressible flair for combining the naturally stunning hides with hand-crafted accents including fringe, sterling silver conchos and glass trade beads. Her shawls, some of which have fur or turquoise accents, are too beautiful to be believed. Our favorite Smoke Deerskin Shoulderbag features a timeless design in her trademark supple leather with subtle beaded fringe. We are inspired by the way King nurtures the careers of other artists by including their painting and beading in her pieces. And we love the way King approaches her designs with primal materials and Texas panache, transforming them into something lovely, timeless and positively essential. In that way, all of her work is simply magical.
$450 | 17 x 14 inches with a 21.5-inch strap | 713.540.1068 | www.jkbrand.com