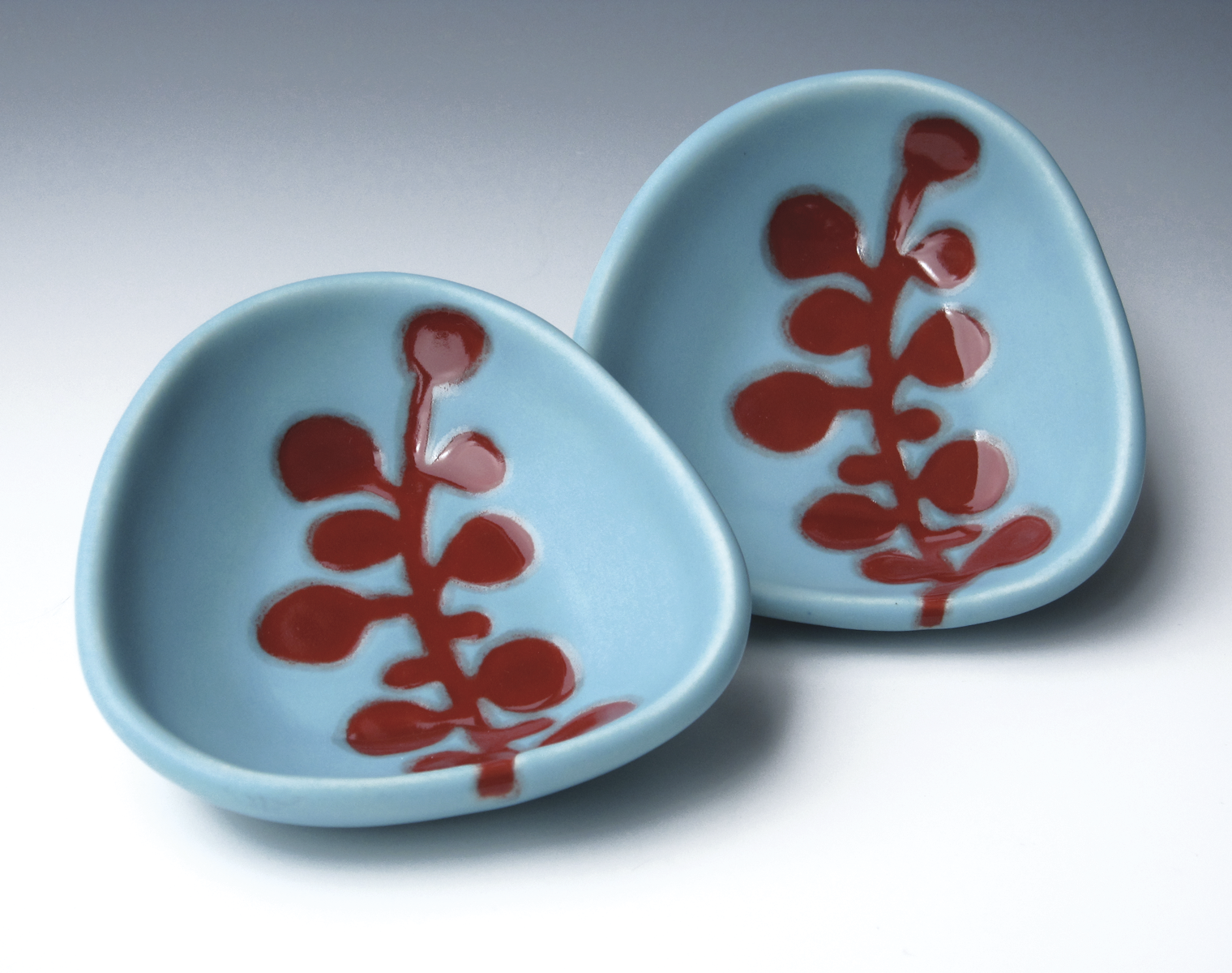 "Abstract Berries Dipping Dish" by Hope Johnson
01 Sep

Details: Things We Love

Abstract Berries Dipping Dish by Hope Johnson

Inspired by plant forms ranging from leaves to flowers and berries, ceramicist Hope Johnson combines organic shapes with vibrant colors in a most modern fashion. We love her Abstract Berries design for its simple but dynamic splash of color, and its absolute usability. "This amazing color combination just radiates happiness and summertime for me," says Johnson. Johnson's designs, often inspired by her own exquisite photography, can carry the suggestion of summer into any room.

$28 | 5-inch diameter; ½-inch tall | www.hopejohnson.com
---
Masterworks Reserve Collection from Rain Forest Baskets
When educators Lorran and Charlotte Meares bought a few small Wounaan baskets at a market in Panama nine years ago, they fell in love with more than the exquisite artistry of the work. They were captivated by the people of the rainforest and their unequivocal dedication to the ancient Hösig Di artform. Founding RainForestBaskets.com and The Meares Collection in 2002, the couple assembled the most important collection of museum-quality contemporary native basketry anywhere. Each work of art is painstakingly hand-stitched using silk-fine palm filaments dyed with natural pigments and can take up to three years to complete. We love that the Meares Collection has brought this ancient artform into the forefront of the contemporary art scene, and we marvel at the way the demand for their woven art has impacted the lives of the Wounaan people. But really, it's the work that leaves us breathless. From the dazzling geometric designs, inspired by pre-Columbian-style body painting, to the spectacular pictorials, which capture the flora and fauna of the Panamanian rainforest, we couldn't begin to choose a favorite.
$1,000 – $25,000 | Heights to 24 inches | 509.920.6712 | www.rainforestbaskets.com
---
Mokume Gane by Alex Horst
Using an ancient technique originally designed to beautify the hilts of Samurai swords, jeweler Alex Horst layers fine silver and copper under a 20-ton press, then puts the metal into a kiln where the copper forms its own alloy. Using a ball-peen hammer and 100-year-old anvil, he hand forges the new metal. Finally, he uses the reposè method until he has a wood-eye pattern known as Mokume. A third-generation gemstone carver, Horst tops off the Mokume Gane with delicious gemstones like this stunning blue Topaz set in 22 carat gold.
$550 | 1.5 x 2 inches | www.alexhorstjewelry.com
---
Multi-tasking Geisha by Bill Colligen
You'll be as surprised as we were when we discovered this unique Asian vase is not a centuries-old ceramic piece. Award-winning artist Bill Colligen transforms ordinary gourds into sculptural beauties using relief carving, pyro-engraving and metal leafing, and finishes them with a cold patinated bronze application. We love that he has a stash of hand-colored Japanese silver leaf that is no longer available, making each of his vases unique. For their Zen-like beauty and their incomprehensible detail, we are smitten.
$2,000 | 15 x 9 inches | 928.636.9955 | www.billcolligen.com
---
African Kudu Empire Side Table by Dan Pfeiffer
A trained architect, Dan Pfeiffer uses a rare and spectacular palette of materials for his handcrafted furniture: wood, horns, and silver. The results are simply breathtaking. Take our favorite African Kudu Empire side table, for example. The rich tones of the spalted quilted pecan and walnut apron blend fluidly with curves and texture of the authentic kudu horns. The Sterling silver tips are just icing on the cake, as far as we're concerned. We love the blending of elements and the marriage of styles in his brilliantly crafted pieces. That Pfeiffer combines 19th century French design with African horns, adding just a hint of Texas swagger, is reason enough to swoon for his work.
$3,200 | 13 x 62 x 34 inches | 210.882.6446 | www.arthousestudiosa.com
---
Embroidered Linen Pillows by Eliza Eddy
Artist Eliza Eddy has always loved using her hands. Whether drawing figures, tending gardens, raising horses or delivering babies as a midwife, she has practiced thoughtful and methodical artforms her entire life. Her artistic expression today is at once simple and yet beautifully tactile. Using spun wool and gorgeous European linen, Eddy embroiders iconic images of the West on her lovely eco-fill pillows. Her lines are elegant and her textures rich. What we love is her utterly simple and yet contemporary take on a traditional artform. From pillows to wall pieces, Eddy's vision of what it means to live in the West has universal appeal.
Starting at $95 | 12 x 16 inches, 20 x 20 inches | 406.580.6585 | www.elizaeddy.com
---
Morning Glory Piano by Silas Kopf
What a celebration it will be when your fingers touch the ivories on this unusually beautiful Steinway piano. We can hear the sounds ringing out like a church bell in Italy! Using marquetry and inlay skills honed in England, France, Italy and Sweden, Kopf, who earned a degree in architecture from Princeton University, works in conjunction with Steinway reigniting its turn-of-the-century art case pianos. We love that the sound quality has been preserved in such an artful instrument. Kopf works on commission to create one-of-a-kind dream pianos, in addition to magnificent furnishings collected by museums and connoisseurs worldwide. While most of his marquetry is made with wood, Kopf occasionally uses other materials ranging from brass and copper to mother-of-pearl and abalone. His unmatched talent and exacting standards put Kopf in a class all his own.
$400,000 | 413.527.0824 | www.silaskopf.com
---
The House That Sam Built: Sam Maloof and Art in the Pomona Valley, 1945-1985 by Harold B. Nelson
A companion book to the fabulous exhibition at The Huntington Library, Art Collections, and Botanical Gardens, this 192-page fully illustrated catalog chronicles the development of Maloof's work from his earliest explorations of handcrafted furniture to 1985, the year he received the coveted "Genius Grant." We love that this book recounts not only his own groundbreaking work, but the way Maloof and his wife, Alfreda, influenced the post-war California art scene with their generosity toward and friendship with other artists. In addition to 35 of Maloof's most important works, the book features 81 works by his friends.
$39.95 hardcover; $29.95 softcover | 626.405.2142 | www.huntington.org
---
Entertaining Sun Valley Style from the Sun Valley Center for the Arts
For three decades, the hallmarks of Sun Valley's celebrated wine auction have been delicious wines, fantastic food and original style. The recently released Entertaining Sun Valley Style features 240 full-color pages of creative yet approachable recipes, mouth-watering food photography and beautiful, creative styling. We love the variety of offerings, from simple but impressive hors d'oeuvres to multi-course meals. Best of all, all funds raised from the sale of the book go toward supporting the youth education programs, including after-school art classes, run by the Sun Valley Center for the Arts. Providing funding for the arts has never been so satisfying!
$49.95 hardcover | 208.726.9491 | www.sunvalleycenter.org