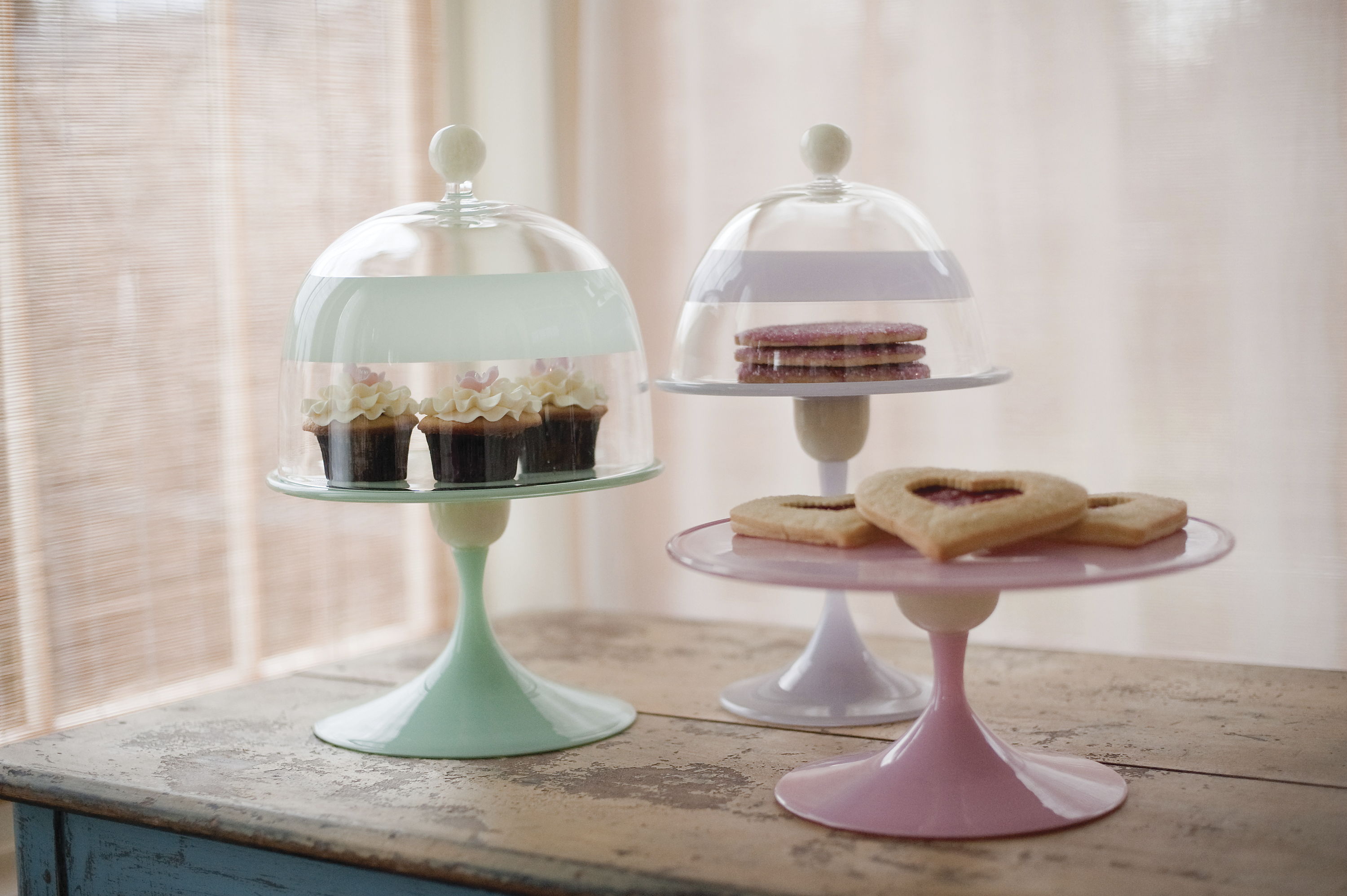 "Covered Cake Plates" by Two Tone Studios
24 Jul

Details: Things We Love

Covered Cake Plates by Two Tone Studios

The prestigious Rhode Island School of Design is where Boyd Sugiki and Lisa Zerkowitz met as graduate students. Now the two, as a couple, create eye-catching designs for the table from their hot shop and studio in Seattle. From glassware to decanters to vases to bowls, each creation is one-of-a-kind blown glass. A fancy of many homemakers, we love the nostalgic flavor they mix for their delicious cake plates.

$1,800 – $2,500 | 12 – 19 x 9.5 – 13 inches | 206.937.8237 | www.twotonestudios.com
---
Petit Point Pillow by Tim Van Campen
Philadelphia Academy of Art-trained artist Tim Van Campen works flat — both on canvas and on the computer screen. His intricate overlapping designs translate well to paintings, as well as scarves and pillows. Painstakingly hand-stitched in wool, the Van Campen petit point pillow from Michaelian Home has a fresh energy. Straddling the design divide between Contemporary and Southwest, the pillow lends an upbeat vibe to any roomscape.
$200 | 16 x 20 inches | 207.354.8979 | www.vancampen.net
---
Log Cabin Syrup by Karen Shapiro
"Rakukaren" is not a moniker for a pastry chef gone bonkers, but rather the nickname of whimsical and uber-talented ceramicist Karen Shapiro. Wildly funny and inexhaustible, she transitioned from creating edible works of art to ceramic American pop icons. Serving up a heaping portion of nostalgia, Shapiro reminds us that once upon a time, labels were an art form in and of themselves. Her Log Cabin Syrup conjures up memories of hot, sticky pancakes. Using a raku kiln, Shapiro convinces us her objects are real and preserved in perfect timeless form.
$1,000 | 12 x 10 x 7 inches | 800.289.1950 | www.winfieldgallery.com
---
California Light: A Century of Landscapes — Paintings of the California Art Club by Jean Stern and Molly Siple
A first-of-its-kind monograph, California Light, by Jean Stern and Molly Siple, offers a breathtaking and comprehensive look at the plein air paintings created by members of the California Art Club since the club's founding in 1909. With 300 dazzling images of unforgettable masterworks, this book is an absolute treasure and a must-have for plein air enthusiasts.
$50 | Hardcover; 276 pages; 11 x 10 inches | 626.583.9009 | www.californiaartclub.org
---
Comanche Trail Jacket by Double D Ranchwear
Inspired by the rich natural palette and the colorful history of Lajitas, Texas, Double D Ranchwear's Fall line is beyond sensational. This luminous fashion house — created by three larger-than-life sisters and their mom — designs clothes that are part biker, part outlaw, part Native, part military … and entirely chic. We love the materials — leather, cotton, velvet — and the delicate details from intricate beadwork to flowing fringe. One of our favorites, the hand-beaded, leather Comanche Trail jacket pays homage to Geronimo's legacy in West Texas and is an exquisite work of wearable art.
$790 | 800.899.3379 | www.ddranchwear.com
---
Hand-Tooled Leather Briefcase by Larry Seidel
Known for his gorgeous handmade saddles, Larry Seidel carves with precision and artistry. Happily, one doesn't have to be an equestrian to enjoy his work. Seidel also makes desk sets, receptacles, holsters, photo albums and spur straps. Briefcases are available with multiple compartments and pockets, and can be made to particular specifications. We love the intricacy of Seidel's carvings and the fluidity and depth of his interlocking floral designs.
$4,800 (not including gold or silver ornamentation) | 18 x 14 x 4 inches | 307.587.1200
---
Life Force by Lee Brotherton
Lee Brotherton's ability to meticulously recreate prehistoric pottery is matched by her creative brilliance in forming contemporary wall sculptures, making them look as ancient as the fossils with which she begins. Boasting an organic feel and an aged look, Brotherton's work is exquisite. Whether it be an ammonite, a centuries old fossil or seed pod, we are amazed to see how she extends the feel of the fossil into the clay with her sensitivity to color and design. Among our favorites is Life Force, which revolves around a phenomenal Septarian slice fossil from Utah that is millions of years old.
$1,600 | 24 x 1 inches | 480.220.9505 | www.leebrotherton.com
---
Plum Crazy Armoire by Art Reese
Having designed and built custom homes for more than 30 years, Art Reese has recently combined his love of wooden boats and his passion for sports cars into a stunning line of contemporary handcrafted furniture. His designs are geometrically inspired, often curvaceous, and wildly colorful. His Red Beam Bookcase (above, left) is a signature piece, and among our favorites. The Plum Crazy Armoire — part of a magnificent bedroom set that includes a matching dresser and nightstands — is crafted from antique fir trestle wood with brushed nickel hardware. The artist employs both a painstaking oil-rubbed finish and an automotive high-gloss enamel for a striking contrast. The pairing of rustic visual elements with its universally glasslike smooth finish is unlike anything we've ever seen … or touched.
$4,250 | 51 x 48 x 18 inches | 406.580.0013 | www.redbeamstudios.com
---
Ankara by Escalante Rugs
Dean Bubolo of Escalante Rugs has spent more than two decades working with master weavers from the Zapotec Indian tribe of Mexico's Oaxaca Valley to create some of the finest hand-woven contemporary rugs and tapestries available. Rugs from Escalante use yarns blended with 50 percent Mohair and 50 percent Churro wool, giving each work of art exquisite luster, durability and a surprisingly soft hand. Among our favorites, Ankara features a traditional design with a rich color palette.
$1,490 | 4 x 6 feet | 928.639.1600 | www.escalanterugs.com
---
Muchachita Throw by Gretel Underwood
For more than three decades, Gretel Underwood has immersed herself in the ancient art of handweaving. Using custom-dyed yarns and traditional weaving techniques from Central and South America, Underwood — along with three weavers and two seamstresses — creates magnificent pieces from clothing and pillows to throws. She uses luxuriously soft cotton chenille yarns and layers them one strand at a time. Every piece is made entirely by hand in her tiny Santa Fe studio, right down to the cascadingly colorful yarn and ribbon fringe. We swooned over Muchachita, a spectacular throw inspired by Bolivian stripes.
$765; $810; $1,035 | Lap (39 x 56 inches); Medium (39 x 72 inches); Large (50 x 72 inches) | 505.466.7825 | www.gretelunderwood.com