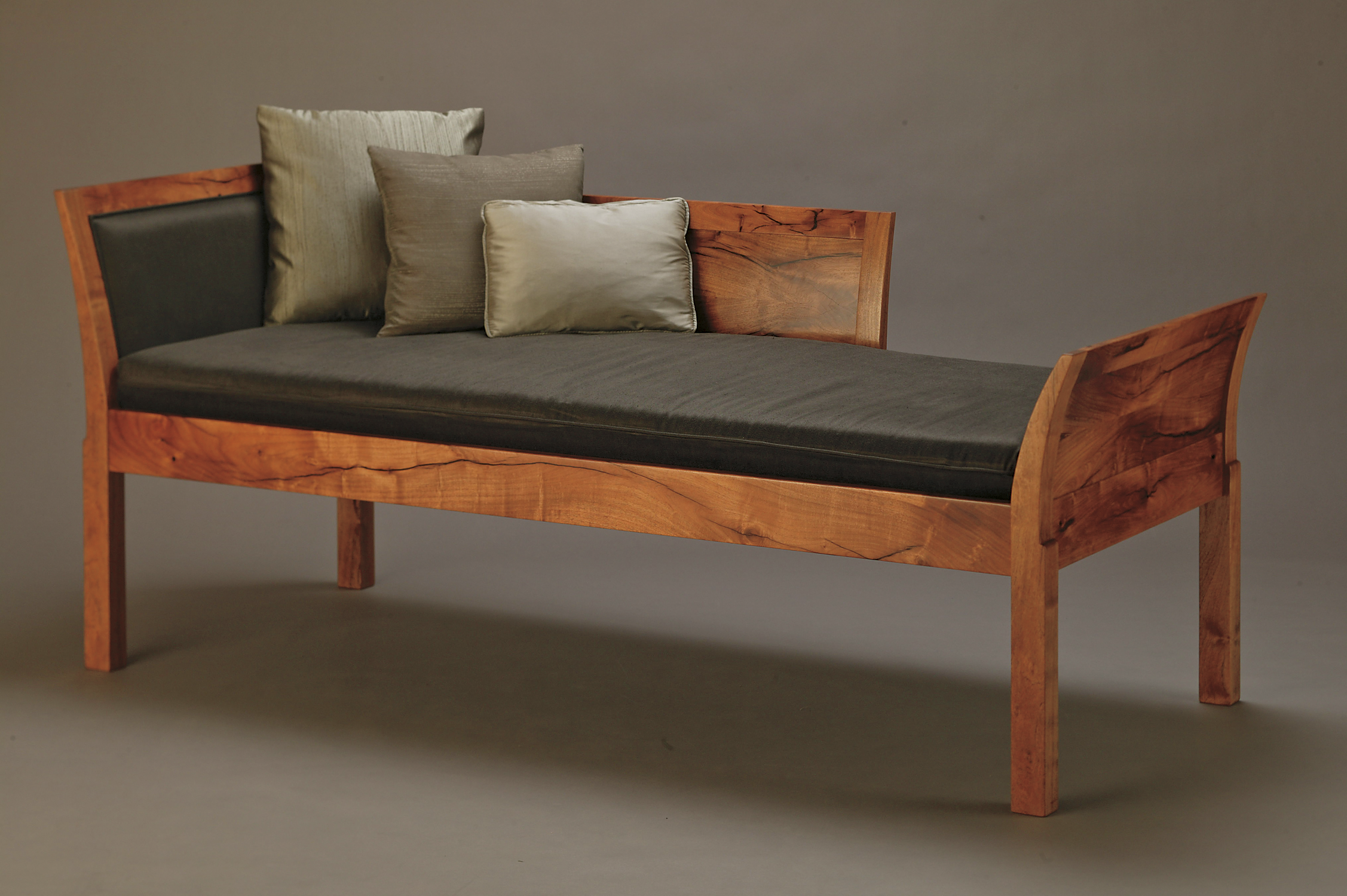 "Etherton Chaise" by Arroyo Design
24 Jul

Details: Things We Love

Etherton Chaise by Arroyo Design

To help pay for graduate school, Arroyo Design founders Stephen and Elaine Paul restored historic houses in downtown Tucson. The closet deficiencies in the beautiful old adobe homes they worked on fired up their resourcefulness and led the couple to create their first piece of furniture, the Presidio Armoire. While Elaine finished law school and charted her career, Stephen channeled his experience in architecture school into his accidental and equally fortuitous career designing and building wood furniture. Together, the Pauls have never lost their passion for design. The couple admits it is their obsession. Today, their studio, Arroyo Design, employs a dedicated and impossibly talented group of artisans who create by hand some of the most exquisite heirloom wood pieces we have seen. Our favorite, Etherton Chaise, is at once delicately graceful and ridiculously handsome with unmatched visual depth. And though Arroyo's designs are available in cherry, walnut or maple, we are smitten with their mesquite, one of the most challenging woods to work, and clearly the Pauls' forte. Each piece is entirely custom made, from drafting through to the hand-applied finish. Their Old World standards result in utterly original pieces that require minimal maintenance.

$5,320-$7,600 | 61.5 x 31.5 x 31 | 520.884.1012 | www.arroyo-design.com
---
Sandblasted Blown Glass Vases by Laurie Thal and Lia Kass
Laurie Thal is the kind of artist that inspires everyone with even a hint of creativity wriggling around in their bones. This is an artist who can, indeed, do anything. From architectural glass to lighting, from perfume bottles to sculpture, from sandblasted vases to martini glasses, her creativity, like her liquid medium, knows no bounds. In 1997, she was commissioned by Hillary Clinton to create a Christmas ornament for the White House, and recognized again by President Barack Obama in 2009 when one of the sandblasted vases she creates with über talented artist Lia Kass was selected as his first official gift, this one the fabulous Peacock for India's prime minister. Inspired by her creative drive, Thal is unafraid of transformation and always willing to experiment. She combines earth and fire in the creation of lyrical pieces that quite literally look as if the glass might continue its flow at any moment. The layered colors are so exquisite, the forms so lovely in their fluidity and the textures, as rich as they are varied, they make choosing a favorite pure folly.
$2,400 | 10 x 12 inches | 307.733.5096 | www.thalglass.com
---
Surfboard Showers by Will and Jane Fowler
Though the idea sounded far-fetched — old surfboards used as canvases for mosaic art, then transformed into outdoor showers?! — the end result of Will and Jane Fowler's surfboard showers is nothing short of brilliant. Will and Jane, both recreational surfers from Solana Beach, California, start with recycled surfboards that would otherwise end up in landfills. They put their artistic sensibilities to good use by utilizing found objects — including glass, tile and shells — to turn these boards into whimsical sculpture and gorgeous outdoor showers that are simple to install and easy to move. We love that they are as aesthetically pleasing as they are functional, and environmentally friendly to boot. Just over a year into their business, Will and Jane put their combined art, interior design and construction experience to work, customizing each board according to the lifestyle of its future owners and the landscape into which it will be set. The stylistic range spans from serene to bold, like our favorite, Going with the Flow. Surf's up!
Starting at $950 | Sizes vary | 619.410.7553 | www.willandjane.com
---
Patis by Geoffrey Gorman
Each and every one of the critters from Geoffrey Gorman's Creatures of Curiosity menagerie delights the senses. Take your pick of a running rabbit, a prickly porcupine or a bad boy baboon. Our favorite, Patis, escaped from the circus, ripping the nametag off his cage and stealing the banner that announced his juggling act. He quickly made a jacket out of the banner and attached the nametag to his arm, lest he forget who he is. That's the story Geoffrey Gorman tells of Patis, who is carved out of wood from an old coyote fence. Patis' face is crafted out of ancient painted tin, a New Mexico blue in this case, and his hair is formed from rusted steel wool. He represents the dark side of nature, Gorman says, and to prove it, Patis stole one of the balls he used to juggle. Using found materials, Gorman lovingly creates animals of all kinds. Coconut husks, mountain bike tires, sink stoppers, tree branches and screen door wire are just a few of the materials you'll find comprising his critters with attitude.
$4,400 | 29 x 22 x 22 inches | Available at Jane Sauer Gallery | 505.995.8513 | www.jsauergallery.com
---
Pepper Mills by Robert Wilhelm
Made by artisan Robert Wilhelm, these pepper mills are as functional as they are gorgeous. Wilhelm handcrafts and signs each piece, carving and grooving maple wood into shapes, using brilliant aniline dyes that are infused into the wood. Wilhelm got his start after graduating from art school with a degree in sculpture when he was commissioned to create sculptures for a restaurant. As he designed tall sculptural forms to fill the corners of the restaurant — ding! — the pepper mill light came on in his head. The restaurant owner loved the idea and bought into it, with Wilhelm's colorful pepper mills gracing every table. From his wholesale business to his art show appearances, we love Wilhelm's success story. Plus, who says you can't have fun in the kitchen?
Starting at $75 | WA&A readers are offered a 30% discount just for mentioning the magazine. | 503.283.2953 | www.rawdesigninc.com
---
Gemstones, pearl and copper necklace by Janet Vitale
Since she took her first jewelry class as a child, Janet Vitale has been combining beads, stones and precious metals into simultaneously contemporary and timeless works of art. Our favorite gemstone, pearl and copper necklace has been 35 years in the making as Vitale has collected the beads — including more than a dozen precious and semi-precious gemstones, Russian glass, antique salmon coral beads, freshwater pearls and dye-formed copper pieces — over her lifetime. Never one to rush flawlessness, Vitale waited until she found the perfect combination to craft this unique and fully-adjustable necklace. We love the rare combination of so many colors and textures. Her pillow-shaped copper beads are handcrafted using Vitale's 20-ton jack. Vitale also employed a light heat patina to give the copper a rich glow. Among the other material Vitale often uses in her stunning work are antique inlay turquoise beads, faceted peridot beads, Yellowstone River Montana agate, chrysoprase beads, garnet, heshi beads, antique seed beads and scarab. All of her pieces are rare and utterly lovely.
$936 | 23.5 inches | 406.223.2311 | www.janetvitale.com
---
The Blue Sky Belle Lady's Writing Desk by Diane Ross
The Blue Sky Belle is as charming as it is beautiful. Small wonder, then, that Montana-based rustic furniture maker Diane Ross thinks of it as a "she." And she does have a decided femininity, in her daintily curved legs and cheerful floral pattern. The drop-front desk is made from reclaimed oak and has legs of diamond willow. The Metis beadwork design is in applied twigs, which the artist collected on gathering forays along the riverbanks of southwestern Montana. The desk has interior shelves and lighting, and — one delightful final detail we love — a drawer lined with blue leather.
$5,600 | 42 x 36 x 18 inches | 406.285.6882 | www.rusticfurniture.net
---
Liv by Arabella Tattershall
With growing vinca vines climbing ever upward, forming something of a billowing skirt, Liv, a garden sculpture by Arabella Tattershall, is clearly one-of-a-kind! While others in her class were studying to be pipefitters, Tattershall was learning to weld so she could create something different. Formerly a fiber artist, she says, "Art comes easy to me. But at a time when I needed change, I wanted to do something that didn't come natural — hence the metal work came into play." Now Tattershall creates garden sculptures that live in harmony with the outdoors; all withstand the elements, even wind. We love Liv, her flawless 36 – 24 – 36 dimensions with a variety of copper-coated leaves forming her elegant patinated bodice, and awaiting vines to fill out the skirt of her steel sub-structure. She is deliciously designed so the wind blows right through her skirt, while the stakes in the ground hold her steady. Tattershall's work is capricious, whimsical and somehow looks perfectly at home in any setting.
$8,000 | 5.5 feet tall x 38 inches in diameter | 720.982.9665 | arabellatat@mac.com
---