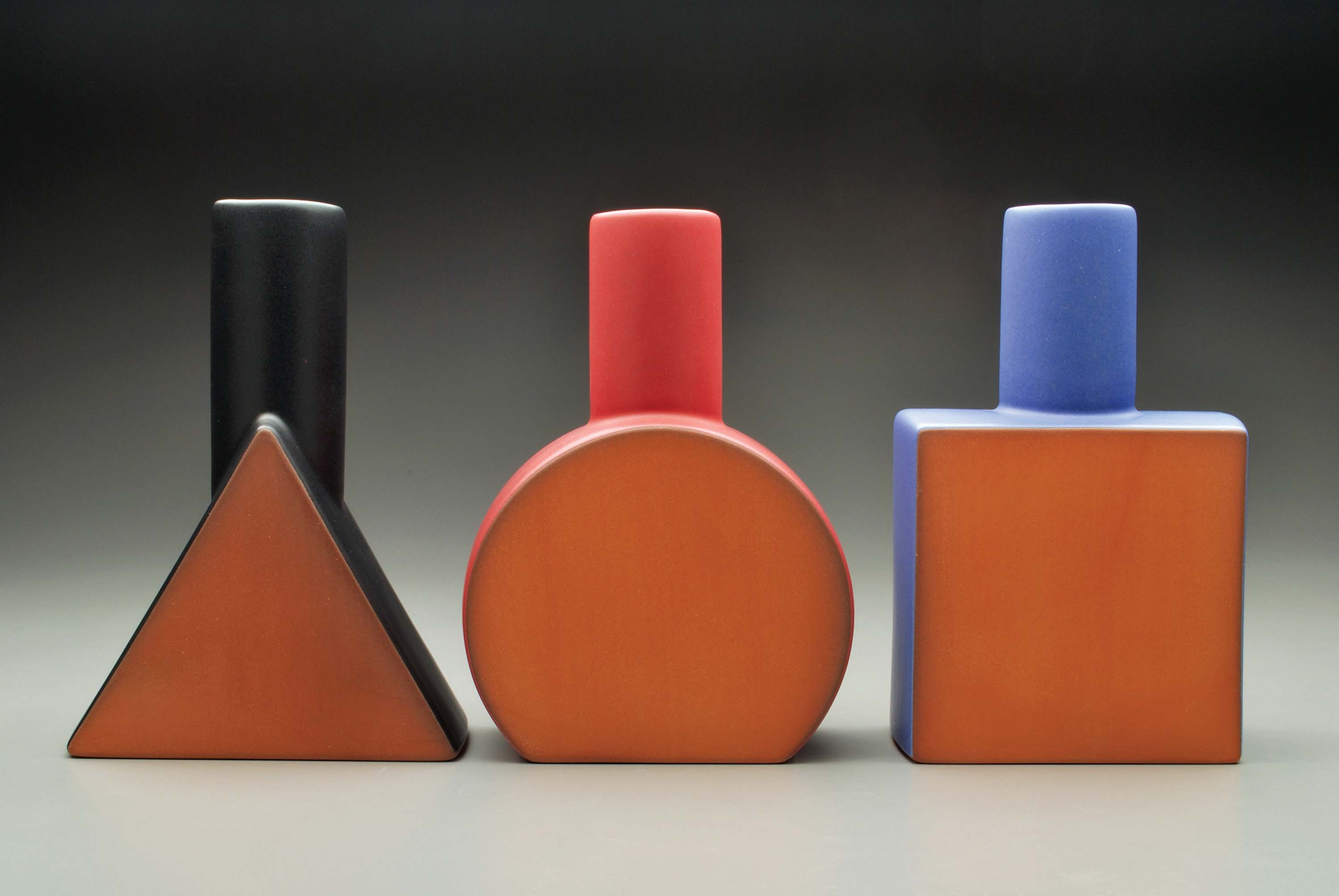 06 Mar

Details: Things We Love

Geometric Vases by Eshelman Pottery

Paul Eshelman creates contrast in his expertly crafted ceramics by leaving portions of his vessels unglazed, juxtaposing the toothy texture of the stoneware with a sleekly glazed surface. He designed these Geometric Vases to highlight this contrast, finding the perfect silhouette in simple, clean shapes. "It's these very simple geometric forms that build most of what we know," he says, explaining that he wanted to explore variations on a theme and see how the shapes played off one another while serving a unified purpose. His thoughtful contemporary stoneware is available in 12 colors.

$70 each | Triangle and circle: 7.5 x 5 inches | Square: 7.5 x 4.5 inches | 815.858.2327 | www.eshelmanpottery.com
---
Weathervanes by Frank Romero
The American Architectural Weathervane Company, which produces unique weathervane designs that complement contemporary and traditional architecture, introduces its artist series with designs from Frank Romero, a member of the 1970s Chicano art collective, Los Four. Along with fellow artists Carlos Almaraz, Roberto "Beto" de la Rocha and Gilbert Lujan, Romero helped define and promote awareness of La Raza (the people) through murals, publications and exhibitions. Los Four's historic 1974 exhibition at the Los Angeles County Museum of Art was the country's first show of Chicano art at a major art institution. Designed by Romero, the weathervane series includes classic cars along with an airplane, a dancing Navajo yei, a cowboy on horseback and others, each with a clear understanding of line, composition and which way the wind blows.
$175 | Starting at 34 inches | 323.857.5330 | www.aawvco.com
---
Cumulus Necklace and Mizu Wave Ring by Bound Earth
Andrea Williams, of Bound Earth, is a fine-art jewelry designer and accomplished metalsmith who specializes in contemporary, eco-conscious and nature-inspired jewelry. Growing up in Maine, she explored forests, islands, tide pools and oceans, and will be forever fascinated with the limitless variety of nature. "My jewelry is an expression of the wonder I sense in the overlooked intricacies in nature," she said in her artist's statement. "When we see stones in infinite numbers underfoot at the beach, we cannot help but to miss the unique perfection in each." The Mizu Wave Ring was inspired by Hokusai's Wave and is made of beachstone, reclaimed 18-karat gold and hand-pulled Venetian glass, while the Cumulus Necklace depicts stylized clouds in hand-pulled Venetian glass and fine silver on beachstones. Her jewelry acts as "a wearable reminder of the beauty too easily overlooked."
Cumulus Necklace: 2 x .5 inches; $2,400 | Mizu Wave Ring: 1.5 inches; $1,000 | 781.901.9502 | www.boundearth.com
---
Elevating Western American Art edited by Thomas Brent Smith
Elevating Western American Art: Developing an Institute in the Cultural Capital of the Rockies was published to mark the 10th anniversary of the Denver Art Museum's Petrie Institute of Western American Art. The book includes 30 essays by art historians from across the United States and Canada as well as a comprehensive history of the growth of Denver's Western art collection. In the book, more than 20 of the museum's masterworks are discussed in detail, from George Catlin's Cutting Ceremony and Charles Deas' Long Jakes to Frederic Remington's The Cheyenne and Charles Russell's In the Enemy's Country. It's a book that "demonstrates both the inclusive nature of the Petrie Institute's approach and the fact that Western American art stubbornly and gloriously refuses to be fenced in by traditional art historical boundaries."
$34.95 | Hardcover | 720.865.4488 | www.shop.denverartmuseum.org
---
Bison Briefcase by Pinto Ranch
Made from American bison leather, Pinto Ranch offers this stylish Bison Briefcase so the Western aesthetic can travel with you. In operation since 2004, Pinto Ranch takes care of the "upper range of Western style," offering products that couple the romanticism of the Old West with contemporary sensibilities. Created by craftsman Julio Peña, in Houston, Texas, the briefcase includes a removable strap, stainless steel saddle hardware and multiple compartments — including a full-length zipper pocket — to keep organization a close second to style.
$795 | 16 x 11.5 x 3.5 inches | 800.393.8001 | www.pintoranch.com
---
Hide Wall Coverings by Kyle Bunting
Kyle Bunting is a Texas-based product designer who works exclusively in hair- on-hide. He is noted for his wide selection of colors, designs and ability to create custom work in any size or shape for architectural and interior applications. Using high-grade Italian hides, these unique Hide Wall Coverings come in a variety of patterns and colors, including this electric lime green and soft gray. Bunting believes that designing without limitation is the ultimate expression of luxury, and his mantra, "any size, any shape, any color," has enabled designers and clients to freely express themselves and transform interior spaces into works of art.
Starting at $126 per square foot | 512.264.1148 | www.kylebunting.com
---
Sky by Dennis Page Carved Art
Dennis Page and Woody Challis create heirloom rocking horses and one-horse carousels from their workshop in Riverton, Utah. It began in 2002, when a friend asked Page to carve a rocking horse for his granddaughter that replicated the saddlebred her mother rode as a child. At the time, Page was working in architectural carving in high-end construction, and by combining that experience with his life-long love of horses a new career path emerged. Thirteen years later, Page has created one-of-a-kind Western collectibles for clients across the globe. Working from photos, Challis and Page often create replicas of clients' favorite horses. The rocking horse Sky is hand carved from maple and was created for the American Saddlebred Museum in Lexington, Kentucky.
$8,500 6 feet x 15 inches | 801.654.8709 | www.carvedhorses.com
---
Salad Set by Sterling and Steel
Harry and Nicole Hansen are both second-generation metalsmiths and the founders of Sterling and Steel, a company that creates sculptural, hand-forged housewares. This Salad Set was formed using heat and hammers, transforming unwitting silver and stainless steel into material that's "soft as silk." The uniqueness of a hand-forged object is evident, with nuances in its design impossible to recreate in a factory. Because each piece is created by hand, the Hansens can incorporate sentimental pieces of steel from a client's ranch or homestead in their design, repurposing an old, loved object into an heirloom. "Handmade objects have a connection to the heart," the couple explained. "They invite a relationship that, like the metal we forge, grows stronger over a lifetime and beyond."
$530 | 10.25 x 2.5 inches | 719.539.5499 | www.sterlingandsteel.com
---
Swift Current Cabinet by Nick Boynton
Born and raised in San Francisco, Nick Boynton moved to Missoula, Montana, in 1979, where he currently designs and builds furniture with a Japanese influence. "Everything has a flare [inJapanese design]. All of the ends have a subtle motion," he says, explaining that he draws inspiration from Japanese architecture, flower arrangements, bonsai plants and calligraphy. Made of cherry and walnut with a strong linear grain, the Swift Current Cabinet can be recreated with a customized interior to meet your needs.
$5,000 | 60 x 24 x 18 inches | 406.544.0102 | www.nickboyntonfurniture.com
---
Cascading Water Chandelier by Cleveland Art
While working at his family's salvage yard as a young man, Jason Wein saw the potential in repurposing industrial machinery and objects into functional design. His passion for saving industry artifacts lead to the creation of his company, Cleveland Art, about 20 years ago. With a large library of objects acquired from old factories, steel mills, foundries and schools, Wein creates light fixtures, furniture and retail displays for homes, businesses and restaurants, with the ability to create sets or duplicates. The Cascading Water Chandelier is made of clear, partially-recycled glass, a vintage factory wheel and welded motorcycle chain. It's an example of the repurposed beauty that keeps Cleveland Art at the forefront of vintage design.
$12,000 | Available in 14- to 50-inch diameters | 213.626.1311 | www.clevelandart.com