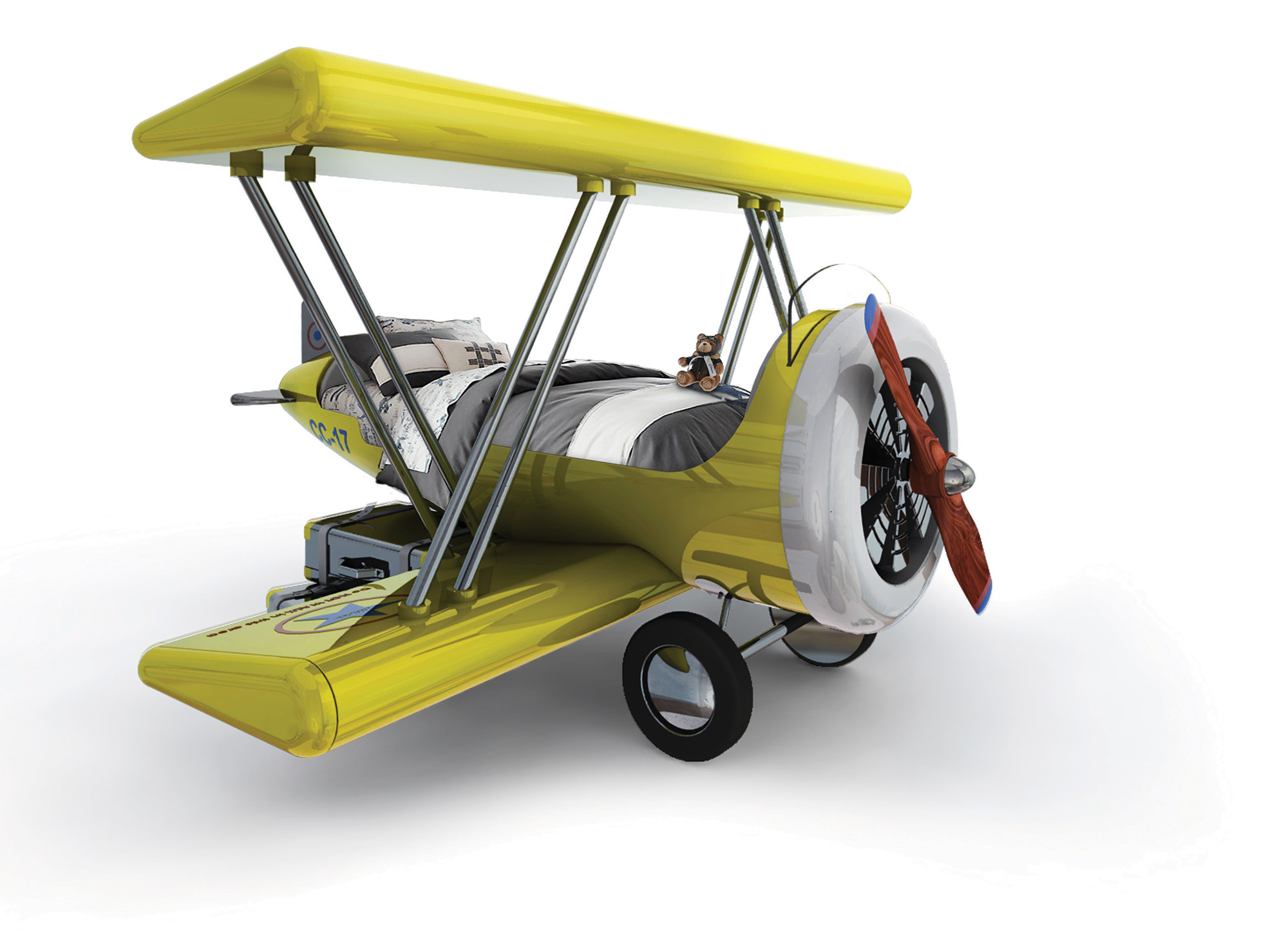 14 Mar

Details: Things We Love
---
Sky B Airplane Bed by Circu
For the little one whose hero was Leadbottom in Disney's "Planes," we found the perfect bed. Can you imagine the dreams to be had in this crop duster replica biplane? Perhaps Dusty or Skipper Riley will make an appearance, or even Mayday or Sparky. Inspired by the movie, the bedmakers at Circu say this isn't just a bed, it's a place of creativity and imagination. With its giant yellow wings made of fiberglass, real rubber tires and red wooden propeller, the Sky B Airplane Bed is a painless way to make the transition from the crib. The suitcases allow children to climb up and down with ease and double as storage.
€21.930 | 112 x 66 x 110 inches | +351.915.231.231 | circu.net
---
Embroidered Napkins by Coral and Tusk
We think you are going to love these 100-percent linen napkins by Coral and Tusk as much as we do. Designed by an Appalachian woman whose great-grandmother was a lacemaker and whose grandmother was a dollmaker, craft comes naturally to Stephanie Housley. With help from her husband, Chris Lacinak, Housley has grown Coral and Tusk from one product into many storytelling creations for every room of the house, offering pillows, artwork, table linens, dolls, accessories and more. They celebrate the theme of adornment and look to native cultures for inspiration. Housley loves to draw and embroider, skills she developed as a child on family trips to the Eastern Seaboard. We reap the benefit of Housley's creativity while reveling in her thoughtful textile designs.
$44 | 20 x 20 inches | 718.388.4188 | coralandtusk.com
---
Antony Tray by Windsor Smith for Arteriors
Arteriors describes this Antony Tray as "Renaissance ornament meets rustic craft." Made of hand-riveted copper, it was created with the repoussè method, which in French means "to push back." It's an Old World technique that creates a relief design by hammering or pressing the reverse side of a metal surface. (In fact, the Statue of Liberty was created in this manner.) With its generous size and beautiful antique silver finish, the Antony Tray is sure to steal attention at the dinner table. Equally so, it can double as a piece of art on your wall. Might we suggest hanging it in the dining room?
$2,400 | 33.5 x 31.5 x 2.5 inches | 800.338.2150 | arteriorshome.com | Suggested by Robin Baron Design
---
Baby Elephant Fountain by Darrell Davis
Wildlife sculptor Darrell Davis knew at the age of 15 that he wanted to be a sculptor after visiting the South Carolina Brookgreen Sculpture Garden. As an elected member of the National Sculpture Society, Davis' Baby Elephant Fountain pulls the heart strings of most everyone who stands near his creation. We love that it feels as though these baby elephants are alive, perhaps because Davis researches his subjects at the Dallas and Fort Worth zoos as well as the Fossil Rim Wildlife Center. As a student, Davis studied landscape architecture as well as art, giving him the knowledge to create the armature necessary for these pachyderms to play. He lovingly refers to his style as "impatient realism," melding structure and composition to affect a fresh and impactful statement. These cast bronze baby elephants would be happy in a Montana yard sloping down to the Gallatin River or on a Texas ranch in Hill Country where children could delight in the refreshing water spouting from one elephant's trunk.
$35,000 | 49 x 38 x 41 inches | 505.986.9833 | manitougalleries.com
---
The Alchemist Collection by SteamLine Luggage
We love the story of Sara Banks, founder of SteamLine Luggage. A mother of three and a world traveler based in Dublin, Ireland, her company aims to bring Old World glamour back to travel. Banks hopes that every trip one takes with SteamLine Luggage becomes an elegant voyage. The Alchemist line consists of a variety of choices; you may prefer a silver stowaway, a gold vanity or a bronze overnighter; or choose a hatbox or a briefcase to complete the set. Finished in metallic vegan leather, a material that looks and feels like leather but contains no animal products, each piece is durable, worry free and absolutely lovely. Where to next?
$230 to $630 | Various sizes | 646.883.3077 | steamlineluggage.com
---
Mid-century Modern Birdhouse by Sourgrassbuilt
We're certain you've seen birdhouses before, but we're not certain you've seen one as modern as this mid-century replica made by Sourgrassbuilt of Santa Cruz, California. Douglas Barnhard, one of the city's foremost cabinet builders, designed this mixed-media birdhouse after the designs of famous architects, including Joseph Eichler and Frank Lloyd Wright. Made with cedar and bamboo decking, it is wrapped in gray and orange laminate and incorporates a living wall and metal trough for birdseed. The succulents (not included) are planted in coconut fiber. We agree — and think you will, too — with the Los Angeles Times who declared it to be "Tweet-worthy."
$350 | 15 x 9 x 8 inches | 831.226.5005 | sourgrassbuilt.com
---
Wild Rose Belt Buckle by Ellie Thompson + Co.
Ellie Thompson is a jewelry designer with an eye on the future. "I strive to create a certain timelessness that will assure enjoyment for decades to come," she says. We love the unique beauty of this sterling silver belt buckle adorned with wild roses. Not a dozen roses perhaps, but just the right amount to thrill the discerning woman who loves a statement piece. Imagine this piece on the waist of a black dress, accompanied by cowgirl boots and turquoise jewelry. Thompson's new American West collection can be found at Creighton Block Gallery in Big Sky, Montana; Atomic 79 in Dillon, Montana; and Goodie 2 Shoes in Jackson Hole, Wyoming.
$2,200 | 312.403.8887 | ellieco.com
---
Pendleton Mills Bison by Faraway Lovely
Faraway Lovely founder Chase Halland says he can't remember a time when he wasn't drawing, building or dreaming up new ideas. We love his take on this bison mount finished with fabric by Pendleton Woolen Mills. Each is made from a taxidermy mount, horns and fabric. The collector has a role in the creation of their piece by choosing the animal (elk and deer are also available), the size and, lastly, the fabric that will complement their home. This bison is finished in a Rancho Arroyo Silver pattern. "From start to finish, I put my heart and soul into every handmade piece, and I take pride in knowing that my work will stand the test of time," Halland says.
---
Art House: The Collaboration of Chara Schreyer and Gary Hutton, published by Assouline
Over the past 40 years, leading art collector and editor in chief of San Francisco Cottages & Gardens, Chara Schreyer has collaborated with interior designer Gary Hutton to create five residences housing 600 works of art, including masterpieces from Louise Nevelson, Andy Warhol and Donald Judd, among others. Their accomplishments are detailed in this must-have book for the art and interiors enthusiast. Add to that winning duo author Alisa Carroll, who speaks publicly about the design of homes for art collectors, and Matthew Millman, who contributes his expertise as a photographer, and we think you'll love what you learn from such a comprehensive book.
$85 | Hardcover; 224 pages | 150 illustrations; 10 x 13 inches | assouline.com
---
WesternWare Light Fixtures by Stapleton Gallery
Jeremiah Young, creative director for the interior design firm Kibler & Kirch, believes that interior design and art go hand in hand. This belief led to creating the Stapleton Gallery, a sister business to Young's interior design firm. Curator of the gallery, Abigail Hornik-Minckler proves Young's point when she created WesternWare, an exclusive line of lighting fixtures based on historical images. "Abigail created these lighting fixtures to delight those who love a Western lifestyle and want to integrate that passion into their homes," Young says. Historic images are laid out on cotton linen and reverse laminated, then they are mounted on European armatures to avoid shadows when lighted. Each piece is handcrafted in various shapes and sizes, keeping in mind the scale of the interior in which it will live.
$1,500 and up | Custom sizes | 406.384.0996 | stapletongallery.com