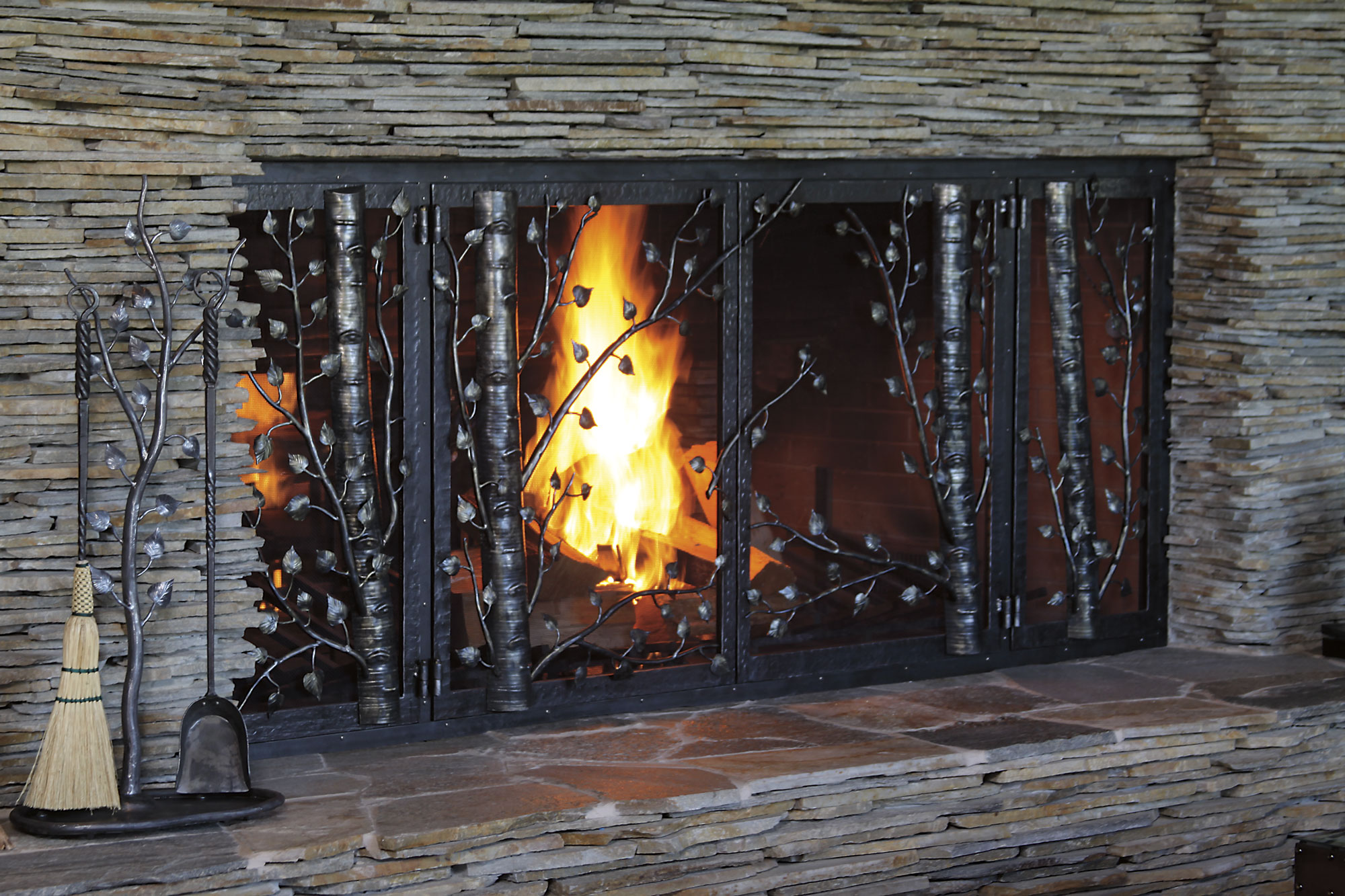 29 Dec

Details: Things We Love
---
The Aspen Grove by Glenn Gilmore
Because we like to think we have evolved beyond our inner caveman perception of fire as the source of all life, artist Glenn Gilmore has found a way to make a fireplace a quantifiable work of art. Gilmore's fire screens — handcrafted of mild and stainless steel, bronze, monel 400, copper and brass — are stunningly individual and breathtakingly beautiful. Plus, Gilmore puts his German blacksmith training to work crafting hinges and hinge pins that allow for the flawless functioning and movement of every door. Choosing a favorite is folly, but browsing through Gilmore's award-winning pieces in the numerous books that include his work is a worthwhile pursuit. We will confess a special fondness for the sculptural beauty of The Aspen Grove, its trunks and delicate leaves lifelike enough to be a fire hazard. Like all of Gilmore's work, this piece is site-specific and designed to enhance the home's architectural atmosphere.
$22,000 | 42 inches x 8 feet | www.gilmoremetal.com | 406.961.1861
---
Silver Trout Flask by Caye Woolsey
As if carrying your spirit of choice were not art form enough, artist Caye Woolsey has created the most breathtaking hand-forged flasks we have ever seen! Each one is made from sterling silver, embellished with precious metals and gemstones and generated from Woolsey's unmatched imagination. The first flask was a cowboy, inspired by the hard drinking, gritty, card-playing fellows of her childhood on a Montana ranch. In fact, many of Woolsey's designs spring from her clear reverence for the natural world. Her diamondback rattlesnake is inspired, complete with a gaping Mabe pearl mouth, garnet eyes, diamonds and diamond-shaped gold pieces snaking down the serpent's spine. Slightly more benign, perhaps, but equally stunning, is Woolsey's trout flask with Yellowstone River Montana agate bodies, sapphire bubbles, ruby eyes and a stunning garnet top. It is no surprise that Woolsey also designs spectacular jewelry with the same remarkable craftsmanship and gorgeous materials. She is a phenomenal metalsmith with the rare ability to transform a fleeting thought into an heirloom design. Bottoms up!
$950 | Approximately 4.5 x 5 inches; 5 ounces | www.cayesflasks.com | 406.538.8132
---
Vin Baker Darlene Antique Crocodile Handbag from Handbag Tailor
Seeking a creative outlet, longtime Montana attorney Jon Hesse and his wife Mary developed an exquisite little company called Handbag Tailor. The Hesses' devoted team of six scours the globe for the most fabulous handbags and other accessories, offering clients top-of-the-line selections from design houses like SZ, Kara James Handbags and Vin Baker, the latter of which designed our favorite Darlene Antique Crocodile Handbag.Every item at Handbag Tailor is impeccably designed and handmade by an artisan with the finest materials. Enchanting us even more, Handbag Tailor makes significant contributions to a number of meaningful charities including the Wounded Warrior Disabled Sports Project. In addition to a stunningly unique array of inventory, Handbag Tailor works in concert with Viva Bags of California to enable clients to design their own creations. Have your bag and design it too? What's not to love?
$649 | 14 x 17 x 3.5 inches | www.handbagtailor.com | 877.530.7599
---
Pink Chandelier by Elizabeth Lyons
Known — and much lauded — for her award-winning sculpture and highly sought-after apothecary-inspired glass bottles, artist and designer Elizabeth Lyons has created an exquisite line of chandeliers that leaves us fumbling for superlatives. Each piece brilliantly combines delicate forms found in nature — sticks, blossoms, even sand dollars — with her mastery of glass and steel. The juxtaposition of geometry and sculpture, male and female in her creations, is stunning. Her Pressed Glass Chandelier, which Lyons casually (and we think, hilariously) refers to as "plops," is a masterpiece of seven strands of individual pressed glass discs on a cylindrical metal form. But her Pink Chandelier leaves us slack-jawed. We are utterly smitten with the way it casts light throughout a room. Lyons, too, is unafraid of color and uses an entrancing range in the chandeliers, from pale pink to blues and greens. It is said that everyone looks best in candlelight … but we'll argue that a Lyons chandelier puts Mother Nature to shame!
Starting at $4,500 | 18 inches round | www.lyonsglass.com | 585.242.0450
---
Crow Bowl by Sally Jaffee
California craftswoman Sally Jaffee has been making pottery for more than 35 years. Her experience is evident in the beauty and quality of her work. Jaffee's current series of teapots, bowls, trays and plates is rooted in the Japanese tradition. "Their sense of order and attention to beauty inspires me beyond myself," she says. East meets West in her wheel-thrown Crow Bowl, which features hand-etched, black-on-white crow designs against an earthy, red-brown background. Decorative as well as functional (her works are high-fired for durability and are food-safe), the Crow Bowl is both timeless and whimsical — perfect for almost any setting.
$200 | Approximately 8 x 10 inches | www.sallyjaffeepottery.com | 707.928.6388
---
Slab by Cliff Young, Ltd.
We never thought that sleek could meet rustic in a contemporary entertainment center but renowned design house Cliff Young Ltd. has proven us wrong in the most delectable way. Slab has its origins in lovely reclaimed Antique Pine hardwood which gives the piece an unmistakable Old World quality. The piece is enhanced, however, with hardwood cabinets, high-gloss lacquered doors and hand-forged steel in a gunmetal finish. The combination is as surprisingly seamless as it is sublime. We love that the piece was designed to accommodate a flat-screen HD display — a prerequisite for entertainment centers these days — but has enough style to stand on its own in any room. Plus there's loads of hidden space for people whose music and movie collections cannot be categorized as minimalist. As is true of just about everything that comes from Cliff Young Ltd., each and every piece of Slab can be entirely customized.
Starting at $6,000 | 100 x 22 x 22 inches (can be customized) | www.cliffyoungltd.com | 212.683.8808
---
BEAST by John Banovich
Twenty years in the making, BEAST tells the extraordinary story of artist John Banovich and the artistic process — begun at age 7 — that has propelled him through a life of hair-raising adventure around the globe and magnificent art. Beautifully written with Dave Cabela, and illustrated with more than 200 paintings, field sketches and photographs, BEAST is part autobiography, part love letter from an artist to the animals that continue to inspire him. Journal entries and field sketches give readers an intimacy that is rare in this kind of monumental work. And the opportunity to see so many of Banovich's finished paintings — more than 100 — adds another layer of appreciation for his remarkable ability to perfectly capture on canvas more than the anatomy of a given creature, but its very spirit as well. This is a book for Banovich devotees as much as it is a book for lovers of the natural world and all things wild.
$69.95 (Gallery Edition) | Hardbound, 264 pages | www.johnbanovich.com | 888.486.3160
---
Tractor Stool from SUITE New York
Growing up, my favorite chair in our house was an old tractor seat sitting atop a lemon-yellow milk can. Admittedly far from being attractive, the chair was supremely (and surprisingly!) comfortable, and just the right height. Fast forward thirty-some years, and I no longer have to sacrifice style for comfort thanks to the sleek and sublime beauty of SUITE New York's Tractor Stool. Designed by Craig Bassam and Scott Fellows, this elegant and eco-friendly stool is available in three heights (low, counter or bar) and ash, walnut or teak wood. We love that the solid, hand-carved stool is rustic and traditional — historic even — with a contemporary style that blends beautifully into any room. Leave it to SUITE New York to fuse Western sensibility with global style.
Starting at $1,250 | 17 x 13.5 x 32.5 inches | www.suiteny.com | 877.278.4836
---
Teton Shadow Deer by John B. and Pamela D. Mortensen
Jackson Hole artist John Mortensen has long been known throughout Western design circles for his bronze sculptures and decorative metalwork, including fabulous furniture and lighting fixtures. His persona as a children's author and book illustrator, however, is new. Teton Shadow Deer, he explains, "was inspired by a commission for six life-size bronze deer for a home deep in the woods in Jackson Hole. As it was completed, we felt the grandchildren would want to know, 'Why are these deer here, and how did they get here?'" The resulting collaboration between Mortensen and his wife, Pam, raises awareness about development impacts while imparting Native American wisdom concerning transformative power. Jackson Hole afficionados will love the use of local place names, as well as the charming hand-drawn survey of this very special valley.
$9.95 (plus $3 shipping) | Softbound, 36 pages | www.mortensenstudios.com | 307.733.1519