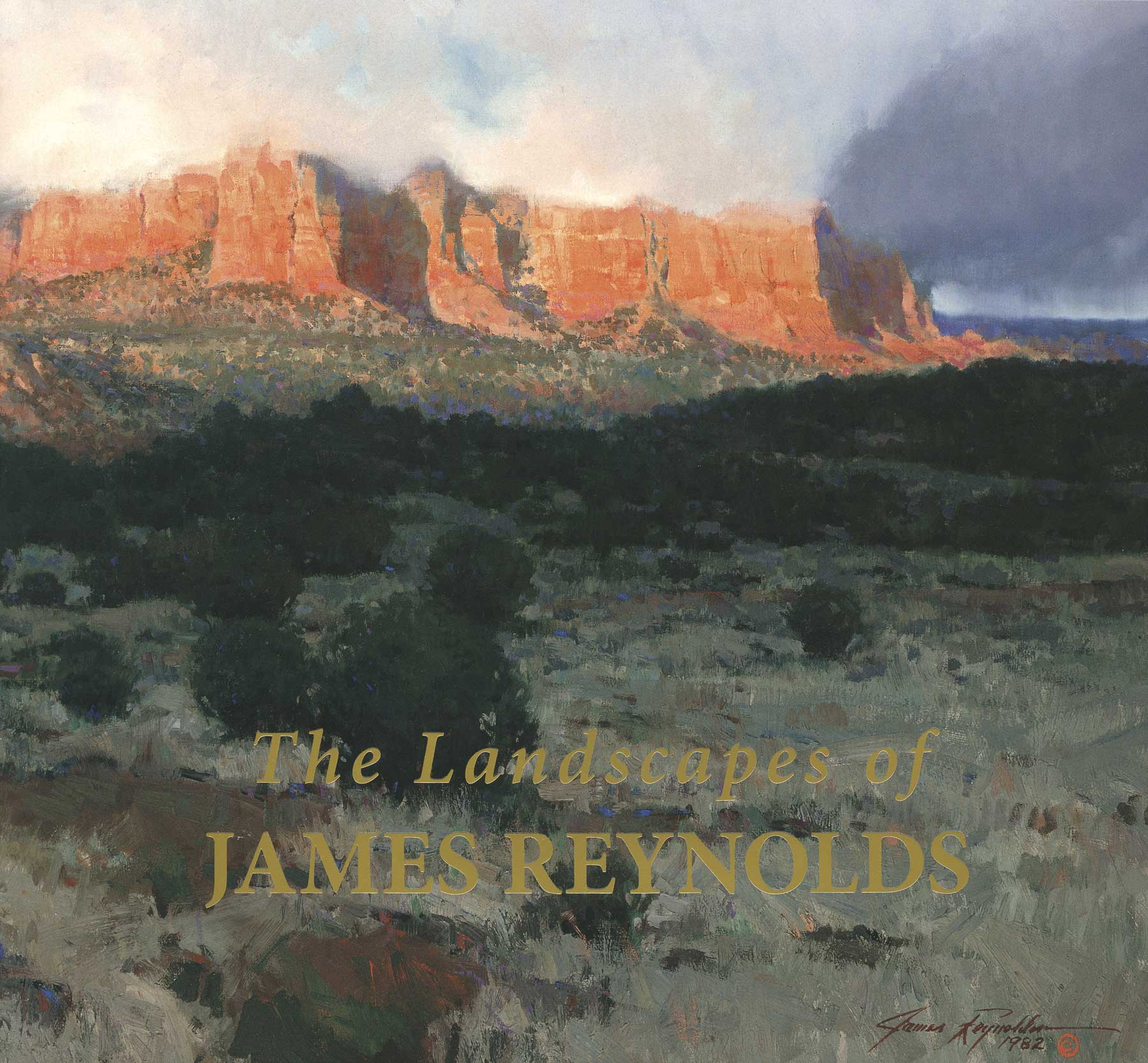 30 May

Details: Things We Love
---
The Landscapes of James Reynolds by James Reynolds
California native James Reynolds, who passed away earlier this year, was a painter of the old school. A World War II veteran, he attended art school in Pasadena and worked 15 years as a sketch artist in Hollywood before turning to fine art full time. Inducted into Cowboys Artists of America in 1968, he garnered major Western art awards for the next several decades. His stunning new book, The Landscapes of James Reynolds, offers dozens of masterfully rendered Western scenes — from sun-burnished rock outcrops and glorious mountainscapes to quiet snow scenes in the forest. But Reynolds' straightforward prose is what makes the book. In the text, he's not afraid to be blunt, saying, "There are still basic rules which separate art from nonsense." He then proceeds, step by step, to deconstruct the process. And he lays out rules for the aspiring as well as the established artist: Find a good art school. Learn the fundamentals. Don't expect overnight success. Work hard and strive to improve. What we love most is the contrast between Reynolds' humble attitude and the glorious paintings featured in this book, clearly the works of a master artist at the pinnacle of his career. Reynolds said, "The mountains are my church." And it's clear from these paintings that there was no finer disciple.
$95 | Hardbound, 200 pages | Available through Claggett/Rey Gallery | www.claggettrey.com | 800.252.4438
---
Lion and Monkey Cigar Holder by Patrick Mavros
As a young military officer in his native Zimbabwe, Patrick Mavros carved a pair of ivory rose earrings for his beloved bride, Catja. So effusive was the praise every time she wore them that Mavros agreed to create art on a larger scale. Since then he has fashioned a body of work — from jewelry and accessories to furniture and sculpture — that is sought the world over and quite literally takes our breath away. Mavros designs and sculpts with his four sons at their wilderness compound and workshop outside Harare. His silver is particularly beguiling — from the stunning Tree of Lights Candelabra, based on a centuries-old tree on his great-grandfather's African farm and the elephants that passed beneath it, to the irreverent and dazzling Lion and Monkey Cigar Holder, which features the 'Hear No Evil,' 'See No Evil,' and most delightfully, the 'Smoke No Evil' monkey, puffing away on a hand-rolled 18-karat gold cigar. We are spellbound by the way Mavros channels his relentless dedication to create something that is at once venerable and deliciously scandalous. An artist, a pioneer, a wit and a champion for all things wild, Mavros is indeed a rare and beautiful breed.
$4,300 | 5.5 inches | www.patrickmavros.com | +44.207.052.0001
---
Turandot by Armond Lara
If only Puccini could see Armond Lara's version of Turandot, he would be as delighted as we were when we first experienced this marionette with its delicately carved head and individually painted costume. With arms that extend when its string is pulled, you can almost hear the refrain of "Turandot!" from the opera of the same name. More than 2 feet tall, this masterpiece, like all of Lara's work, is quite striking as it hangs, inviting you to touch, to partake of its joviality. Artist Lara is well known for his marionettes, which range from historical figures like Billy the Kid to artists Georgia O'Keeffe and Pablo Picasso. Known as an "artist's artist," Lara is accomplished in many traditions: He is an excellent draftsman, a respected abstract painter, and a sculptor, as well as being a wood carver. We know that you, too, will squeal with delight when you experience Turandot for the first time!
$1,200 | 27 inches | alarastudio.com | 505.604.2245
---
Natural Rim Koa Bowl by Timothy Van Cleave
Timothy Van Cleave, a native of Hawaii's Big Island, first learned to turn wood as a ninth grader under master craftsman Jack Straka. After traveling the world for five years with the U.S. Navy, Van Cleave worked with his mentor for another decade, until Straka's retirement. A high-school teacher of ceramics, Van Cleave turns out about 200 bowls a year, almost all crafted from Hawaiian woods such as mango, koa and milo. Although most of Van Cleave's bowls are smooth-edged, perfect for salads or chips, we love his natural-edged art pieces. The steep-sided bowls made of koa — a wood native to Hawaii, and Van Cleave's favorite material — make an elemental statement on an entryway table or as a dining room centerpiece.
$210 | 6 x 5 inches | www.timsbowls.com | 808.966.9833
---
Saints on Parade by Claire Haye
Taos artist and jewelry designer Claire Haye never seems to run out of inspiration. It's no wonder — she comes from a family of creatives: her mother a dancer, her auntie an improv theatre master. You'll find one of Claire's galleries on your way to the Taos Ski Valley in the quaint village of Arroyo Seco, New Mexico. This is where we found one of our all-time favorite pieces of jewelry. From the moment we beheld her necklace, Saints on Parade, we fell in love. Based on Spanish retablos, which are usually made of wood and depict a saint, Claire has taken this tradition to a new level. Her version is a sterling silver retablo with inset onyx. The necklace is decked with glorious Spanish crosses spaced with dramatic onyx beads. We dare you not to fall in love.
$290 | 22 inches | www.claireworks.com | 505.255.0403
---
In Poetic Silence: The Floral Paintings of Joseph Henry Sharp by Thomas Minckler
Celebrated for his quietly beautiful paintings of American Indians, of firelight scenes and teepee camps, Joseph Henry Sharp has an entire oeuvre of masterful floral works — many of them still lifes — that art historian, author and collector Thomas Minckler spent 12 years examining for his groundbreaking new book, In Poetic Silence: The Floral Paintings of Joseph Henry Sharp. In elegant prose, Minckler expertly reveals Sharp's heretofore relatively unstudied collection of floral paintings — from peonies in a vase to Indian women gathering wild roses. Minckler draws meaningful connections between Sharp's mission to capture what he saw as a dying race in his Indian portraits and his ability to paint the fleeting moments of a cut bouquet. Throughout the oversize book, lush images mingle with letters from the painter, academia related to the genre itself and pointed insight on Sharp's own ideology and work. Minckler superbly brings to light a significant and relatively unknown body of work from one of the West's great masters. Every page is like a secret, a first walk through a hidden and utterly lovely museum.
$65 | Hardbound, 246 pages | www.settlerswest.com | 520.299.2607
---
Vintage Leather Cuffs by Brit West
Brit is the kind of woman who loves to try anything and can pretty much do anything: Climb mountains, ride wild horses — you name it. For years, Brit trained horses and after more accidents than should ever be counted, she channeled her art degree, and her incredibly developed sense of style, to create cowboy hats and hat bands. Some 15 years later, she still makes gorgeous hats — beaded cowboy hats, beaver felt hats, Panama straw hats — but has added an array of wearable Western art to her collection. We found ourselves swooning over her Vintage Leather Cuffs. They are rugged and gorgeous, not unlike their maker. Brit uses exclusively American turquoise, primarily from the Kingman Mine in Arizona (It shouldn't surprise you to know that she goes to the mine to hand-select every stone!), hand-stamped sterling silver and vintage leather. There is a consciousness in all of her work — from fair trade materials to organic dyes — that we both admire and appreciate. More than anything, though, it's Brit's style that has won us over. Her classic, clean lines give every one of her creations a handsome timelessness that cannot be matched.
$190 – $360 | www.britwest.net | 303.746.1770
---
"Took a Hit" Dresser by Dan Rieple
Intent on making a sleek, fun and ultra contemporary dresser, artist Dan Rieple changed courses when the daughter of a good friend died tragically in an accident. Naming his dresser "Took a Hit," Rieple created a pitch-pine ball to smash into the dresser, literally making waves on the surface of the wood, like a rock thrown into a pond. "When we do take those hits, it makes us more interesting," says the artist. "But it still has to function … and so do we." Rieple is an extraordinary artist — inspired, precise and remarkably dedicated. His work has not gone unnoticed: Rieple won three major awards — Best in Show, Exhibitor's Choice and People's Choice — for his exquisitely curvaceous scrub oak writing desk at the 2009 Cody High Style show. We love "Took a Hit" for its edginess, its metaphorical sentiment and its impeccable quality. The claro walnut Rieple used in this piece is itself a story. About 100 years ago, English walnut trees, which produced marketable English walnuts, were grafted to California's indigenous claro. As a result, a distinct graft line is clearly visible on the dresser's just-as-beautiful-as-the-front back and adds to the artistry of the piece. The reddish hue is from the claro walnut and the chocolate brown wood — as in the pulls — is English walnut from the very same tree. Dan Rieple is part poet, part engineer and all artist, and we are mad for anything he creates.
$15,000 | 59 x 21 x 71 inches | www.fine-ideas.com | 303.663.6955