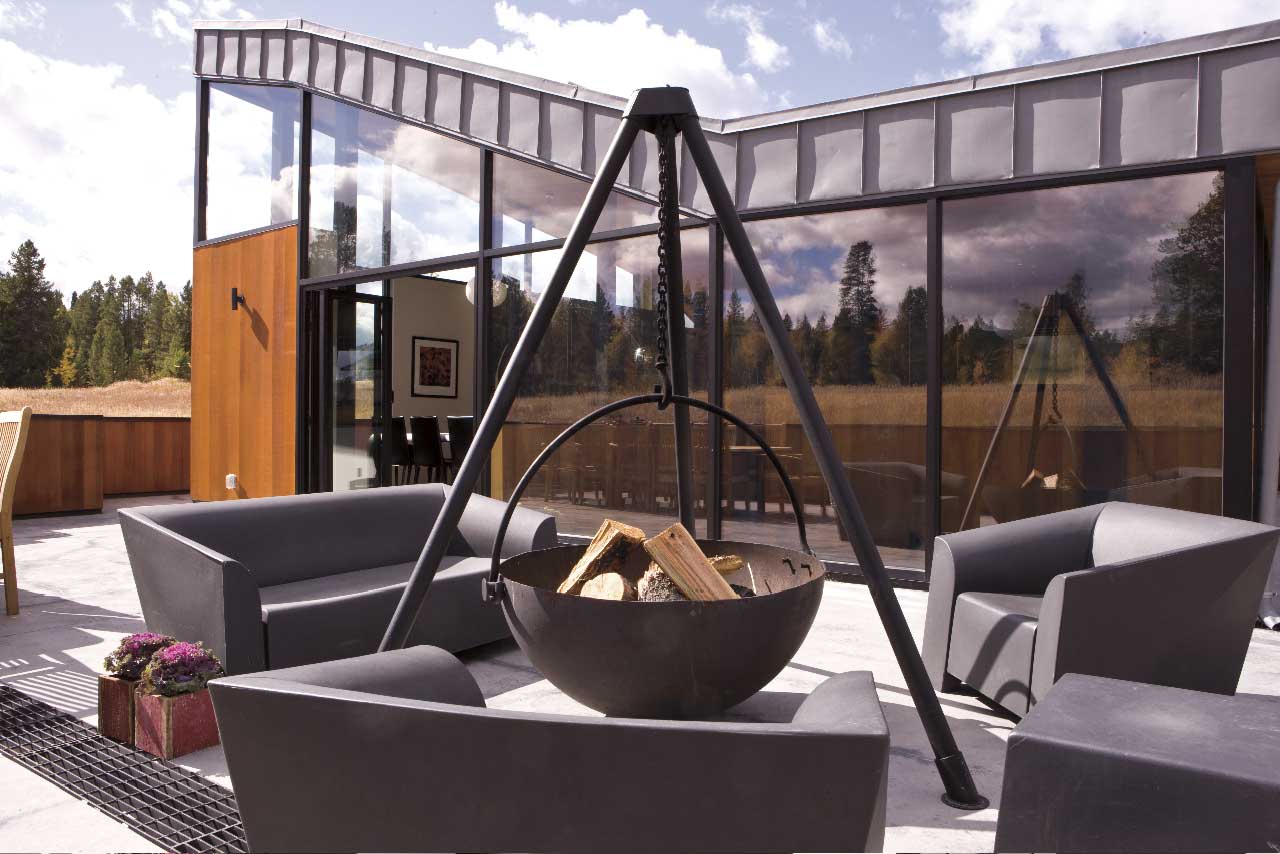 01 Sep

Details: Things We Love
---
The Ranch Boss by Cowboy Cauldron
Part of our affinity for the Cowboy Cauldron, we'll confess, is the fantastic story of its origin. Mike Bertelsen grew up in the West with evening campfires, and a grandmother who read ancient Greek fables while Mike poked sticks and threw rocks at the fire. As an adult he lived outside of Washington D.C., at Mount Vernon, George Washington's home. Mike combined his love of the Western campfire with his newfound knowledge of colonial cooking and the art of the blacksmith. The Cowboy Cauldron was born. Available in three sizes to fit any space, these cauldrons are as exquisite as they are functional. The smallest model (The Urban Cowboy, 30 inches, $1,295) is larger than any standard grill on the market, big enough, in fact, to suspend a Dutch oven. All three (including the mid-size Wrangler, 36 inches, $1,995) are perfectly suited to cooking gourmet feasts or just creating bonfires to warm up even the chilliest evening. The cauldrons are ingeniously designed — easy to clean and move — and impeccably handcrafted. Each one is uniquely beautiful. Now back in the West, Mike has built cauldrons to hang from the rooftops of New York City to the slopes of Colorado. Frankly, we can't imagine a cook-out — or even a cool night — without one!
$2,995 | 41 inches | www.cowboycauldron.com | 801.918.4490
---
Western Grandfather Clock by Scott Dubé
With meticulous craftsmanship and an unbridled imagination, Scott Dubé is poised to be a star in the world of Western furniture design. A one-time apprentice to Ken Siggins of Triangle Z Ranch Furniture in Cody, Wyoming, Dubé brings together natural materials including lodgepole pine, leather, rawhide, willow and, most recently, beading, to create timeless pieces of heirloom quality. His portfolio includes an impressive array of beds, tables, chairs, benches and swings, most of which are made to order. We love that Dubé is willing to get as whimsical as his clients desire! His Western Grandfather Clock is an exquisite example of Dubé's artistry. It redefines Western style with a hand-beaded face plate and simple but elegant pine construction. Dubé utilized tempered glass doors and a Hermle Mechanical triple-chime movement to make the clock function flawlessly. The way Dubé blends simplicity and tradition with inspired craftsmanship is what compelled us to join his growing pool of admirers.
$6,900 | 26 x 87 x 14 inches | www.lodgepolepinefurniture.com | 303.912.6783
---
Double Divide Chair by Tim Groth
Spending his childhood summers at a family cabin on Hebgen Lake, Tim Groth learned about nature — and the splendor of forests — early in life. So it is fitting that he should make a living crafting some of the most handsome and comfortable wood furniture we have ever laid our eyes (or bodies!) upon. Though he makes exquisite sofas, lounges and tables of all variety, it is chairs that have most beguiled us. His Double Divide Chair is an elegant combination of curvaceous juniper — which Groth, astonishingly, manages to shape in perfect uniformity — amber driftwood and lodgepole pine. Groth is obviously inspired by the wood, its natural curves and rich palette.
He can look at a piece of wood in the forest, all of which is deadfall or dead-standing on principle, and instantly know exactly where it will fit in his next piece. Groth utilizes rich, supple Nubuck leather, most often imported from Europe, and gorgeous Pendleton blankets to upholster these individual masterpieces. As breathtaking as each chair is to gaze upon, they are sublimely and divinely comfortable to sit in. Groth has spent more than a decade perfecting the shape to embrace the human form with comfortable seats and airy back cushions. In fact, the artist bristles when paid the compliment that his chairs are museum quality. He would much prefer that they are lived in and enjoyed, muddy boots and all. We are more than happy to oblige!
$3,800 – $4,500 | www.timgrothfurniture.com | 208.870.9938
---
Turquoise Trail Table by Andy & Aaron Sanchez
Andy and Aaron Sanchez have spent their lives telling stories — intricate, artistic, magnificent stories — with wood. The father and son team, supported by the entire Sanchez family, creates some of the most exquisite inlaid heirloom furniture in th world. Using the rich texture of eco-friendly Alligator Juniper — all of which is harvested from wood that lived for 600 to 2,000 years and has been standing dead from anywhere between 10 and 100 years — Andy and Aaron fashion tables, chairs and other furnishings that ebb and flow with the swirling grains. Having optimized the wood's own innate beauty with rough, live edges, they go on to inlay semi-precious stones including turquoise — as in our favorite Turquoise Trail — azurite, Chilean lapis and even fossils to create stunning contrast. We are inspired by the way they work, the traditions they uphold and the brilliant artistry they employ in every piece. And we love the fact that their work is constantly evolving and unfolding, much like the stories each piece tells.
$5,000 | 20 x 37 x 59 inches | www.andysanchez.com | 505.771.1223
---
L'onda Bed by Richard Nardone
Richard Nardone is an artist in wood. Of that there is no question. But he is also a dedicated environmentalist. When the two come together, the result is nothing short of spectacular. Inspired by each environmentally-harvested slab he lays his hands upon, Nardone's work blends Japanese minimalism and architectural innovation in organic and miraculous ways. He rarely uses hardware, relying instead upon hand-cut mortise-and-tenon braces, butterfly inserts and dovetail joints. We are equally impressed by his "Tree planting pledge" to plant 100 trees for each of his pieces sold. Nardone partners with American Forests and is an active member of the Sustainable Furniture Council. But it's the pieces themselves — including our favorite L'onda Bed, with its sleek South American ipe wood platform and asymmetrical headboard of English Elm — that leave us breathless.
Starting at $23,500 | Queen frame: 102 x 82 x 10.5 inches | Queen headboard: 100 x 47 x 2 inches | www.richardnardone.com | 201.541.4190
---
Tamarind Bench by Buka Design
The Tamarind Bench from Buka Designs in San Francisco gracefully bridges the gap between rustic and contemporary with its cool, free-edge slab top and the striking marbling effect that occurs naturally in tamarind. Designed by Joel Pratt in San Francisco and hand-manufactured in Indonesia from reclaimed or sustainable harvested wood, all of Buka's works — benches, stools, dining tables and custom-designed pieces — withstand the test of time. We love the sturdy versatility of this design, whether it's anchoring the terrace of a glass structure on the Big Sur coast or lending rustic appeal to a log home in the Rockies.
$1,800 | 71 x 18 x 19 inches | www.bukadesign.com | 415.260.9954
---
New Mexico: A Guide for the Eyes from Eye Muse Books
More than a travel book, Elisa Parhad's latest work is a feast for the senses. Beautifully photographed with sparse but elegant prose, Parhad has created a unique visual glossary of 100 New Mexico icons, from adobe through kokopelli to zozobra. Parhad is cultural anthropologist by training and an artist at heart, both of which come through in every page of this visually dynamic book. The first in a series of Guides for the Eyes this book celebrates the magical sense of place that today's travelers so hungrily seek through concise entries on everything from regional architecture and cuisine to flora, fauna and folklore. This is indeed a new kind of guidebook, and we — as art lovers, wanderlusters and foodies — are elated. Oh, and did we mention this gem is sized to fit in your purse? Travelers rejoice!
$19.95 | www.eyemusebooks.com
---
Bronze Doorknockers by Carole A. Danyluk
A widely collected sculptor, Carole A. Danyluk has directed her extraordinary ability to capture the grace and strength of animals into a compelling and wildly fun collection of bronze doorknockers. As is true of all her work, Danyluk shows an uncommon appreciation in her doorknockers for the strength and versatility of bronze as her primary medium. She also employs remarkable artistry with her patinas: her rhino doorknocker looks more like a mount than a bronze; and a bronze argali shimmers in the light as if illuminated by the sun. We love the realism of Danyluk's doorknockers and their relationship to her figurative and wildlife sculpture. And who doesn't love a little architectural jewelry? Danyluk creates one new doorknocker each year in signed and numbered limited edition bronze casting.
$695 | 6 – 10 inches | www.cadanyluk.com | 250.353.7735
---
The Grand Dame of the Rockies: Songs of the Hotel Colorado & the Roaring Fork Valley by Jon Chandler
On The Grand Dame of the Rockies: Songs of the Hotel Colorado & the Roaring Fork Valley, award-winning Western novelist and songsmith Jon Chandler takes listeners on a tour of the long history of the famed hotel and its stunning surrounding region. In the eponymous opener, we witness the magnificent structure's inception by Walter Devereux in 1893 at the site of the famed Glenwood Hot Springs. Then it's on to President Teddy Roosevelt's three-week bear-hunting visit in 1905 in "The Old Rough Rider's in Our Town." There's even a fiery footstomper: "Arbuckle's Will Be Fine" — a tribute to the coffee of choice in the Old West. But we consider "Linwood" to be the high point on this CD of peaks. Semi-narrated by Chandler in his rich, resonant voice, the song won the Western Writers of America's 2009 Spur Award for Best Song — so we feel justified in concurring wholeheartedly. From quiet, spare vocals to a full backing band, The Grand Dame of the Rockies celebrates a location known as much for its natural beauty as for that which man has done to enhance it. And it's a damn fine listen, too.
$17.95 (includes S&H) | www.jonchandler.com
---
William Stout, Architectural Bookstore
"It's the best architectural bookstore on the West Coast, hands down," blogs Erica G. of Oakland. "If you go with an architect or designer to this fantastic place, be prepared to abandon any other plans you have for that day." Located in San Francisco's financial district, William Stout Architectural Books boasts 20,000 books filling two floors. Founded 30 years ago, this store is a gem, from the friendly staff and wide selection of serious architecture and design books and hard-to-find monographs to the authoritative owner himself, an architect and architecture publisher. If the Bay Area isn't in your travel plans, the next best thing to being there is Stout's fantastic Web site. It's streamlined, user-friendly, and chock full of great finds, from foreign language offerings to limited-edition collectibles.
William Stout Architectural Bookstore | 804 Montgomery Street | San Francisco, California | www.stoutbooks.com | 415.391.6757