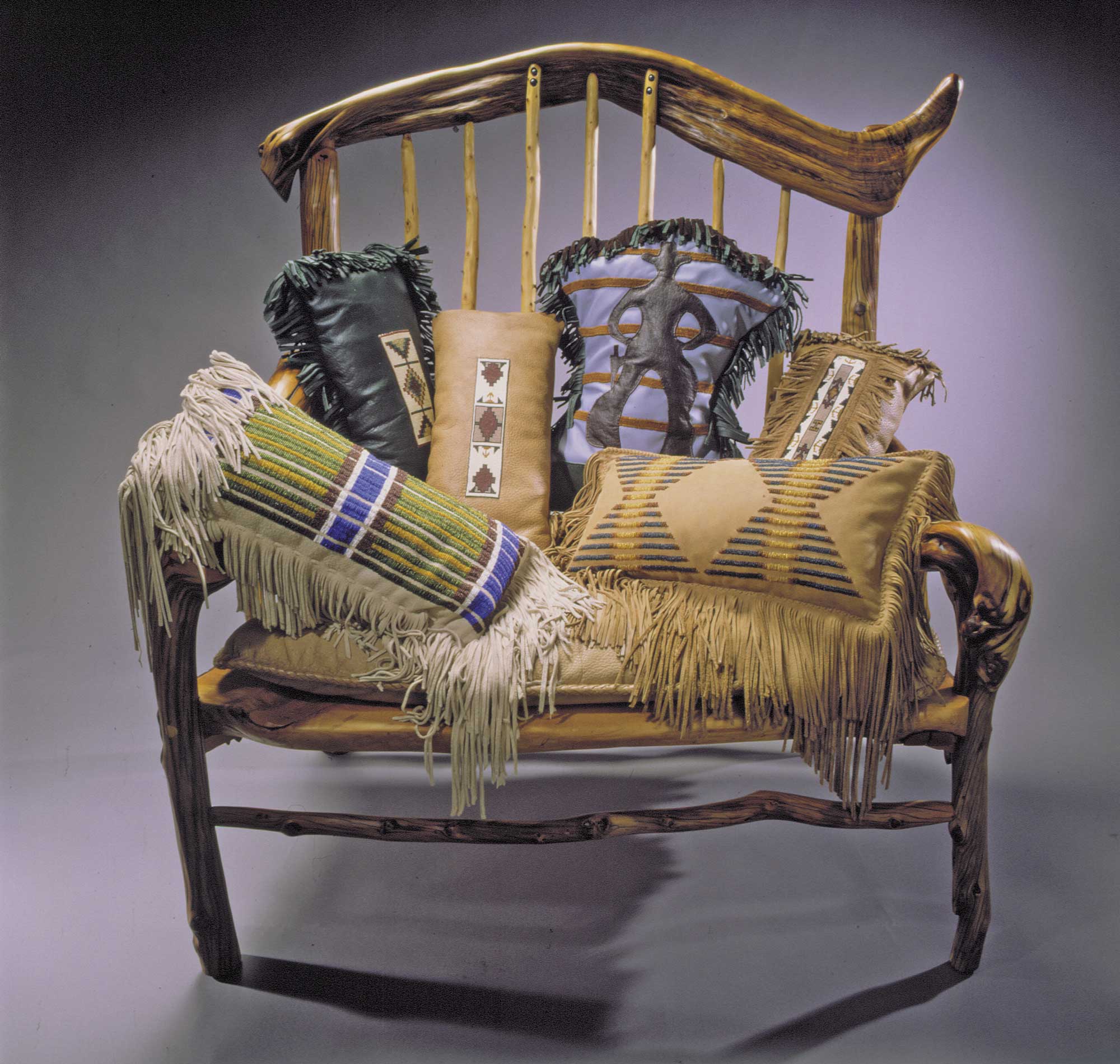 24 Jul

Details: Things We Love
---
Contemporary Craftsman Triptych by Ann Wolff
From highly contemporary to traditional European designs, Denver artist Ann Wolff creates custom leaded glass for a variety of installations. She has created commissioned domes, windows, door panels, cabinets and sidelights in homes all over the West, primarily working with delicate pieces of hand-blown, European glass. After apprenticing with an Austrian master craftsman in the early '70s, Wolff worked for a glass studio in New York before opening her own studio 20 years ago. "I've come the long, steady road," she says. "With leaded glass, you have to understand the process of properly constructing the piece along with creating the art." Her specialty is painting on glass, a craft practiced since medieval times in which colors are meticulously applied to the glass and fired in a kiln. Wolff designed this beautiful set of three Craftsman-inspired windows for a landing in a contemporary home in Denver and says "I always consider what the light will be like coming through the glass and how much privacy the project dictates; these windows actually obscure a downspout outside!"
$1,950 | 15.5 x 46.5 inches | www.AnnWolff.com | 303.388.8350
---
Hand-beaded Pillows by Covert Workshops
Nothing says "Western rustic" more evocatively than an exquisitely hand-beaded pillow in sumptuous leather. Some of the very best in the West come from the award-winning Covert Workshops in Cody, Wyoming. Lynda Covert grew up on the plains of South Dakota; she's spent her adulthood amidst the scenic drama of the Greater Yellowstone area. Her timeless colors and original designs are inspired by Plains Indian culture and the mountains, plants, wildlife and weather of the land and lifestyle in which she is immersed. Her beadwork has appeared as panels on floor-to-ceiling drapes, on furniture made by her woodworker husband, Jim Covert, and the pillows which decorate many a celebrity ranch from Telluride to Big Sky. We love the combination of leather and beads (all antique such as the Native Americans used a century ago) with rustic woodwork. And the way a Lynda Covert pillow adds instant Western glamour to any room.
Pillows start at $400 | Lyndabcovert@gmail.com
---
Crystal Laurel Lantern by Fine Art Lamps
In the late 1800s Max Blumberg founded a glass-making factory. His son Jack continued the tradition in 1941 with the birth of Fine Art Lamps, a remarkable company dedicated to designing lighting as an art form. Today, the company boasts more than 1,000 distinctive designs that sparkle with graceful silhouettes, innovative lines and impeccable craftsmanship. As a reflection of their commitment to quality, all of the principal design components are manufactured in-house, from glassblowing to metalwork, by a team of inspired craftsmen. Speaking to the timelessness of their creations, many of the company's designs dating back to the 1940s and '50s have been shown in design retrospectives at museums across the country. One of their newest collections — and among our favorites — is the 18-piece Crystal Laurel Collection, available in both silver and gold leaf. We are smitten with the lantern and the way it refracts light like gems in mid-air. Though each piece is a singular work of art, we are delighted with the company's exclusive Customization Program which allows any style to be perfectly tailored to meet our specific requirements. This is a company that clearly lives up to its name.
$11,355 | 43 x 18 inches | www.fineartlamps.com | 305.821.3850
---
Antelope Table by Scott Armstrong
Scott Armstrong calls his unique, functional pieces "furniture with personality." And it's true that his work — though rooted in this native-born Wyomingite's love of the land — has a modernist edge that sets it apart from the herd. His Antelope Table, which shouts contemporary in its sleek design and use of sophisticated materials such as cherry and ebonized maple, does resemble the graceful and explosively fast plains-dweller for which it is named. This table, with its curved legs, looks poised to bolt. Despite the urban appeal of his work, Armstrong insists, "The spirit of the West is intrinsic in every piece." His peers would agree. For the past two years, he's been awarded the prestigious Exhibitor's Choice Award at the Cody High Style show. Last year his Rockabilly Sideboard was selected for the Switchback Award and now resides in the permanent collection of the Buffalo Bill Historical Center.
$6,500 | 40 x 30 x 17 inches | www.arrowleafstudio.com | 307.754.8019
---
Van Muyden Chair by Robert Erickson
Bob Erickson is extraordinarily talented at many things: part artist, part ergonomist, part lumberjack. In his California studio, Erickson creates exquisite pieces of wood furniture that are as good for the soul as they are for the body. With flawless symmetry and elegant proportions, Erickson has mastered the art of blending sharp edges and gentle curves. Perhaps best known for his ergonomic rocking chairs, Erickson's designs can be found in the permanent collections at the Smithsonian Museum of American Art, the Los Angeles County Museum, the Yale Art Gallery and the Minnesota Museum of Art. It should surprise no one that his name is often spoken in the same breath as legendary furniture maker Sam Maloof. The truth is we could sit (or sleep or work or dine) in any of Erickson's sculptural pieces for hours on end, but we are practically speechless over his three-legged Norwegian-inspired Van Muyden Chair. The chairs are crafted from Erickson's spectacular palette of woods, some of which he cuts, mills and dries himself. But more than just jawdroppingly beautiful, Erickson's pieces are supremely comfortable. What's not to love?
Starting at $2,800 | 24 x 24 x 38 inches | www.ericksonwoodworking.com | 530.292.3777
---
The Rusty Parrot Cookbook by Gibbs Smith Publisher
More than a compilation of often decadent recipes, The Rusty Parrot Cookbook is a love letter to Jackson Hole, Wyoming. The book is rich with local insight and history; luscious landscape, wildlife and tabletop photography; and even poetry. But the recipes, all from the acclaimed Rusty Parrot Lodge in downtown Jackson Hole, are the book's bread and butter. And that is an understatement if ever there was one! Divided into sections according to season, this beautiful coffee table-sized book celebrates Western cuisine with a fresh-from-the-garden (or the field) approach. From spring's Lemon- and Herb-Marinated Buffalo Rib-Eye and Pea Shoot Salad to autumn's Charred Corn and Green Chile Chowder and North American Elk Au Poivre, the dishes featured are creative and savory, but not overly complicated. There is an entire chapter devoted to sumptuous breakfast offerings — think Grand Marnier French Toast with Blood Orange Coulis, and Flat Iron Steak and Eggs — something for which the Rusty Parrot is renowned. There is also an excellent source directory. We couldn't possibly choose a favorite recipe, but we love the fact that the book itself is a perfect blend of art and taste!
$50 | Available in bookstores or online | www.gibbs-smith.com
---
Sculptural Furniture by Julie Speidel
Distinguished artist Julie Speidel is known for the way she transforms glass, bronze and stone into sculptures that celebrate iconic cultural forms. Her remarkable pieces miraculously unite the figurative with the abstract and can be found in public and private collections, indoors and out, around the globe. Created with the same expansive array of cultural influences — from ancient China and bronze-age Europe to the indigenous peoples of her native Pacific Northwest — Speidel's sculptural furniture is simple and elegant, organic and intuitive. Her works, including our favorite Taihu Bronze Bench, are simultaneously grounded in nature, but inextricably linked to the human condition. We are moved by the relationships Speidel's works forge with their surroundings, both natural and manmade, and are positively astounded by the way she reinterprets timeless form through a contemporary, almost Picassoesque, lens.
Starting at $30,000 | Available at Caldwell Snyder Gallery in San Francisco and St. Helena, California, Gail Severn Gallery in Sun Valley and Winston Wachter Fine Art in Seattle and New York | www.caldwellsnyder.com | 415.392.2299
---
Orbs by Mark Bressler
Artist Mark Bressler admits that his creativity evolves from a sense of reckless abandon. So perhaps we should not be slack-jawed (though we are!) by his ability to create a stunning vessel, turned traditionally like wood, entirely from recycled magazines, books and newspapers. The wood sculptures for which he is well known are phenomenal enough with sensual grains and curves that look organic. But his Orbs — which look more like blown glass, ceramic or even stone — defy the laws of physics. The colors range from soft (for one he used Superman cartoons) to brilliant … which is frankly how we describe the breadth of Bressler's work. A trained photographer and self-taught artist, Bressler pushes the envelope in every imaginable way. He is witty and daring and incredibly accomplished; his works are in permanent collections at museums across the country. We can't think of a more likely figure to have created this entirely new art form!
Starting at $2,200 | www.markbressler.com | 505.570.6489