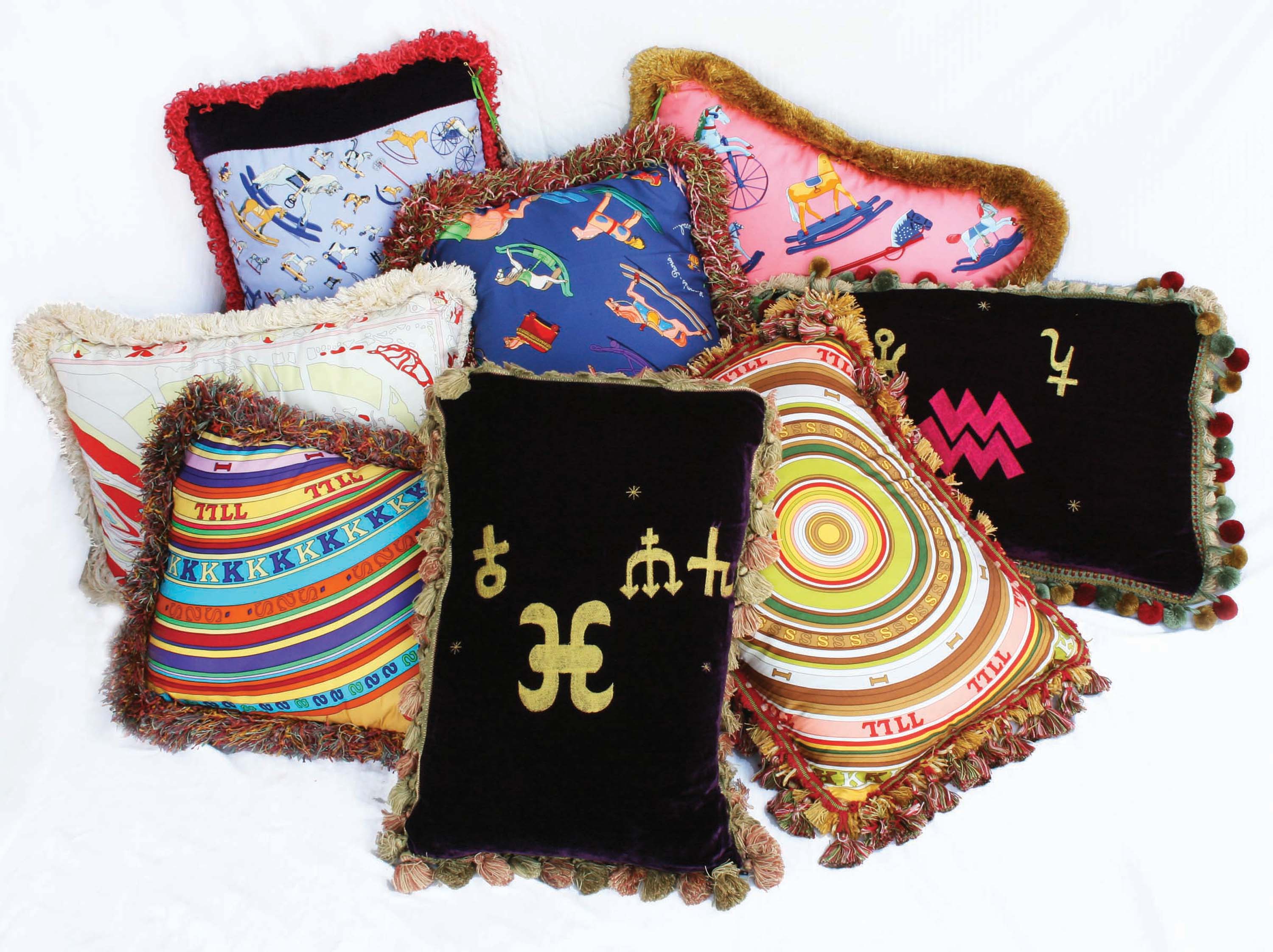 01 Feb

Details: Things We Love
---
Pillows with Pizzazz by Tona Blake
Texan Tona Blake and her daughter-in-law Joncee Blake (wives of artists Buckeye Blake and Teal Blake, respectively), call their creations travel pillows. These charismatic down-filled, festively trimmed pillows are designed to be rolled up and stuffed into a carry-on bag. However, we wouldn't dare transport — and risk losing — one of these gems. Some are made with hand-dyed velvet, some are embroidered with astrological signs, some are constructed from vintage Hermés scarves collected over the years by Tona Blake. And each pillow is utterly original. We love the idea of customizing your Zeus & Zen pillow with your own silk scarf, your astrological sign, your brand or your personal good-luck symbol. Comfort has never been so unique.
$200 to $600 | 16 x 20 inches | 206.890.6433 | www.tonablake.com
---
Aqua Jardiniere by Bauer Pottery
Founded in Kentucky, Bauer Pottery flourished in Los Angeles from the 1880s to the 1960s. Its practicality, stylish affordability and saturated colors in dinnerware, candlesticks, flowerpots and garden items made Bauer a household name from coast to coast even as it represented southern California's much-admired lifestyle, weather and outdoor orientation. Today, Bauer 2000 Pottery, located in a ceramics studio just a short distance from the original plant, uses original pieces for its molds, placing special emphasis on designs from the 1930s and '40s. We love the classic looks, the all-around functionality and the vintage
feel of the pieces. But the fantastic colors are the real selling point.
$240 | 14 x 16 inches | 888.213.0800 | www.bauerpottery.com
---
Sylvan Sunset by Anne Beard
Anne Beard is a longtime couturier who some years ago started creating what she calls "furniture wearing clothes." Highly detailed and meticulously crafted, Beard's furniture is covered in fabric with hand-sewn details and accents including whipstitching and fringe. A multi-award winner, Beard's creations invariably strike a chord with the collectors, as they are often nostalgic and always impeccably crafted. Like many of her pieces, Sylvan Sunset derives from her day-to-day ranching life. "Every evening here on the high desert of central Oregon, as the sun is setting we watch the deer leave the protection of the shadows to make their way down to the creek," she says. "I was trying to render that transient moment between day and night when the sky is crimson orange but darkness is fast descending and everything suddenly looks less familiar."
$4,200 | 30 x 25 x 2.5 inches | 541.989.8144
---
RB8 Eyrie Pen from William Henry
In 1975, Oregon's Eyrie Vineyards produced the first American pinot noir to compete successfully in France with the legendary pinot noirs of Burgundy. Renowned American maker of heirloom tools, William Henry memorialized this historic vintage in an equally superb writing instrument. The exquisite rollerball pen incorporates the 35-year-old grapevine wood, joined by a stunning composite of ebonite, titanium, hand-forged mokume gane and Damascus steel. The red topaz in the clip was designed to evoke the deep red of an award-winning pinot noir. We love that the marriage of wine and design, fueled by history and softened with sentiment, resulted in such a functional and magnificent tool.
$950 | 888.563.4500 | www.WHStudio.com
---
Great Blue Heron Table by Debey Zito and Terry Schmitt
Originally conceived as a 24-foot-long mural for the Alameda West End Library and brought to life again as a table, Debey Zito and Terry Schmitt's Great Blue Heron speaks to the elegance of these majestic birds in their native marsh habitat. Zito, a nationally recognized craftsman working in the Arts & Crafts style, has been honing her craft for 40 years. Schmitt, a painter and woodcarver, has been collaborating with her for 20 years. Together they have been inspired by Asian craftsmanship and, in this case, the artwork of Bay Area Arts & Crafts-era artist Lucia Mathews. We love the size and grace of this table.
$4800 | 29 x 18 x 18 inches (can be customized) | 707.861.9126 | www.artisticlicence.org
---
Jentje Boots by Van Spijker Boots
Since 1918, the Shoemaker family has been hand-crafting exquisite footwear with the traditions passed down to them by their Dutch forbearers. InVan Spijker, they have created a line of women's boots and shoes that are simply unmatched. Named for the women in their family and designed to complement the contours of a woman's legs, the five styles are at once classic, timeless and deliciously contemporary. Our favorite, Jentje, beautifully showcases their commitment to Old World traditions right down to the hand-nailed leather soles. We love everything about Van Spijker — from the buttery leathers and sumptuous color palettes to the perfect fit.
$1,675 | Standard sizes (boots can be custom fit for $100) | 503.233.3303 | www.vanspijkerboots.com
---
Star Range Hood by Elica
This is not your everyday kitchen hood — it's an elegant creation of the Elica Collection of Italy. An eye-catching design, its hundreds of tiny glass prisms make it a sophisticated light source, but wait, there's more. We love the way the grease and odor filters fit inside in a steel cylinder that can be easily removed and popped into your dishwasher. And, the best part yet, when working as a hood it guarantees a minimum of noise. Form and function … what's not to love?
$3,573 | 18.5 x 18.5 x 13.5 inches | 312.835.3320 | www.elica.com
---
Center of Attention Pedestal Table by Thome George
Thome George allows neither weather nor mountain lions to deter him when he's searching out natural materials — willow limbs, twisted branches, birch twigs and pine cones — near his home in the north Cascade Mountains for his one-of-a-kind functional art pieces. His Center of Attention table does indeed draw the eye with its perfectly proportioned but free-form design. (It wowed the crowd and won the prestigious Exhibitors' Choice Award at the 2011 Cody High Style show.) We love the way his pieces, which include hanging collages and architectural elements, evoke natural phenomena such as waterfalls. And we're inspired by his passion for teaching adults and youth. By passing on his knowledge and techniques, he's guaranteeing the perpetuation of unique celebrations of nature.
$3,000 | 42 x 28 inches | 509.997.9980 | www.sweettreedesigns.com
---
Taos Twist Flatware by Tricia and Randy Farina
"Jewelry for your table" describes the beautiful stainless steel flatware from Taos, New Mexico. Hand-forged, then polished to a brilliant shine, Tricia and Randy Farina take pride in the appearance and usability of their Taos Twist 18/8 flatware. We love that in addition to complete place settings, we can have carving sets, spaghetti forks and even napkin rings that literally sparkle! Heavier than most flatware, we're sure you're going to love the perfect balance of the these serving pieces in your hand.
$54 for 5-piece place setting | 877.958.3277 | www.taostwist.com
---
Silver Candlesticks by Holler and Saunders
It's clear that Edward Holler and Samuel Saunders have a passion for Spanish Colonial Revival styles of art. Beginning in 1979 the two began their travels to Latin America seeking out the finest examples of Spanish Colonial furniture and decorative arts. Now they have a hacienda full of treasures. We love this pair of Spanish Colonial silver candlesticks with glass and quartz trade beads, from Alto Peru (Bolivia) dating to the 18th century. With new interior rods, these candlesticks are sure to be a hit at your next dinner party.
$45,000/pair | 31.75 x 11.125 inches | 520.287.5153 | www.hollersaunders.com