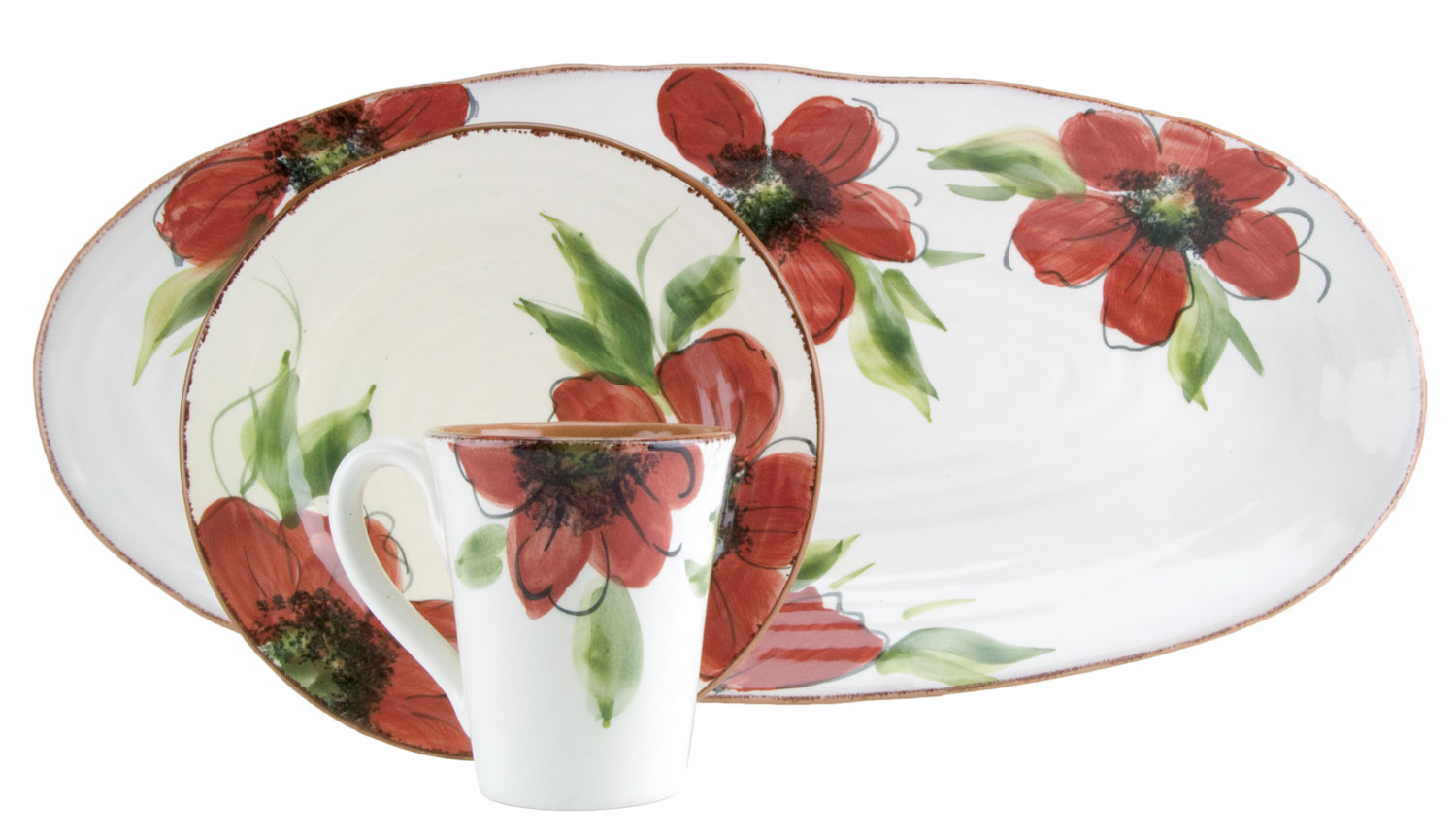 01 Sep

Details: Things We Love
---
The New Montana Cabin by Seabring Davis
Our own esteemed editor, Seabring Davis, envisioned her latest book, The New Montana Cabin, as "a cultural documentation of our society's love of nesting." The book examines and redefines the American notion of a cabin — from micro homes to mansions — but leaves us with the palpable pleasure of escaping to our own idyllic getaway. The photographs are luscious, the stories splendidly told, and the selection of cabins is simply brilliant. From a turn-of-the-century ranch compound, rebuilt with respect for the passage of time and with a nod to contemporary luxury, to a 1960s love shack that explodes with color and personality, each cabin is a dream-come-true. For anyone who longs for a Montana cabin of their own, this book is a must-read.
$29.95 | Big Sky Journal | www.bigskyjournal.com | 406.586.2712
---
Papavero Serveware from Flat Earth Imports
Because food just tastes better when it's served on something magnificent, we're in love with Flat Earth Imports, a company that brings the very best of Italian tableware, textiles and home décor to the United States. What distinguishes Flat Earth is that it creates relationships with Italian artisans and small manufacturers — most of whom come from families that have spent generations in the business — in order to bring their heirloom-quality pieces to this country, exclusively, for the first time. Though the craftsmanship is traditional and entirely authentic, the styles range from old world to stunningly contemporary, like our favorite line, the striking red poppies of Papavero. Buon appetito!
From $38 – $138 | Flat Earth Imports | www.flatearthimports.com | 877.545.1201
---
Limba from Robin Gray Design
Based on design, quality, texture and color, we would love these rugs no matter what. But the fact that this remarkable work is the passion of a woman who is an architect, interior designer, weaver, fiber artist and contemporary quilt designer makes us trust our judgment even more (even if we do feel like woeful underachievers). Robin Gray designs exquisite hand-knotted and hand-tufted rugs, like Limba, which is a vivid representation of an African design. The carved rug, from her new Africa collection, which is one of seven dazzling and colorful collections, is wool with silk details, woven in the Tibetan style. In addition to being smitten with each and every design she creates, we are inspired by the fact that Gray partners with talented artisans all over the world to weave her arresting designs in traditional and responsible ways. Robin Gray Designs is a member of the RugMark Foundation, which certifies and ensures that none of her rugs are made using child labor. Each of her one-of-a-kind pieces can be traced back to the weaver and loom upon which it was crafted.
$3,500 | 6 x 6 feet | Robin Gray Design | www.robingraydesign.com | 505.995.8411
---
Sacred Ground by Brad Sells
What this artist can do with a chainsaw is simply staggering. He got into art in high school when he dated the art instructor's daughter. "I guess he thought I needed something to occupy my time," artist Brad Sells confesses. "So he gave me a big bag of clay." Sells has never looked back. Now he has followers all over the world, including the Curator in Charge at the Smithsonian's Renwick Gallery, where his work was recently acquired. And why not? His wood sculptures and vessels are intrinsically natural and other-worldly at the same time. Sells salvages green wood, transforming it into some of the most exquisitely fluid and dynamic pieces we have ever seen, like Sacred Ground, from his Tunnel Series, made of sweet-smelling pecan wood. The piece is a dramatic study in tones and curves, and features Sells' signature "orbitals." We love it from every angle!
$5,500 | 20 x 22 x 32 inches | www.bradsells.com | 931.372.8818
---
Painted Trastero by Anthony E. Martinez
Anthony E. Martinez grew up in New Mexico's Española Valley, where he whittled toys for himself, and built elaborate wooden forts as materials allowed. His talent spawned an appreciation for historic wooden artifacts and today Martinez builds fantastically detailed and stunningly beautiful Spanish Colonial and New Mexican-style furniture, which is available at the John B. Strong Gallery in Scottsdale, Arizona. Collected worldwide, his work is unmatched in terms of meticulous carving, elemental form and, in the case of our favorite piece — Painted Trastero — vibrant color. The piece was inspired by an early 19th-century mortise-and-tenon trastero. We love that Martinez's commitment to Spanish Colonial design is only enhanced by his marvelous ability to reinterpret traditions.
From $25,000 – $85,000 | 81.5 x 24 x 17 inches | www.anthonyemartinez.com | www.johnbstrong.com | 505.424.3989
---
Tomol from Jana Booker Design
Jana Booker is the kind of multi-talented artist who can do anything. She spent the early part of her career with Disney Imagineering, going on to sculpt pieces for more than 20 feature films. After reproducing some of the world's best known and iconic sculptures (including a 24-foot detail of the Arc de Triomphe), Booker developed her own form of expression with sculpted leather. Her series, Indigenous Tribes, is a stunning celebration of the diversity of the human form in bas relief leather sculpture. But she also creates marvelous leather bowls with vibrant patinas and fluid forms, jewelry with rich detail and unique stones, and our favorite, Tolom, a piece that can be best described as a jeweled bowl and is available at Toklat Gallery in Basalt, Colorado. Oh, and did we mention that she was the 1977 "California State Champion" in skateboarding? We love that!
$6,500 | 36 x 13.5 x 6.75 inches | Jana Booker Design | www.janabooker.com | www.toklatgallery.com | 818.381.6922
---
Songlines Diptych from Judith Trager
The granddaughter of Jewish haberdashers who outfitted gold miners in Montana and Mormon pioneers in Utah, quilt making has always come naturally to Judith Trager. She graduated with a painting degree, but went back to school at 55 to pursue an MFA in fibers. Her work demonstrates her lifelong passion for the art form as much as it does her technical acumen. We love her blooming and colorful flowers — an avid gardener, Trager has begun to make gardens with her work! — but we are enchanted by Songlines Diptych, a two-piece work made of raw silk and hand-painted, inspired by her time in Australia and her love of native imagery. With her quilts, Trager creates a visual language that is fluid and colorful and universal.
$4,000 | 43 x 47 inches | www.judithtrager.com | 303.485.5976
---
Parisian Highboy Chest from BERMANFALK
Furniture-maker BERMANFALK is known for design leadership and exceptional workmanship. Part of its Parisian Sleeping Collection, this dramatic highboy chest is constructed of exotic Maccassar ebony veneers, dovetail self-closing drawers and a graceful maple base. Its understated beauty and flawless function reflect the company's uncompromising pursuit of the most innovative designs. We love that designer Joel Dessaules was able to create a piece that is at once timeless and yet somehow manages to evoke the beauty and glamour of the 1930s. The piece fits perfectly into Q Design's Southern California showroom, which is a mecca for "new traditional" design and décor.
$3,000 | www.qdesignstudio.com | 310.333.0794
---
Lighted Sculpture by Suzanne Derrer for Jett Gallery
Artist Suzanne Derrer has always been captivated by the ephemera of life, a concept that is readily apparent in her startlingly beautiful and ethereal lighted pieces. Using the natural flotsam and jetsam she picks up on her daily hikes around her New Mexico home, Derrer manages to make iridescent and translucent lighted sculptures — from sconces to table and floor lamps to, most recently, works that seem to meander around a room — using handmade Thai and Japanese papers, found twigs, pruned branches, even the noxious weeds that she pulls out of her pasture. The pieces suggest their own form, Derrer says modestly, and we are wild for those forms, in addition to the soft glow of light that emanates from them. Her work is available exclusively at Santa Fe's Jett Gallery.
From $300 – $3,000 | Jett Gallery | jett@aol.com | 505.988.1414
---
Frank Lloyd Wright's Home & Studio DVD from The Frank Lloyd Wright Preservation Trust
My wonderful (and ambitious!) grandmother took me to the Frank Lloyd Wright home and studio some 30 years ago. I was maybe 7, and had little appreciation for the hours we spent wandering the rooms, examining the details of Wright's first and, perhaps, most personal masterpiece. But thanks to the Frank Lloyd Wright's Home & Studio DVD, anyone can meander through and marvel at the finer points of what is now thought of as Wright's architectural laboratory. A 60-minute documentary film with extended interviews highlighted by Eric Lloyd Wright, an architect and Frank Lloyd Wright's grandson, the DVD also offers 360-degree virtual-reality panoramas and floor plans. What's most compelling to us is the opportunity to look for elements that would come to life in later works like Fallingwater and the Guggenheim. For an intimate look into the living and work space of the world's most celebrated architect, this DVD is a treasure indeed.
$35 | Frank Lloyd Wright Preservation Trust | www.shopwright.org | 877.848.3559