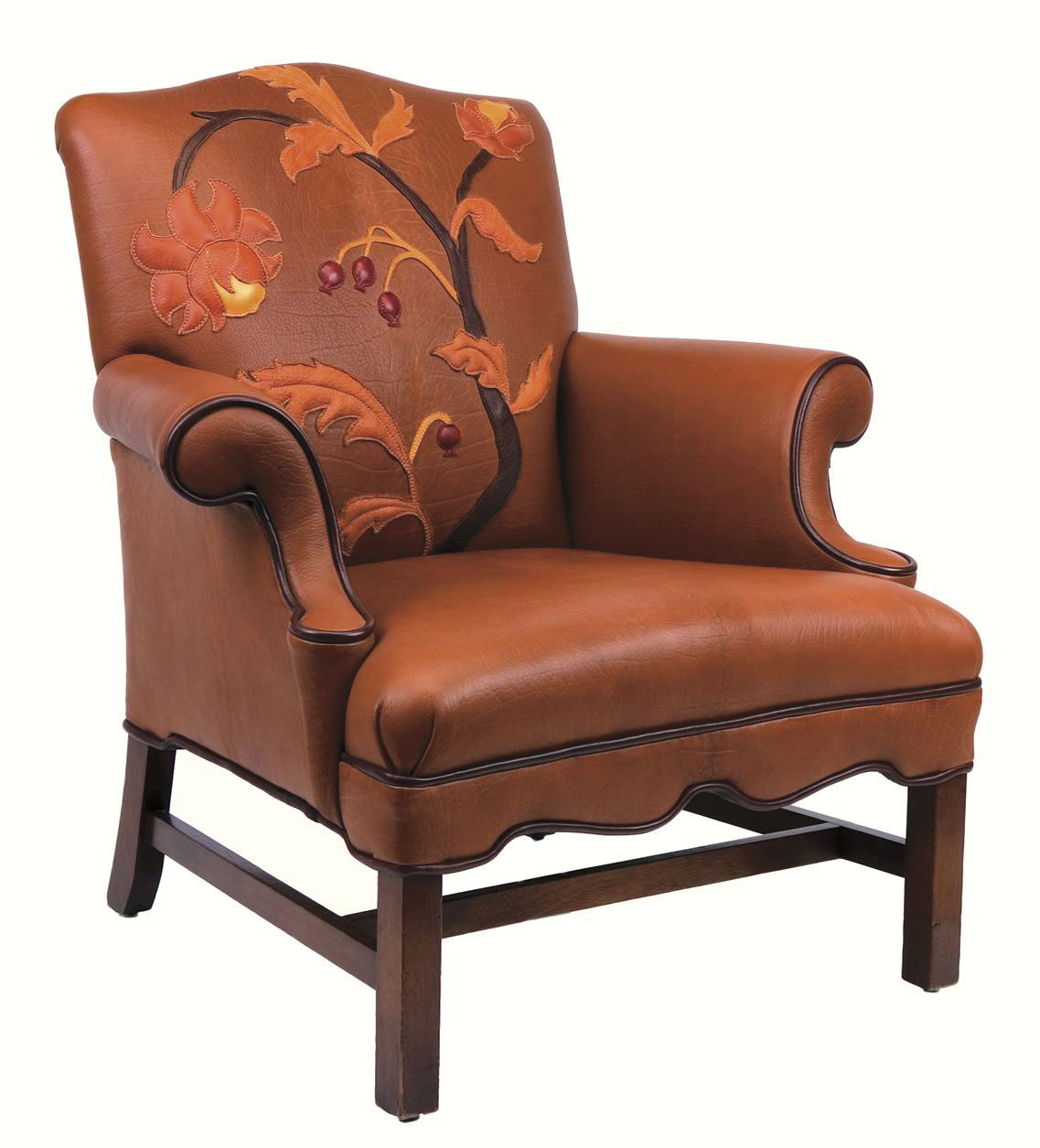 24 Jul

Details: Things We Love
---
Coppered Antler Chandelier from Metro Cowboy Lighting
For a cowboy look that is, well, just a little more metro, a little more sexy, Metro Cowboy Lighting creates these antler chandeliers dipped in a luscious array of rich colors and sumptuous metals. The chandeliers are lightweight because the antlers are actually hollow cast reproductions. Each piece is custom-designed and hand-dipped to highlight its unique beauty. We love that the chandeliers can be delicate or massive, and dipped to reflect the mood of any room. But it's the metals — the rusty iron, the antique copper, the flashy chrome, among others — that truly thrill us.
$1,800 – $12,000, depending upon size and finish | Metro Cowboy Lighting | www.metrocowboylighting.com | 970.872.6031
---
Buffalo Leather Appliqué Chair from Scenic Mesa: The Buffalo Collection
When botanist Julie Littlefield acquired 8,200 acres of land along Colorado's Gunnison River, she never imagined that her dream ranch would lead her to create a line of high-end furniture. But the big-game hunting she offered on her Scenic Mesa Ranch left her with stacks of bison hides she couldn't bear to see go unused. So she founded The Buffalo Collection, and with it a line of luxurious and durable bison-leather furniture, handcrafted by local artisans. From its classic, masculine sofas to its delicate and decorative antique slip chairs, The Buffalo Collection appeals to cowboys and connoisseurs alike. We are wild for the graceful curves of the Buffalo Leather Appliqué Chair. We also love the newest addition: the rich chocolate leather of the Virginia Reel Headboard, with its braided welting and subtle floral appliqué. Sweet dreams indeed!
$4,050 | Scenic Mesa: The Buffalo Collection | www.buffaloleatherfurniture.com | 970.872.6031
---
Banovich Italian Marbled Coasters from Home Accents
Beyond being useful in protecting your favorite table from pesky moisture rings, these hand-printed and limited-edition coasters are stunning. Each Italian marble tile is quarried, cut and tumbled in Europe to create an Old World look and feel. But it's Banovich's images that captivate us most. That he is able to reproduce the intimacy and power of his oil and acrylic works on small pieces of marble is simply staggering. And if the aesthetic were not enough (and it is!), the proceeds of these practical and miniature masterpieces will benefit his Wildscapes Foundation, which fosters cooperative efforts to conserve the earth's wild places to benefit the wildlife and the people who live there. Cheers!
$85 for a set of four | Home Accents | www.johnbanovich.com | 406.222.5445
---
Merian Collection from Discovery Editions
Known for its exquisite and exclusive reproductions of rare antique maps, Audubon, Redouté and Bodmer works, among others, Discovery Editions introduced the first-ever Perfect Recreations™ of Maria Sibylla Merian, a 16th- and 17th-century scientist and painter who captivated the world — and fueled the Dutch "tulipmania" and "cabinets of curiosities" phenomena — with her breathtaking flowers, insects and sea shells. Many of her originals are being exhibited at the J. Paul Getty Museum from June 10 to August 31. We are especially smitten with Study of a tulip, carnation and two shells, a flawless reproduction of Merian's original watercolor (which can be purchased for $175,000); and we love that Discovery Editions makes available work that is rare to see, and often impossible to own.
$795 | Discovery Editions | www.discoveryeditions.com | 212.717.7451
---
ProSun SunShower from ProSun International
Never mind that this revolutionary product won the Design Journal 2008 Platinum ADEX Award for Design Excellence, we just can't get past the fact that you can tan while you shower! Just 8 inches thick, the ProSun SunShower uses the same ultraviolet lamps and filters found in commercial tanning beds, and can be installed in nearly any walk-in shower. With a variety of frames to choose from, it beautifies not only you, but your shower as well. And what's more, the SunShower SR Plus uses high-intensity LEDs to penetrate deep into the skin to reduce the appearance of aging, repair and replenish damaged skin cells and stimulate collagen production. Younger, more beautiful and clean? Just try to get us out of the shower now!
$10,900 (suggested retail) | ProSun International | www.prosunsunshower.com | 800.874.2776
---
Handmade Custom Cowboy Boots from Rocketbuster Boots
The sky isn't the limit, it turns out, at Rocketbuster Boots. No, one quickly discovers that there is no limit at Rocketbuster. This tiny company in El Paso, Texas, turns out the most outrageously beautiful and over-the-top cowboy boots on the planet. Since every pair is custom made, stitched and assembled by hand, it produces only 500 pairs of wearable art to ogle each year. And with names like Booterfly, Wall Streeter, Rose-A-Rita Purple and She Devil, it's clear that the bootmakers' sense of humor rivals their absurd talent. We love that not only is anything possible at Rocketbuster, but everything is beautiful! Our favorite pair? Please. That's like choosing a favorite child.
Starting at $850 | Rocketbuster Boots | www.rocketbuster.com | 915.541.1300
---
VisionArt by VisionArt Galleries
Because no one wants to say, "Welcome to my flat screen" while entertaining in a beautifully designed living space, VisionArt Galleries has come up with a brilliant way to incorporate large-format televisions without compromising the aesthetics of a room. VisionArt is a truly custom-made retracting fine-art canvas system that can be scaled to fit any size or shape and offers the ability to conceal televisions or other electronics on any wall surface. We love that there are hundreds of limited-edition prints (no public domain reproductions here!) to choose from, or that we can have our own artwork or photography reproduced. Plus, VisionArt Galleries has contracted with some of today's most acclaimed artists and photographers to offer an exclusive collection of contemporary fine art. But more than anything, we are just over the moon about having our living rooms back!
$3,500 – $18,000 | VisionArt Galleries | www.visionartgalleries.com | 860.409.2172
---
Hibiscus from Frogman Limited Edition Bronze Sculpture
Using a lost wax technique created thousands of years ago by the Egyptians, artist Tim Cotterill creates vibrant, whimsical frog bronzes that have an astounding jewellike quality. Each sculpture, from miniature to monumental, is intrinsically unique with a hand-applied colored patina. We love that each little gravity-defying creature — there are geckos and koi, too — has a distinct facial expression, and a unique and befitting name. We're also pretty captivated by the fact that Frogman — as he's known worldwide — has as much heart as he does talent. He started a non-profit humanitarian organization in 2005 with the goal of making a lasting difference. Most recently the artist paid for an essential surgical unit to be built at Bwindi Community Health Care in southwest Uganda. His art is as inspired as the Frogman is inspiring!
$250 – $3,200 | Frogman Collection | www.frogmancollection.com | 866.399.9670
---
Note Cards from The Arts and Crafts Press
All of these striking note cards are letterpress printed — the oldest form of printing, giving the surface a unique three-dimensional quality — using acid-free, recycled papers. Operated by Yoshiko Yamamoto from her design studio in a small coastal town across the Puget Sound from Seattle, The Arts and Crafts Press was created in the spirit of William Morris, who began the revival of fine printing as part of the Arts and Crafts movement. Many of the note cards, which are almost too beautiful to mail off, are original designs inspired by the Arts and Crafts Movement. The Hanga Style cards, a traditional Japanese woodblock style, are remarkable in their spectacular detail and lush color. And the cards for food lovers quite literally make our mouths water!
$3 each or $15.95/box of 6 | Arts and Crafts Press | www.artsandcraftspress.com | 360.871.7707
---
Ceres from Birth of Venus Studios
Sculptor Charles Swanson combines a timeless aesthetic with contemporary design in his extraordinary collection of cast-stone fountains, basins and planters. His creations are innovative and contemplative, lending a quiet and natural elegance to any setting, indoors or out. The striking symmetry of Ceres coupled with its versatility as a fountain, basin or planter, leaves us weak in the knees. And the yellow hues — choose from bees knees or luyten yellow — are simply divine. We love the long, sleek lines of Swanson's compelling designs, but the truth is, there is nothing more enchanting than the sound of running water or the reflection of flat water. No matter how far you live from the ocean, a lake or even a tumbling creek, with Swanson's sculptural designs, no one has to be limited by their own geography!
Starting at $5,880 (for StillWater Ceres) | Birth of Venus Studios | www.bovstudios.com | 888.636.3015