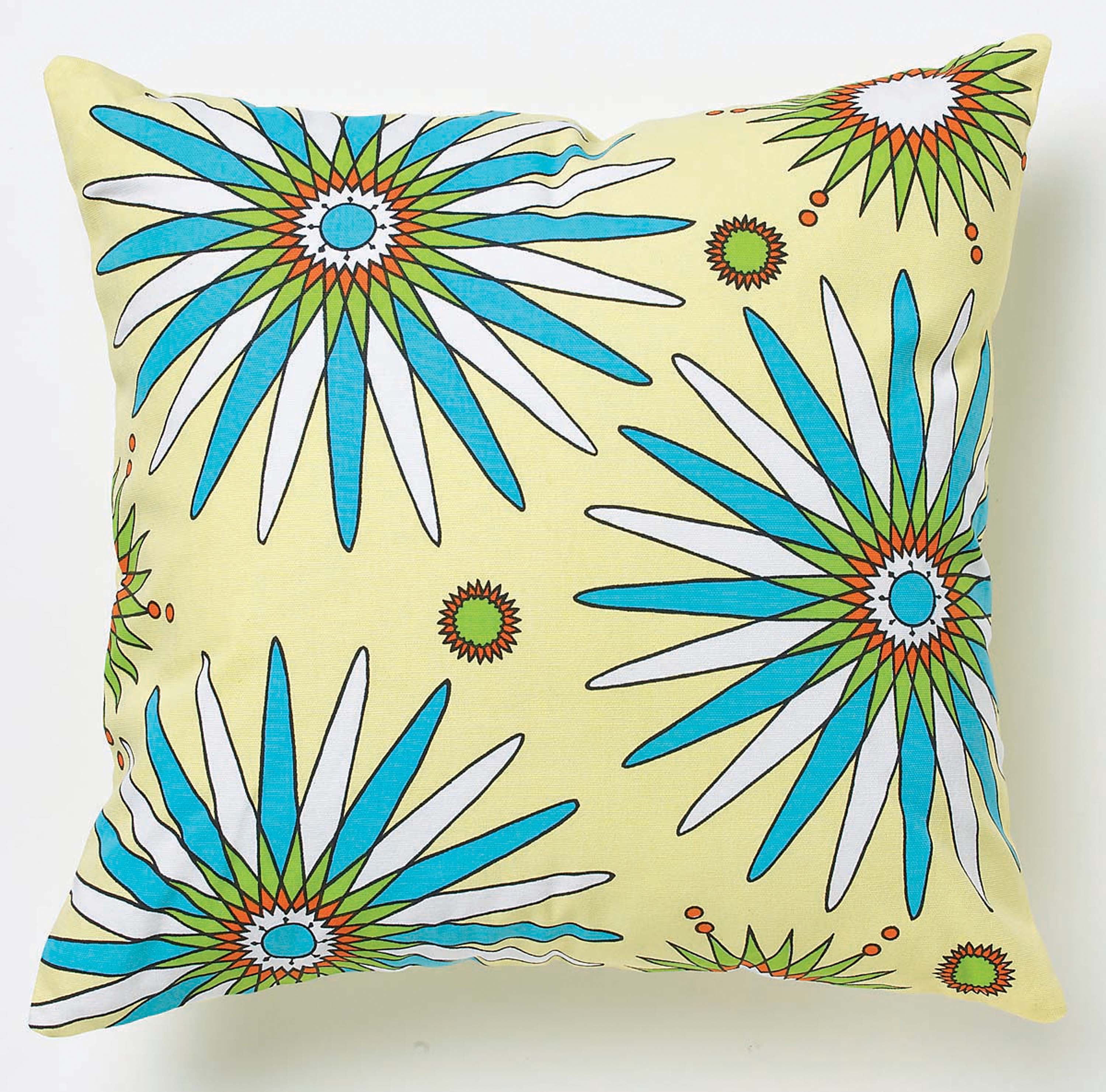 04 Apr

Details: Things We Love
---
Swizzlestix Flowerburst Spring Pillow by Marcia Copeland
Originally a card designer, Marcia Copeland's biggest inspiration is her "love for all things retro-modern and [her] passion for creating bold and colorful designs and patterns." Copeland's paper, tabletop and home-decor products celebrate Mid-Century colors and patterns and graphics such as dots, swirls and martini glasses. Aprons, placemats, pillows and tea towels come in an array of eye-popping hues guaranteed to brighten the darkest day. We love the silk-screened Flowerburst Spring pillow for its versatility in any season and its ability to sit well against a range of colors, textures and backdrops.
$38 | 18 x 18 inches | 415.674.6808 | www.swizzlestix.net
---
Antherium Vase by Daniel Lotton
From the time he was 14, Daniel Lotton apprenticed alongside his two brothers in the family glass shop under their legendary father, Charles Lotton. Inspired by nature and dedicated to mastering the technical aspects of glass blowing, by the age of 20, Daniel had developed his own line of glass art ranging from bowls, vases and perfume bottles to lamps and chandeliers. What we love about Daniel's masterful work is the layering of color and texture he manages to incorporate into every piece … the science behind his art is stupefying. His colorful Antherium Vase is an exquisite example of such rare artistry. Today, three generations of Lottons exhibit in their flagship gallery on Chicago's Michigan Avenue. Daniel's work, collected privately and by museums worldwide, is truly something to behold.
$4,700 | 16 x 8 inches | 312.664.6203 | www.lottongallery.com
---
Pink Coral Jewelry by Rocki Gorman
When Southwest jewelry designer Rocki Gorman heard two magical words — "remission" and "cured" — after a stage 3 cancer diagnosis and the fight of her life, she designed this gorgeous pink coral and sterling silver heart and matching earrings as a wearable celebration of her victory and a heartfelt homage to those who have fought the same battle. Gorman donates 10 percent to support others who are going through the process in hopes they will hear the same two words.
$850 for pendant; $425 for earrings | Necklace is 2.5 x 3.5 inches; earrings are 1 x 2 inches | 505.983.7833 | www.rockigorman.com
---
Steel Sconce by Holly Russell
Connecticut-based artist Holly Russell loves junk. She trolls scrap lots, back yards, farms and ranches across the country looking for pieces of steel and rusted metal for her one-of-a-kind functional pieces. Russell's Steel Sconce with mica shade is both versatile and highly original. While the use of steel is softened by the almost whimsical patterning on the backplate, the piece itself suggests nature in its abstract leaflike pattern, as well as the West in its rope-like detail suggestive of fencing. We love the fact that even so, it is a decidedly contemporary piece.
$500 | 5.5 x 13 inches | 917.865.4828 | www.hollyrussell.com
---
Sociable Sofa by King Ranch Saddle Shop
This tufted, double-sided leather sofa is as ingenious as it is handsome. Seating six adults comfortably, the Sociable Sofa is an ideal conversation starter and a magnificent centerpiece to any room with its top grain, naturally distressed leather. The sofa is designed and manufactured by the iconic King Ranch Saddle Shop, which has been crafting the finest leather goods since the end of the Civil War. The company, famous for its custom saddles that still boast the Running W brand, continues to operate by the credo that "in materials, only the best is good enough, and in styling, simplicity has its own elegance." As far as we're concerned, those are words to live by. And in the Sociable Sofa, we've found elegant and comfortable proof.
$7,109 | 76 x 63 x 31 inches | 877.282.5777 | www.krsaddleshop.com
---
Backgammon Table by Les Powers
A furniture maker and wood sculptor for more than three decades, Les Powers has an uncanny ability to conjure the magnificent diversity of the natural world in his art. Using a remarkable palette of materials — from walnut, grapewood, purple heartwood, rosewood, turquoise and yellowheart, to name just a few — Powers can create animals, deserts, forests, stonescapes and more with stunning color and texture. His Backgammon Table, made from curly, wormy maple and rosewood, is a breathtaking work of art that functions doubly as a card table with a slab of Kanab golden sandstone under the glass. Best to own it and watch your opponents just try to focus on the game instead of the table on which it is played.
$5,000 | 38 x 38 x 29 inches | 801.824.5770 | www.naturesforms.net
---
Colorado Wooden Armchair by the Buffalo Collection at Scenic Mesa
We love the Colorado Wooden Armchair for its beautiful and functional design. This bold chair in cayenne red adds a luxurious pop of color to any room, while its durable leather withstands the abuse of everyday life on the ranch. The thick, soft buffalo leather is more flexible than cowhide, cleans easily with a damp cloth and will deepen to a rich sheen over time. This uniquely rugged, yet modern chair from The Buffalo Collection at Scenic Mesa in the Rocky Mountain Valley, pays tribute to the iconic buffalo of the American West with a contemporary splash of color.
$2,100 | 37 x 24 x 27 inches | 970.872.3548 | www.scenicmesa.com
---
R.E. Phillips Twig Branchelier by Deanna Wish Designs
Offering a whimsical alternative to traditional antler chandeliers, these handcrafted brancheliers — made from natural hickory branches — are a fabulous way to bring the outdoors in. They range in size from petite to massive, and boast an array of finishes, from rustic and natural — like this 20-light R.E. Phillips Twig Branchelier that we are smitten with — to big city sleek. Think silver branches. Or coral branches. In fact, each branchelier can be custom painted in any Benjamin Moore color. We love that they are absolutely natural and earthy, yet can add such a unique feel to any room.
$7,500 | 60 x 60 inches | 724.598.7793 | www.deannawish.com
---
Hand-Forged Garden Tools by Tuli Fisher
There's nothing more delightful than to work in your garden with heirloom quality tools in your hands. The walnut hand-turned handles on Tuli Fisher's garden tools provide comfort while the weight and strength of the heavy-gauge wrought iron tools assist in working the soil. Each tool is hand-forged and signed by the artist, who made a name for himself as a blacksmith before digging into garden tools. A set would make a delightful gift for the passionate gardener.
$50 per individual tool; | $200 per set | 406.522.9443 | www.fisherblacksmithing.com
---
The Thrill of the Chase by Forrest Fenn
The life story of one of the most colorful dealers in the Western art world makes for compelling reading. Forrest Fenn leads his autobiography with his short-lived school career and youthful backcountry adventures, describes being shot down as a fighter pilot in Vietnam, recounts his founding of the Modern art scene in Santa Fe, and mentions his third and fourth careers as an art historian (he's authored eight books) and archeologist. But Fenn's account of being diagnosed with cancer and, in the course of pondering mortality and the meaning of life, making an extraordinary decision to fill a treasure chest and bury it in the mountains north of Santa Fe, is riveting. What we love about this book, which reads like a story told by a particularly charming narrator, is its self-deprecating tone. Even in describing the treasure chest — a Romanesque Lock Box circa 1150, which Fenn filled with jewels, lumps of gold, ancient artifacts and $1,000 bills, then buried — Fenn never takes himself too seriously. The million-dollar treasure is for real, though. And the book holds all the clues to finding it.
$35 | Hardcover, 148 pages | 505.988.4226 | www.oldsantafetradingco.com