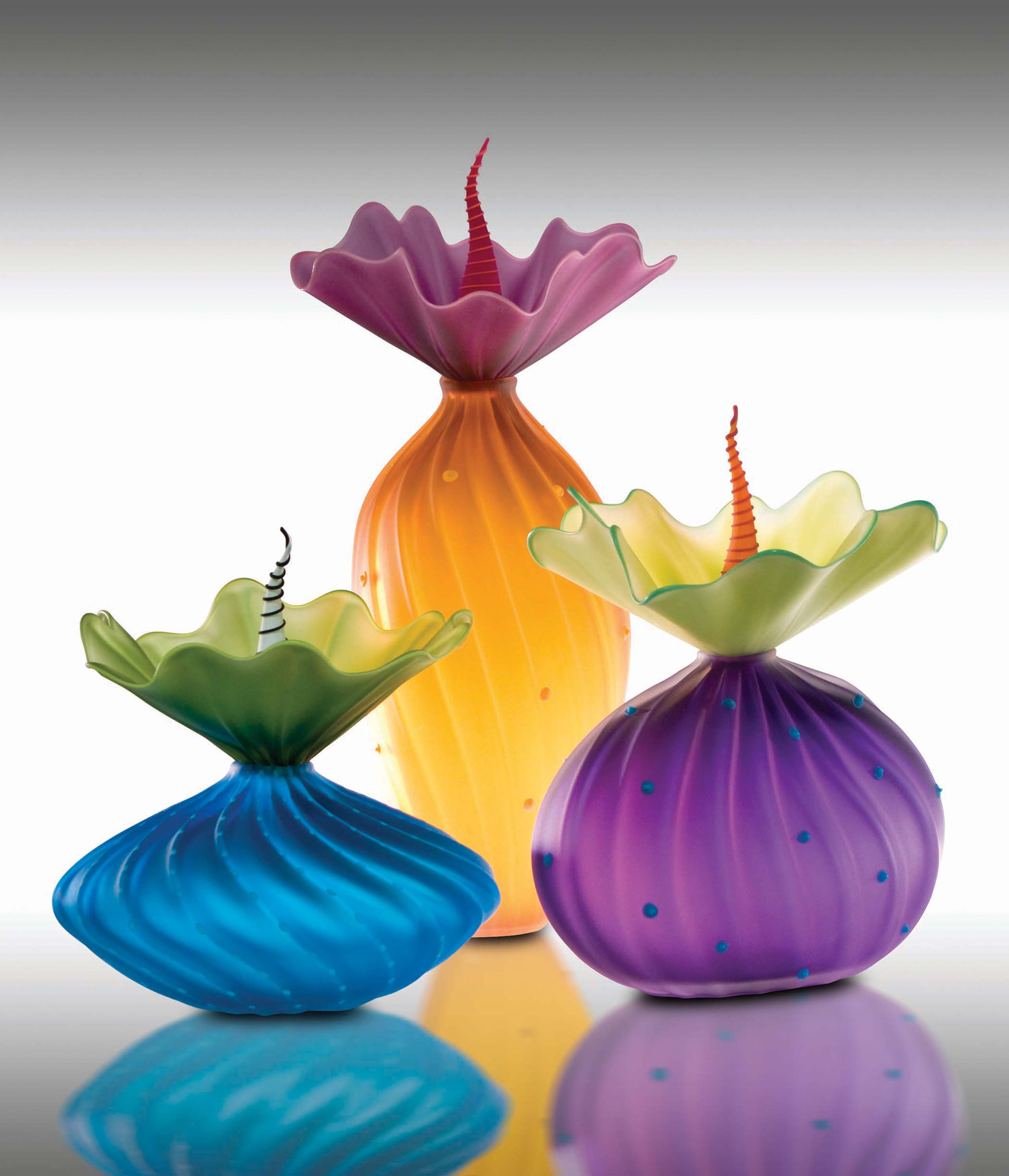 The Bobtanical Series by Bob Kliss
19 Oct

Details: Things We Love
---
The Bobtanical Series by Bob Kliss
Whimsical in character, with bright colors and a unique, organic design, the Bobtanical Series by Kliszewski Glass reminds us of the dynamic beauty of nature. These interesting glass sculptures are the result of a collaborative effort of husband-and-wife-team Bob and Laurie Kliss. Bob attended the Pilchuck Glass School and transforms molten material into works of art by hand-blowing each sculpture. Meanwhile, Laurie handles the business aspects of their studio and helps with inspiration and design. They are particularly interested in the ability of glass to convey pure color. And these vivid, playful pieces do just that.
Starting at $370 | From 8 x 7 to 15 x 7 inches | 559.497.6610 | www.klissglass.com
---
Seasonal Harvest Door Knocker by Carol Ruff Franza
We love art that tells a story, and each of Carol Ruff Franza's door knockers weaves a tiny tale. In this case, the Seasonal Harvest Door Knocker depicts a ring of salmon and the bear they sustain each time they swim upstream to spawn and complete their lifecycle. It's symbolic of the fact that all creation is woven together and each species has its place. Every door knocker is hand cast in the historic lost-wax method of bronze casting and the patina will enrich over time. They are also numbered and signed by the artist.
$1,800 | 12 x 6.75 x 5 inches | 480.745.5248 | www.CarolRuffFranza.com
---
Squash Blossom Necklace by Michelle Day
Michelle Day, a native of Pendleton, Oregon, began pursuing jewelry making full time in 2005 after spending six years in Budapest, Hungary, where her love for the craft began. Her bold and colorful designs are original for their beautiful and finely detailed leather pendants. The flower petals in the Squash Blossom Necklace are hand-tooled by leather artist Clair Kehrberg, and are cut to curve and fit the shape of the wearer's neckline, completing the ring of sky-blue chunky turquoise and polished silver. Day says she loves creating statement jewelry pieces, and this original take blends contemporary and traditional Western styles to create a perfect finishing touch.
$825 | 23 inches | 541.377.0700 | www.jewelrybyday.com
---
Colorado Beetle-Kill Pine Vessel by Russell Shamah
The Colorado Beetle-Kill Pine Vessel was created from dead or dying trees found near artist Russell Shamah's home in the Colorado Rocky Mountains. In this vessel, he uses reclaimed pine logs which he shapes by hand on a lathe. He then adds turquoise and antlers as inlay and soaks the vessel in natural oils several times to preserve the wood and enhance its beautiful natural color. Finally, the wood is hand buffed to a soft, refined finish, proving that resourcefulness is an art form all in its own.
$350 | 8.25 x 3.5 inches | 303.669.4126 | www.RWestArt.com
---
Shinin' Times at The Fort by Holly Arnold Kinney
The Fort, an award-winning restaurant shaped like a castle in southwest Denver, boasts that they sell more buffalo steaks than any other independently owned restaurant in the country. Now, no matter where you live, you can bring The Fort's recipes to your friends and family. Shinin' Times at The Fort chronicles the life of the restaurant with recipes from its early days through its nearly 50-year history. Written by the daughter of The Fort's founder, Holly Arnold Kinney, you can learn the recipes to favorite entrees like White Cheese Shrimp Enchiladas or Gonzales Steak stuffed with Green Chiles. There are, of course, plenty of steak recipes, as well as recipes for less-familiar meats such as Rocky Mountain Oysters and ostrich. And don't forget dessert … but with thoughts of Lakota Indian Fry Bread and Chocolate Chile Cake, how could you?
$39.95 | 260 pages | 303.697.4771 | www.thefort.com
---
The Elk Head by Gatski
This unique take on taxidermy was created by Gatski Metal from recycled farm machinery. The weathered patina comes from years of life on the farm and the antlers are hand-hammered and ground into shape. Established in 2003, Gatski Metal is run by Ben and Kate Gatski who draw inspiration from farm life. They overlook Ben's family farm in Pennsylvania and have a passion for sustainable agriculture. Ben welds, Kate manages the business and the eldest of their three children also helps sketch out designs. In addition to elk, they create mounted goats, steer, buffalo, moose, rams and deer, along with an assortment of other sculptural pieces and furniture, all from reclaimed materials such as old farm machinery and barn wood. The Elk Head is finished with a water-based enamel and can hang indoors or out.
$420 | 26 x 16 inches | 866.855.7742 | www.gatskimetal.com
---
San Saba-1930 Money Clip by Clint Orms
At age 12, Clint Orms was polishing brass belt buckles for his father's Western design company. Since then, he's built a business in Ingram, Texas, creating handmade and custom belt buckles, some of which are worth up to $32,500. His buckles and money clips are beautifully pictorial and elaborately engraved: 1.4-karat diamonds dot the center of flowers and cowboys ride bucking broncs. There are depictions of fly fishing, big-game animals, arrows, buffalo, longhorns and many others, and all with beautiful embellishments. We love the San Saba-1930 Money Clip, named after a Texas county, for the clear attention to detail, down to the tiny spur and folded leather that will tarnish more with time.
$400 | 2.5 x 2.5 | 830.367.7949 | www.clintorms.com
---
America's New Stool by Ian Crawford
Resourceful craftsman Ian Crawford came up with a creative use for empty wine barrels in his business, Vinoture, located in Whitefish, Montana. He refashions the barrels into beautiful bar and kitchen stools. The bowed, wooden staves from the side of barrel form the legs on America's New Stool. He shapes the bottom or top of the barrel into comfortable seats, which will have a subtle red color due to the wine, or will be a natural blond and will include the original cooperage stamp from the barrel maker. The stools have a modern, yet rustic feel, and help in Crawford's mission of creating an American sustainable revolution in craftsmanship.
$250 | 30 x 17.5 inches | 406.261.7039 | www.vinoture.com
---
Custom Leather Jacket by Alan Michael Cohen
Since 1983, Alan Michael USA Leatherworks has designed top-of-the-line leather clothing for men and women alike. We love this custom jacket by creative director and founder of the company, Alan Michael Cohen, for its rich and sleek design and cognac color. Each of Cohen's jackets are made one-at-a-time in America from the world's finest leathers. The skins for this jacket are Italian and were distressed and aged in Cohen's California design studio. The floral pattern on the front and back yokes and pockets are laser-cut, and there are four-to-five intricate hand-stitching techniques that outline the shape of the jacket. Influenced by Americana and city life, and completed with a touch of the Old West, this jacket, with its superior quality and craftsmanship, is sure to bring style to any occasion.
Custom sizing | $2,195 | 800.470.8221 | www.alanmichaelusa.com