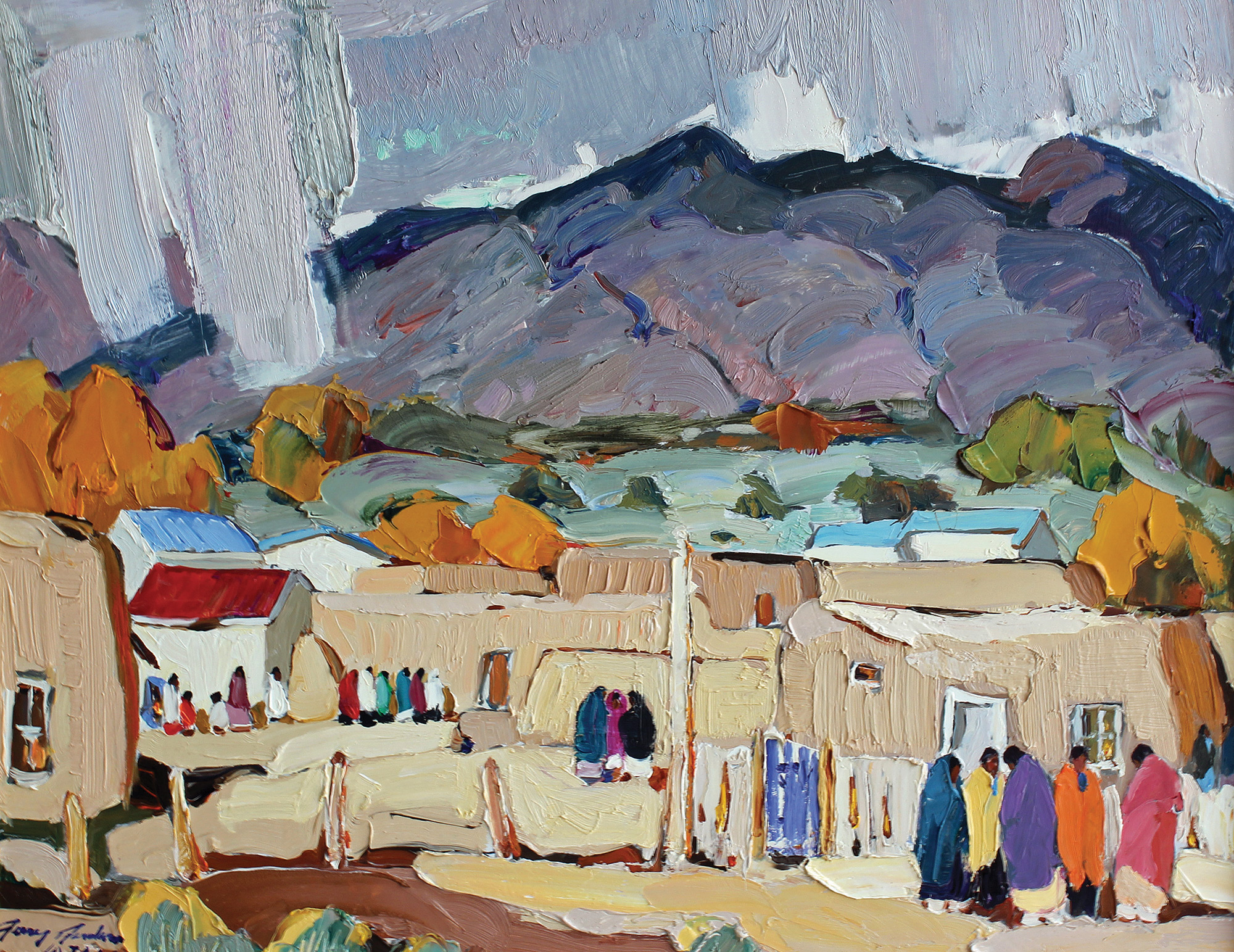 Jerry Jordan, "Insistent Seasons" | Oil | 16 x 20 inches
14 Mar

Editor's Note: Creative Collisions
---
It's a stereotypic scene: Surrounded by the invasive smell of turpentine, the cloistered artist diligently works at his easel. An orderly array of oil paints spread across his palette; each contemplative brushstroke occurring in quiet solitude.
The architect, too, seems a solitary soul, refining a rendering until the project achieves the precise balance between function and beauty, envisioning each angle, a mind deliberating in retreat.
We often think creativity is the feat of an autonomous individual, a person working in isolation. There is, after all, one signature on a painting; one person shaping the clay; one principal architect designing a structure or landscape.
But while reading through this issue of Western Art & Architecture, I was struck by the efforts of collaboration and the influence of others on artists and architects working in the West. The fact is, we need one another to succeed as creative individuals.
The Lubbesmeyer sisters, for instance, are identical twins who exchange ideas and jointly contribute to every piece of art they create ("In the Studio"). Artist Jerry Jordan paints under the influence of history, adding his own voice to the collective vision of the Taos Society of Artists ("The Spirit of Old Taos"). Ceramicist Frances Senska, meanwhile, learned right alongside her university students ("Perspective"). And Montanan Josh Elliott learned how to paint from his father ("A Painter of Place"). A conversation about beach erosion led to the creation of Andy Warhol's widely successful Endangered Species portfolio ("Turning 30 with Andy Warhol"). And the design of a home always relies on the homeowners' lifestyle ("Creative Space").
The beauty of art is in its intrinsic ability to connect people. And throughout this issue, it seems especially evident that no one person gets where they are without the influence of another. As Warhol (by way of Confucius) famously said, "There's a beauty in everything. Just not everybody sees it." Sometimes, we need one another to show us what we might be missing.
Christine Rogel, Editor in Chief
---
In Memoriam
William W. Lenox [1946–2017]
Entrepreneur and philanthropist, William "Bill" Lenox, known for his business acumen, generous spirit and engaging personality, passed away on January 20 at his home in Vail, Colorado. He is remembered as a fearless collector and patron of the fine arts.
Terence Brooks Karson [1950–2017]
The esteemed Montana artist, Terence "Terry" Karson, died at his home in Ennis, Montana, on January 27. His major works will be donated to the Yellowstone Art Museum and the Missoula Art Museum. Proceeds from a spring 2017 memorial will establish an endowment in Karson's name to support artists who struggle making a living doing what they love.