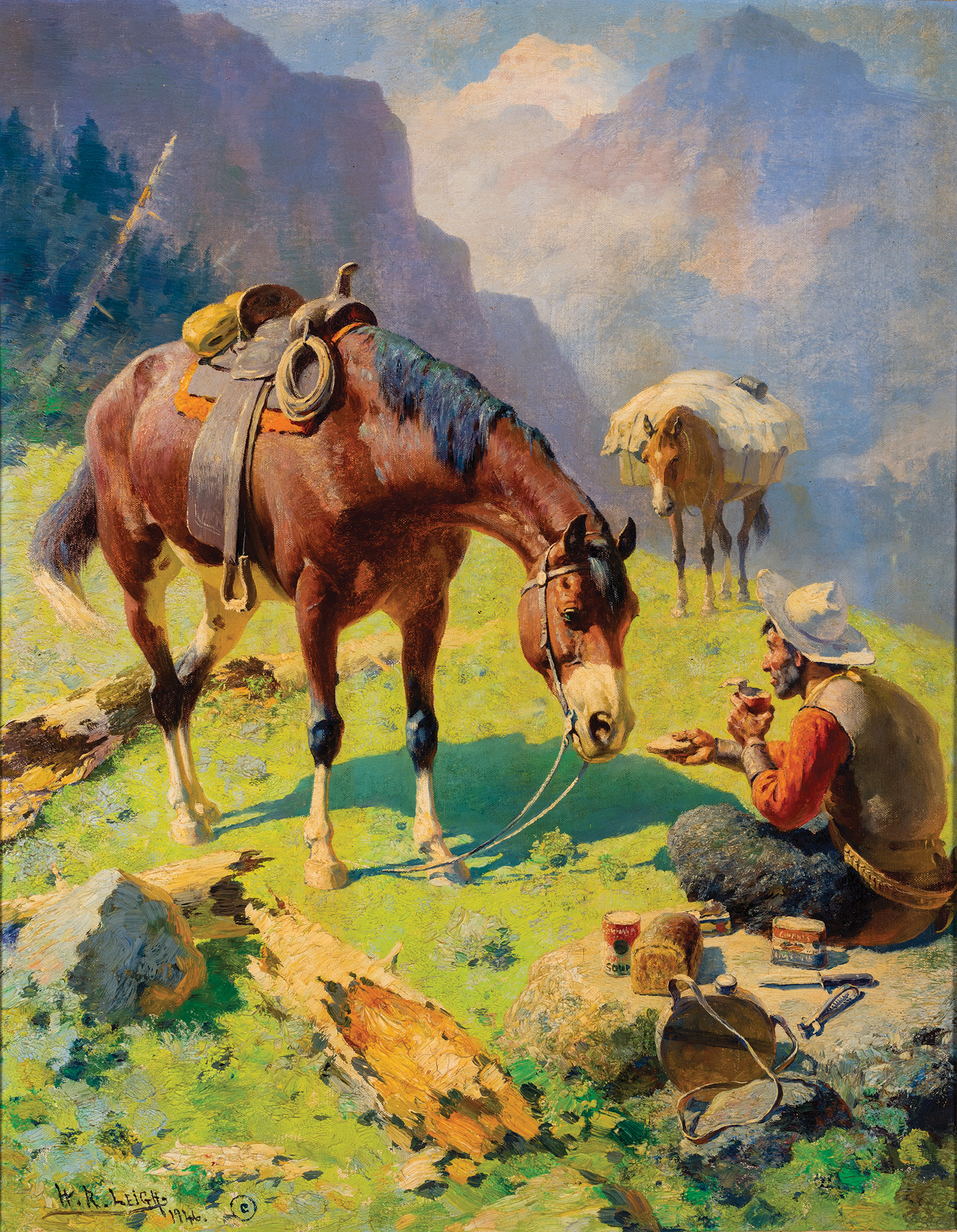 William R. Leigh [1866–1955], "Tidbits" | Oil on Canvas | 28 x 22 inches | 1946 | Courtesy of CDAA
18 May

Editor's Note: The Eureka Moment
---
It seems endemic to the human condition to wonder about the origin of a good idea. We want to know how creativity came about, because if we follow those same steps, we just might guarantee the next successful result.
It's surely one of my favorite questions to ask an artist or architect: What is your creative process? How do you turn canvas, clay or brick into work that makes people feel or think? How do you manage to make the objective subjective? Where do your ideas come from?
Over the years, their answers have ranged from finding inspiration in history and myths, to philosophical and spiritual musings, to material- and process-oriented responses, to work that stems from painful or joyful experiences. Some say they sought to solve a problem or create awareness about a social issue. Others are almost scientific, measuring a painting's horizon to determine the correct proportion and vanishing point within the composition. Others, yet, focus on that moment of letting go, believing that to overwork a piece is to destroy it.
In this issue of Western Art & Architecture, the creative process is expressed and explored in many mediums. It's found in the humanistic approach practiced by EYRC Architects, where a building's design is a response to its inhabitants, site, climate and culture ("Multicultural Modernism." )
For Dale Chihuly ("In the Studio," ) the creative process begins with glass, a lifelong inspiration that he first discovered at the Chartres Cathedral in France while looking up at the Rose Window. He recognized that one could "see a 1-inch square of ruby-red glass from 300 feet away," and this preformance of light through translucent color sparked his imagination.
For Henry Joseph Sharp [1859–1953] and Eanger Irving Couse [1866–1936], the artistic process had much to do with documenting a place and the people that lived there. Sharp, educated in Paris at the Académie Julian, came to a territory marked with a 1,000-year-old pueblo for a Harper's Weekly assignment. Little did he know, that assignment would lead to the discovery of an American art movement ("Grounded in History." )
The creative process for interior designer Kristen Thomas is one of minimalism, subtracting instead of adding to help important collections stand out ("Designing the West.") And architect Rob McQuay looks to the landscape, creating homes that emphasize Utah's unique environment ("Rendering.")
Creativity is driven by countless forces, and while many great minds have contributed their theories to its origin, the unknown allows for continued discovery and admiration. Throughout these pages of Western Art & Architecture, I invite you to wonder at each individual success.
Christine Rogel, Editor in Chief
---
In Memoriam
Mark Anthony Altermann [1940–2017]
Mark Anthony "Tony" Altermann will be remembered for championing thousands of artists during his lifetime. Over the course of his career, as a devoted art patron and astute businessman, he owned or operated galleries in Dallas and Houston, Texas; Scottsdale and Phoenix, Arizona; Jackson Hole, Wyoming; Hilton Head, South Carolina; and New York City. He and his son, Richard, have operated Altermann Galleries & Auctioneers since 1978, offering more than 17,000 works at auction since that time. He will be greatly missed by the art world.