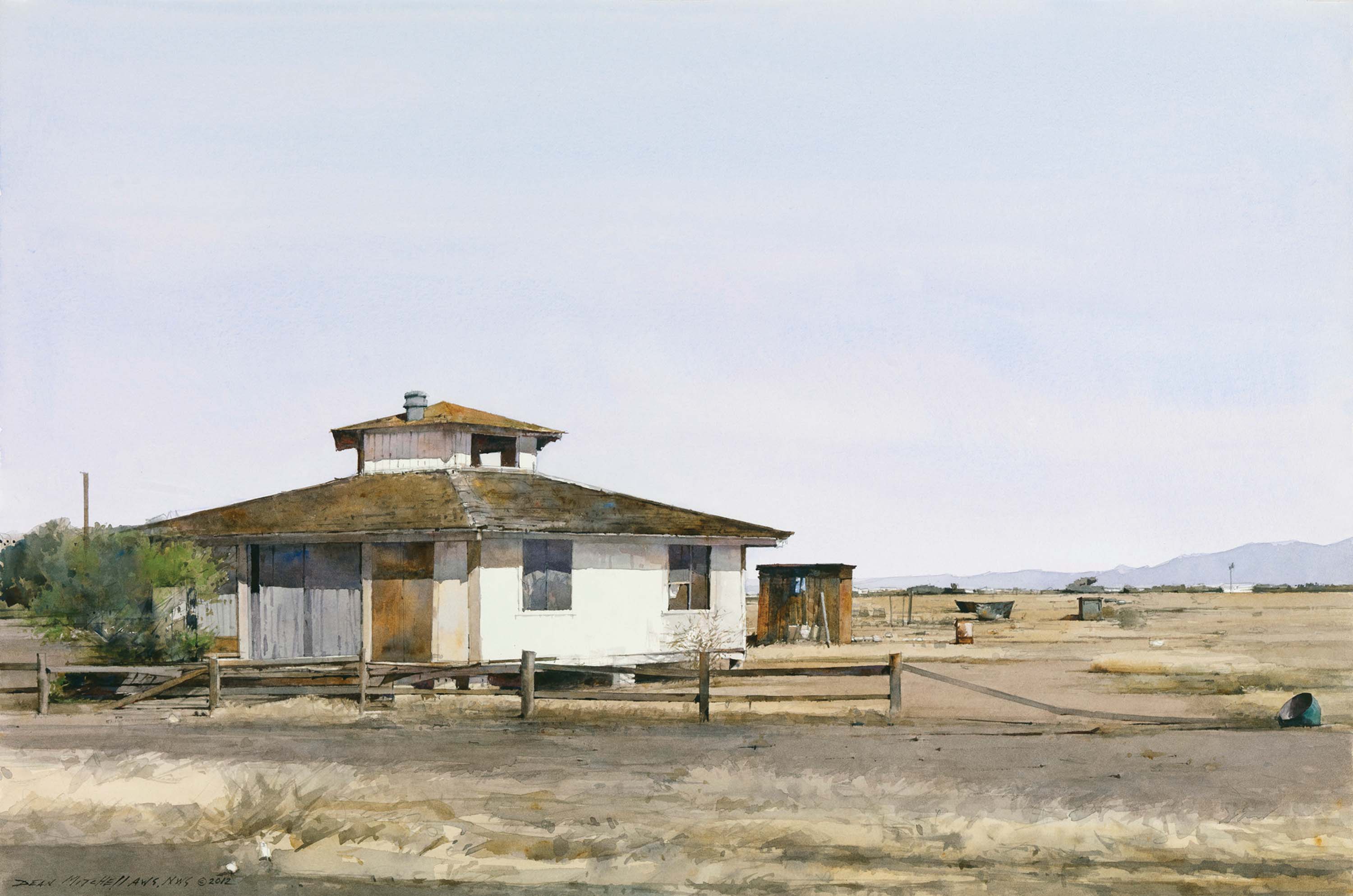 Phoenix Art Museum — The West Select: Dean Mitchell, "Prima Relic"
01 Feb

Auction Block: Fickled Findings
---
The final quarter results of art sales and auctions in 2012 proved to be tricky indicators of art-market momentum.
While top houses Sotheby's and Christie's annual fall American Art sales reported whopping sales figures on iconic American artists such as Georgia O'Keeffe (Sotheby's) and Edward Hopper (Christie's), smaller sales around the country saw an erratic mix of figures. At the Santa Fe Art auction, a lackluster showing was a surprising end to the season. While the Heritage Western and California Signature Auction reported their highest sale for the genre to date. Both shows had significant, high-quality works and undisputable histories of past successes. Yet ultimately the power still lies with individual buyers, making the take-away lesson this season that the auction sector is a fickle factor in overall market trends.
One thing is certain, with more unusual high-quality works becoming publicly available, buyers will have more opportunities to build unmatched collections in the coming year.
---
Los Angeles Modern auction 20th anniversary auction (Part two), December 16, 2012
---
The steady influx of modern material at the Los Angeles Modern Auction's (LAMA) Part Two of the 20th Anniversary Auction, realized $#########.
"Part Two of LAMA's 20th anniversary included a comprehensive survey of art and design across the 20th century, highlighting blue chip artists and designers from Stickley and Schindler to Rauschenberg and Warhol," said LAMA founder, Peter Loughrey.
This expertly curated auction of 436 lots featured more than 10 works by Robert Rauschenberg, including Lattice (Hoarfrost), a unique textile collage from 1975 that sold for $###,###. On the interiors side, a group of 15 American Arts & Crafts designs collectively brought $###########. Additionally, a comprehensive grouping of more than 50 lots of Art Deco furniture, lighting and decorative objects from 1920 – 1940 drew lively bidding.
Other highlights included works by Karl Benjamin, as well as prints and multiples by Joan Miró, Tom Wesselmann, Richard Diebenkorn and Andy Warhol, including the latter artist's Vote McGovern, Truman Capote, Jane Fond aand Mick Jagger. Design highlights include a rare Greta Grossman table, bookshelf and floor lamp, a selection of 13 designs by Gustav Stickley, a George Nakashima coffee table, an R.M. Schindler chair from the Sachs apartment, a Boris Lacroix tea set, and a K.E.M. Weber chair from the Sommer commission, as well as a Jean Royère table for Gouffé.
---
Bonhams california western Paintings and Sculpture, December 11, 2012
---
In Los Angeles the auction of California Western Paintings and Sculpture at Bonhams featured a wide variety of important Impressionist works, Western scenes, Plein Air, Society of Six and land-and cityscapes. Simulcast to San Francisco, the highly anticipated auction brought nearly $4.7 million and featured works by August Gay, Selden Connor Gile, Maurice Logan, Julian Onderdonk, Edgar Payne, Granville Redmond, Guy Rose, Charles Marion Russell, Frank Earle Schoonover, Bernard von Eichman and Newell Convers Wyeth, some of which came from the collections of Robert H. Aichele, and Margie and Robert E. Petersen.
The top painting of the 220-lot sale was Woman Sewing, by Guy Rose. A signature example of early American Impressionist painting, it had a preauction estimate of $400,000–$600,000 and ultimately sold for $782,000. Additional highlights included Field of Bluebonnets at Sunset, by Julian Onderdonk (pre-auction estimate $150,000 – $200,000, sold for $326,500); Charles Marion Russell's Deer in Landscape, that sold at the mid-range estimate for $188,500. Other noted historic masters of the
West sold at healthy prices, including Frank Earle Schoonover; Edgar Payne; N.C. Wyeth and Granville Redmond.
Considered one of the most important offerings of works by the Society of Six, significant prices were realized for works by Bernard von Eichman, August Gay, Maurice Logan and Selden Connor Gile.
---
Sotheby's American Art, November 29, 2012
---
Collectors in New York proved their passion for iconic American artists such as Georgia O'Keeffe and Norman Rockwell, who continue to be darlings of the market. Exceeding presale predictions, the fall American Art sale totaled $27,608,500 with 80 percent of the lots sold.
The auction's top 10 pieces included examples of Modernism, Western art, American illustration and Impressionism. Leading the sale were two works by O'Keeffe, including Autumn Leaf II. Estimated at $1.5 to $2.5 million, it shattered the presale expectations and sold for $4,282,500; and a pastel, A White Camellia, also went for above its estimated price at $3,218,500. In the Western genre, Sotheby's recorded a new world record for deceased artist Alfred Jacob Miller, whose oil on canvas, Caravan en Route [Sir William Drummond Stewart's Caravan], sold for $1,762,500, above the $1.5 million estimate.
Ultimately, five works by Rockwell made the event memorable with lively bidding over works such as The Muscleman, contributing $2.2 million to the overall total of this notable sale.
---
Christie's American Art, November 28, 2012
---
Christie's sale of American Art sale also totaled an impressive $38,469,650, with a 72 percent sell-through rate. The top lot of the sale was Edward Hopper's October on Cape Cod, which achieved $9,602,500, setting a new record for the most expensive item sold to an online bidder at any international auction house.
Collectors on the sales floor and online contributed to strong prices for 20th-century works that included Georgia O'Keeffe's Sun Water Maine, which achieved $2,210,500; Charles Ephraim Burchfield's Golden Dream, which sold for $1,202,500; and Stuart Davis' City Snow Scene, which doubled its presale estimate, selling for $1,202,500.
From the Western art scene, a bronze by Frederic Remington, The Mountain Man, realized $314,500, and a dynamic cowboy scene by William Herbert Dunton sold for $338,500.
---
The West Select Phoenix Art Museum, November 20, 2012
---
Continuing its success as the newest art event in the region, the distinctive Western art exhibition at the Phoenix Art Museum united 33 of the country's top artists for The West Select. Presented by the museum's Men's Arts Council, the show took an expansive look at the American West and grossed more than half-a-million dollars, with a portion of the proceeds benefiting the museum.
Honoring leading artists in the West, this year the Western Art Associates' Kieckhefer Award for best in show went to Dean Mitchell for his painting Pima Relic. The award for top two paintings went to Bill Schenck for The Water Gatherers and to Howard Post for Rolf's Place. In the sculpture category, Richard Loffler's Come Get Some, and Trickster Transformation, by Steve Kestrel, were both honored. For "Work on Paper," Fenceline and Ridges, Painted Desert, Arizona, 2011, by Jay Dusard, and Pima Relic, by Dean Mitchell, were recognized. Additionally, Dean Mitchell's painting, Pima Relic, was purchased by the Museum's Western Art Associates and will be added to the Museum's permanent collection.
---
Santa Fe Art Auction, November 17, 2012
---
At this notable Southwest auction, a loyal following attended to view extensive offerings from the Ernest and Edith Schwartz Collection. The passionate patrons of the arts donated their collection to the New Mexico Museum of Art, of which many were absorbed into the museum's permanent collection and the remaining pieces were offered at auction with the intention of utilizing the proceeds for new acquisitions. The ultimate results equaled $1.9 million in total sales for the whole auction, with a large portion of the lots sold from the Schwarz Collection.
The high point of the auction was Howard Terpning's work Advance of the Long Knives, which sold for $875,000. A standout at the sale was a small acrylic painting by Fritz Scholder, Standing Indian, hammered at nearly double its estimated price at $7,500. An explosive and historically authentic oil by W.H.D. Koerner, Are You Calling Me a Liar?, hammered at $150,000.
Mixed with the highlights, however, were a number of passes on works by C.M. Russell, Frederic Remington, Birger Sandzen, Thomas Moran and Leon Gaspard, among others. Many lots went for well-below estimated prices, proving that relative bargains are still possible in the fine-art market.
---
Heritage Art Auction Western and California Signature Auction, November 14, 2012
---
Topping the list of this highly successful sale in Dallas was Howard Terpning's enigmatic oil painting, Plunder From Sonora, 1982, which realized $962,500 and contributed to the healthy overall sale total of $8.78 million.
Additionally, the second-highest selling lot was another painting by Terpning, entitled Crow Country, which sold for $662,500, and an exquisite oil by Albert Bierstadt, Mount Brewer from King's River Canyon, California, 1872, was a high-light with a sales price of $602,500. Other significant sales included works by Frederic Remington, E. Martin Hennings, Victor Higgins, William Robinson Leigh, Edgar Pane, C.M. Russell and Joseph Henry Sharp, among others.
"This auction firmly establishes Heritage as a leader in Western art, showcasing the finest art and drawing established and emerging new buyers," noted Ed Beardsley, vice president of Fine & Decorative Arts at the auction house.
---
Dallas Auction Gallery Modern & Contemporary Art Event, October 24, 2012
---
The continued strength and international appeal of Modern and Contemporary art was evident in the exceptional prices achieved at Dallas Auction Gallery's sale in Dallas. The highlights of the evening sale were two works on paper by Gerhard Richter, which both fared exceptionally well with aggressive interest from telephone bidders and from floor bidders. Untitled and Untitled sold for an impressive $120,000 and $110,000, respectively, against a presale estimate of $40,000 – $60,000 each. Modern and Contemporary artists were well represented. A Pablo Picasso graphite drawing from 1921 sold for $55,000, a Henry Moore bronze of a Seated Figure sold for $22,000, and a large acrylic on canvas by Leon Golub, The Assasin, sold for $37,500.With a strong representation from French artists, as well, the total auction sales were $#########.