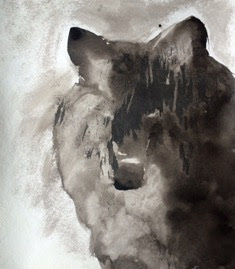 16 Apr

Into the Woods: Artists Susan Brearey, Burt Brent, and Andrew Haslen

Nature provides the artist with endless inspiration. Into the Woods will showcase 4 artists who create artwork that incorporates and responds to our changing natural environment in imaginative, whimsical and thought provoking ways.

The artwork of Susan Brearey is minimal in detail, but powerfully evocative in form.  Her paintings are neither pure abstraction nor pure representation. Brearey's images evoke wild animals in both their natural habitats and human-imposed frame-works.

I am inspired by the peace, beauty and solitude I find in wilderness areas, studying and observing the habitats, plants and creatures with whom we share the planet. At the same time, I know that wilderness in this country is nearly a fiction. All wilderness is managed and bound by our activities. Power and telephone lines, poles, fences and cell towers are everywhere, especially in rural America. I am interested in the visual tensions created by this never-ending stream of interruptions in the contemporary rural landscape. For me, these interruptions are symbolic of a fragmented landscape. Wolves embody the power and raw beauty of wilderness. The call of their spirit awakes a connection to wild things and the natural world.
Now retired, world renown plastic surgeon, Burt Brent, has been fascinated with anatomy and the natural world throughout his life.  While striving for realism as a surgeon, Brent avoids it when sculpting in bronze or steel.  Brent stresses symmetrical lines over anatomical detail, thus emphasizing the animal's overall grace to create sensitive, stylized animal sculptures.
Nature has always been a moving and important force in my life.  Humans are just one part of the whole web of life.  I wouldn't describe my art as impressionistic, but rather stylized.  I have more fun when I take liberties.  I am only limited by the flexibility of my imagination.
Andrew Haslen's linocuts and oils are rich in texture and color, capturing the changing light and mood of his extensive field studies. Drawing and painting from an early age, Haslen is totally self-taught and inspired by the landscape and wildlife that surrounds his home in the U.K.  A lifelong interest in nature has afforded him extensive knowledge of his subject. Haslen was elected a member of the Society of Wildlife Artists in 1988 and has exhibited at their annual exhibition every year since, winning several awards for his work. Haslen shows his work at galleries and museums on both sides of the Atlantic, including the Birds in Art exhibition at the Leigh Yawkey Woodson Art Museum in Wausau, Wisconsin. There are two books that have been published on his work. The Winter Hare, published in 2010 by Langford Press and Halcyon, published in 2014 by Mascot Media.
Sometimes I think I am the untidiest artist around and I get distracted by the discovery of a drawing or painting that I suddenly see in a new light and decide to work on it a bit more. This time it was a sketchbook from 1995 of a trip I made with the Artist for Nature Foundation to the Copper River Delta in Alaska that caught my attention.  We stayed in Cordova and travelled to some very remote areas, including a place called Katela; an old gold mining town abandoned since the early part of the 20th Century. It was Spring time and there was an abundance of wildflowers, it felt very fresh and there were vivid colours everywhere. Inside the sketchbook were several drawings and notes of belted kingfishers and a hawk owl. The drawings bought back vivid memories and I decided to make some studies from them, which resulted in this small series of oils.
Chris Maynard works exclusively with feathers creating shadowboxes that continue to surprise and delight the viewer. Each of his shadow boxes make up an interesting story courtesy of the feathers, the bird that shed them and the personal interactions with people associated with the feathers. This will be Chris Maynard's fourth consecutive exhibition at the Gerald Peters Gallery and his beautifully written and photographed book, Feathers: Form and Function, will also be available for purchase.
My main mission is to promote and foster an appreciation and understanding of the natural world.  All over the world, in every nation, for every race, every gender, feathers represent us wanting to fly but not being able to.  They've become symbols for healing, achievement, success transformation.  Feathers are bridges between here and the heavens. We all grow up the ability to just kind of live in a little bit of dreamland.