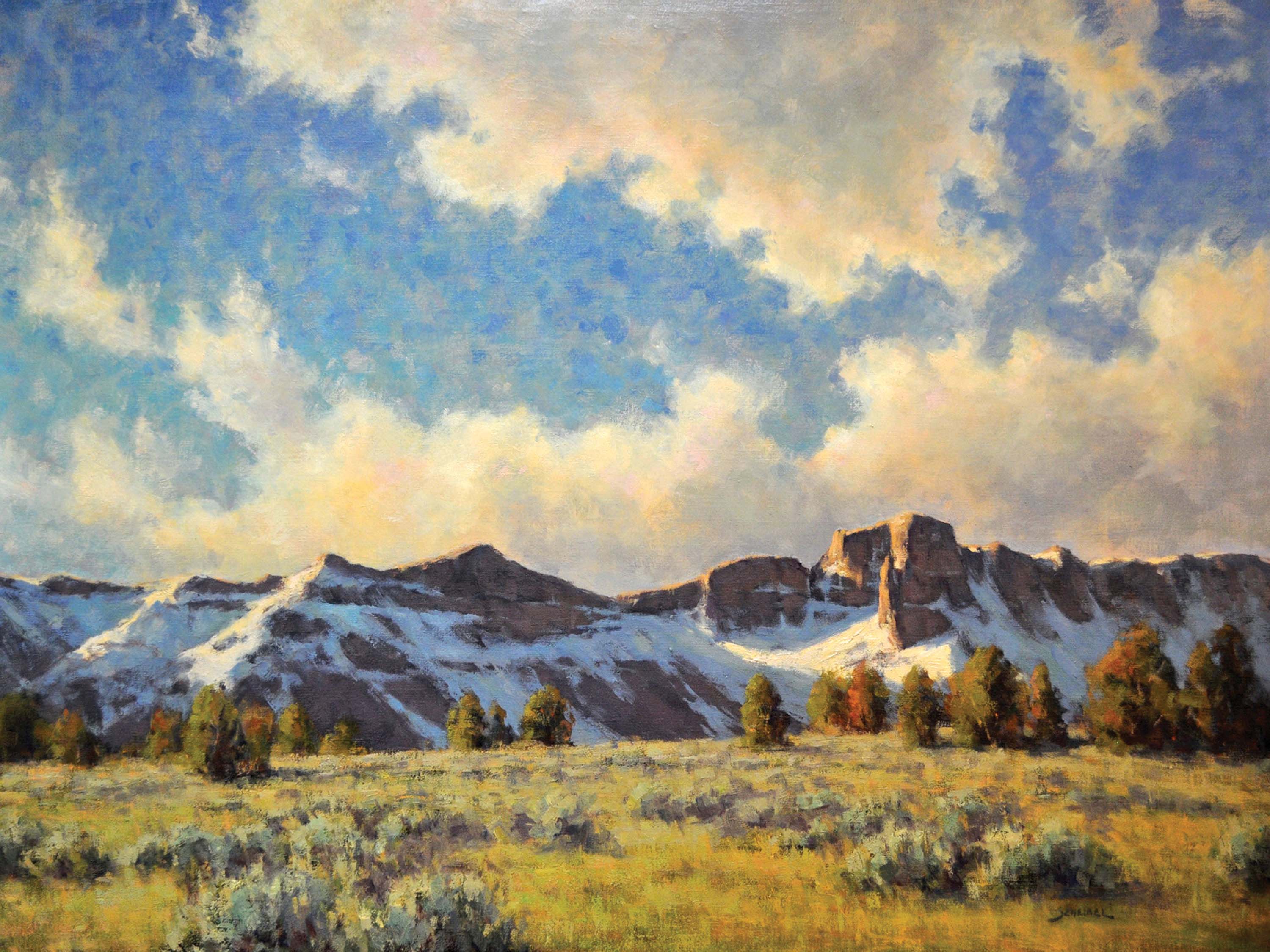 Greg Scheibel | "Early Summer Skies" | Oil | 30 x 40 inches
04 Aug

Collector's Notebook: Go Big or Go Home
---
Can there be such a thing as too much art? "No, never!" chime ardent collectors. At Western Art Week each March, enthusiasts nationwide flock to Great Falls, Montana, to dive into a decadent buffet of the finest works of Western art on display at multiple sites throughout the town. One of the most celebrated activities is the live auction dubbed The Russell: The Sale to Benefit the C.M. Russell Museum. This year, the museum garnered more than $3 million in sales. Meanwhile, at the same venue, the Best Western Heritage Inn, 200 artists took over hotel rooms which were cleared of furnishings to create personal galleries for the Western Masters Art Show and Sale. And just a few blocks away at the deliciously dated Town House Inn, the esteemed Manitou Galleries and Coeur d'Alene Art Auction teamed up to present yet another fabulous exhibition and sale of fine art, cowboy and Indian antiques.
Look carefully. Throughout the country wherever major art auctions or festivals take place, you can benefit from the simultaneously timed events and side sales that occur in galleries, museums, studios, even in cafes and restaurants. Artwork is practically on every sidewalk and street corner.
It's a rare opportunity to shake hands with artists you've never seen or ones you've admired from afar. Great Falls Western Art Week is just one example of where artists get additional exposure and benefit from connecting with existing and potential clients.
"It's exciting to meet the collectors," says landscape painter D. Eleinne Basa. Five years ago she sold a painting at the Russell auction, and a year later she hosted a booth at the hotel for the Western Masters Art Show. When the buyer from the auction found out she had additional works with her, he came with his wife to purchase three more. "That gave me goose bumps!" Basa exclaims. At the 2013 show, she sold eight paintings and an auctioned piece, a thrilling experience for any artist.
Artist Greg Scheibel, a painter with works in several galleries, has showcased his art in the Western Masters for the past eight years. It's the only non-gallery show he does. Scheibel finds the collectors to be both knowledgeable and open.
The March in Montana event in Great Falls, sponsored by Manitou Galleries and The Coeur d'Alene Art Auction, is a three-day event, complete with auction and a dealer show with 400 dealers from around the country. This year represented the 26th year of the show featuring cowboy and firearm collectibles, Indian antiques and fine art. It is an excellent venue and opportunity for collectors to meet both dealers and artists from around the nation.
Tracie Hubbard, from Montana, is an up-and-coming oil painter and novice collector.
After regularly attending gallery art walks in her region, she craved more. This year, she and her husband came to the Western Masters Art Show for the first time and found the cornucopia of artwork impressive. "There was more than enough to satisfy our palates!" she says. While she attends to learn more about the art business, her husband enjoys meeting the creative painters and sculptors. Now the couple is hooked. They are already making plans to attend the Jackson Hole Art Auction next.
When this Wyoming auction takes place each fall, galleries fling open their doors and host a myriad of activities to complement the main event, says auction co-organizer Maryvonne Leshe, also owner of Trailside Galleries in Jackson Hole, Wyoming. The auction, slated for September 14, is one of the country's premier fine art affairs, featuring more than 250 works by current Western artists and deceased masters. According to Leshe, the auction draws about 500 attendees. In addition, tech-savvy bidders nowadays vie for precious pieces via the Internet, as well as by telephone, notes Leshe, who handles the phone bank with 10 to 12 volunteers during the auction. According to Leshe, as they become familiar with the prestigious auction itself or with a particular artist, increasing numbers of art lovers are placing their bids through cyberspace as they watch the action live from their computers.
The auction is the crowning jewel at the Jackson Hole Fall Arts Festival, an 11-day extravaganza that includes the Western Design Conference Exhibition + Sale, a wildlife art sale at the National Wildlife Museum, open artists' studios, a jewelry and wearable art luncheon, original prints show, a sketch show and more.
As with other fine arts festivals, a "quick draw" will take place in the town square. Select artists will have an hour to create a painting or sculpture which is auctioned off the same day. This is yet another opportunity for buyers to get a heads-up on fresh talent or to get an affordable original work from a major artist.
In Jackson Hole, the 30-plus galleries take advantage of the foot traffic with their own soirées. Sunday, the final day of the festival, numerous galleries sponsor brunches and serve Bloody Marys to cap off a celebratory 11 days.
For the consumer, the array of activities happening in a single town can be a bargain of sorts. "It is expensive to fly to Jackson, so it is worthwhile to have one location with so many events," says Leshe. "Our auction happens on Saturday afternoon, the quick draw in the morning, and the night before, a miniatures show takes place," she explains. "We all feed off of each other."
"There is a whole adrenaline rush," she adds. This year as the Trailside Gallery celebrates 50 years in business, Leshe will host an open house featuring wildlife artists. On the last day of the show, as she always does, she will host a sit-down, lavish, catered brunch for her clients and gallery artists. "It is a big social gathering," she attests.
Fans venturing to Cody, Wyoming, in late September will uncover a week's worth of artful experiences under the umbrella name of Rendezvous Royale. The key event remains the popular Buffalo Bill Art Show and Sale, which supports the Buffalo Bill Historical Center with an auction and quick draw event.
According to Sue Simpson, owner of Simpson Gallagher Gallery, this much-anticipated weekend is geared to prime collectors zeroing in on new purchases. Cody galleries rev into high gear with artists' demonstrations, wine-and-cheese nights and anything else clever and inventive to usher in customers. Simpson's artists will typically deliver their newest works. "They know it will be busy, and sometimes we will have an afternoon of drinks and appetizers or do an art demo where someone will show an etching process."
"This is our most important time of year," says Simpson. "You have a captive audience, and we have only a few art galleries in the whole town. People are already there for an art event, and so it is like a double whammy." Oft ntimes the artists previewed at the Buffalo Bill show and auction en will also have paintings and sculptures in the Cody galleries. This is a bonus for buyers who can see more of an artist's body of work.
According to Kathy Thompson, director of the Buffalo Bill Art Show, Rendezvous Royale week provides a mesmerizing and eclectic assortment of art throughout Cody. Even local restaurants and cafes will host artists who showcase their wares. "The whole town gets involved, and there are very fancy jets on our runways that week," says Thompson. "The Prince of Monaco is even coming to our Patron's Ball on Saturday night."
When the Santa Fe Indian Market occurs each August, folks at the Blue Rain Gallery pull out all the stops. According to executive director Peter Stoessel, the gallery has invited artists to show how they complete bronze patina work by setting up a makeshift studio in the parking lot with torches and all. "This is incredibly educational for collectors, and they can see in person how the process is done," he says.
All of these moves are strategic. During the Indian Market, he rearranges the gallery accordingly with Native American works. And when Spanish Market takes place, the staff at Blue Rain highlights the Hispanic pieces to match the theme. It's all worth the effort; Blue Rain will see as many as 2,000 visitors a day during Indian Market.
At its sister gallery in Scottsdale, to coincide with the Scottsdale Art Auction that follows the 10-week-long Celebration of Fine Art, Blue Rain held an opening reception for one of its premier artists, Roseta Santiago, on the Thursday before the auction. Santiago came armed with her best works and newest pieces. "I'm all for these kinds of events," says Santiago. "When scheduled properly, it brings a lot of collectors in one place."
Each January, Scottsdale sponsors the Celebration of Fine Art, a most unique event where 100 juried artists come for 10 weeks and work and sell their art inside a mammoth-size tent. The artists set up a temporary studio, and visitors can see them creating amazing portraits, jewelry and sculptures on the spot. This year, the event drew as many as 40,000 people from all over the United States.
Hankering to get up to speed on the Western art world? Need a piece to add to your collection? Consider vacationing where there's a major festival or art auction, and go early or stay later to ferret out the side sales. You never know what or who you will discover. "Collectors who come with a sweet tooth feel like they landed in a candy shop," says Leshe of Jackson Hole's Art Festival. "There is art all over the place!"