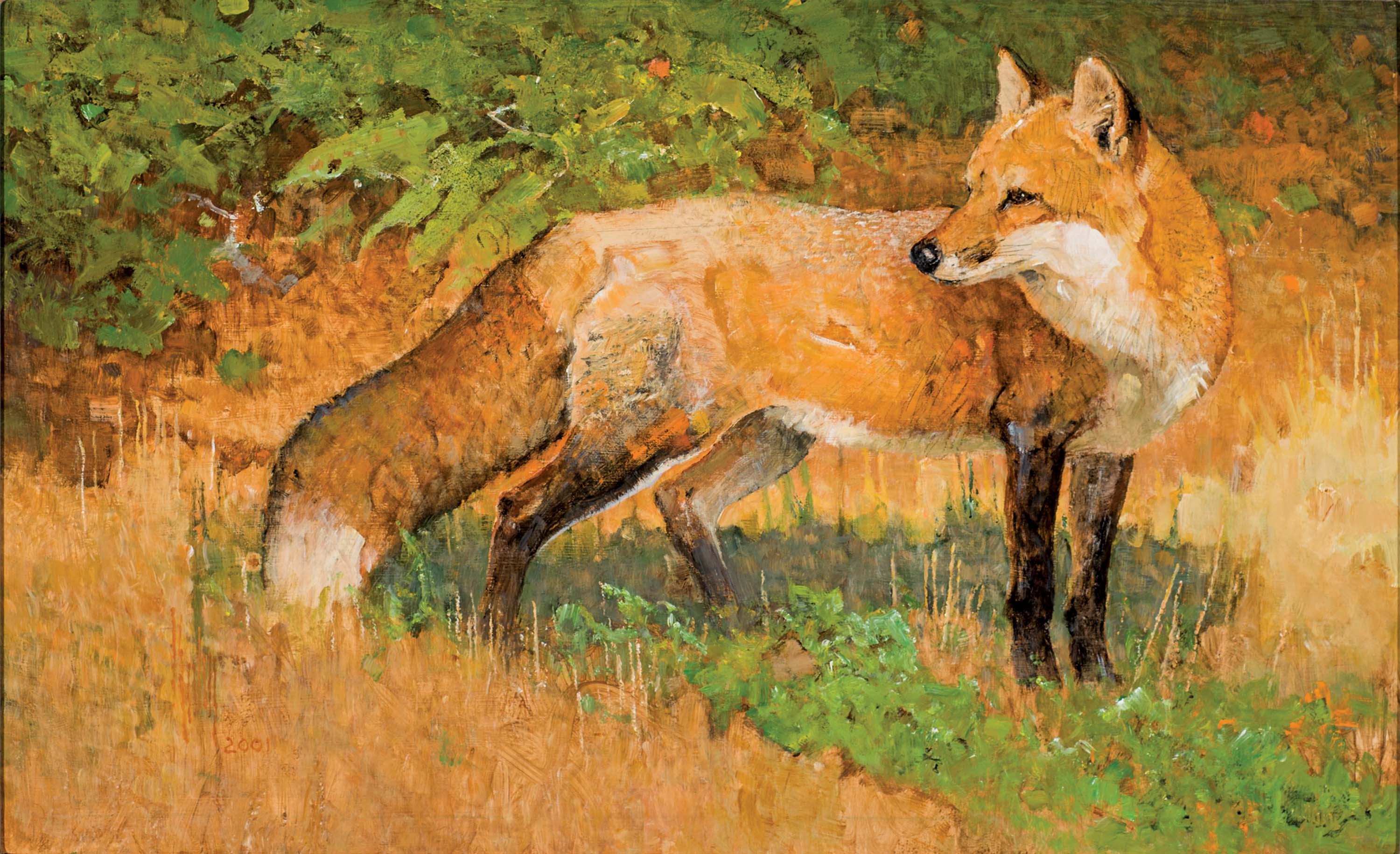 Bob Kuhn [1920–2007] | "Red Fox on Patrol" | Acrylic on Board | 14.75 x 24 inches Est.: $80,000 — Sold: $263,250
01 Dec

Auction Block: Growing Strong
---
Fall art season in the West means museum events and a focus on exciting works from some of the best artists working today. Destination events such as the Eiteljorg's Quest for the West or Wyoming's celebration of the arts in both Jackson and Cody, or the traditional Cowboy Crossings at the Cowboy and Western Heritage Museum reign during this time of year. Each of these occasions is as much a reunion with good friends as it is a fundraiser.
Bigger auction houses, such as Bonhams and Sotheby's, posted quieter sales this quarter in terms of art from the Western U.S. On the other hand, the Jackson Hole Art Auction posted its highest sales total. And the Los Angeles Modern Auction continues to blaze a trail for Modern art, reporting four record – breaking sales for individual artists in the October auction. Other venues cropped up, indicating the health of the art market, specifically the inaugural Pearl Art Auction in Portland, Oregon, which will surely grow in the future.
Regardless of the venue or the total sales from this sea – son's auctions, all the results continue to show strong numbers throughout the region.
---
Bonhams Made in California October 13, 2014
Bonhams dedicated this semiannual sale, in Los Angeles and simulcast in San Francisco, to contemporary art from California. The sales total of nearly $1.7 million for an offering of 125 lots is impressive. With 85 percent of lots sold by value, the auction house offered a top – quality selection of works from such artists as Wayne Thiebaud, David Park, Larry Bell, Joe Goode, Wallace Berman and Mary Corse, amongst others.
"As the only auction house with a sale devoted to California contemporary art, we are proud to have been a key contributor to the West Coast's evolution as an integral part of the international art community, and are excited to continue to bring top dollars for California artists' works at auction," said Alexis Chompaisal, Made in California:
Contemporary Art department director at Bonhams. Starting with the first offering, a Charles Howard surrealist masterpiece, entitled Grotto, sold after fevered bidding for $87,500 (est. $25,000 – $35,000), more than three times the low estimate. The monumental work of Masami Teraoka, Tale of a Thousand Condoms/Samurai and Razor, also sold for a final price of $87,500. The painting mimics the traditional Japanese printmaking technique known as Ukiyo-e and holds an illustrious provenance, having been featured in the exhibition, Paintings by Masami Teraoka (1996 –1997), in the Arthur M. Sackler Gallery at the Smithsonian Institution. Other highlights include two John Register works. After the Bomb achieved $62,500 (est. $30,000 – $50,000) and Last of the Old City hammered down to a total of $52,500 (est. $30,000 – $50,000), both reaching above their high estimates. One of the rare and few currently rising female artists represented in the auction, Los Angeles artist Mary Corse achieved $43,750 (est. $25,000 – $35,000) for her work, Untitled, 2000. Another female artist, Viola Frey, also reached a strong auction price for her sculpture, Untitled (Figure grouping), 1993, selling for $40,000, more than four times the low estimate. The works' success at auction will greatly benefit the University of California, Berkeley Art Museum and Pacific Film Archive in acquiring new works for the institution's future collection.
---
Los Angeles Modern Auctions October 12, 2014
Setting four world records in the Modern Art and Design Auction were works by Ed Ruscha, Mike Kelley, Robert Mapplethorpe and Maria Pergay. LAMA also sold original works by Alberto Giacometti, Alexander Calder and John Baldessari above their pre – sale estimates, with total auction sales realizing $4.33 million, selling 124 percent of the 529 lots by value.
Ed Ruscha's Double Standard, 1969, (est. $50,000 – $70,000), sold for the highest amount ever paid for any print by the artist. Spirited bidding between international and Los Angeles – area buyers drove the final price to $206,250. A highly anticipated acrylic work on paper by Mike Kelley, from his celebrated series of cave drawings, hit the auction market for the first time with a pre – sale estimate of $400,000 to $600,000. After lively competition, applause filled the salesroom at the final gavel. The artwork realized $740,000 — another record for the artist. Robert Mapplethorpe's iconic Self Portrait, 1985, sold well over the pre – sale high estimate of $35,000 to set a new world auction record for the edition, realizing $87,500. A Flying Carpet daybed by the French designer Maria Pergay also set a record for the 1968 design, bringing $162,500.
Additional fine art highlights include Alexander Calder's Systeme Solaire Dont un Blanc, realizing $100,000; Sweet Dreams, Baby!, by Roy Lichtenstein, bringing $93,750; John Baldessari's Three Moments, achieving a stunning $53,125; and a Raymond Pettibon ink – on – paper, from 1987, bringing $51,250.
Design highlights include an Alberto Giacometti floor lamp, acquired directly from Diego Giacometti, circa 1968, which realized $162,500; a Sam Maloof rocking chair brought $43,750; and, in a group of George Nakashima designs, the standout was a coffee table that brought $21,250.
---
Cowboy Crossings October 11, 2014
The 49th annual Cowboy Crossings event at the National Cowboy & Western Heritage Museum in Oklahoma City featured the Cowboy Artists of America and the Traditional Cowboy Arts Association members in a showcase of fine art and fine craftsmanship.
With a revitalized format, the museum offered city tours, an artists' lunch and autograph party, and celebration concert to add to the experience of the lively fixed – bid sale. Fine artworks for opening night were valued at more than $2.3 million; several works remain available for purchase. In the domain of functional art, the 16th annual Traditional Cowboy Arts Association's (TCAA) Exhibition also opened with an array of one – of – a – kind pieces from artisans who bring functional art, such as saddles, belts, spurs, jewelry and elaborate leatherwork, to new heights. The exhibits will be open to the public until January 2015.
The CAA award winners were announced during the Cowboy Crossings Celebration dinner and concert. The Buyers' Choice Award went to Offerings to the Spirits in the Falls, by Martin Grelle. The Anne Marion Best of Show Award was selected by judges from the four gold medal – winners of the evening and went to R.S. Riddick's Midnight Arbuckle. The Ray Swanson Memorial Award, granted to a work that best communicates a moment in time and captures its emotion, also went to Riddick for First Spring, Last Summer. And in a sweep for the evening, the Stetson CAA Award for Best Overall Exhibition, selected by the active CAA Members, was given to R.S. Riddick for his collection of works exhibited at this event. Other artists who were honored for their work include John Coleman, Martin Grelle, Paul Moore and Grant Redden.
---
Sotheby's American Paintings, Drawings & Sculpture October 2, 2014
This quiet sale in New York City yielded just above $3 million in sales and presented a number of landscapes and portraits from classic Eastern painters: Andrew Wyeth, Rockwell Kent, Albert Bierstadt, George Inness, Martha Walter, Anna Mary Robertson (Grandma) Moses and others.
Moving to subjects in the American West, a majestic landscape entitled Yosemite, by Thomas Hill, sold well above the high estimate of $30,000 for a final price of $43,750. Other works by painter Reinhold Weiss and sculptor Harry Jackson were offered as well.
---
Buffalo Bill Art Show and Sale September 19, 2014
The 33rd annual Buffalo Bill Art Show and Sale at the Buffalo Bill Center for the West in Cody, Wyoming, drew 400 patrons who gathered to bid on work by some of the most notable working artists in the market today. The result was $1,028,000 in sales, which benefit the museum and the local chamber of commerce.
"It was great to see such positive energy from all of our artists and patrons and it is always a great reunion for guests and artists in our hospitable town in the West," longtime art show director Kathy Thompson told the Cody Enterprise.
During the live auction two works of fine art tied for highest – priced sale at $22,000 each: An Old Friend Trying to Hunt Me Down Again, by Western painter Michael Ome Untiedt; and Kyle Sims' wildlife painting, Water Sport. Closely following the top sellers was William Matthews' watercolor, Lofty Goals, which hammered at $21,000. The paintings were part of the exhibition from artists whose work ranges from landscapes to traditional Western subjects. The top seller at the Quick Draw, held the following day, was Nancy Dunlop Cawdrey with her Moose of a Different Color, at $8,000.
The show and sale are the finale of Cody's annual Rendezvous Royale week, which includes the Center's Patrons Ball, Cody High Style and the lively street dance, the Boot Scoot'n Boogie. Each year awards are granted to participating artists in the fashion show, Cody High Style custom furniture show and the Buffalo Bill Art Show and Sale. This year's Buffalo Bill Show Artist's Premier Platinum Award, for $20,000, was won by artist Dean Mitchell for his painting, Taliesin West. Mitchell's painting also won the William E. Weiss Purchase award and will be added to the Center's permanent collection. The Wells Fargo Gold Award for $10,000 was won by Untiedt for his painting, An Old Friend Trying to Hunt Me Down Again.
Scott Wayne Emmerich's Tres Outlaws Boots was the People's Choice Award winner at the fashion shows and Shane Hughes won the $2,500 Designing the West Award in the furniture exhibition.
---
Jackson Hole Fall Arts Festival September 10 – 20, 2014
The 30th annual Jackson Hole Fall Arts Festival was a mix of visual, contemporary, culinary, Western, land – scape, wildlife and Native American arts, wrapped into 10 days of events that included more than 50 activities. Festival highlights included the Palates & Palettes gallery walk; the Historic Ranch Tour, providing a peek at real cowboy life; Taste of the Tetons; the Showcase of Homes tours of exclusive private residences; and
the crowd favorite, the Quick Draw in Town Square to finish off the festivities.
More than 30 artists participated in the Quick Draw and Auction on a rainy morning. With 90 minutes to finish their works, art lovers crowded around each artist to get a glimpse of the individual creative processes. Katherine Mapes Turner, Amy Ringholz and Josh Tobey were favorites. Greg Woodard created his sculpture using a live falcon as a very active model. Montana artist Nancy Dunlop Cawdrey, featured artist of the 30th Jackson Hole Fall Arts Festival, set a record for the sale of her Forever Jackson painting. Cawdrey's 86 – inch – by – 60 – inch painting sold for $50,000 after lively bidding among several collectors, including one phone bidder from Texas.
---
Jackson Hole Art Auction September 13, 2014
Reporting an impressive total of $11.29 million in sales, the eighth annual live auction drew nearly 400 collectors from around the country to the Center for the Arts in downtown Jackson Hole, Wyoming.
"We are very pleased that this is our highest – grossing sale to date. We are happy to report that this year's auction not only had record sales but a very strong increase in new buyers that are choosing to attend, making the Jackson Hole Art Auction a destination event," said Roxanne Hofmann, managing partner for JHAA.
Highlights included historically significant Western paintings, notable still – life works and, a signature of the auction, important sporting and wildlife art. Of the 213 lots sold, Howard Terpning's Major North and the Pawnee Battalion was the top seller at $1,496,000. Richard Schmid's Yellow Roses sold for well above its pre – sale estimate of $75,000 to $100,000, and realized $187,200. Likewise, Bob Kuhn's Red Fox on Patrol exceeded the high estimate of $80,000, and in lively bidding finished at $263,250.
Cowboy Artists of America member and current president, Martin Grelle, reinforced his popularity and market strength, exceeding estimates on two paintings: Fires Burned Out sold for $163,800, and a 2014 work titled Strategies sold for $263,250. A strong collection of work by wildlife masters included Carl Rungius' Moose, realizing $546,250, and Alarmed (Big Horn Rocky Mountain Sheep), which hammered at $438,750. Strong sales were also seen from classic Western art by deceased masters such as Frederic Remington, John Clymer and others.
Adding an element of competition to the event was the unveiling of the inaugural Top Tier Juried Competition, inviting a select group of contemporary artists to compete for a $10,000 prize with a single work to be sold at the auction. This year the top award went to wildlife artist Tucker Smith for his painting Perspective, which sold for $81,900. A $10,000 cash prize was awarded to the artist whose work was of significant merit, as determined by a three – person jury: Peter Hassrick, Director Emeritus and Senior Scholar, Buffalo Bill Center of the West; Jerry Smith, Ph.D., Curator of American and Western American Art, Phoenix Art Museum; Adam Duncan Harris, Ph.D., Petersen Curator of Art and Research, National Museum of Wildlife Art. The award was announced prior to the start of the auction.
---
Western Visions: Wild 100 Show & Sale September 11, 2014
More than 400 people from around the world attended the National Museum of Wildlife Art's 27th Annual Western Visions® fundraiser. A new "Wild 100" focus was added to this cornerstone of the Jackson Hole Fall Arts Festival, showcasing a combination of well – established, top – selling artists and emerging talents who will be the next generation of leading wildlife artists in an exceptional arts experience.
This year's event was a huge success with gross art sales totaling $800,000. Top sellers include Living on the Edge, an oil – on – canvas painting of a gyrfalcon by Swedish artist Lars Jonsson, and a gorgeous bronze sculpture, Three Old Bull Elephants, by Rob Glen. Glen traveled from Tanzania to show his work at the National Museum of Wildlife Art.
Additionally, Daniel Warren Pinkham won this year's Red Smith Award — the artists' choice honor — for Still Waters. Museum visitors awarded Dutch artist Ewoud de Groot, who was one of two featured artists this year, the People's Choice Award for Gros Ventre Bison, in recognition of his beautiful use of light, medium and texture, which brings a new perspective and freshness to wildlife art. Timothy David Mayhew won the Trustee's Purchase award for Room with a View, which was acquired for the Museum's collection. Finally, Chad Poppleton won the Bob Kuhn Sketch Award for his fine sketch, The Hazards of a Fast Food Diet.
Thanking the artists and sponsors of the event, James C. McNutt, president and CEO of the National Museum of Wildlife Art, said, "I heard from many of our trustees, collectors and guests that the quality of this year's show was the highest yet. I know we have many happy owners of amazing wildlife art to start or add to their collections!"
---
Western Design Conference September 4 – 7, 2014
This year's 22nd annual Western Design Conference Exhibit + Sale in Jackson was a sensational success with a lively full house of art enthusiasts enjoying gourmet fare, signature cocktails and shopping during the opening pre – view party, auction and fashion show. The Designer Show House featured juried artists' creations and custom interior design in a home environment during the four days of the juried Exhibit + Sale. This intimate venue of 130 functional artists and designers was as unique as its Rocky Mountain surroundings and provided the public with a direct connection to the artists and their handmade works. Creativity, craftsmanship and design excellence of world – class furniture, fashion, jewelry and lifestyle accessories were honored and celebrated at this event.
This year's WDC Auction featured new works by prior award – winners. The sold – out crowd was awed by the talent and diversity of the works showcased by these masters. Matt Litz Silversmith of Iowa Park, Texas, entered his award – winning WDC – juried ensemble, Ain't She A Daisy?, into this year's Winners' Circle Art Auction. The handmade purse featured raised scrolls with daisy flowers, 14 – karat rose – gold centers and more than 162 square inches of solid sterling silver. The matching Derringer pistol's hand – formed grips featured more than 60 hours of engraving time. The two pieces sold for $13,000.
Reinvigorating the event, new show owner Allison Merritt, executive director of the Western Design Conference, streamlined the fashion show and the auction while improving its amenities. More than $17,000 was given to award – winners, including The Best of Show prize of $5,000 to Bekes Wooden Bicycles. Several other artists were honored with recognition and cash awards: John Gallis of Norseman Designs West; Celeste Sotola's Montana Dreamwear; Supaya Gray Wolfe; Kyle Anderson; Scott Wayne Emerich; Alan Reiple of Fine Ideas Furniture; Sterling & Steel; Garry Underwood of Dry Creek Designs; John Rule Saddlery; Seidel's Saddlery; Matt Litz Silversmith; John Kennedy of Grand Teton Designs; Gina Pannorfi; Matt Moran and Jill Moriarty; Jared and Nicole Davis; and Timothy Jennings.
---
Quest for the West September 5, 2014
For the second year in a row, the Quest for the West® Art Show and Sale has generated more than $1.1 million for the Eiteljorg Museum of American Indians and Western Art. The show attracted more than 300 collectors and art enthusiasts to meet, honor and purchase the work of 50 of the most – celebrated Western artists in the country.
"The fact that we've hit the million – dollar mark two years in a row helps the museum solidify its place as a world – class institution, attracting matchless talent and an atmosphere that's appealing to serious collectors," said John Vanausdall, Eiteljorg Museum president and CEO.
At the Quest gala, artists were granted awards for excellence. Sweeping the two highest honors, artist Michael Dudash's painting, Giving Thanks for Fair Weather, Sweet Grass, and a Hot Supper, received both the Artists' Choice Award and the Patrons' Choice Award, presented by The Booth Western Art Museum and chosen by attending patrons. Sculptor Doug Hyde also received two honors, the Award for Best Sculpture and the notable Harrison Eiteljorg Purchase Award for two works, Midnight Dancers and Salmon Quest, respectively.
The Henry Farny Award for Best Painting went to Logan Maxwell Hagege for Stands Alone; the Victor Higgins Award of Distinction for Best Body of Work in the show was presented to artist P.A. Nisbet; and, finally, the Collector of Distinction Award was granted to Wayne Rumley of Tulsa, Oklahoma, who will be honored with an exhibit highlighting his collection at the 10th anniversary Quest in 2015.