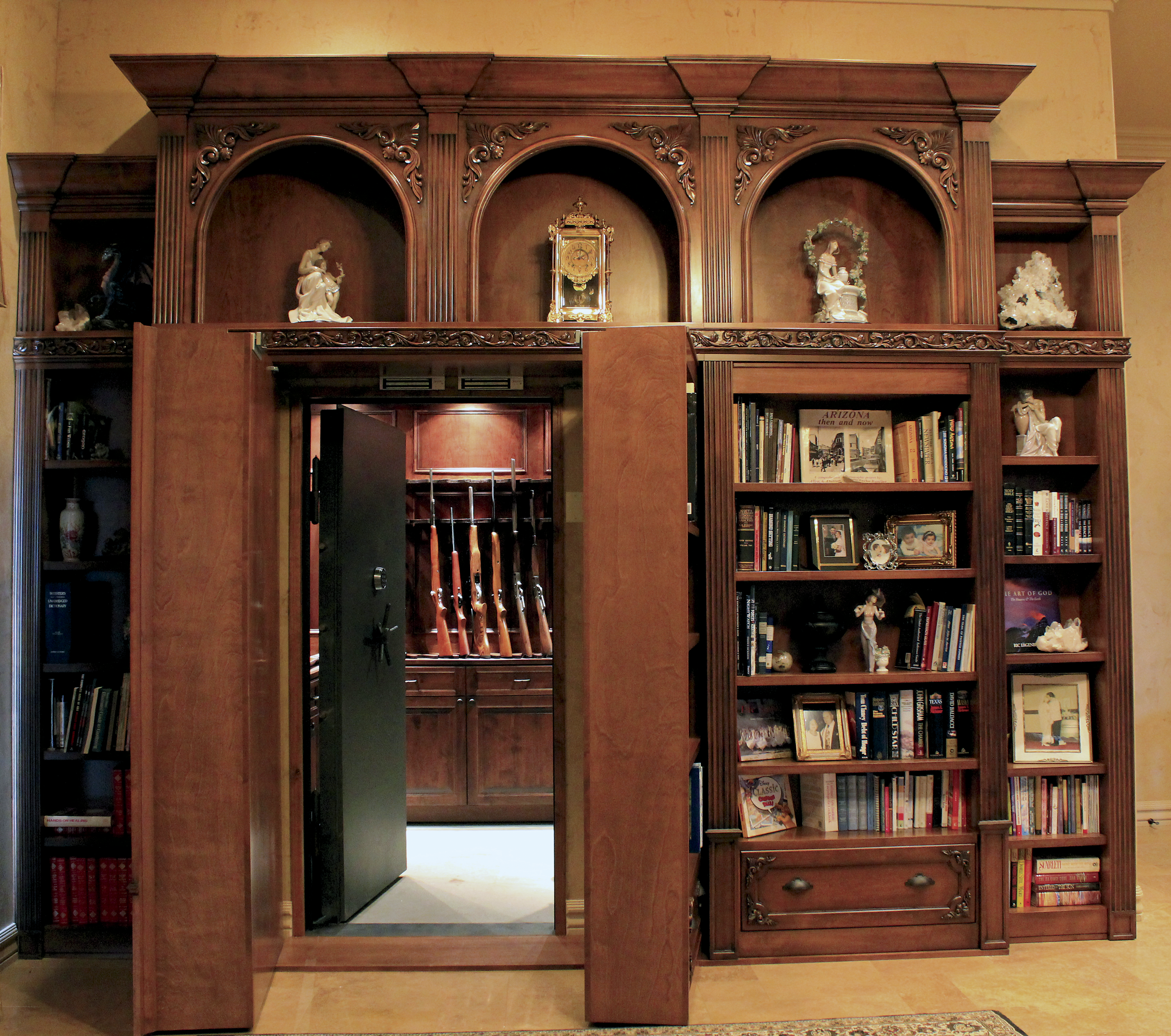 This secret bookcase built for an Arizona home conceals a gun room for the owner's favorite collection. The $40,000 job by Creative Home Engineering features a bookcase custom-made of alder wood with plenty of high-security controls to prevent a break-in.
30 May

Collector's Notebook: Hidden from View
---
The classic The Lion, the Witch, and the Wardrobe affirms every child's fantasy — to live in a house with a hidden passageway revealing something magical. It is, perhaps, every adult's unspoken dream to have his or her private Narnia.
Today, secret rooms unlocked via retina scan or a sequence of chess moves are no longer relegated to adventure novels or James Bond movies. The next time you want to create a hidden playroom or fashion a literal treasure trove of precious art objects, consider talking to a local architect, building one yourself or contacting the folks at Creative Home Engineering, a firm that specializes in nothing but hidden passageways.
In 2004, founder Steve Humble, a mechanical engineer, wanted to install a secret door in his home but could not find anyone who specialized in such a trade. Figuring he was not the only person with the same desire, that same year he launched his Gilbert, Arizona, business and has installed more than 100 hidden passageways since. Most of his hush-hush projects are found in homes and estates in North America with prices that start at $6,500 and go up from there. Way, way up.
True, do-it-yourselfers can find plans online to concoct rotating bookcases and personal Bat Caves. What Creative Home Engineering offers are services including 3-D drawings, custom secret doors, fireplaces and vaults, and in-person installation. Humble does not build the room, but creates the entrance. Equally fun is helping customers conjure the cleverest means of opening and entering the confidential chamber.
"I'll be going to Texas soon to help an NFL player create a secret entertainment room," he says with obvious glee. The hidden door will be disguised as the player's trophy case. "A twist of one of his trophies will activate the door."
These portals can be disguised as any object and activation methods are unlimited, he explains. "Secret switches are the most fun." Open Sesame! can mean utilizing an iris or fingerprint scan when working with the likes of Steve Humble and his innovative team. It can mean striking a particular piano chord to reveal a music studio. It can mean pushing in a sequence of three stones against an entire stone wall. Rotating a series of wine bottles on a rack can expose a library of private reserve liquors.
And yes, Humble has created secret passageways to conceal artwork and jewelry. "Creating vault rooms is really common," he says. Today, 60 percent of his clients want a functional safe place to store their valuables so that if someone breaks in, their investment is protected. "The other 40 percent are in love with the idea and tell me now is their chance to make it happen."
The typical homeowner will store expensive items in a safe usually found in a closet. According to Humble, "burglars are attracted to safes, and any burglar with simple tools and about 20 minutes can break into even the best safes. If you have a secret passageway, you can disguise your valuables and keep them hidden."
According to art conservation expert James Pennuto, CEO of Conservation of Art, San Mateo, California, if collectors are storing mixed media such as paintings, sculpture and photographs in a single room, "objects should be protected from each other." "Appropriate archival containers or covers for the different materials must be used to prevent contamination from the different materials in the collection," he explains.
Further, he adds that "out-gassing of harmful chemicals and acids inherent in some artwork is very damaging over time. Humidity and temperature should be controlled in the vault as well as any light source. Museums are the best source for consultants."
Humble's company makes doors with a craftsman's eye to detail and can customize them with tight seals and materials to make them soundproof, pressure proof, waterproof, bulletproof and even bombproof, if the need arises.
In one ingenious installation he created for an art collector, a life-sized painting was actually the door to a personal art gallery. The homeowner was able to walk through the opening by waving a small magnet over a particular spot on the frame.
Another collector hired Creative Home Engineering to create a secret entrance to his map room. Having adopted a daughter from Europe, the client decided to activate the door by touching the name of her birthplace on a wall map.
One of the most convincing arguments for having a hidden room is the value it can bring to a home. "It does add a lot of cache," says Humble. "If the house is worth $1 million, and even if you spend $10,000 on countertops or imported stone, what people will remember is the secret passageway. No one will remember the marble."
Over in Mesa, Arizona, Louise Kircher is the proud owner of a secret passageway that she inherited from the previous owner five years ago. At the press of a remote control, the eight-step staircase hydraulically lifts up to reveal a children's playroom and storage room for her photo albums and furniture. Kircher's home has already been profiled several times on television and in newspapers for this most unusual feature. "This hidden room is always the grand finale to the tour of my house," she shares proudly. "They just say, 'Oh my gosh!' It is still a novelty."
And is she the only one in the neighborhood with a hidden room? She's not sure. Kircher says there was a house on the same block that was planning to construct one. "It was supposed to reveal a spiral slide when you lifted up the cushion of a chair. The design was created, but I'm not sure if it got built …"
Move over, Indiana Jones. Rabbit hole entries, magical treasure rooms, wine dens and art lairs are real and here to stay. And whatever the use for these hidden passageways, agrees Humble, the options are only limited by one's own imagination.
---
Freelance writer Kathy Chin Leong has written for National Geographic Books, Coastal Living Magazine, Sunset Magazine and many other national publications. Currently living in Sunnyvale, California, she regrets not including a secret passageway for her office when she remodeled her home. She plans to include one if she ever gets her dream house.
Need to find a place for storage? These homeowners chose to install a $15,000 motorized lifting staircase that opens up to a playroom/storage area at the touch of a remote control. Photos courtesy of Creative Home Engineering
A Washington D.C. homeowner commissioned Creative Home Engineering to create a cherry bookcase that opens to a room when a book is pulled. | The company creates heavy duty bookcases and wooden doors with metal structures that can handle heavy loads and various fluctuations in temperature and humidity. Professionally engineered doors, like the ones by Creative Home Engineering, bear more weight, are more easily installed, and can offer more high-security options. This passageway cost about $20,000. Photos courtesy of Creative Home Engineering
This hidden theater room is accessible when the wall opens up after owners push a sequence of stones on the surface. | The Ontario, Canada client paid about $15,000 to make this dream come true. Photos courtesy of Creative Home Engineering