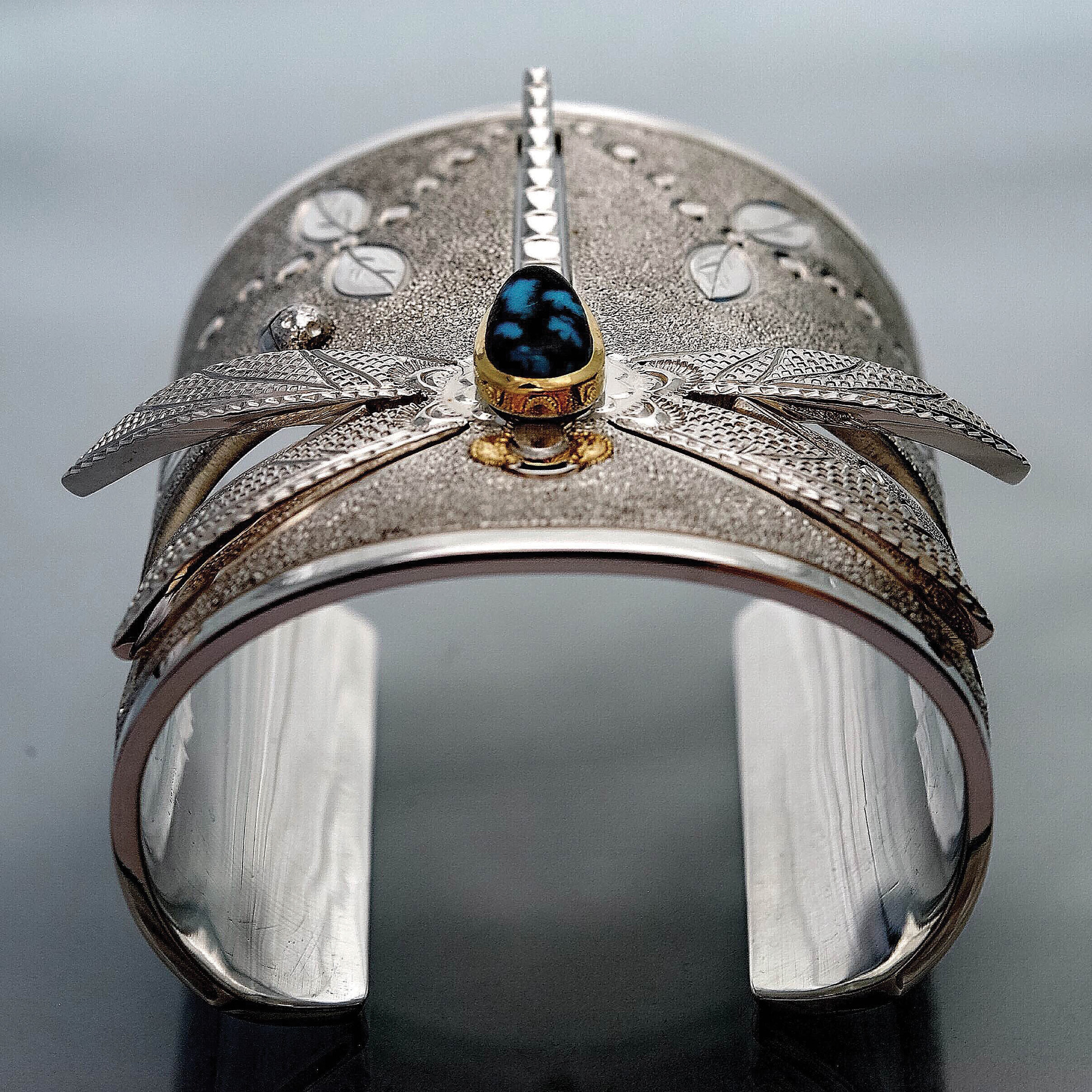 "Dragonfly Bracelet" | Sterling Silver, 22-Karat Yellow Gold and Bisbee Turquoise
18 Nov

Illuminations: Ones to Watch
---
Although Isaac Dial is a third-generation silversmith drawing on his Native American heritage, which is both Lumbee and Navajo, he started out in molecular biotechnology. It wasn't until his father needed his help for a show at the Smithsonian that Dial tried his hand at designing jewelry and felt the dynamic pull of the materials.
"I never pursued it," Dial says. "It came to me organically. I was helping my father for a show and I felt this crazy energy. I designed a few pieces, but I wasn't allowed to make them yet. All the pieces I designed sold, and from that point I was hooked. I fell in love with the process."
That fall, Dial bought his own materials and never looked back.
"I came alive," he says. "My creativity keeps growing. I could not imagine a life spent not creating — it's become a part of me, of who I am. I also love that I'm from two different tribes, I can pull from both influences, and they're both me."
Whether it's silver or turquoise, coral or lapis, the materials dictate his designs. There's a certain balance in his inlay work that is reflected in both the shape of the pieces and the elegant beauty. Each line, each cut, falls into just the right place.
"I look to architecture and to nature," he says. "From that point on, my design may be influenced by the stones I'm working with and my knowledge of complementary colors."
Dial grew up in North Carolina surrounded by insects and lush greenery. All of that influences his work. As his process matured, he began talking with other Native American artists who encouraged him to embrace turquoise. "This one artist told me, 'You have to love turquoise. You're Navajo and your mother is Navajo. The creator will know you by the stones you wear.' It was something he learned from an elder who taught it to him."
According to tradition, turquoise comes from Navajo land and therefore holds special qualities for the tribe. "I can feel it when I work with it," Dial says. "I've grown to have an appreciation for it. In the past, when I worked with stones, they completed my work, but now there's a purpose and a respect that I have for the stones in order for me to meet the measure of their creation."
When Dial creates a collection for a show, he tends to make bracelets because they are personal adornments that everyone wears either as part of a watch or as a simple band.
"They are my favorite things to make and there can be a large variation in them," he says. "The bracelet is interchangeable throughout the day, earrings and rings are more personal. I was raised by my mother and she had a thing about earrings, they had to complement her and could not be made for anyone else. That was something I learned. An earring has to be perfect. I have to know who I'm creating it for."
Everything he designs is one of a kind, but for Dial custom orders are easier because he knows the client and how to tailor the piece of jewelry for them. Bracelets leave more room for creativity.
"Rings and earrings have a small space and don't allow for much design, and I love my expression through design so I chose bracelets. The creativity can flow," he says. "But I'm still learning, still finding new ways to create."
Dial's work has shown at the Heard Museum in Phoenix, Arizona, and at the Eiteljorg Museum in Indianapolis, Indiana, where he has garnered numerous first-place awards. He shows his work annually during the Santa Fe Indian Market.