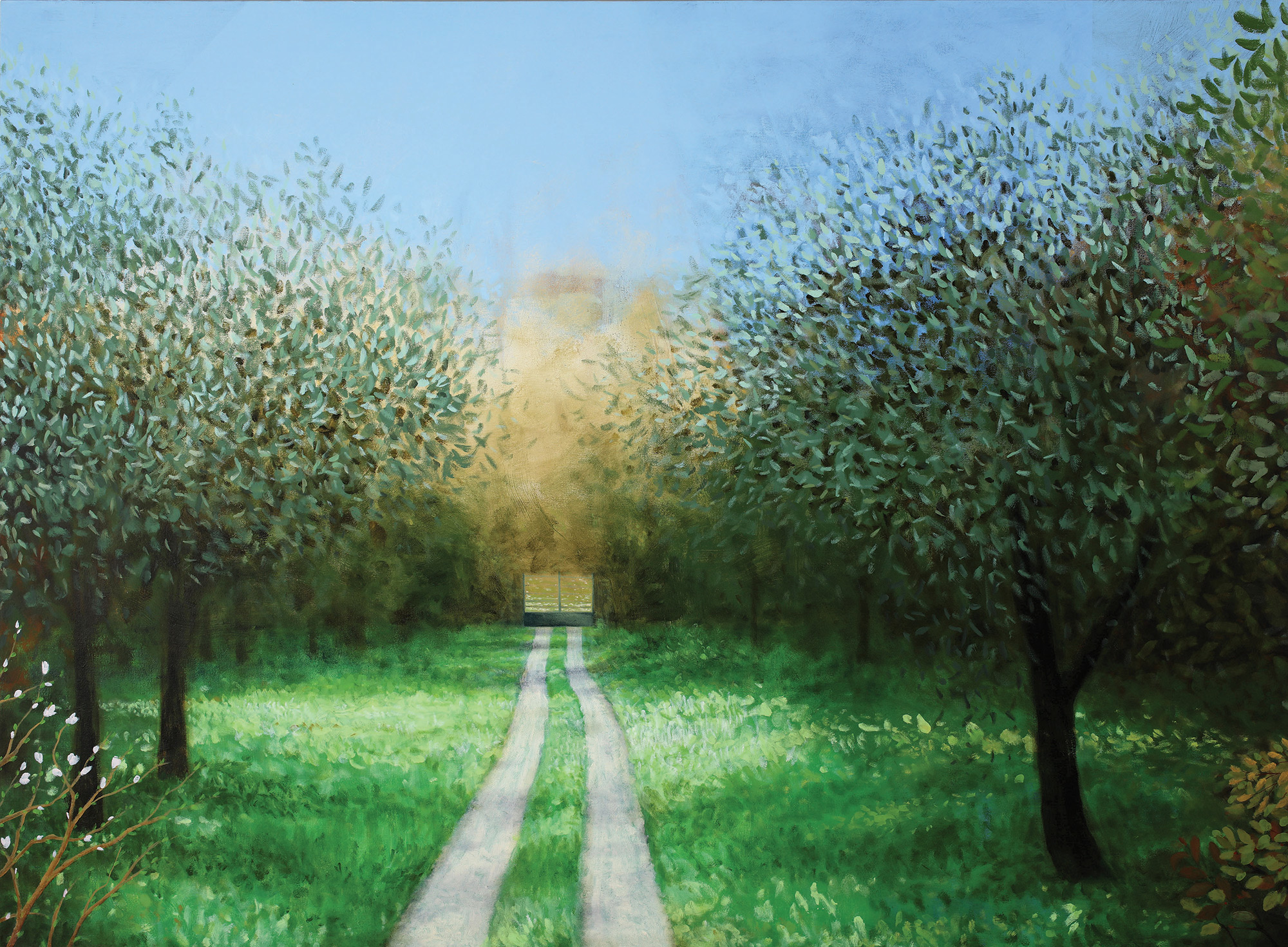 "Go" | Oil on Canvas | 80 x 50 inches | 2016 | Photos: Tom Ferris
12 Jan

Illuminations: Ones to watch
---
Doug Turman's paintings involve a lyrical use of color and a romantic sense of composition. Taking on a subject, Turman unravels the surface, exposing a deeper layer, sometimes accompanied by symbols, sometimes by a sentence, and sometimes it is simply a reflection of stars in the night sky or sun on the water. His aesthetic moves between an interior meditation on nature and an external development of place.
"I don't know if I have a set process," Turman says. "I just start on something. I haven't done a preparatory sketch since art school. I really like starting with a blank mind as much as possible."
It may be a color he sees while walking to work or something that sparks a memory; whatever spurs on a painting, it is usually spontaneous. "My paintings take a fair amount of time to come to life. What I initially start to paint usually gets painted over," he says.
This discovery process creates a sense of honesty in his work. The uncertainty of where the painting is going allows him to get his ego out of the way. For that to happen, he needs to let go of the outcome.
"The process of painting is the same," he says of his wide range of styles, from the photographic to the completely abstract. "What I'm hoping to find is the point when the painting itself starts to give back energy. It can be elusive. If I get an inkling the painting is giving something back, I will be as nimble as possible to try and encourage it. I describe it as trying to light a fire with damp wood. You put all this energy into trying to get a flame … and then, finally, you get that little ember. I can work on a painting for months at a time, and all it does is absorb my effort. But at some point, I get a sense of direction, a glimmer."
Until then he stays ready, painting with intention, mixing the paint carefully, staying focused but open to his process. To Turman, the energy and time he puts into a painting is like depositing small amounts into a bank account — eventually it will add up to a big payoff. His efforts are about mining that energy.
"My style ranges, and that shows I'm a painter who takes chances," he says. "There are paintings I've made that have sold quickly, and a normal business person would say I should paint another one close to that. That's never my first inclination. I'd like to think I can paint a piece that someone will like as much but not of the same subject matter."
Turman's work also reflects heavily on his time spent in Verona, Italy. He's been there 14 times in the last 12 years. The mixture of historical spaces and long-held traditions with a culture that fosters some of the best contemporary design and fashions in the world encapsulates deeply opposing ideals. "I can't get enough of that apparent contradiction," he says. "Painting for me is that same contest between the value of tradition and the excitement of the new."
Turman will exhibit new work March 3 through April 8 at the Radius Gallery in Missoula, Montana, which also represents his work.