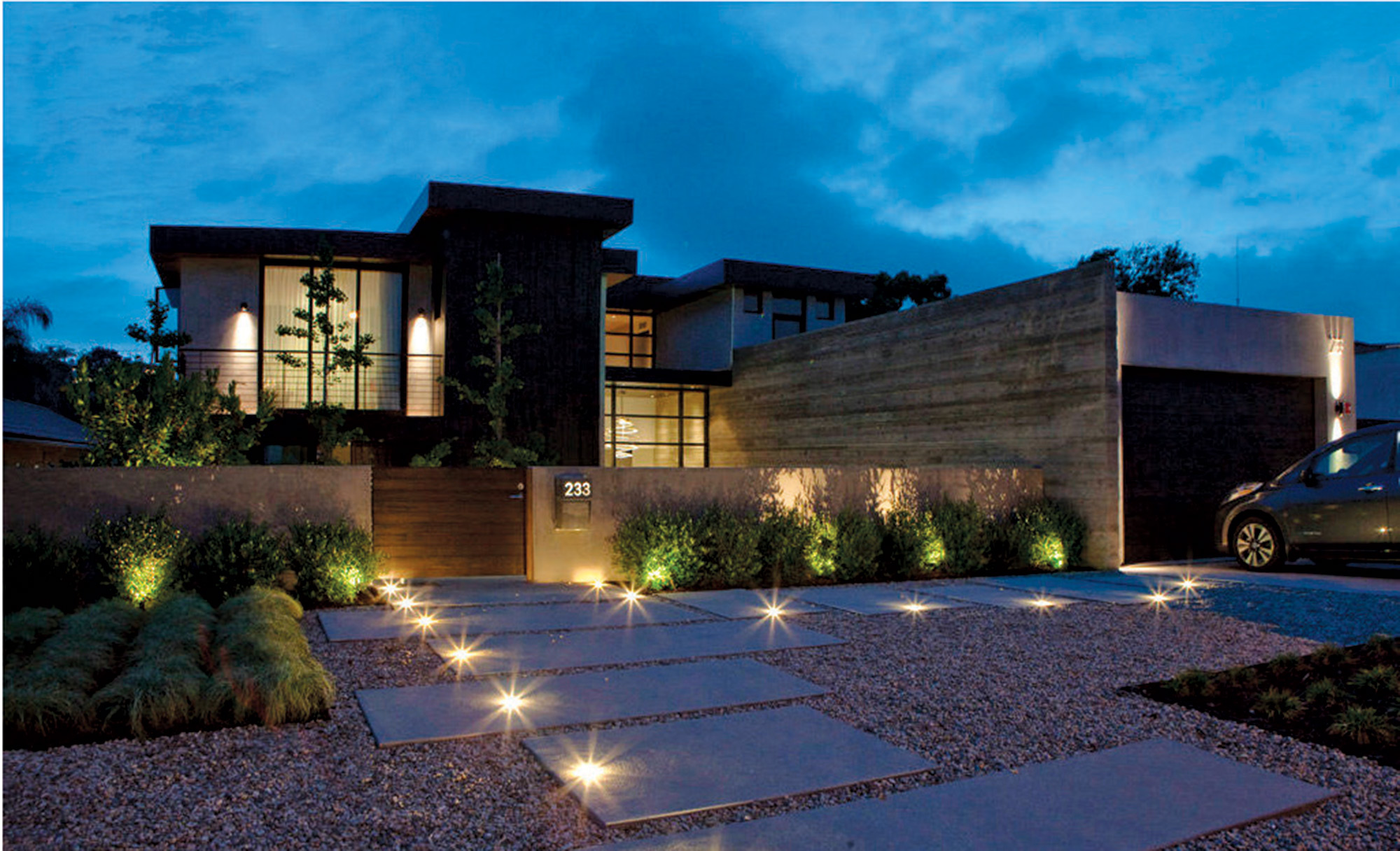 Through the use of unconventional materials and unique layouts, architect Carol Cozen creates a home that fluidly incorporates indoor and outdoor spaces. Photos: Annika Lundvall
12 Jan

Illuminations: Ones to watch
---
When architect Carol Cozen was asked to design a home in Manhattan Beach, California, with five bedrooms, a combined office and library, an outdoor volleyball court and an indoor-outdoor living area, she needed to do some creative thinking. The home's site, after all, was a steep 14,000-square-foot lot.
The resulting 5,400-square-foot home allows its residents to experience California's year-round weather with sliding doors that move seamlessly in elevation. There's also continuity in the home's material palette to create a flow that feels easy.
"It's more of an entire environment that includes the outdoor spaces," Cozen says. "They wanted a warm contemporary-style house — they asked for modern, but I could ascertain that a contemporary style with the warmth of natural wood and radiant heat was what they would be happy with."
Making use of the slope and thinking of it as an advantage, not an obstacle, Cozen designed the entryway in the middle of the sloping landscape with a front courtyard that starts out public and leads to a more private environment.
"I edited it so it's a more discrete entrance that belies the grand size of the house," Cozen says. "You walk through the expansive, flowing exterior steps and through an interesting and surprising landscape, with different levels as you descend, creating privacy. Landscape designer Connie Heitzman did a magnificent job."
Inside the home, high ceilings, natural light and pivoting glass doors blur the distinction between outside and in. A glass-wall bridge connects the master bedroom to an office and pavilion that was created when Cozen found out one of her clients did a lot of overseas business, working late at night or in the early hours of the morning.
"I promised the wife that I would fix that," Cozen says. "Now, her husband walks across a bridge from the master bedroom to the pavilion, where not only his office is located, but his dressing area is there as well. The bridge is all glass, with translucent glass used for privacy and a horizontal band of clear glass to capture the view."
Taking her clients' desire for cutting-edge materials, Cozen used concrete, zinc, wood, glass and stone throughout, mixing materials in an unconventional way, with zinc as an exterior façade. A concrete wall, like a spine, runs from outside to inside, and the flat roof is all solar.
"I'm also a lighting designer so there's a lot of lighting used inside and outside to create spaces that could work for entertaining as well as informal areas," Cozen says. "In the end, with the challenges of the site, we ended up with a very gracious flow. It allowed us to open up to some spectacular views."