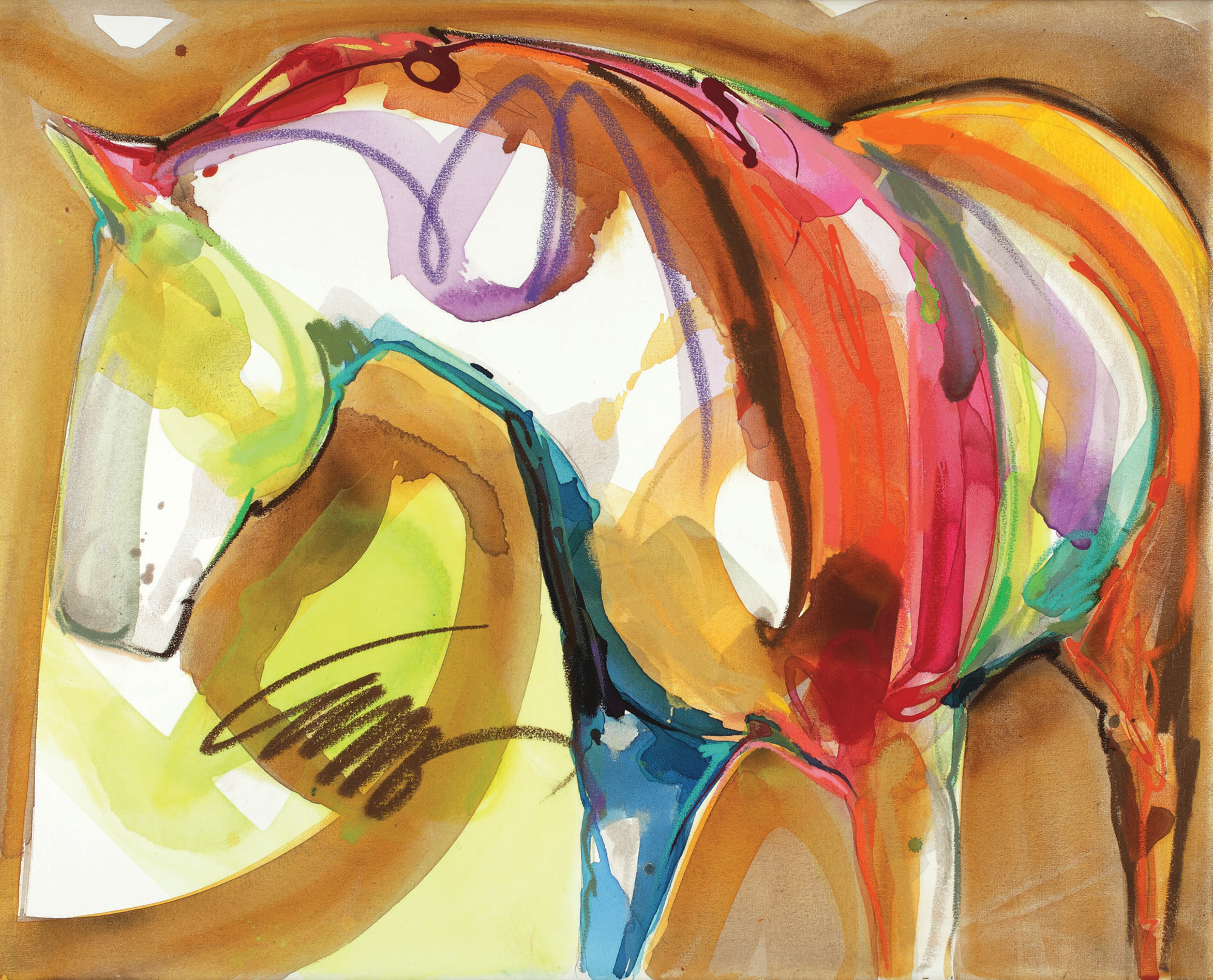 "Blossom Special" | Oil and Acrylic on Canvas | 50 x 70 inches
11 Nov

Ones to Watch: Carrie Fell
---
Painter Carrie Fell's work expresses a contemporary take on familiar stories of the West with exciting colors and faceless cowboys. Painting professionally for 20 years, Fell has made a brand for herself.
"When I started, there wasn't a lot of color in Western painting," she says. "In the process of putting myself through school and trying to find my voice, I found myself painting the pioneering spirit. My story is that I'm a Colorado native and I was going to paint what I called the Ghost Riders. They were strings of hard-charging horsemen and very vibrant and very colorful."
"The story I needed to tell … [is that] we're all pioneers of our own lives," she says. "I saw these Ghost Riders as staking their claim. These individuals had an innate sense of responsibility that I believed was disappearing. So I created faceless horsemen in the hopes that a simple composition would tap into their souls."
In this way, she has expanded the boundaries of Western art in a very non-traditional sense. She was one of the first painters to use bright colors: green horses and pink cattle. Her electric lines zig across the canvas with a loose-hand style signifying freedom.
"It really catapulted my career and encouraged me to tell my story," she says. "As Colorado has changed, my work has changed, in that it simplifies with time. With practice I learned to say things a bit more simply. My abstracts have become less complicated. The color is still there, but I want my work to resonate with people who are collecting art."
Her work is about adapting to life, not trying to control everything. "It's about adapting to the way the wind blows. As things change you have to be intuitive enough to notice the change. I'm not an artist who burrows in. I get to explore and change my vision and my voice any way I please because I have the opportunity to have two
spaces where I can explore."
In the last few years Fell opened two galleries where she feels she can experiment, bend, grow and change. "And if the galleries that represent me love those paintings, I can send them those paintings. It's the only way an artist can sustain her artistic self."
Fell also creates hand-painted, limited-edition archival prints on canvas, stretched in her own studio. She embellishes each one to make every one of them unique. She also launched a new line, Design Lines, making prints extracted from her original paintings.
"Following your heart is everything," she says. "Sometimes it leads to a dead end, but lots of times it leads to an unmarked path. I'm a true believer in that path. I'm always looking for opportunities to expand my collector base. It's a culmination of everything. I will always create the spirit of the West, but it's also moving outside of that a bit. If I can expand my realm I'm able to connect with other people who otherwise might've passed me by."
Her work appears in private and public collections including the Booth Western Art Museum in Cartersville, Georgia, and The Caballeros Western Museum in Wickenburg, Arizona.
Fell is represented by Sorrel Sky Gallery in Santa Fe, New Mexico; Thomas Anthony Gallery in Park City, Utah; Walt Horton Fine Art in Beaver Creek, Colorado; and Carrie Fell Gallery in Vail and Denver, Colorado.