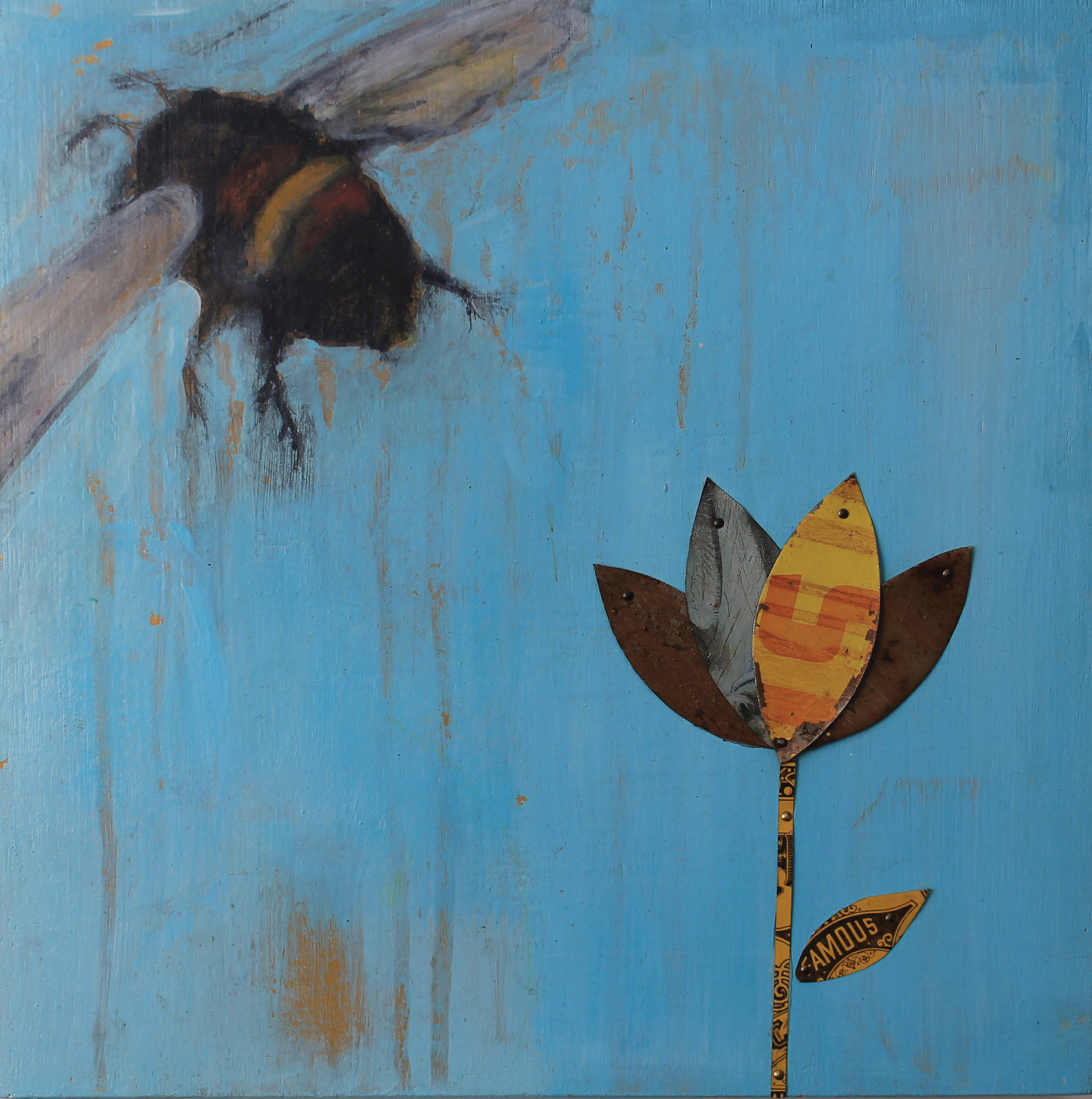 "Messenger" | Mixed Media | 15 x 15 inches | 2016
14 Mar

Illuminations: Ones to watch
---
Like a visual diary, Stacie Smith's mixed-media works reveal her heart in scissored silhouettes and paint, ink, graphite and found objects. Smith combines these mediums into a chorus of voices that speak to relevant issues and make timeless inquiries into how experience becomes memory. Both generous and sparse, her assemblages evoke commentary on culture, society and politics.
"Mixed media feels soulful to me," Smith says. "There's more of a dialogue with this art form as well as allegories."
Wherever she goes, she collects mementos: receipts, napkins and objects she picks up from the ground. "I want to remember and honor things and experiences in my life, from simple items to complex ideas that make a statement," she says.
Smith's work follows the vein of Cubist artists Pablo Picasso and Georges Braque and Dada artist Hannah Höch, who brought a sense of exposure and social observations to some of their works by incorporating everyday objects set against texts.
"When I start a piece, a lot depends on what's going on when I sit down," Smith says. "It could be a reflection on the day or a really strong political ideology I'm wrestling with. You can't help being what you are, and being a woman right now, at this time, has been in my frontal lobe."
Smith is also fascinated with insects and things that fly. It started with bees and the impact they have on so many aspects of our agricultural life. She went to Italy last year and noticed bees everywhere.
"In Italy, they don't use sprays, and I kept thinking about them," Smith says, adding that when she finds a dead bee, she takes it home, casts it and plans to eventually include it in her paintings. "I'm still processing it," she says.
And for Smith, the processing becomes part of the work; as she goes deeper and deeper into a subject, the circle of influence widens until it encompasses her relationships as well as her surroundings.
Smith usually starts with her sketchbook, creating preliminary ideas that eventually turn into paintings. Recently, more three-dimensional objects have shown up in her work.
"Some are things are from my past, like cut up small boxes; it could be that I like the colors or the memories of those objects," she says. "Sometimes I leave it to chance and other times I'll need something specific, and I'll seek it out." Finding heirloom, vintage tins has brought a kind of nostalgia into the work. "I like the idea of incorporating a piece of history into a new piece. It gives it more depth."
Her work is represented by Mesa's Edge in Taos, New Mexico; Sherrie Gallerie in Columbus, Ohio; and the Artemisia Gallery in Geneva, Illinois.