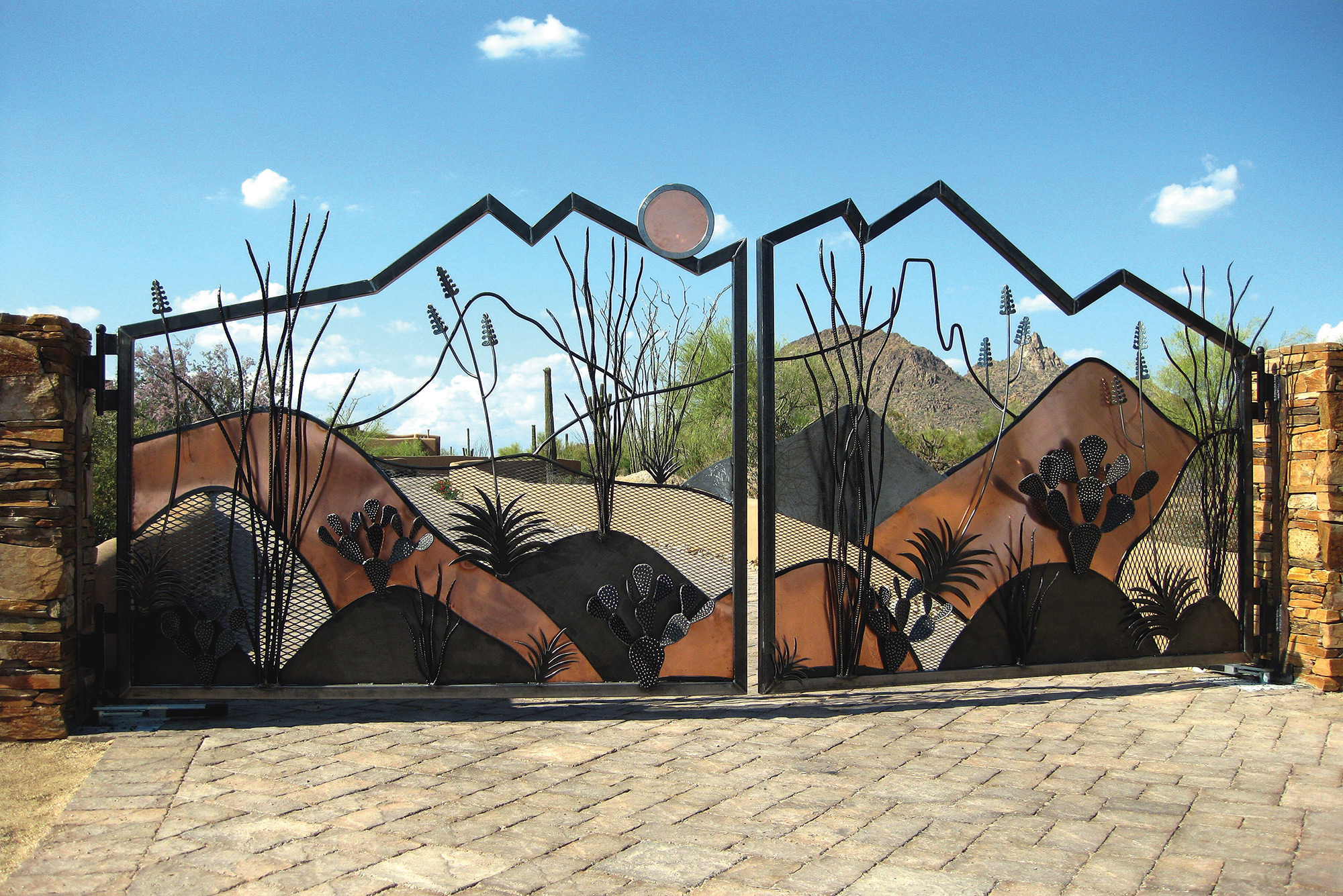 "Copper Crowned Desert," Copper and Steel, 16 feet
14 Mar

Illuminations: Ones to watch
---
Michael Jones bends steel. He takes malleable "mild" steel and through various processes, which include burnishing and adding patinas, he transforms and enlivens the metal.
"For me, it's all about the strength of the steel and my ability to give it movement," Jones says. "I take a medium that's perceived as hard and cold, and I give it life and energy."
For the last 12 years, all of Jones' work has been commissioned, and he likes it that way.
"The client calls, and I go to their home," he says. "Within minutes, I'm looking at architecture, the client's lifestyle and the geographic location. In the end, I'm going to design a piece that will reflect all of that."
The best thing about that is he loves the challenge.
"I've never lacked for inspiration in my life," Jones says. "I was the kid that painted the windows for the holidays in elementary school. As a sculptor, I see everything as a piece of sculpture, a junk pile, the mountains — that's the way I'm wired."
Whether it's a large entry gate, a decorative sofa table, an intricate fire screen or an elegant, free-standing sculpture, Jones approaches the project in the same way. First, he engages with the environment to understand where the piece will live, then he perceives the piece inhabiting the space.
"It needs to be a part of the space," Jones says. "There are spaces that need something dominant and others that need something more subtle. It's a decision I have to make. Sometimes it's going to be the focal point, sometimes it's a tying-in factor that brings the whole environment together."
Jones works with mild steel, which has a relatively low tensile strength for bending and shaping. Inherently the steel will get a natural patina. However, through polishing and burnishing, Jones controls the end result.
"Ten years from now it will change, and that's how I envision it," he says. "I can give it texture and depth through polishing and through the use of various grinders and hammers to produce a texture that brings out the energy of the piece. That texture captures light from every different direction."
Before Jones creates his pieces in metal, he produces a to-scale drawing for his clients, which he also uses for reference to execute the piece. Then he selects the right materials for the job. His workshop is set up so he can work on a number of projects simultaneously. "I like jumping around from piece to piece, getting each one to the same place in the process," he says. "It's hard, hot, dirty, physical work. I like to be in the mode to do all that, but it's a different mode when I start to assemble it as a unit. One piece will have 50 or 60 elements, and the fun day is when I put them all together; that's when it comes alive."
Jones participates in the Celebration of Fine Art, in Scottsdale, Arizona, every year, as he has for the last 19 years. It's the only public showing of his work.
"My business has evolved to the place where I have enough work," he says. "I made the decision that work was going to be about quality, not quantity. It's a passion for me; every piece I make, I would be proud to own. I've been through the gallery phase, but I just couldn't keep up with the demand."