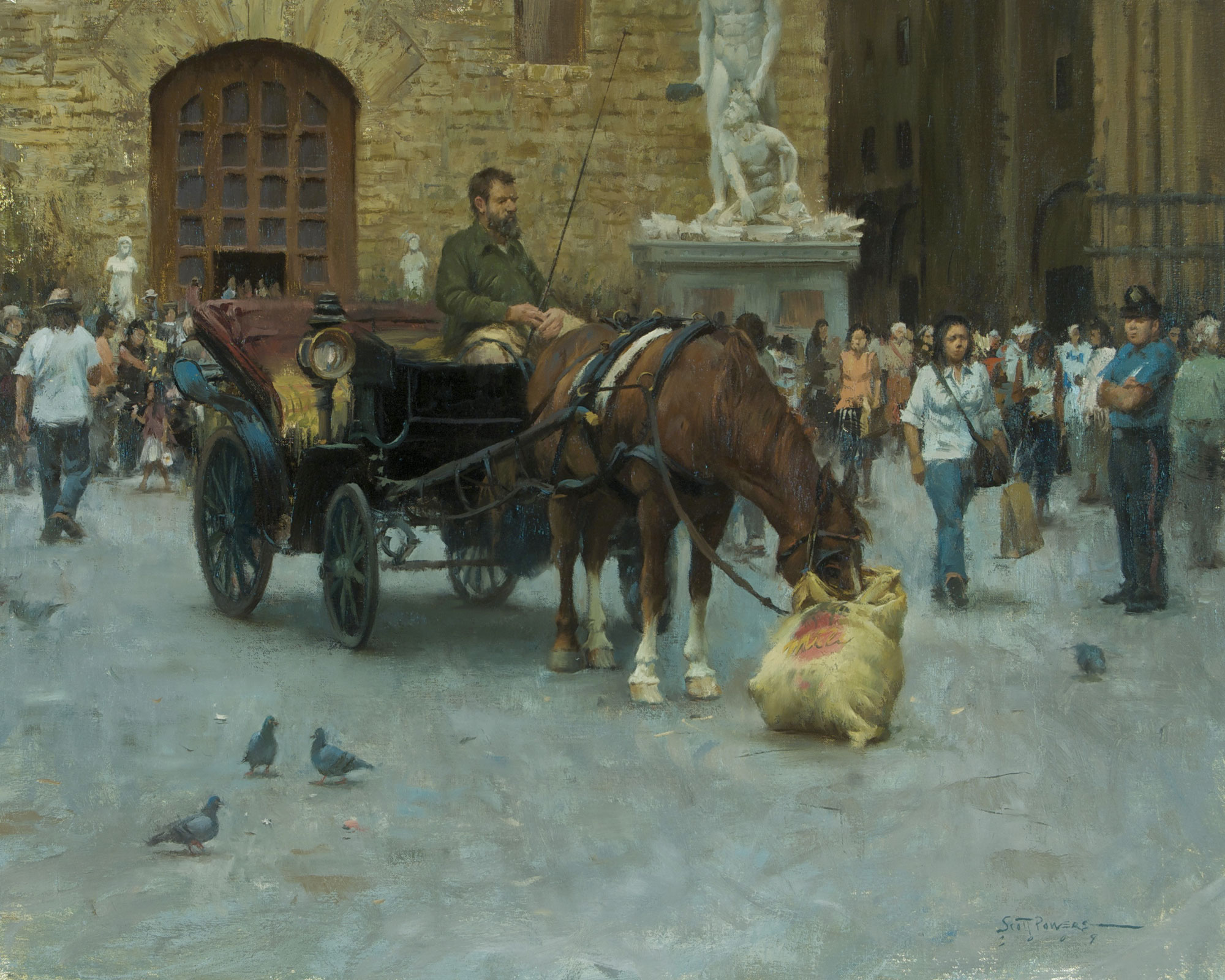 Breakfast — Florence, Italy | Oil | 16 x 29 inches
29 Dec

Illuminations: Ones to Watch
---
Scott Tallman is a painter's painter. Not only because of his exquisite brushstrokes, his enlightened perspective or the remarkable way in which he always relates foreground to background in the tradition of Robert Henri. Technically speaking, Powers is indeed a master of his craft. But beyond that, he has an ability to show viewers more than his brilliant form of realism. He conveys emotion. Strong emotion. Delicate emotion. Even hidden emotion. There is an intimacy in Powers' treatment of his subjects — from the expression in a person's eyes to the palpable buzz of a Chinese marketplace. Powers' work is alive and infused with a knowledge almost as deep as the artist's passion.
With a B.F.A. from the American Academy of Art in Chicago, Powers is a signature member of Oil Painters of America, and the founder of the Plein Air Painters of Chicago. Formerly an instructor at the Palette & Chisel Academy of Fine Arts in Chicago, Powers teaches workshops around the country. His work is collected privately around the world, as well as by three museums: The Wengyuan Museum of Fine Art and the Shaoguan Museum of Fine Art, both in the Guandong Province of China; and the Academy Museum in Easton, Maryland.
In 2008, Powers won the Salon International Juried Competition Fine Art Connoisseur Publisher's Award, as well as second place in the Plein Air Easton National Juried Competition. He received an Award of Excellence at The Oil Painters of America Annual Juried Exhibition, also in 2008. In February, Powers will make his debut in the Autry's Masters of the American West with four new works. He is represented by Settlers West Gallery, Tucson, Arizona.