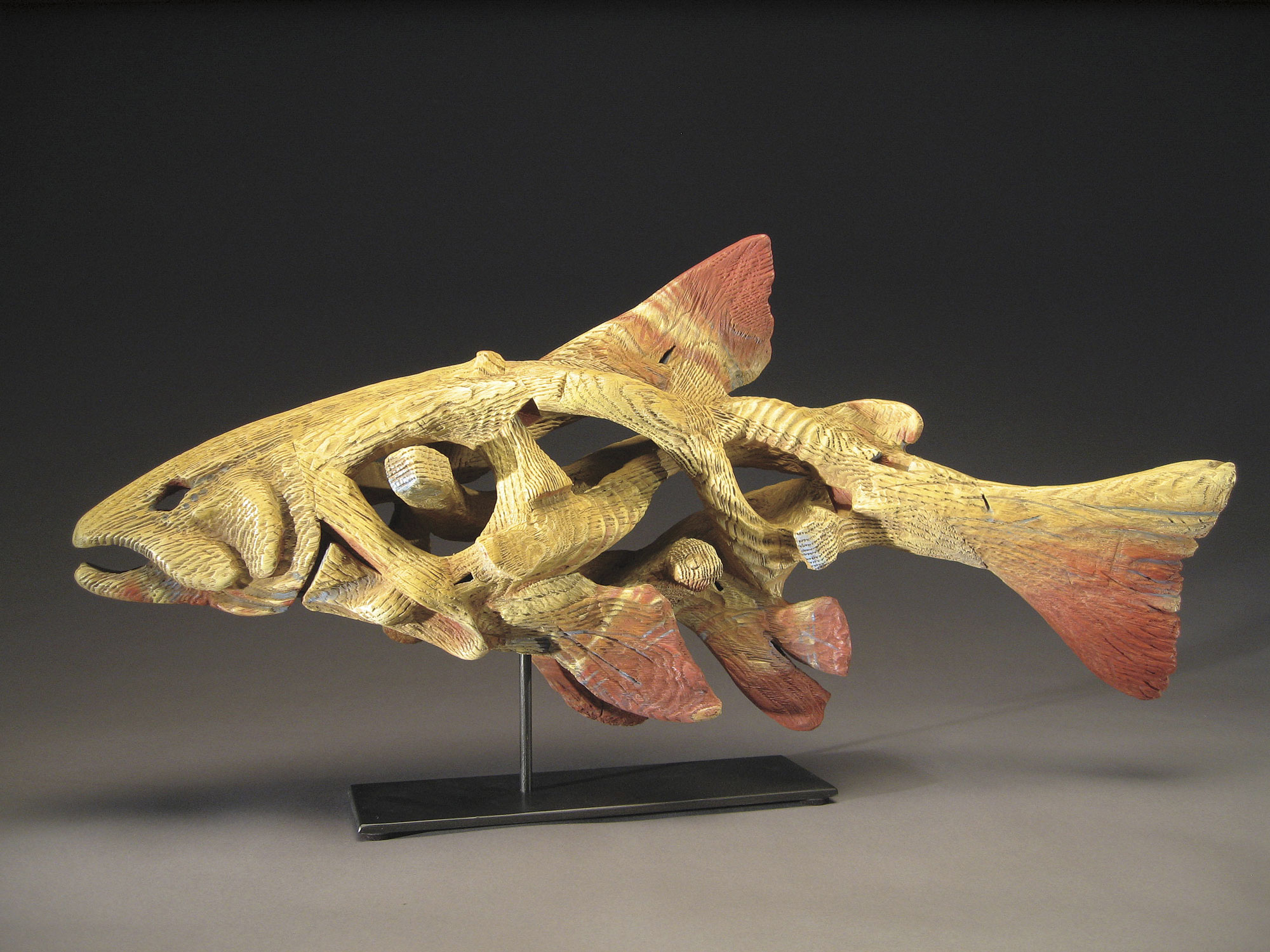 Aspen | Laminated Oak, Oil Pigments | 7 x 29 x 10 inches
29 Dec

Illuminations: Ones to Watch
---
Michael Stano sculpts the ancient stories of nature with thin washes, shrouds of stains and pigmented varnish on bronze and into wood, adding and subtracting elements as he bends the shapes to an inner narrative. Using negative space to accentuate the missing parts, Stano twists beasts into the heart of man, creating his own version of the cavernous folktales of his youth.
Whether invoking the spirit of a fish or a wolf, Stano is true to the driving force of the animal and its part in our own histories. His haunting pieces pay homage to the strength of hunger as only the imagination of the ravenous can conjure.
Stano's work is avidly collected by The MacDonald Corporation, Oakbrook, Illinois; University of Colorado at Denver, Colorado; The City of Greeley Convention Center, Greeley, Colorado; Richard and Leslie Schlesinger, Palm Beach, Florida; The North Dakota Museum of Art, Grand Forks, North Dakota; Great West Life Assurance Company, Denver, Colorado; Hyatt Hotel, Beaver Creek, Colorado; Mildred Caplitz and Bryan Bernholtz, Denver, Colorado; Don and Holly Grody, Denver, Colorado; Richard Morrison, Salina, Kansas; Torrey Pines Sheraton Hotel, La Jolla, California; Mrs. Jerry Garcia, San Francisco, California; Robin Williams, Marin County, California; Sammy Hagar, Los Angeles, California; Charles Hamblin, Denver, Colorado; Ginny Williams Foundation, Denver, Colorado; Spanish Peaks Lodge, Big Sky, Montana; and Progressive Insurance, Cleveland, Ohio.
His work is represented by Gallatin River Gallery, Big Sky, Montana; J. Cotter Gallery, Vail and Beaver Creek, Colorado; and James Ratliff Gallery, Sedona, Arizona.