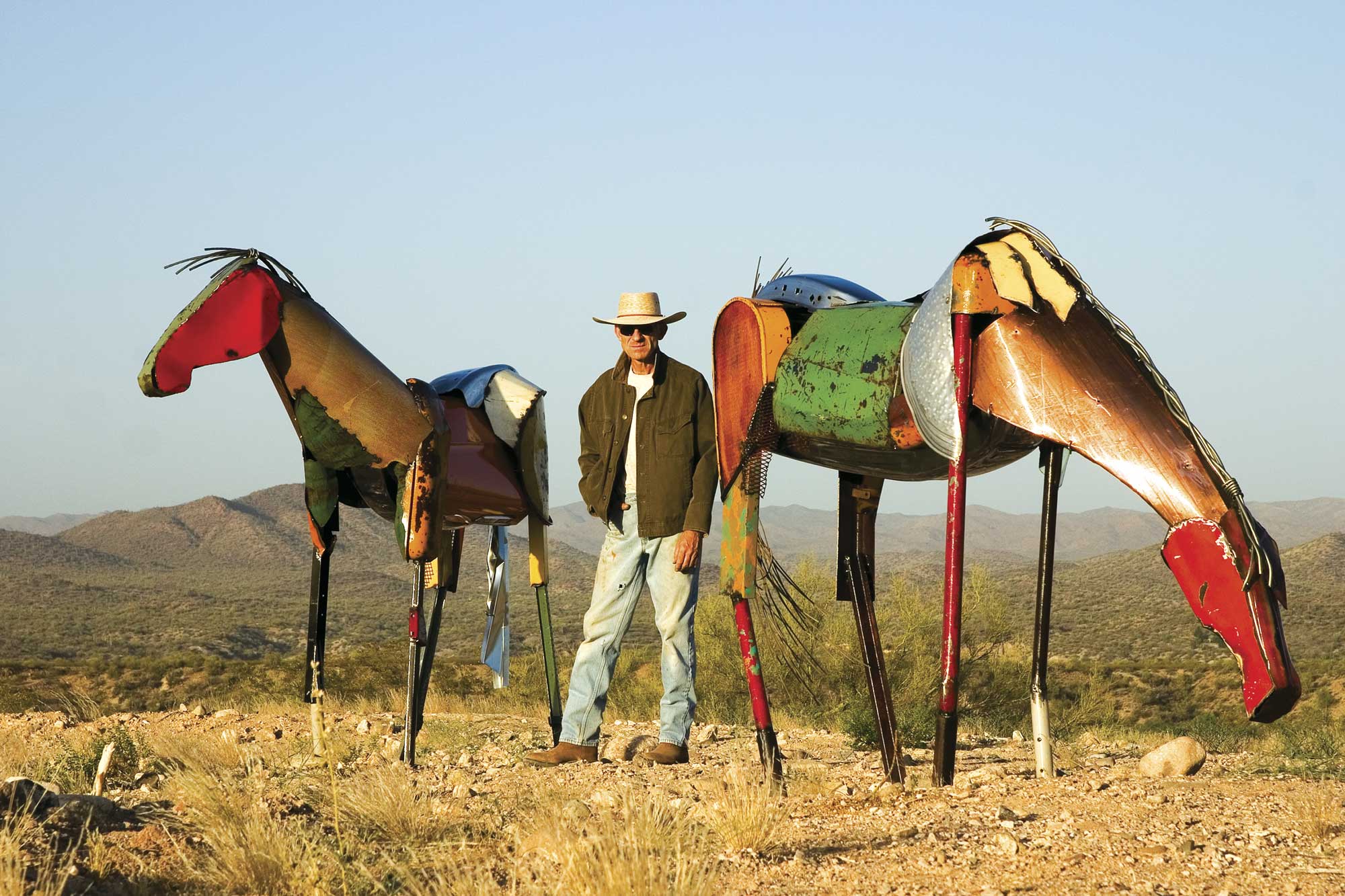 Doug Owen with Ponder (left) 84 x 102 x 28 inches, 2007, Metal and Grazer (right) 65 x 102 x 27 inches, 2007, Metal
30 May

Illuminations: Ones to Watch
---
Doug Owen's found-object horse sculptures, made from obsolete cars and tractors abandoned in the Arizona desert, evince both a playfulness of the form and a melancholy for the fate of the horse in the West. Bright, whimsical colors true to their origin, the fenders and radiators, doors and struts echo the contours of equine movement as well as its iconic stature.
Owen's horses combine a sense of realism with the brush of abstraction, capturing the essence of the animal in the confines of metal, string and other materials. With a nod to the historical significance of the horse in our culture, Owen's sculptures move the myth forward.
His work has appeared in various exhibitions and art fairs including Caldwell Snyder Gallery, San Francisco, California; Trajan Gallery, Carmel, California; Sherry Leedy Contemporary Art Gallery, Kansas City, Missouri; Apex Gallery, School of Mines and Technology, Rapid City, South Dakota; Northlander Gallery 306, Sioux Falls, South Dakota; Anakota Fine Arts Gallery, Rapid City, South Dakota; the Los Angeles Art Show, California; Red Dot Art Fair, Miami, Florida; SOFA Show, Chicago, Illinois; and the Cherry Creek Arts Walk & Show, Denver, Colorado.
Owen's work resides in various public and private collections including the Sandy Koltun Collection, Chicago, Illinois; Ron Brasch Collection, Fine Arts Center, Colorado Springs, Colorado; Landmark Banks, in Missouri, Texas, Oklahoma; and in Danielle Steele's private collection in California.
His work is represented by the Caldwell Snyder Gallery in San Francisco and St. Helena, California.