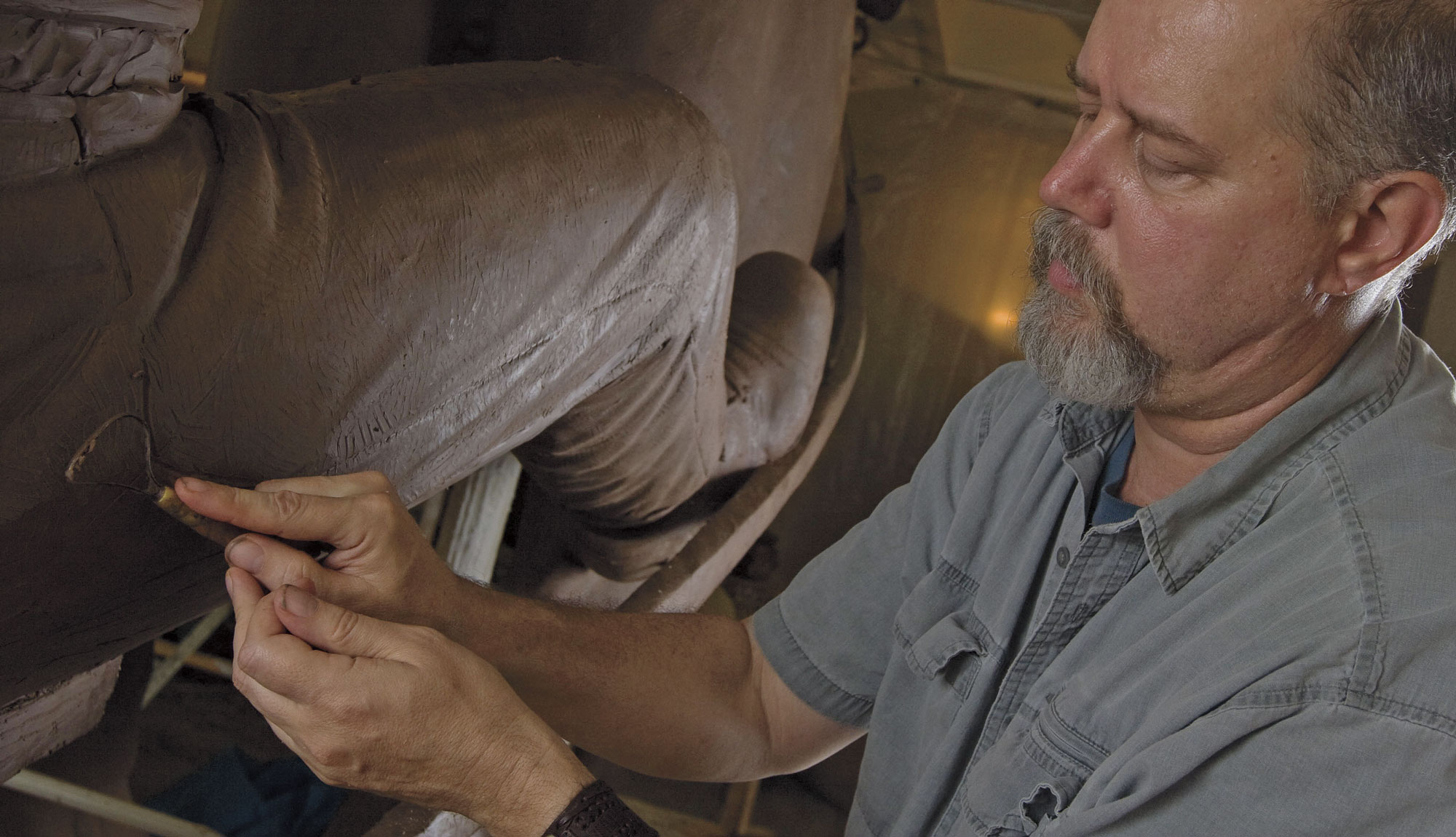 29 Dec

Illuminations: Ones to Watch
---
Big is subjective, especially when it comes to the larger-than-life sculptures that embody the work of sculptor Paul Moore. Using an innate ability to see beyond the subject's outward form, Moore reaches for the individuating spark of humanity within. Recently he set his hand to creating one of the largest bronze sculptures in the world — a recreation of the Great Land Rush of 1889 — at the University of Oklahoma.
The Oklahoma Centennial Land Run Monument consists of 45 elements and is larger than a football field. Moore studiously researched the period, striving to capture the spirit of the moment, the excitement and fear in the settlers as they forded forward amidst the turmoil. With eight years into the project and six more to go until the sculpture is complete, Moore says he looks at the installation one piece at a time with an eye to the overall integrity of the time and place.
"I think about how chaotic it must have been and, after looking at the site, I tried to figure out the movement of the piece, the wagons and the horses going all out," he said. "I visualize it completely every time I put a new piece in."
Paul Moore is a fellow and board member of the National Sculpture Society. Throughout his career he has sculpted more than 100 commissions. His work is held in the collections of The United States Capital Collection; the Smithsonian's National Portrait Gallery; Muncie Children's Museum, Muncie, Indiana; The Cowboy Hall of Fame, Oklahoma City, Oklahoma; The Museum of the Great Plains, Lawton, Oklahoma; The Chisholm Trail Heritage Center, Duncan, Oklahoma; The San Diego Zoo, San Diego, California; Warner Brothers Studios, Burbank, California; Citibank and other numerous municipal, corporate, private and international institutions. He is currently the artist-in-residence at the University of Oklahoma.
Moore has garnered numerous awards including The Otis Sullivant Award, University of Oklahoma, 2007; the Leonard J. Meiselman Memorial Award, 74th Annual National Sculpture Society Exhibition, New York, 2007; Silver Medal of Honor and the John Cavanaugh Memorial Award, National Sculpture Society 72nd Annual Exhibition, New York, 2005.
His work is represented by the Figarelli Fine Art Gallery, in Scottsdale, Arizona, and the Bronzesmith Fine Art Gallery & Foundry in Prescott Valley, Arizona.