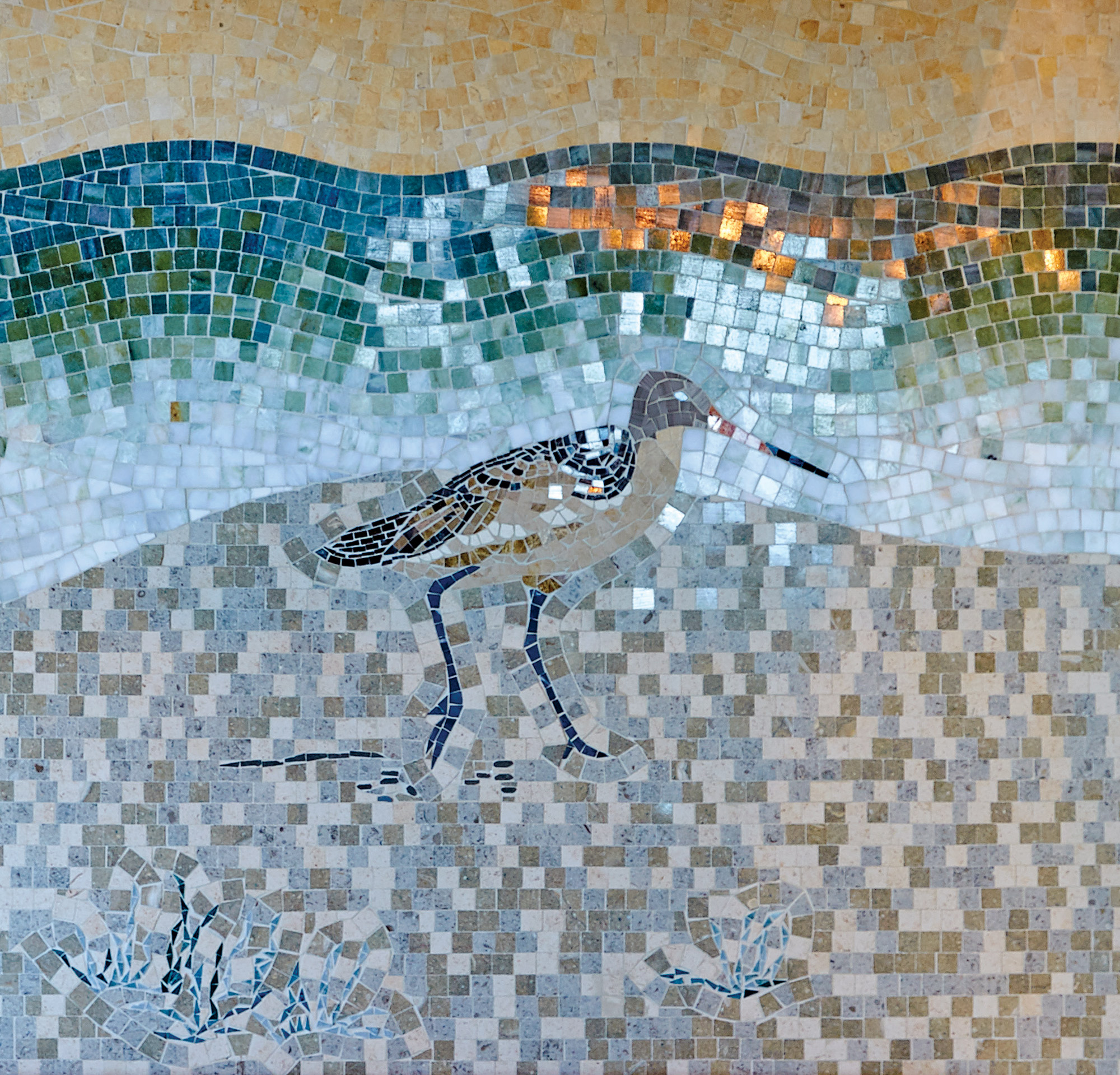 "Indigenous Shore Bird" | Commissioned by a client in Galveston, Texas, this piece is composed of hand-cut and hand-assembled stone mosaic tessera in matte and polished finishes. Photos: Dror Baldinger
18 May

Ones to Watch: Rahnee Gladwin
---
Rahnee Gladwin's mosaics bring together experienced craftsmanship and artistic vision. Her detailed work places tightly packed pieces of stone and glass into designs where the grout joints are so minuscule it appears seamless, yet the work is still understood as a mosaic.
"Since most of my mosaics are client driven, the initial concept or where they want to go comes from the client," she says. "Generally once we get through the first discussion they let me go for it. The other part is driven by the size of the area we're working with and those restrictions."
For example, Gladwin's commissioned tropical reef mosaic reflected the client's childhood in Tahiti. Once her client decided on this motif, Gladwin looked for reference materials. "I have snorkeled, but I needed other types of images," she says. "I went out and got a lot of books on tropical reefs and photography books for images of tropical fish."
The majority of the mosaic spans 8 by 9 feet, but she felt the space offered even more possibility. "My work didn't just stop at the mural wall but carried over onto the adjoining walls. The idea was to make the reef and the fish pop, so the background is quiet, composed of limestone — both matte and polished — which gave the effect of the light shimmering through the water."
The next step in the process was reviewing different ratios of fish and their surroundings with her client until they agreed to a scale that would fit the space. She then showed the client drawings of different types of coral and fish. Together they chose colors, with hues taken from actual photographs.
"The mosaics were a combination of stone and glass," Gladwin says. "The glass was both translucent and opaque. The translucent pieces gave motion, depth and life to the material. The glass catches the light and draws the eye in. In that mural, I used well over a hundred different colors and textures of matte, polished, opaque and iridescent glass and a variety of matted polished stones. I just had bags and bags of materials — and of course all the pieces were hand cut."
Gladwin lays out every drawing, scaled perfectly, sized exactly, so she knows precisely where every piece of tile is going to be placed. "That's the art of it," she says. "To make sure my assistants understand my intention down to the last piece. And I oversee all the assembly. In essence, once I research and develop the client's idea, I select the images, place the images and derive an artistic statement."
Gladwin's projects include the president's home at Trinity University and the Witte Museum in San Antonio, Texas; and the historic lighthouse in Port Aransas, Texas.