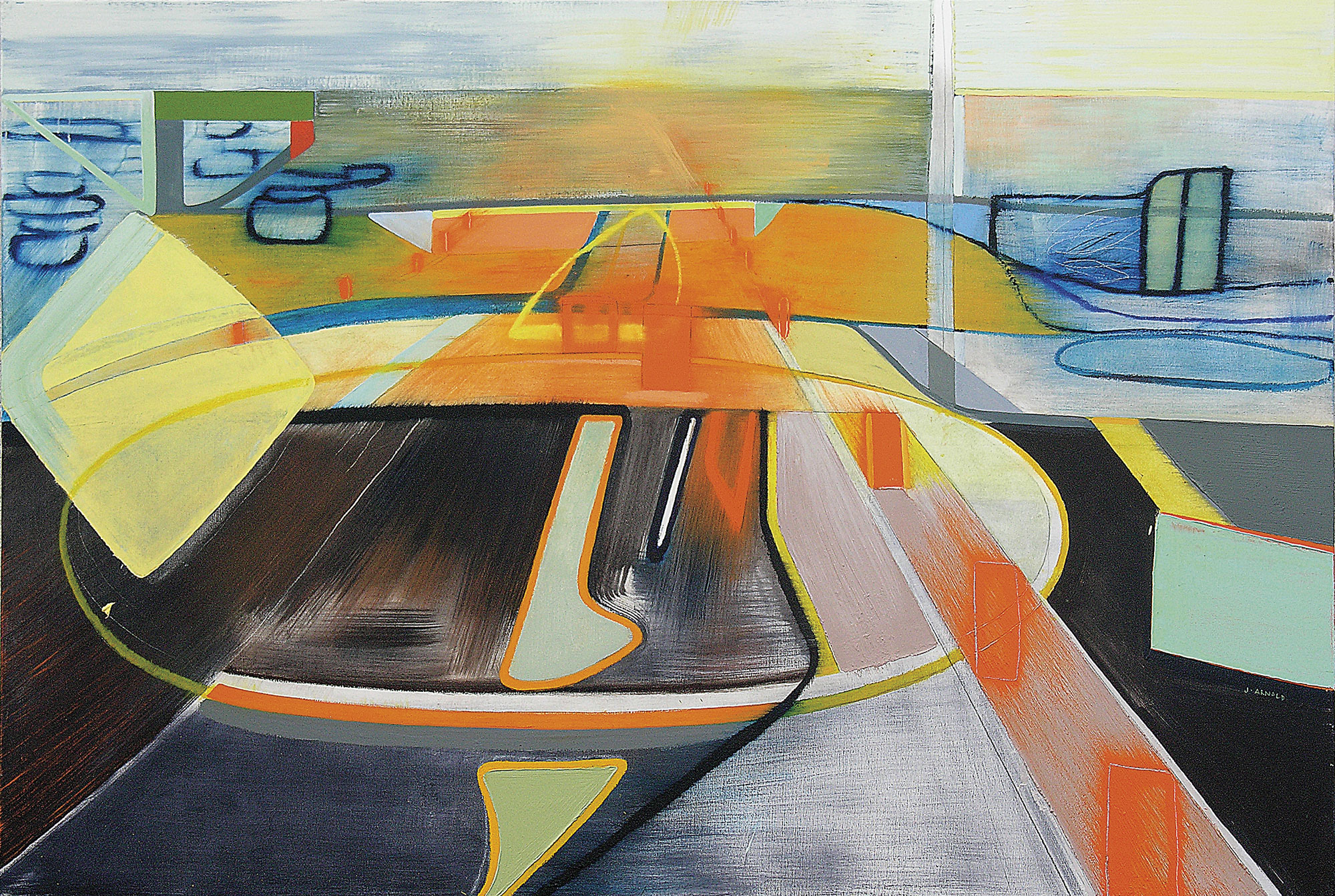 "SFCC: Blacktop" 2008 | oil on canvas | 48 x 72 inches
29 Dec

Illuminations: Ones to Watch
---
Jean Arnold's ability to stare at the constantly moving world as if unblinking permeates her work. Her canvases breathe with motion. Her colors, like windows without casings, form without structure, mirror the fleeting visuals of our hurried lives.
On a deeper level, Arnold talks about hurtling through space as "a palpable presence of the energy and power underlying our civilization," and how she takes that energy and embeds it in her paintings to "convey immediacy and a sense of transience." She is concerned with our society's dependence on fossil fuel and uses her work as a way to speak about our tendency toward disjointed complexity.
Arnold recently held a solo exhibit at the Yellowstone Art Museum in Billings, Montana, and had a piece taken into its permanent collection. Her work is also in the James T. Dyke Collection of Contemporary Drawings, which has been on exhibit at the Naples Museum of Art and the Arkansas Arts Center. Other collectors include: Ballard, Spahr, Andrews & Ingersoll, Salt Lake City, Utah; Boise Art Museum, Boise, Idaho; Chantal Corporation, Houston, Texas; Nevada Museum of Art, Reno, Nevada; and The Venetian, Las Vegas, Nevada, and Macao, China.
Her work is represented by LewAllen Contemporary, Santa Fe, New Mexico; Plus Gallery, Denver, Colorado; and the Phillips Gallery, Salt Lake City, Utah.